Andhra Jyothi Newspaper pdf: Andhra Jyothi Newspaper is one of the best newspapers for competitive exam aspirants. Today Andhra Jyothi epaper Pdf Free Download link is given below.
Andhra Jyothi Newspaper pdf
Hi readers, we are providing Andhra Jyothi epaper pdf google drive link daily which are freely available on internet. Who want to download Andhra Jyothi newspaper pdf google drive file date wise which we given at the end of this post. Readers download today's Andhra Jyothi newspaper 2020 and read it on your mobile or pc offline. We had provided adfree Andhra Jyothi google drive newspaper regularly.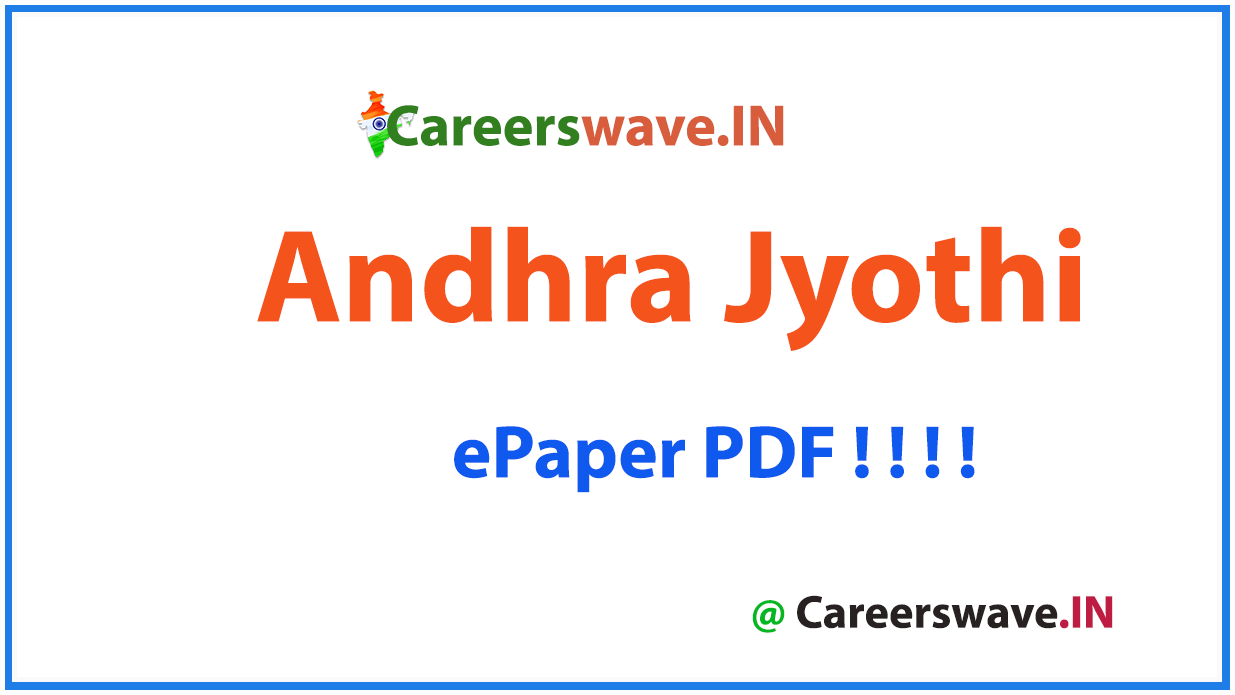 About Andhra Jyothi epaper PDF | Andhra Jyothi Telugu epaper PDF
How to download Andhra Jyothi Epaper PDF?
We are daily uploading Andhra Jyothi Newspaper PDF which is absolutely free of cost to download Andhra Jyothi e-paper. Scroll down the page and find out the download link by date wise of Andhra Jyothi e-paper.
When do I get Andhra Jyothi Epaper pdf?
You can get Andhra Jyothi Telugu Newspaper pdf link is available in the morning between 6:00 AM to 7:00 AM. If there any technical issue please comment below.
Why should you read Times of India epaper pdf?
Andhra Jyothi newspaper differentiates between news and opinions. Andhra Jyothi Telugu news paper gives priority to areas of national concern & local issues. If you want to read whole newspaper it takes more time, you have to read it in smart way. By reading daily Andhra Jyothi (Andhra Jyothi Telugu) gradually your vocabulary & communication skills will improve.
Andhra Jyothi newspaper PDF Disclaimer
We are not the owner of the paper Andhra Jyothi. We are just sharing Andhra Jyothi (Andhra Jyothi Telugu) pdf file which is available on internet.
Download The Hindu PDF Adfree epaper.
Download Times of India PDF Adfree epaper.
Download Today's AdFree e-Papers
Adfree Eenadu Newspaper Download.
Adfree Sakshi Epaper Download.
Andhra Andhra Jyothi Newspaper Download.
Today Andhra Jyothi full Newspaper PDF
Readers click below button to download Andhra Jyothi official epaper
[If do not find file please reload/refresh again/comment]
| Date | AP | TS |
| --- | --- | --- |
| 25-10-2020 | https://drive.google.com/file/d/1-NjLjrHtMIMwqi6I64kBi08em2F78mty/view?usp=sharing | https://drive.google.com/file/d/1iwCqzAz1N-r60G789rNZOpAmrfR9T3vX/view?usp=sharing |
| 24-10-2020 | https://drive.google.com/file/d/1h6BN_NwNUHmOSRP93xbJBE71MkOqxRlg/view?usp=sharing | https://drive.google.com/file/d/1lioz7rrOiLUg_dJgj_z90TucSti0j8Yd/view?usp=sharing |
| 23-10-2020 | https://drive.google.com/file/d/1I7b0ouGW9ckcs9SW3VyIt8n2aQ7PE9YU/view?usp=sharing | https://drive.google.com/file/d/1yZha0iIKm2J0DL9MTbZ2qbtRbTeudYWk/view?usp=sharing |
| 22-10-2020 | https://drive.google.com/file/d/1kHMwq1__6po6lP8tp4eiQ33HkXga3uIo/view?usp=sharing | https://drive.google.com/file/d/1C9nwwR1eAjz13I9xWlz8x4dvYoWiLiMO/view?usp=sharing |
| 21-10-2020 | https://drive.google.com/file/d/1paFZPHdqwlvgBoWdsB3TLMN_EcmEWwek/view?usp=sharing | https://drive.google.com/file/d/1B1CAp__0rNPBx7T-0bMvmHxl6DvOgkdN/view?usp=sharing |
| 20-10-2020 | https://drive.google.com/file/d/1AXdl2v0gtAEwFl0C74zn3NtlGdz4yKEX/view?usp=sharing | https://drive.google.com/file/d/1RU6BUIa-0OhfdMY7fbz-KBObJUQ5SH0E/view?usp=sharing |
| 19-10-2020 | https://drive.google.com/file/d/158fVwjQoZgrSTXS0uM7wucT0iGpWvfWl/view?usp=sharing | https://drive.google.com/file/d/158fVwjQoZgrSTXS0uM7wucT0iGpWvfWl/view?usp=sharing |
| 18-10-2020 | https://drive.google.com/file/d/1rs8E6uoG5h0jR1_H5O2lb5AyJGtG28l3/view?usp=sharing | https://drive.google.com/file/d/1INSR58fkNtKpyUJomz2JosIxc__GNUws/view?usp=sharing |
| 17-10-2020 | https://drive.google.com/file/d/1gL6Ym6zEckACnqLikqkvgwNH3P7hp7pi/view?usp=sharing | https://drive.google.com/file/d/1LJ9Rl8nB9fgvhnpPNjSN2dw3f8MPnRWP/view?usp=sharing |
| 16-10-2020 | https://drive.google.com/file/d/1kqf2qm9W_Ftf-hCA-ji-iNUfiZNXh4g7/view?usp=sharing | https://drive.google.com/file/d/1HBfGJcOQCpilheYjBNN_IFxR6FEKnfnh/view?usp=sharing |
| 15-10-2020 | https://drive.google.com/file/d/1VaWhwBgs_XOvysZDhUH5sKw39ThIlsof/view?usp=sharing | https://drive.google.com/file/d/1w1kJ3qv7X1GyZuBX12qA3xwCLIuUNBWD/view?usp=sharing |
| 14-10-2020 | https://drive.google.com/file/d/1UghsoiWaixImhAW3VI2K03aerxyBt_9H/view?usp=sharing | https://drive.google.com/file/d/1I4ARVqoUKzhUNfHoGt4r7oZs2dp4KMj7/view?usp=sharing |
| 13-10-2020 | https://drive.google.com/file/d/1K1tX5GPLxa9VzIfKJWynsdczuP3VEU_q/view?usp=sharing | https://drive.google.com/file/d/1K1tX5GPLxa9VzIfKJWynsdczuP3VEU_q/view?usp=sharing |
| 11-10-2020 | https://drive.google.com/file/d/1HaNCuJH_nPfLWvFmXPoSLzlISrlTijR0/view?usp=sharing | https://drive.google.com/file/d/1VlKP2sh8R5qUHQ5Dje2pcbINEQpLaTCJ/view?usp=sharing |
| 10-10-2020 | https://drive.google.com/file/d/1MQesIDhWa9Tawvb6ubdSm0IbxCO9r-jw/view?usp=sharing | https://drive.google.com/file/d/1ma0mBnc_RArFU21dLtlwN3uO33BEev3x/view?usp=sharing |
| 09-10-2020 | https://drive.google.com/file/d/1U2F8cDXyQZ_eFn6oy27pqDydZ1TBXeGW/view?usp=sharing | https://drive.google.com/file/d/1DSxhAZgwIJweqgUKVjrGjRZHydxxjcup/view?usp=sharing |
| 08-10-2020 | https://drive.google.com/file/d/1Ty9uuwYvWDpI3QlJua0Fgqxim1Wu-R3_/view?usp=sharing | https://drive.google.com/file/d/1q38PKr3N5D4U5Ry1dFc9NdKh9xweJFP8/view?usp=sharing |
| 07-10-2020 | https://drive.google.com/file/d/1oUh2czC3GR-qT_ZFhv1ZQQjKbTXdIS-s/view?usp=sharing | https://drive.google.com/file/d/1-o6UkDswIgKPhPCZTrC9BGYmeD6JGYHG/view?usp=sharing |
| 06-10-2020 | https://drive.google.com/file/d/1K0y3ASHlgLhwLuo7UY4-Bo3XI10dgMQe/view?usp=sharing | https://drive.google.com/file/d/1L2VLu4RFpLlnZ2afDUmMAtOePxnrfWjy/view?usp=sharing |
| 05-10-2020 | https://drive.google.com/file/d/18oOGF9zyf0xMq-5DeJxa4gmCa2K_4C_E/view?usp=sharing | https://drive.google.com/file/d/1Tb8HSyZAmqqbeXdKMoGgpIr3_Ta_n-uP/view?usp=sharing |
| 04-10-2020 | https://drive.google.com/file/d/1oY-2SBfbn4ZCVa4U1HtyFYdE44MwRZWB/view?usp=sharing | https://drive.google.com/file/d/1mHNjf3SW0Wk4Z6OrL8NKsgfzvO5gUTIK/view?usp=sharing |
| 03-10-2020 | https://drive.google.com/file/d/1MsjKEbx2gAXCx-GNNaccrMetOY1GPe0y/view?usp=sharing | https://drive.google.com/file/d/1MsjKEbx2gAXCx-GNNaccrMetOY1GPe0y/view?usp=sharing |
| 02-10-2020 | https://drive.google.com/file/d/1Xr-l7BEfCOetvoI_AHknSZxlJK87Tokk/view?usp=sharing | https://drive.google.com/file/d/1Xr-l7BEfCOetvoI_AHknSZxlJK87Tokk/view?usp=sharing |
| 01-10-2020 | https://drive.google.com/file/d/1qcwBYOtr66Bd1M4P50wBLT78p9mq-Xhm/view?usp=sharing | https://drive.google.com/file/d/16xdnkz-3stBBD--UgfN2bxjJv0bdn63-/view?usp=sharing |
| 30-09-2020 | https://drive.google.com/file/d/19rGaqBQr_8QCTOL3AaI79foPGu3QlIxd/view?usp=sharing | https://drive.google.com/file/d/12k34QIS-Fu6I8spB8FLpGmq5TyWySTEY/view?usp=sharing |
| 29-09-2020 | https://drive.google.com/file/d/1EYWbK5Ph4TuWu80WeokMXKlspsjsCQgn/view?usp=sharing | https://drive.google.com/file/d/12eK1lORcxdxq-4PuZNFnxBqJgg5at8Sx/view?usp=sharing |
| 28-09-2020 | https://drive.google.com/file/d/1Q1u33WxCb96-5qckK1bf1MPWlidPeOCM/view?usp=sharing | https://drive.google.com/file/d/1bbglS3BLPu0ntb8OdgaEltanLKzyqkNw/view?usp=sharing |
| 27-09-2020 | https://drive.google.com/file/d/1oXFJi8g4xdIMHDUoJ4gBUObK5-WAeq9Z/view?usp=sharing | https://drive.google.com/file/d/1nYWJi-J1SpqdNRV7BY1jU5YRZc4ruPZE/view?usp=sharing |
| 26-09-2020 | https://drive.google.com/file/d/1-1P8SIO-K7MuHx9KntA_DosO9MI88Bgu/view?usp=sharing | https://drive.google.com/file/d/1iHUlf1_Ag3xQA7M_fX1va68ItdJinKiV/view?usp=sharing |
| 25-09-2020 | https://drive.google.com/file/d/1LcoRs5Zkb6lXYIPQCRk9XQHrjWIp96Fk/view?usp=sharing | https://drive.google.com/file/d/1bYlHHtcb3jThpMtgrGjWHwGTlLMn55Kz/view?usp=sharing |
| 24-09-2020 | https://drive.google.com/file/d/1rU2vRI4hMG_N-Yp1eadOBwNk9sPtFtQz/view?usp=sharing | https://drive.google.com/file/d/1VUWfM7CMiyvTjcld0ihK4-fmiMM-4kzR/view?usp=sharing |
| 23-09-2020 | https://drive.google.com/file/d/1AwJcd7mN7nAtFa3SkV12Ikwgev9hjLNW/view?usp=sharing | https://drive.google.com/file/d/1BMQoiNh3N1OklEIhspD7zIiEY1DGOqDC/view?usp=sharing |
| 22-09-2020 | https://drive.google.com/file/d/1ObQB4Dk_0rIN8405qZB_7Ax4cFGxxbMt/view?usp=sharing | https://drive.google.com/file/d/1Etp55CQYLlUe7CPOFa9tnDy3a0Ep1PXp/view?usp=sharing |
| 21-09-2020 | https://drive.google.com/file/d/19P377af9_P0rGTlcn5nK7KWNp0LKvCKg/view?usp=sharing | https://drive.google.com/file/d/19n53ErGvF-ZbXvTKhP4N9zvBCPvrNxHH/view?usp=sharing |
| 20-09-2020 | https://drive.google.com/file/d/18ikt_P61j8lYLmAieLhioXgIe_GgUONw/view?usp=sharing | https://drive.google.com/file/d/18yVE7eTmS2CACNM12p4LkRTPvYC5yu5P/view?usp=sharing |
| 19-09-2020 | https://drive.google.com/file/d/16qkZVH0U78YXFGLH-PSC4ez6HZncJ3Mr/view?usp=sharing | https://drive.google.com/file/d/17FwHBZ7vHCyz5pB5LoIrYTx28xzce0La/view?usp=sharing |
| 18-09-2020 | https://drive.google.com/file/d/15CTuXVzQQ0Tr70IwYMK5n27UsvXRVgmT/view?usp=sharing | https://drive.google.com/file/d/15PCZlfj6rr2QhTo9RLuHc0h073f16I1x/view?usp=sharing |
| 17-09-2020 | https://epaperpdf.in/eenadu-epaper.php | https://epaperpdf.in/eenadu-epaper.php |
| 16-09-2020 | https://drive.google.com/file/d/12ngIzQZglII4ov5YVqn632glU_EonZ36/view?usp=sharing | https://drive.google.com/file/d/12wxtBN5axknzsRxcHGQtAzZ2dX0Mw7LF/view?usp=sharing |
| 15-09-2020 | https://drive.google.com/file/d/1-NlWJseS6d2JbzRJOLC8ddQJVNxrWsP2/view?usp=sharing | https://drive.google.com/file/d/1-kZsOTMtA87Li0mEqHdfvdDK4L3wmhEl/view?usp=sharing |
| 13-09-2020 | https://drive.google.com/file/d/1o5SaOYgM36oF60dhAbslrh0akJp48w2U/view?usp=sharing | https://drive.google.com/file/d/1BnnH126TNEkOpBKfxaFUuGJvWzjR-3zM/view?usp=sharing |
| 12-09-2020 | https://drive.google.com/file/d/1Aw7jOWqqD3dqJ6Uu4DIILvrFYbg2b1oM/view?usp=sharing | https://drive.google.com/file/d/10mMlX3vbXgA3ARdCJxOlZxLugA9yqQHV/view?usp=sharing |
| 11-09-2020 | https://drive.google.com/file/d/1rJurablB12j-V4cVquLhaRRskPZDR9Zl/view?usp=sharing | https://drive.google.com/file/d/1o4xOL1oTPvi71ZsTQGJjGO6sfgshnaOD/view?usp=sharing |
| 10-09-2020 | https://drive.google.com/file/d/13MsIoki1lsP_qet1IgM-cIUS5gSbdwaX/view?usp=sharing | https://drive.google.com/file/d/1gDQuhii6m9Aaw4yE3hm026NkUdnxvIGg/view?usp=sharing |
| 09-09-2020 | https://drive.google.com/file/d/1mTFS0DoC-3-kzML9MuRDJMaEjVLBF_AB/view?usp=sharing | https://drive.google.com/file/d/1cAymry7zEwkAVt3f-fNxiALnitmAVCJ4/view?usp=sharing |
| 08-09-2020 | https://drive.google.com/file/d/1VO620bn2pBwT6qYpbUxPo_KZwczQcPwM/view?usp=sharing | https://drive.google.com/file/d/1odtXCXn8ow5uZpdNB7rbLwQMX6pVTcjD/view?usp=sharing |
| 07-09-2020 | https://drive.google.com/file/d/1cFZ06XJF-E49FgCvdKuajpzD0rue6rNR/view?usp=sharing | https://drive.google.com/file/d/10l4Z23ic5yUDdzt7Ebi8O_dU4OiYe9QP/view?usp=sharing |
| 06-09-2020 | https://drive.google.com/file/d/1edTSS4vSURYUEussmcECiD7bg8zCZuH-/view?usp=sharing | https://drive.google.com/file/d/1kh88y-mdQOgVGLQMih9yPYz63dpu5KXe/view?usp=sharing |
| 05-09-2020 | https://drive.google.com/file/d/12cKfMb1UOHISxUn_sHBu_4kMxAtsStPM/view?usp=sharing | https://drive.google.com/file/d/1ZS4kYfXxQVBg-ypcKydI4krKT65FTaqR/view?usp=sharing |
| 04-09-2020 | https://drive.google.com/file/d/1W0jO6lgh3VI3MRKfUlLXNJk7yQRxv5li/view?usp=sharing | https://drive.google.com/file/d/1zrFDtDo3CIwZuefIycSkF9LsH0Gbu_vn/view?usp=sharing |
| 03-09-2020 | https://drive.google.com/file/d/1qgalwosrveB85uZTt5ix2n-hbVn4EvWU/view?usp=sharing | https://drive.google.com/file/d/1KjGaES7JeuKaGHNE6lil6oYz6pId3tcl/view?usp=sharing |
| 02-09-2020 | https://drive.google.com/file/d/1KceOmoXuJkJst5QBQtQYhFqP6xK9EAue/view?usp=sharing | https://drive.google.com/file/d/1vYrJbEGkN0FEADzmXrYslwblCzn0DtbR/view?usp=sharing |
| 01-09-2020 | https://drive.google.com/file/d/1RnskfzKk1Wk9HWxu5s5wjbb7B8PI9Rde/view?usp=sharing | https://drive.google.com/file/d/1mcR4luIwSoBqj-mZPRYHLnHcfJIWHzlg/view?usp=sharing |
| 31-08-2020 | https://drive.google.com/file/d/1o9thj8c6n7AvrmtQaZqjYvPJURzdf_8M/view?usp=sharing | https://drive.google.com/file/d/1eCeLyxHWf_CNXlZ6VjcTo5b0kiz1ybi4/view?usp=sharing |
| 30-08-2020 | https://drive.google.com/file/d/1IPSROftcRgZp6JepbCk-eGnmyPQdqJ3a/view?usp=sharing | https://drive.google.com/file/d/1lcQYjaoQGVkx0fm4LiMEzRTOdqxqJnm_/view?usp=sharing |
| 29-08-2020 | https://drive.google.com/file/d/17GPWgLsPcft-Htpbmob1ZyO8mz8ubopF/view?usp=sharing | https://drive.google.com/file/d/1LLrkGFs1tWJLJtUCmDQBcEj5fSD6F0RC/view?usp=sharing |
| 28-08-2020 | https://drive.google.com/file/d/1HnSUB2PZc-dNgXwS5ALTlxxcklv2ZaSb/view?usp=sharing | https://drive.google.com/file/d/19EUeYi1camY6g6dyJgnJLh5XaX4fs8lf/view?usp=sharing |
| 27-08-2020 | https://drive.google.com/file/d/1iadApQ8zWyTMOIaY4Xd9a-g8aZc2Q1-8/view?usp=sharing | https://drive.google.com/file/d/1x293EHDFHfTsqyy0l-4kcR06OHBTIbLG/view?usp=sharing |
| 26-08-2020 | https://drive.google.com/file/d/1hSujSzVnQm_Asv9wftpsWvDslszEsomT/view?usp=sharing | https://drive.google.com/file/d/1hSujSzVnQm_Asv9wftpsWvDslszEsomT/view?usp=sharing |
| 25-08-2020 | https://drive.google.com/file/d/1UnQFBfdiQhEXo1vJF7secMI5DWLf4E-y/view?usp=sharing | https://drive.google.com/file/d/1D8i2ADdw9ohs8iTjUUFz8dexEn-KGpAQ/view?usp=sharing |
| 24-08-2020 | https://drive.google.com/file/d/1CDI_RQXvyZJmHEwMp4QjqiuVha6BrFSd/view?usp=sharing | https://drive.google.com/file/d/1RZRqJ60qFbYZygB-0o6xaFNp1Akm4Ipm/view?usp=sharing |
| 22-08-2020 | https://drive.google.com/file/d/12k04dJFgyX5agyDQwQGmVP1sjMmXhznn/view?usp=sharing | https://drive.google.com/file/d/1qsq4AOhZXp9zaXDOzxb3fGC8smrPvxQw/view?usp=sharing |
| 21-08-2020 | https://drive.google.com/file/d/1KmpjES_wnrWpvdC0Wbg3BzMn1bC1hleT/view?usp=sharing | https://drive.google.com/file/d/14duCwGtJCpduPxgsLDxjVMNeGLn7Rbvc/view?usp=sharing |
| 20-08-2020 | https://drive.google.com/file/d/1mdvnCLOcMOXRLI-knALNITeGs8FdDU9v/view?usp=sharing | https://drive.google.com/file/d/1xI2RGXQSXAlRgUU2qkpviqjZVaW4-Y_R/view?usp=sharing |
| 19-08-2020 | https://drive.google.com/file/d/1IIIVEaXXTt-_HfXUcC7nsLnnwsN5zs4x/view?usp=sharing | https://drive.google.com/file/d/1n8OCl7wOm2TdVgRAMWC3GtF21obdt13X/view?usp=sharing |
| 18-08-2020 | https://drive.google.com/file/d/1IXznV1bYP-pqwElnOrC1-_rzFkBGzMV8/view?usp=sharing | https://drive.google.com/file/d/1FQNKMIBAEkvKTU7zWkKF72UOm-wKbKd8/view?usp=sharing |
| 17-08-2020 | https://drive.google.com/file/d/1_4AtL-AiwE-wyklWq4EgRAIFF9vzfs-Z/view?usp=sharing | https://drive.google.com/file/d/13eHDi4YheopP96b1WtnjABnNlNCy8TTN/view?usp=sharing |
| 16-08-2020 | https://drive.google.com/file/d/1EUtcMC8wCE87XscHc_4aUU7UOHotIkYH/view?usp=sharing | https://drive.google.com/file/d/1ILFi4a9RvjLT_EA0T5P-iHl3Hwz9AWvp/view?usp=sharing |
| 15-08-2020 | https://epaper.andhrajyothy.com/ | https://epaper.andhrajyothy.com/ |
| 14-08-2020 | https://epaper.andhrajyothy.com/ | https://epaper.andhrajyothy.com/ |
| 13-08-2020 | https://epaper.andhrajyothy.com/ | https://epaper.andhrajyothy.com/ |
| 12-08-2020 | https://epaper.andhrajyothy.com/ | https://epaper.andhrajyothy.com/ |
| 11-08-2020 | https://drive.google.com/file/d/1g0LAWN9Fdo0uU0ah5GKJUvHhkCeuGDgE/view?usp=drivesdk | https://drive.google.com/file/d/1hOQAPey877_zNk5Ci6ejMn6Oom3ERh4x/view?usp=drivesdk |
| 10-08-2020 | https://drive.google.com/file/d/1vEkTHnPMz1chT3UzGE9xfgSKCFET9VqB/view?usp=sharing | https://drive.google.com/file/d/1vEkTHnPMz1chT3UzGE9xfgSKCFET9VqB/view?usp=sharing |
| 09-08-2020 | https://epaper.andhrajyothy.com/ | https://epaper.andhrajyothy.com/ |
| 08-08-2020 | https://epaper.andhrajyothy.com/ | https://epaper.andhrajyothy.com/ |
| 07-08-2020 | https://epaper.andhrajyothy.com/ | https://epaper.andhrajyothy.com/ |
| 06-08-2020 | https://epaper.andhrajyothy.com/ | https://epaper.andhrajyothy.com/ |
| 05-08-2020 | https://epaper.andhrajyothy.com/ | https://epaper.andhrajyothy.com/ |
| 04-08-2020 | https://drive.google.com/file/d/13K9s81QxBTdEGvmvKfupp8bWIb0iQPXJ/view?usp=sharing | https://drive.google.com/file/d/12lBxRe85BKPlRQ54QRUmXZBDv5I7KU-X/view?usp=sharing |
| 02-08-2020 | https://drive.google.com/file/d/1gwrTTTBaN-zBjbWeY5lPLZh-TmOD1ij8/view?usp=drivesdk | https://drive.google.com/file/d/1gwrTTTBaN-zBjbWeY5lPLZh-TmOD1ij8/view?usp=drivesdk |
| 30-07-2020 | https://drive.google.com/file/d/1VgCoR4AGF21NIeYlZBoppQeiqMtrO-OJ/view?usp=drivesdk | https://drive.google.com/file/d/1E9DNqQC-KorpQehORs17AIcGdnhZKVMD/view?usp=drivesdk |
| 29-07-2020 | https://drive.google.com/file/d/1_OekXb4pBqvfCfclZ4gx4i89AqwPZvpF/view?usp=sharing | https://drive.google.com/file/d/10ah7mkK7xm88QDQo_CJX4yP58EIoUgDy/view?usp=sharing |
| 28-07-2020 | https://drive.google.com/file/d/1ePcCu5MJw8A5kx_X2VUEdqpSk-mOMlv9/view?usp=sharing | https://drive.google.com/file/d/1Diz4f6K7hxTx8bkSI7xFVoGRiKLQuDtQ/view?usp=sharing |
| 27-07-2020 | https://epaperpdf.in/eenadu-epaper.php | https://epaperpdf.in/eenadu-epaper.php |
| 26-07-2020 | https://epaperpdf.in/eenadu-epaper.php | https://epaperpdf.in/eenadu-epaper.php |
| 25-07-2020 | https://epaperpdf.in/eenadu-epaper.php | https://epaperpdf.in/eenadu-epaper.php |
| 24-07-2020 | https://epaperpdf.in/eenadu-epaper.php | https://epaperpdf.in/eenadu-epaper.php |
| 23-07-2020 | https://epaperpdf.in/eenadu-epaper.php | https://epaperpdf.in/eenadu-epaper.php |
| 22-07-2020 | https://epaperpdf.in/eenadu-epaper.php | https://epaperpdf.in/eenadu-epaper.php |
| 21-07-2020 | https://drive.google.com/file/d/1FWU6h3jfVrXr_SjWPLdsK6tvLCA-qdCm/view?usp=sharing | https://drive.google.com/file/d/1FWU6h3jfVrXr_SjWPLdsK6tvLCA-qdCm/view?usp=sharing |
| 20-07-2020 | https://epaperpdf.in/eenadu-epaper.php | https://epaperpdf.in/eenadu-epaper.php |
| 19-07-2020 | https://epaperpdf.in/eenadu-epaper.php | https://epaperpdf.in/eenadu-epaper.php |
| 18-07-2020 | https://epaperpdf.in/eenadu-epaper.php | https://epaperpdf.in/eenadu-epaper.php |
| 17-07-2020 | https://epaperpdf.in/eenadu-epaper.php | https://epaperpdf.in/eenadu-epaper.php |
| 16-07-2020 | https://drive.google.com/file/d/1Sg750aYYICGJ2q3-GElVpJgPdPpK4sb0/view?usp=drivesdk | https://drive.google.com/file/d/1aIVq11BGiep_Db56W7leP8xn-kiI6X8L/view?usp=drivesdk |
| 14-07-2020 | https://drive.google.com/file/d/1UdGfly_NLdbRzY8h9uxIhn64A0Wph_Ht/view?usp=sharing | https://drive.google.com/file/d/1mrBL5gnCrj8_ElC2mtrGIXqmeDm9zIGM/view?usp=sharing |
| 07-07-2020 | https://drive.google.com/file/d/1JF3TlHzGeVhdy-KPDdfmUEXiX1zcgYr6/view?usp=sharing | https://drive.google.com/file/d/1K5lnmNm-tQx-kKPSBnrHJEdW64JIlD82/view?usp=sharing |
| 06-07-2020 | https://drive.google.com/file/d/1KyuomXxufAnrJzOyPRcb62QtC-kITqci/view?usp=sharing | https://drive.google.com/file/d/1kV_JNAN4UEIFoh-Can4vt95XXpZ5AXMQ/view?usp=sharing |
| 02-07-2020 | https://drive.google.com/file/d/1iVPPj9wCe6JeBU0ZeyPtiF0l_5FjxE3s/view?usp=sharing | https://drive.google.com/file/d/1U8wmZ1wHuNN1nq4uqtVnkf4SgG7FQJw1/view?usp=sharing |
| 01-07-2020 | https://drive.google.com/file/d/1O5YtbTfBHAt4g7Ya3ZwVO_ODMu-2Ffb7/view?usp=sharing | https://drive.google.com/file/d/1kispQ5bDuU-_IsytUXapS4v_POnDSiCc/view?usp=sharing |
| 30-06-2020 | https://drive.google.com/file/d/1QsRWIgP1ssqbW9KMK7GkIpN8hd_rbV6S/view?usp=sharing | https://drive.google.com/file/d/1xQjnf92fm2_H2PpRb5T2C-LEpI24tP1O/view?usp=sharing |
| 29-06-2020 | https://drive.google.com/file/d/1hNdXpdNQDYr5glLVYYKe-51XUt47iGrv/view?usp=sharing | https://drive.google.com/file/d/1VWf1_wBL62T4yhGN7FwYA86cKf6yjxCp/view?usp=sharing |
| 28-06-2020 | https://drive.google.com/file/d/14uhNwtae4oiuaoJS8FzDlLzVbQ_-V9XD/view?usp=sharing | https://drive.google.com/file/d/1jzrTjBb4Hdpe09Khf9KnxE7WNHGnV7h5/view?usp=sharing |
| 27-06-2020 | https://drive.google.com/file/d/1KYqheeUnGDN3--WInGeYP-YiypT21XJH/view?usp=sharing | https://drive.google.com/file/d/1_tM-h-35TwIDGRhdq3NwWoQzvcN-UhJ_/view?usp=sharing |
| 26-06-2020 | https://drive.google.com/file/d/1Glk__NPCBNRmGcZIKArbL8AnEFZsr0sq/view?usp=sharing | https://drive.google.com/file/d/1M1xnmv49X7xKdB6WHZhGVITEgrC-rW-a/view?usp=sharing |
| 25-06-2020 | https://drive.google.com/file/d/1b_Q3ZUc_OV_vO0xxBlIYmhzr-SjZQwsn/view?usp=sharing | https://drive.google.com/file/d/1TTGJn398rDqT2Jds19qrxVaSPhrOnSQ1/view?usp=sharing |
| 24-06-2020 | https://drive.google.com/file/d/17abdkeOx_ei5DvRTnSgHb9k4yNxpFbz1/view?usp=sharing | https://drive.google.com/file/d/19XK3VhCw4q3444glKH0TOodo5DCCenLK/view?usp=sharing |
| 23-06-2020 | https://drive.google.com/file/d/1tua9BwF85pN94IbAeHSuSPsbwES_MGLV/view?usp=sharing | https://drive.google.com/file/d/1QKCz9chCwE4y_vDAbg8IRjDy4DmmSFQz/view?usp=sharing |
| 22-06-2020 | https://drive.google.com/file/d/1ifx9IEOvQdB5iuvxNex_bnev_Zg9f9By/view?usp=sharing | https://drive.google.com/file/d/1WtO6uRBuUIcWvJB0EyBgXmkfy5DY9XEv/view?usp=sharing |
| 21-06-2020 | https://drive.google.com/file/d/1_-_do9FI8DdGu002FEN9wmQQ0eCiP8ot/view?usp=sharing | https://drive.google.com/file/d/1Y18ZwAawQmi0FEvr_lpYPrS_erAdS8Ne/view?usp=sharing |
| 20-06-2020 | https://drive.google.com/file/d/1WLHT405Vp3JLPLOciT9XvYbSpM1tIYmU/view?usp=sharing | https://drive.google.com/file/d/1YT5rKe-RdBhMAMvjrQomgnFr5wQiIG0Y/view?usp=sharing |
| 19-06-2020 | https://drive.google.com/file/d/15Nn72WeWg0tBgGBtY1xE42sJy_MxsvDc/view?usp=sharing | https://drive.google.com/file/d/1ekXehFHC2qwyz8FXxkh2-LOFPEbKA0Em/view?usp=sharing |
| 18-06-2020 | https://drive.google.com/file/d/19Nw3URLqfHD9avwtecBG7tMImXWtWYeZ/view?usp=sharing | https://drive.google.com/file/d/1051Hnl4hcB6iY34Bqo2pvXAEZaM3tzPJ/view?usp=sharing |
| 17-06-2020 | https://drive.google.com/file/d/1gWSlGW1rnQyUKnBQyyqlSxUGC2LGjye4/view?usp=sharing | https://drive.google.com/file/d/1u0XRE4kVl24mwh35tTEbUU14fZwHPvSF/view?usp=sharing |
| 16-06-2020 | https://drive.google.com/file/d/12yyPTARFTVSKLick92MKIDN3vO3k_kwh/view?usp=sharing | https://drive.google.com/file/d/19vryeTC3mi5qDwdb9cLAhIY9glZSCn-J/view?usp=sharing |
| 15-06-2020 | https://drive.google.com/file/d/1EEj8imrG6l_HxrZaqa-HBiKt186DxBfS/view?usp=sharing | https://drive.google.com/file/d/1zuoXgNl1fymkom81ruANyKTpOEvEkX8D/view?usp=sharing |
| 14-06-2020 | https://drive.google.com/file/d/1R0dqUG38wQIl4C6JwFadRDb1E-e2BS3v/view?usp=sharing | https://drive.google.com/file/d/1fSRkmccTQsMhoB3J1bhFsn3wxi9lpwv5/view?usp=sharing |
| 13-06-2020 | https://drive.google.com/file/d/1tK7SW8kNmePIPLd7kQriJspOrOuS8h1w/view?usp=sharing | https://drive.google.com/file/d/1BUggTuhcyApILt_bVEpzsdMCa_-k3sl7/view?usp=sharing |
| 12-06-2020 | https://drive.google.com/file/d/1D9VWKwTaorBv4FIDnwrYijaZYOA_J78d/view?usp=sharing | https://drive.google.com/file/d/10pYnWBd3eDhUq7EtJpzPr98-sXk5wko6/view?usp=sharing |
| 11-06-2020 | https://drive.google.com/file/d/1M6KT-FF8vpBF8W-BSC_pt8xKveKKtyTS/view?usp=sharing | https://drive.google.com/file/d/1RMs2oNyCMzg3D5zufdLOW292-kRNZUrR/view?usp=sharing |
| 10-06-2020 | https://drive.google.com/file/d/1tbUmtt3DA3KgyED0c7sKlO_nHDK4C6Bi/view?usp=sharing | https://drive.google.com/file/d/1sQkLWMoNOQFFqfsm2ua-LtfhkrSGD2a-/view?usp=sharing |
| 09-06-2020 | https://drive.google.com/file/d/1t1eEq6u5kdacELLtwqibPzgdXpFUjEi3/view?usp=sharing | https://drive.google.com/file/d/1bz3nxUOwpn7HnzblIg54jSxCNXbQNQty/view?usp=sharing |
| 08-06-2020 | https://www.careerswave.in/ | https://www.careerswave.in// |
| 07-06-2020 | https://drive.google.com/file/d/1hZLfkmFJ7MpVI8thiY4ACQXMNasOhnnG/view?usp=sharing | https://drive.google.com/file/d/19HAUFPvs4Virgbxb6SWGeeN6xDeJcQ1A/view?usp=sharing |
| 06-06-2020 | https://drive.google.com/file/d/1W2DrI7LIt39HYnKnV4O8nLWUr4Uy74LR/view?usp=sharing | https://drive.google.com/file/d/11lx9cK5cF1qNS72rrO8HlrddlV9CG_PB/view?usp=sharing |
| 05-06-2020 | https://drive.google.com/file/d/1cYnADg21JPNdl81TsyfpCh0fBB1Q1hcX/view?usp=sharing | https://drive.google.com/file/d/1G_oEGEddow4CewSlUei4ZMfBDBaxnZCR/view?usp=sharing |
| 03-06-2020 | https://drive.google.com/file/d/1J-uQErItl_JfuPk5eYBiE5R3JNfzj2wQ/view?usp=sharing | https://drive.google.com/file/d/1PfrzaYLlx4C9402dgWdHVsZsRUbZSmdP/view?usp=sharing |
| 02-06-2020 | https://drive.google.com/file/d/1F9YLDJZdOtiutyCO9MiIAtl19Qpie5M8/view?usp=sharing | https://drive.google.com/file/d/1F9YLDJZdOtiutyCO9MiIAtl19Qpie5M8/view?usp=sharing |
| 01-06-2020 | https://www.careerswave.in/ | https://www.careerswave.in/ |
[expander_maker id="4″ more="Read Full Article" less="Read less"]
May 2020
April 2020
March 2020
February 2020
[/expander_maker]