Today's Deccan Chronicle Newspaper PDF Download is one of the best Hindi Newspaper in India. In this page readers can find Deccan Chronicle epaper Pdf Download links.
Hi readers, we are providing Deccan Chronicle epaper pdf google drive link daily which are freely available on internet. Who want to download Deccan Chronicle newspaper pdf google drive file date wise which we given at the end of this post. Readers download today's Deccan Chronicle newspaper 2020 and read it on your mobile or pc offline. We had provided adfree Deccan Chronicle google drive newspaper regularly.
About Deccan Chronicle epaper PDF | DC epaper PDF
Deccan Chronicle Newspaper is an English Newspaper. It is so famous in the Indian State of Hyderabad and  Telangana. Deccan Chronicle paper founded by Rajagopal Mudaliar in the 1930s.  Now SREI runs the whole Business of Deccan Chronicle Epaper
| | |
| --- | --- |
| Category |  Daily Newspaper |
| Format |  Broadsheet |
| Owner(S) |  Deccan Chronicle Holdings Limited |
| Editor-In-Chief |  A. T. Jayanti |
| Founded |  1938 |
| Political Alignment |  Centre-Left |
| Language |  English |
| Headquarters |  36, Sarojini Devi Road, Secunderabad, Telangana, India |
| Circulation |  1,333,668 |
| Sister Newspapers |  Financial Chronicle |
| Website |  Deccanchronicle.Com |
 How to download Deccan Chronicle Epaper PDF?
We are daily uploading Deccan Chronicle Newspaper PDF which is absolutely free of cost to download Deccan Chronicle e-paper. Scroll down the page and find out the download link by date wise of Deccan Chronicle e-paper.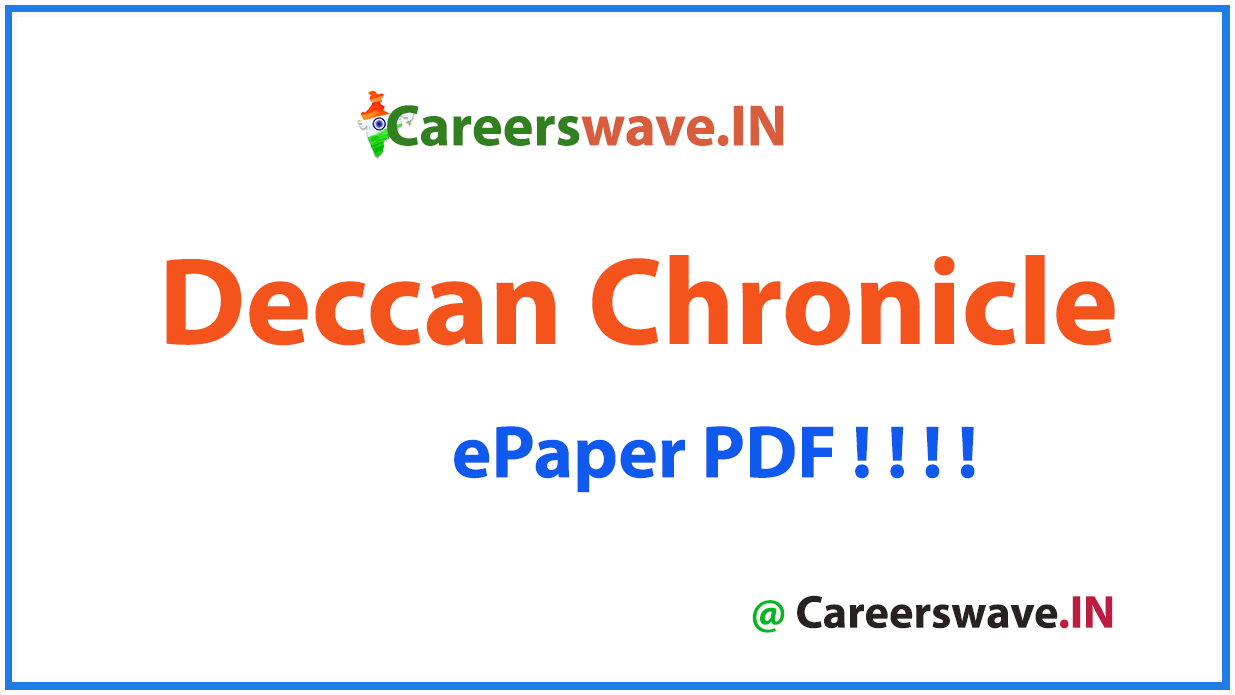 When do I get Deccan Chronicle Epaper pdf?
You can get DC Newspaper pdf link is available in the morning between 6:00 AM to 7:00 AM. If there any technical issue please comment below.
Why should you read Times of India epaper pdf?
Deccan Chronicle newspaper differentiates between news and opinions. DC news paper gives priority to areas of national concern & local issues. If you want to read whole newspaper it takes more time, you have to read it in smart way. By reading daily Deccan Chronicle (DC) gradually your vocabulary & communication skills will improve.
Deccan Chronicle newspaper PDF Disclaimer
We are not the owner of the paper Deccan Chronicle. We are just sharing Deccan Chronicle (DC) pdf file which is available on internet.
Deccan Chronicle (DC) epaper PDF adfree google drive link
Here we are sharing the download link of Deccan Chronicle (DC) PDF Daily and readers can download Deccan Chronicle (DC) newspaper pdf. We try always to give to Deccan Chronicle (DC) PDF as early as possible. Download Process is very easy to use. Just Click on the below Download Link and you will get Deccan Chronicle (DC) PDF file and read it offline.
Download Today's AdFree e-Papers
Download The Hindu epaper Download.
Adfree Times of India Epaper Download.
Adfree Deccan Chronicle Epaper Free Download.
Adfree Hindustan Times Epaper Download.
Today Deccan Chronicle full Newspaper PDF
Click below button to download Deccan Chronicle epaper online
[If do not find file please reload/refresh again/comment]
| Date | Chennai | Coimbatore | Hyderabad | Vijayawada |
| --- | --- | --- | --- | --- |
| 27-10-2020 | https://drive.google.com/file/d/1s-EeE27znBO10vtqs4RQsba0O48KEcib/view?usp=sharing | https://drive.google.com/file/d/1s-EeE27znBO10vtqs4RQsba0O48KEcib/view?usp=sharing | https://drive.google.com/file/d/1s-EeE27znBO10vtqs4RQsba0O48KEcib/view?usp=sharing | https://drive.google.com/file/d/1s-EeE27znBO10vtqs4RQsba0O48KEcib/view?usp=sharing |
| 25-10-2020 | https://drive.google.com/file/d/1-m-Rj50yAFmg6oH-nW3x9lqLP2i8Rd_l/view?usp=sharing | https://drive.google.com/file/d/1RKQIs8NyDkENuFtuBCqNgZM4MuhhVsbe/view?usp=sharing | https://drive.google.com/file/d/1zgNOdBoH5R1pS0ZhUm1FBDVb97R1ijUX/view?usp=sharing | |
| 24-10-2020 | https://drive.google.com/file/d/1FW-csiTEF3GhmpEhSJ3iMoK6Ln0qnKwo/view?usp=sharing | https://drive.google.com/file/d/14Qa_GY9wHpobKZsFVQdHcrlIhjKk3xyc/view?usp=sharing | https://drive.google.com/file/d/1Tk9WoVWVCa7AIOB6Zua5Y4EyTwXDLKPc/view?usp=sharing | https://drive.google.com/file/d/1EAxxAA-1v13HVCh-7WYgIEuB4led1BlF/view?usp=sharing |
| 23-10-2020 | https://drive.google.com/file/d/1O66ooXsdibBJzOzVdClhE8CAF2tlwF_y/view?usp=sharing | https://drive.google.com/file/d/1xh4LMKu9gZjYYBrZbtPgNKfD8fC1dK7u/view?usp=sharing | https://drive.google.com/file/d/1gAQCOMN3aTSix4iDqwh0-rr4v83VE7wo/view?usp=sharing | https://drive.google.com/file/d/1gAQCOMN3aTSix4iDqwh0-rr4v83VE7wo/view?usp=sharing |
| 22-10-2020 | https://drive.google.com/file/d/1HuyuQe3b-9j8NVafsF5XkhbNrLDaGVbS/view?usp=sharing | https://drive.google.com/file/d/1FGOkXIOPxn2spkEg7kvxeAb5eqbRrQ6S/view?usp=sharing | https://drive.google.com/file/d/18RIBZjgRppffzzZYyU1MQheyGeKzy9EW/view?usp=sharing | https://drive.google.com/file/d/1BDYsBY3CyKCbe6FUGrzSP4nCf09fDuvw/view?usp=sharing |
| 21-10-2020 | https://drive.google.com/file/d/1qaZnfe_-YDhgg0UmmPgrZ8U-x1SuhmY8/view?usp=sharing | https://drive.google.com/file/d/1qaZnfe_-YDhgg0UmmPgrZ8U-x1SuhmY8/view?usp=sharing | https://drive.google.com/file/d/1qaZnfe_-YDhgg0UmmPgrZ8U-x1SuhmY8/view?usp=sharing | https://drive.google.com/file/d/1qaZnfe_-YDhgg0UmmPgrZ8U-x1SuhmY8/view?usp=sharing |
| 20-10-2020 | https://drive.google.com/file/d/1YF-7Kp77f7VuKgRhJhoYgH7FDsX6SjiL/view?usp=sharing | https://drive.google.com/file/d/1cqG1ibrsLUz9fVcUriGXjFvy3Yn4x_Jz/view?usp=sharing | | |
| 19-10-2020 | https://drive.google.com/file/d/1Gdh2QxYEPP7kW5tFxD91VHpF-eVOfkFh/view?usp=sharing | https://drive.google.com/file/d/1HrRb0yVyT6VT23X81mMptQZkKeMfREAi/view?usp=sharing | https://drive.google.com/file/d/11SOG6oaqbZL9TBG_xL0JbF6wX83isI9n/view?usp=sharing | https://drive.google.com/file/d/1MTbIw4NOuD6OUjpEVwDND4zC2f1IMrYL/view?usp=sharing |
| 18-10-2020 | https://drive.google.com/file/d/11BukzD5MbGkf3giSL5NjHRDQPK5tSvR8/view?usp=sharing | https://drive.google.com/file/d/1V-A14M3Sq-rMZ37NlFWbs3i60JR0e5W8/view?usp=sharing | https://drive.google.com/file/d/11FwaV-QEh2x-TXVIMHqEXP3iqN13X4fz/view?usp=sharing | https://drive.google.com/file/d/1PQ9SKL1tTgcZvMmYPi2Hq5736PXhOC_Y/view?usp=sharing |
| 17-10-2020 | https://drive.google.com/file/d/1hOKk3E0i0inrND1MtwBxdorWj4e0nObg/view?usp=sharing | | https://drive.google.com/file/d/1-2o28UvhDuuoptjz3e03pCsROYHKUsqz/view?usp=sharing | |
| 16-10-2020 | https://drive.google.com/file/d/1l3Y3iKOu4HPLzd92cOFtkdVyKDTXWyEW/view?usp=sharing | https://drive.google.com/file/d/1qfNVbbqXisF3FY5eEdWnq7sZ1cJRVu04/view?usp=sharing | https://drive.google.com/file/d/1l3Y3iKOu4HPLzd92cOFtkdVyKDTXWyEW/view?usp=sharing | https://drive.google.com/file/d/1l3Y3iKOu4HPLzd92cOFtkdVyKDTXWyEW/view?usp=sharing |
| 15-10-2020 | https://drive.google.com/file/d/128fBCrOrtFf99elCGRubzYE0_d0qhEKM/view?usp=sharing | https://drive.google.com/file/d/128fBCrOrtFf99elCGRubzYE0_d0qhEKM/view?usp=sharing | https://drive.google.com/file/d/128fBCrOrtFf99elCGRubzYE0_d0qhEKM/view?usp=sharing | https://drive.google.com/file/d/128fBCrOrtFf99elCGRubzYE0_d0qhEKM/view?usp=sharing |
| 14-10-2020 | https://drive.google.com/file/d/1Br-y87VgLxdjszdtdT8RFSZSDICAo6l9/view?usp=sharing | https://drive.google.com/file/d/1Br-y87VgLxdjszdtdT8RFSZSDICAo6l9/view?usp=sharing | https://drive.google.com/file/d/1Br-y87VgLxdjszdtdT8RFSZSDICAo6l9/view?usp=sharing | https://drive.google.com/file/d/1Br-y87VgLxdjszdtdT8RFSZSDICAo6l9/view?usp=sharing |
| 13-10-2020 | https://drive.google.com/file/d/1PSIwETpWLiN_bhjqKmODoMAMOzNQ7nQ_/view?usp=sharing | https://drive.google.com/file/d/1PSIwETpWLiN_bhjqKmODoMAMOzNQ7nQ_/view?usp=sharing | https://drive.google.com/file/d/1PSIwETpWLiN_bhjqKmODoMAMOzNQ7nQ_/view?usp=sharing | https://drive.google.com/file/d/1PSIwETpWLiN_bhjqKmODoMAMOzNQ7nQ_/view?usp=sharing |
| 12-10-2020 | https://drive.google.com/file/d/1mUffOygSiqwDOFQ5olIGolISnn2OQXn6/view?usp=sharing | https://drive.google.com/file/d/1mUffOygSiqwDOFQ5olIGolISnn2OQXn6/view?usp=sharing | https://drive.google.com/file/d/1mUffOygSiqwDOFQ5olIGolISnn2OQXn6/view?usp=sharing | https://drive.google.com/file/d/1mUffOygSiqwDOFQ5olIGolISnn2OQXn6/view?usp=sharing |
| 11-10-2020 | https://drive.google.com/file/d/14LPpw7m0kBGWef88CDA05HbGCJfgzuLf/view?usp=sharing | https://drive.google.com/file/d/14LPpw7m0kBGWef88CDA05HbGCJfgzuLf/view?usp=sharing | https://drive.google.com/file/d/14LPpw7m0kBGWef88CDA05HbGCJfgzuLf/view?usp=sharing | https://drive.google.com/file/d/1kqXi7hVnL39ENwXuBvF2AlAG4BsjtWel/view?usp=sharing |
| 10-10-2020 | https://drive.google.com/file/d/1YRG4l27m5MhDLguefvCTNhGICcDeY2z7/view?usp=sharing | https://drive.google.com/file/d/1SshwhXigtSjQIJEO9sgOniEvPcsv0kps/view?usp=sharing | https://drive.google.com/file/d/1KOJTOnTZUfN6mQpBT0S_7HS5XzG8A7vK/view?usp=sharing | https://drive.google.com/file/d/1z-s7ZM_qwNYcxRIRZmve54qL1jLBtP4I/view?usp=sharing |
| 09-10-2020 | https://drive.google.com/file/d/1mfGXi7_3r8LeZUPMXZMDhC69EIx48mWP/view?usp=sharing | https://drive.google.com/file/d/1YFBQaK0kVVV_lQ9W-UIi8J-MAEgrwK84/view?usp=sharing | https://drive.google.com/file/d/13E1B0mYMc_uXx3IDtMvziNEYGkAzoFGo/view?usp=sharing | https://drive.google.com/file/d/1T_LZgXPUsxde4Uwti22QHV06lE9Sy9JM/view?usp=sharing |
| 08-10-2020 | https://drive.google.com/file/d/1JYh9hKOITKHAU_cSLY_b-WwHqekGHtlE/view?usp=sharing | https://drive.google.com/file/d/1JnRcFLcy2GoLYCY6NJoPCBVkYTdExZ6Z/view?usp=sharing | https://drive.google.com/file/d/1pgh4oQn9YgQTgRiIiq_Y28wzFYcOvrBx/view?usp=sharing | https://drive.google.com/file/d/1a8VUburHY_b6EDXDe2gf4uRUd9r98VwV/view?usp=sharing |
| 07-10-2020 | https://drive.google.com/file/d/1lTbBaUkA_0aKmKAbEBetJhWEGMUitgUw/view?usp=sharing | https://drive.google.com/file/d/1lTbBaUkA_0aKmKAbEBetJhWEGMUitgUw/view?usp=sharing | https://drive.google.com/file/d/1lTbBaUkA_0aKmKAbEBetJhWEGMUitgUw/view?usp=sharing | https://drive.google.com/file/d/19Wk7Tbn3mOHQbIs9P-67MiXya1A4ivI1/view?usp=sharing |
| 06-10-2020 | https://drive.google.com/file/d/1hXqIWRmmz9bQ4_n4q837mFwMByA6f8Wf/view?usp=sharing | https://drive.google.com/file/d/1q9ANCEwHcLkjiYaUbYdtHeoya5eVY--w/view?usp=sharing | https://drive.google.com/file/d/1DHQXUEw4Gl4OQrK28gwu6W6THQ2D_Hez/view?usp=sharing | https://drive.google.com/file/d/1DHQXUEw4Gl4OQrK28gwu6W6THQ2D_Hez/view?usp=sharing |
| 05-10-2020 | https://drive.google.com/file/d/1LEgemerx9_5IFWqjoF6Goq82p4tv3eaR/view?usp=sharing | https://drive.google.com/file/d/1LEgemerx9_5IFWqjoF6Goq82p4tv3eaR/view?usp=sharing | https://drive.google.com/file/d/1LEgemerx9_5IFWqjoF6Goq82p4tv3eaR/view?usp=sharing | https://drive.google.com/file/d/1LEgemerx9_5IFWqjoF6Goq82p4tv3eaR/view?usp=sharing |
| 04-10-2020 | https://drive.google.com/file/d/1_tB2XJzT9As7ItcF81-XBZJxW0qJNHKv/view?usp=sharing | https://drive.google.com/file/d/1c5OA6wDWgFn8dUM69jPbZ1k8-RHCz1fe/view?usp=sharing | https://drive.google.com/file/d/1TUlyUuDrroY8bLofDqv3vNREMdInAR94/view?usp=sharing | https://drive.google.com/file/d/15U8_Ul5WSwA3Rpo0QM0eIRCE5iql347t/view?usp=sharing |
| 03-10-2020 | https://drive.google.com/file/d/1qcz2Ay8R1QlYy2oDF9o6g4DRKPDc_od1/view?usp=sharing | https://drive.google.com/file/d/1qcz2Ay8R1QlYy2oDF9o6g4DRKPDc_od1/view?usp=sharing | https://drive.google.com/file/d/13o6KW--ZdKymtoC55ELZCSjaik0S4k55/view?usp=sharing | https://drive.google.com/file/d/13o6KW--ZdKymtoC55ELZCSjaik0S4k55/view?usp=sharing |
| 02-10-2020 | https://drive.google.com/file/d/1cSyRWnZgTX5wC4uEJHS7ZizEvAZSj-W3/view?usp=sharing | https://drive.google.com/file/d/1wlpyLK37-Kzmn7yx5nSMYySHkFE9PA4A/view?usp=sharing | https://drive.google.com/file/d/1wlpyLK37-Kzmn7yx5nSMYySHkFE9PA4A/view?usp=sharing | https://drive.google.com/file/d/1EPn5eYGWTMfmitjmbZYD5cmTSO2wr3np/view?usp=sharing |
| 01-10-2020 | https://drive.google.com/file/d/10-UuRCL2mJFbCq4SUbGQyn1qoU_nynGo/view?usp=sharing | https://drive.google.com/file/d/10-UuRCL2mJFbCq4SUbGQyn1qoU_nynGo/view?usp=sharing | https://drive.google.com/file/d/10-UuRCL2mJFbCq4SUbGQyn1qoU_nynGo/view?usp=sharing | https://drive.google.com/file/d/10-UuRCL2mJFbCq4SUbGQyn1qoU_nynGo/view?usp=sharing |
| 30-09-2020 | https://drive.google.com/file/d/1JZ81iVoirSQIlUj45jfO8qffqbfL29_z/view?usp=sharing | https://drive.google.com/file/d/1WFu6PNxQhNxXr2WjtgwJXmrWsLYwDbE0/view?usp=sharing | https://drive.google.com/file/d/1LzKUinqQ5VwjvWzqfVyWsmzVNy4HR_iz/view?usp=sharing | https://drive.google.com/file/d/1suUCdctJ_jPRKOkYFbykdyrdtweD_4JM/view?usp=sharing |
| 29-09-2020 | https://drive.google.com/file/d/10aLY42KvThzh9quy6xeYxS5aBwSYPDal/view?usp=sharing | https://drive.google.com/file/d/1jh50OG48gjgxrIA-zKxe5PLEWs66yMmX/view?usp=sharing | https://drive.google.com/file/d/1qdu55oKzTO8taSPmLHela_Zkn-7lsdr9/view?usp=sharing | https://drive.google.com/file/d/12WMzXcD9ZSl3WkEmI4BQ1vMr8t2F2n-7/view?usp=sharing |
| 28-09-2020 | https://drive.google.com/file/d/1Z-2iD89MzyeT37RWpnyLp_xg-MWiipyn/view?usp=sharing | https://drive.google.com/file/d/1qgWWtlR5jUSdpCbfjIpEdcQ1uvx6xaQX/view?usp=sharing | https://drive.google.com/file/d/1HG-RUY3v3VS7dt8mMc4KxpFEClnzwuNL/view?usp=sharing | https://drive.google.com/file/d/1ulpcwPMAwsCWolBQKssdWGH6sd-jDTdo/view?usp=sharing |
| 27-09-2020 | https://drive.google.com/file/d/1ryxbs-_yR29hDfA6Hq19Sn1eq7W1DBzR/view?usp=sharing | https://drive.google.com/file/d/14uFBgTbdegf0Dr3xyBhgLrc-WtkxIznQ/view?usp=sharing | https://drive.google.com/file/d/1oT_VnjOaOJQKwMY9z4tW6eNT7I1Dxuja/view?usp=sharing | https://drive.google.com/file/d/1CMD2K0Snv2LVJlNKZwlqAAuvgzVYey9d/view?usp=sharing |
| 26-09-2020 | https://drive.google.com/file/d/16tG8l_tBBhKaZx-5FAnK5Futun-hk4o6/view?usp=sharing | https://drive.google.com/file/d/16tG8l_tBBhKaZx-5FAnK5Futun-hk4o6/view?usp=sharing | https://drive.google.com/file/d/1aG4GoTH0AamZc_6q3GdObqes3wWwngQE/view?usp=sharing | https://drive.google.com/file/d/1tVQ-03uI3V3VXwF83kTwmWcvvzQbgaa9/view?usp=sharing |
| 25-09-2020 | https://drive.google.com/file/d/1HVtZ56_Z_BI3-Dd3We_srj3lGdAXRadR/view?usp=sharing | https://drive.google.com/file/d/1VBV7HV4Bs8ztTZ9jt4QNFtJrggdgT9KT/view?usp=sharing | https://drive.google.com/file/d/1IdGhmK0QG_NVrg7Io7LWwiHcVFbpwFlu/view?usp=sharing | https://drive.google.com/file/d/1UNsO7RY8wygTVrgUlshatz8sTCMftPEG/view?usp=sharing |
| 24-09-2020 | https://drive.google.com/file/d/1fMSfB-32Jjtf3V8MQt8MpYKTDtGWQ3c9/view?usp=sharing | https://drive.google.com/file/d/1UTB5s1RadLfWKXjkUKN5tOpMQSMXxw3m/view?usp=sharing | https://drive.google.com/file/d/1XmaWkOsTMuW1ea6NDbWMWAJvmJ9nYl-z/view?usp=sharing | https://drive.google.com/file/d/1EuOpavNOOgzdEwz12u4JeVA-KXH8gHeU/view?usp=sharing |
| 23-09-2020 | https://drive.google.com/file/d/1BUGhfJ4V54QrjP25AaNecFL2_VPF6fd4/view?usp=sharing | https://drive.google.com/file/d/1BUGhfJ4V54QrjP25AaNecFL2_VPF6fd4/view?usp=sharing | https://drive.google.com/file/d/1BUGhfJ4V54QrjP25AaNecFL2_VPF6fd4/view?usp=sharing | https://drive.google.com/file/d/1BUGhfJ4V54QrjP25AaNecFL2_VPF6fd4/view?usp=sharing |
| 22-09-2020 | https://drive.google.com/file/d/19CiB9HV3RkJozwjyCecUJULe89gDnWeo/view?usp=sharing | https://drive.google.com/file/d/19CiB9HV3RkJozwjyCecUJULe89gDnWeo/view?usp=sharing | https://drive.google.com/file/d/19CiB9HV3RkJozwjyCecUJULe89gDnWeo/view?usp=sharing | https://drive.google.com/file/d/19CiB9HV3RkJozwjyCecUJULe89gDnWeo/view?usp=sharing |
| 21-09-2020 | https://drive.google.com/file/d/1rcBaXgqEgMfgXQBJyjgmt_68gKUnJeO_/view?usp=sharing | https://drive.google.com/file/d/1p-VNDg_4HT0apIg0AqKWfAjuCFKKpcnw/view?usp=sharing | https://drive.google.com/file/d/1WT5qSyJf4yjpl7MMD-IB76b0ZfFzH-WK/view?usp=sharing | https://drive.google.com/file/d/1WT5qSyJf4yjpl7MMD-IB76b0ZfFzH-WK/view?usp=sharing |
| 20-09-2020 | https://drive.google.com/file/d/1BTk4zTSCYV9wEgQV_KmDjnuv1DiSRMAD/view?usp=sharing | https://drive.google.com/file/d/1MePzUG1GAB2jdRjPmFEpbWYXZcZD6uGT/view?usp=sharing | https://drive.google.com/file/d/1EX0UQcWTdGGVvnwr2F-7nXyl6xZBSIVx/view?usp=sharing | https://drive.google.com/file/d/1GwagrS69JAx-S2yvQcfcZRBzNbedYEgq/view?usp=sharing |
| 19-09-2020 | https://drive.google.com/file/d/14kVxn2aMt4qNMBYXqnAxDG5eLnt8peFJ/view?usp=sharing | https://drive.google.com/file/d/1EqFAB-vxGvmG7x9Uh8bBd1PUilAh72qN/view?usp=sharing | https://drive.google.com/file/d/1EqFAB-vxGvmG7x9Uh8bBd1PUilAh72qN/view?usp=sharing | https://drive.google.com/file/d/14kVxn2aMt4qNMBYXqnAxDG5eLnt8peFJ/view?usp=sharing |
| 18-09-2020 | https://drive.google.com/file/d/1erRLII9TnflhRPcXAdcPM0y-zTDIxohc/view?usp=sharing | https://drive.google.com/file/d/1x8lWSYTS4RZul2rzeDwiOXpWkIFk8cFS/view?usp=sharing | https://drive.google.com/file/d/1trSCbq69umUJs8DUNew7ZUeoR_Yl5ISk/view?usp=sharing | https://drive.google.com/file/d/1Zxc8G6r2HSfPnMi_IwiMoc-DyLnuhDav/view?usp=sharing |
| 17-09-2020 | https://drive.google.com/file/d/1DE1amDQqpD_l87Rv8w2w4WDMxtdiG2aq/view?usp=sharing | https://drive.google.com/file/d/1PO7q3NcNcm9O-IR9tusq5-IyiVfwKgLd/view?usp=sharing | https://drive.google.com/file/d/1XaeSg03C3NHy-382MEq3aRXuel2YQEQl/view?usp=sharing | https://drive.google.com/file/d/1pdZpWid6bAgoiTRLjHfwNtPb9X5M_mlo/view?usp=sharing |
| 16-09-2020 | https://drive.google.com/file/d/1_vjgINsV8Or7MmRuS9AZukFuysf-O7Ds/view?usp=sharing | https://drive.google.com/file/d/1_vjgINsV8Or7MmRuS9AZukFuysf-O7Ds/view?usp=sharing | https://drive.google.com/file/d/1_vjgINsV8Or7MmRuS9AZukFuysf-O7Ds/view?usp=sharing | https://drive.google.com/file/d/1_vjgINsV8Or7MmRuS9AZukFuysf-O7Ds/view?usp=sharing |
| 15-09-2020 | https://drive.google.com/file/d/1LayV08ZiVPJERszYu5Wx3Mrrw2HizNcM/view?usp=sharing | https://drive.google.com/file/d/1mfoS4cnkezsIAyR0QDyemJVEY9q63BKL/view?usp=sharing | https://drive.google.com/file/d/1HuZ8dvrSk64izLos5oMg2s68aCbz8FJV/view?usp=sharing | https://drive.google.com/file/d/19GCR9ww2ng3LG_0lYG5s1LMl3ipC14vQ/view?usp=sharing |
| 13-09-2020 | https://drive.google.com/file/d/13ajrqjM96b6Gf3UlM625D-KLHA6gBvJX/view?usp=sharing | https://drive.google.com/file/d/1_1dwBKuzbhNy2vGUA-39-XIhvsym8aSc/view?usp=sharing | https://drive.google.com/file/d/1dy22a6H9EjFlUWLijIUhCtKiNYU5R28_/view?usp=sharing | https://drive.google.com/file/d/164vlLxjMCM0J8u_tgUG9JFnVFowuMgpj/view?usp=sharing |
| 12-09-2020 | https://drive.google.com/file/d/1n9EajU8Y_XwZde5xt_-mxpeT4Vrj6th-/view?usp=sharing | https://drive.google.com/file/d/10V-nr1NxZyOMZfNOusnwtilWcK8SCPYQ/view?usp=sharing | https://drive.google.com/file/d/1YI0Slu1amKyDQi-oggkEYYU1gCAQ1IkP/view?usp=sharing | https://drive.google.com/file/d/1bvQmfhF-I4tQGOWFtcDx0rOTorIP2pFP/view?usp=sharing |
| 11-09-2020 | https://drive.google.com/file/d/1S2FKHKF9jWabBskRdQNZYC82yFUbRsN-/view?usp=sharing | https://drive.google.com/file/d/13-FsPkHJBOdEKnRo0A7-Nyj-n0wf3olD/view?usp=sharing | https://drive.google.com/file/d/1OK09fn0o9UWJaNEZgwrlYbfSVGviXPdf/view?usp=sharing | https://drive.google.com/file/d/1JzzZJ-ytpK6Dbe4JEMJ5Bc5myBciUYRK/view?usp=sharing |
| 10-09-2020 | https://drive.google.com/file/d/16VaW7YWXyrwIHv6uhTXhyNEbd6jGgrj6/view?usp=sharing | https://drive.google.com/file/d/1pz4whf9DAH7a56l6NXrqC2PflNnPLnQS/view?usp=sharing | https://drive.google.com/file/d/1SqVzyUvCAi5iQcnLL6H3cz-yr2yNVEpj/view?usp=sharing | https://drive.google.com/file/d/1WLM4jYLWnO3P-dNYyugYsd9Ys4sVeCyf/view?usp=sharing |
| 09-09-2020 | https://drive.google.com/file/d/1YuMVIA1rxoOb0ezqcNoDi3NGu1F7hjIO/view?usp=sharing | https://drive.google.com/file/d/1EUzOTD6LWt8RG1jqcxe1m_PnGF36fxdk/view?usp=sharing | https://drive.google.com/file/d/1r6f4o31rPnpfZjH2Ix3bCzbs572qyjH3/view?usp=sharing | https://drive.google.com/file/d/1hjm64Mkv-t8bqSX-usTr1EpDHfGRbb1L/view?usp=sharing |
| 08-09-2020 | https://drive.google.com/file/d/1fVFSf9r60NqXwzdQIIv4O4HLM1tsEUuz/view?usp=sharing | https://drive.google.com/file/d/1SXQx635tZpY5JCqBsy2uj03p8lz-og-m/view?usp=sharing | https://drive.google.com/file/d/1DrId0RR1_OLtN9vsxk-dPByKU9A0_sea/view?usp=sharing | https://drive.google.com/file/d/1TxZOt1sFEk1UKjinUSR7fOFxmGpvsi_Y/view?usp=sharing |
| 07-09-2020 | https://drive.google.com/file/d/1wOOSdh3myKsY-M592QFHHzJf2uDNVUla/view?usp=sharing | https://drive.google.com/file/d/1i1Y7ZLJwTIAUwIUaAJ9KrbV4lCvmWvWx/view?usp=sharing | https://drive.google.com/file/d/10_Fi3O-kX1dTutXIat5I2aZUzcdFfutE/view?usp=sharing | https://drive.google.com/file/d/1MGu9aAdM-N-yrhAxM04uobGUtMhH2dnR/view?usp=sharing |
| 06-09-2020 | https://drive.google.com/file/d/1L9UIoSoxtNrNLp7GJFyE1E-NXlP2OGVU/view?usp=sharing | https://drive.google.com/file/d/1k117ZfMnLKUHvjn85Z3bxqrHc4ENULoB/view?usp=sharing | https://drive.google.com/file/d/14wL-77Y_CBxb5zSHexEi2MQzb1rkFriI/view?usp=sharing | https://drive.google.com/file/d/1fetSfBGfhNQS-QOokt97ZRUfwwgxPxP8/view?usp=sharing |
| 05-09-2020 | https://drive.google.com/file/d/1rSeNJKVnLVzDGTVGINuNMxWqEerSlnTp/view?usp=sharing | https://drive.google.com/file/d/1rSeNJKVnLVzDGTVGINuNMxWqEerSlnTp/view?usp=sharing | https://drive.google.com/file/d/1rSeNJKVnLVzDGTVGINuNMxWqEerSlnTp/view?usp=sharing | https://drive.google.com/file/d/1rSeNJKVnLVzDGTVGINuNMxWqEerSlnTp/view?usp=sharing |
| 04-09-2020 | https://drive.google.com/file/d/1LdDMHvNN0_fgPCOGRB9_yAvmOQGn4rcx/view?usp=sharing | https://drive.google.com/file/d/1Znce0QKt8Lst-o-twT7QmBg6WZQlJAlQ/view?usp=sharing | https://drive.google.com/file/d/15Rwi2Q_xAIwccMp6Ltg8G9xYlMBUNPtK/view?usp=sharing | https://drive.google.com/file/d/1MKnE_1KsTxd2hThicSEoTuhuv9EW8Y6Z/view?usp=sharing |
| 03-09-2020 | https://drive.google.com/file/d/1Q0Nf6VD8nbbOnGNhj57mhHs1ysHA3LOD/view?usp=sharing | https://drive.google.com/file/d/1IQhYs5abYpTYLH2l-85trdjj7gnCc8Il/view?usp=sharing | https://drive.google.com/file/d/1pYkGxvxkXhvdiWt2ICPrKQGPlulb1xjs/view?usp=sharing | https://drive.google.com/file/d/1k8FJD58zeogoJozfVb_M3pSs4SsXQeAB/view?usp=sharing |
| 02-09-2020 | https://drive.google.com/file/d/15OiDpg5lvaAOOuTYkaHLxUHDFGNu6niz/view?usp=sharing | https://drive.google.com/file/d/1YRkdu4dNaMf5iMcDs60idP9qI63K9LnL/view?usp=sharing | https://drive.google.com/file/d/1Zc0gFsrwqL1xWrRDoOVajUsLvqy86U6r/view?usp=sharing | https://drive.google.com/file/d/109gjB-yh1Rtno5d2QbHxO0MR-g7KarET/view?usp=sharing |
| 01-09-2020 | https://drive.google.com/file/d/1n8v_6xTs-eMJTpXgyuMlFNGlssxyR1qd/view?usp=sharing | https://drive.google.com/file/d/1W9PiPzPDMB-qf0XZgBSv_DdAp0tdjVAy/view?usp=sharing | https://drive.google.com/file/d/10yNZ2T-JWuZzVXdHBtjQyZ3eX9mj7OXj/view?usp=sharing | https://drive.google.com/file/d/1lsCu_heMAmlv11r7vqEQm6D9gYWvnQPR/view?usp=sharing |
| 31-08-2020 | https://drive.google.com/file/d/1gnsBX96j3Rv0H66HpbQTLfLUt9bHkTVB/view?usp=sharing | https://drive.google.com/file/d/1VYCCun-13LqZkX2ttSXyQaitQPBd2duX/view?usp=sharing | https://drive.google.com/file/d/1zY9aFE7cmLOJzs5uwt_uKICUvfIg3E-R/view?usp=sharing | https://drive.google.com/file/d/1q4hf1O1BtpWCMDSDvr04gZ_p-G2mCeN4/view?usp=sharing |
| 30-08-2020 | https://drive.google.com/file/d/1PHtJvz39CdT806GZy_K17cQVzexnHLIl/view?usp=sharing | https://drive.google.com/file/d/1-AyxpMgyyszi5ccpUEH0r8P3enfr4Jcz/view?usp=sharing | https://drive.google.com/file/d/1kGdP2gs3ubNs7SX_bMm0Yv4RJc0mXZJx/view?usp=sharing | https://drive.google.com/file/d/1D--kyJlqydbg4T_rUyL50dcgr_wMBlLB/view?usp=sharing |
| 29-08-2020 | https://drive.google.com/file/d/1k4TUlfMyvzXm1ToOpaViMV2FU8YHJFm2/view?usp=sharing | https://drive.google.com/file/d/1GhSVI4wyw3U4pOyZjMHI7nfrrZlBRfSL/view?usp=sharing | https://drive.google.com/file/d/1raWdzn0aoq0OftUP0gYHz-2xm9gnrCEv/view?usp=sharing | https://drive.google.com/file/d/1aiLhrlusKa6moQAn4tdc33k6n4eeuKXU/view?usp=sharing |
| 28-08-2020 | https://drive.google.com/file/d/1CfbMDC2VDHBJwkhWdI-G7B7OoAxdMdS6/view?usp=sharing | https://drive.google.com/file/d/1jMwfRnqV1Mr72-3ybUNtwuNlWG-LL2_T/view?usp=sharing | https://drive.google.com/file/d/1dTsiiGRLS8WcviEKacZfgjvCjFEklq0a/view?usp=sharing | https://drive.google.com/file/d/1p5pt8GdHD9xn55X8Mnc9gbBNLyRWZZss/view?usp=sharing |
| 27-08-2020 | https://drive.google.com/file/d/1O4rinfsbicwcM2nHd0BIXTTBSkPbj-wV/view?usp=sharing | https://drive.google.com/file/d/1kcGRW3Ymaug2nsNlmsBWjgnuB-AYhlDI/view?usp=sharing | https://drive.google.com/file/d/1hFRrNMbWSa2v1e8XsB0BQ5StGhA_UJUf/view?usp=sharing | https://drive.google.com/file/d/18OrOCvXKO9EFC7IdPLXt5oApcFKr_v7F/view?usp=sharing |
| 26-08-2020 | https://drive.google.com/file/d/1ln4E5ZKTkeVdb4uJVvKlgMjEjZixTAWe/view?usp=sharing | https://drive.google.com/file/d/11Wq5kGkyozm-XcTjKZf2zVFawjBlGz0Z/view?usp=sharing | https://drive.google.com/file/d/1VRDBVlkzFrfWcqKpQou3GQafJeQLuhnx/view?usp=sharing | https://drive.google.com/file/d/1aKwoJfclFuhIAg7xfNcabbEU60FKTwiS/view?usp=sharing |
| 25-08-2020 | https://drive.google.com/file/d/1gQZ525GPaQPYTrw67RvRlyHMEz2-YHKu/view?usp=sharing | https://drive.google.com/file/d/10i2--FSsGRU5fMNU2KDqWEV0AB7wji24/view?usp=sharing | https://drive.google.com/file/d/1YjehuLlTPIl52KQqM2lu36G1Gev2BIbx/view?usp=sharing | https://drive.google.com/file/d/1-D_J_TwrFRTBq-9XS-PIm8o5LpzWZ6Vr/view?usp=sharing |
| 24-08-2020 | https://drive.google.com/file/d/1CSBx6uSGqaIsL4taOpFXDG9jeGNaJk0E/view?usp=sharing | https://drive.google.com/file/d/1CSBx6uSGqaIsL4taOpFXDG9jeGNaJk0E/view?usp=sharing | https://drive.google.com/file/d/1E6Zmdo7jinkBgWiveFKUOuTGY7WZeu9a/view?usp=sharing | https://drive.google.com/file/d/18EiYshA2uit_OZtZYhXEUuAU9r8lDdyL/view?usp=sharing |
| 23-08-2020 | https://drive.google.com/file/d/1EZoc56P9ThZC2N93FQdOk6P1SqZ-0rRd/view?usp=sharing | https://drive.google.com/file/d/1cQfzuEUrdbyTzsMSHgdXbIlKb-1kRi_X/view?usp=sharing | https://drive.google.com/file/d/1OnPWOmDIL3Zmk8j8sSAOpDS8q6N2nSEJ/view?usp=sharing | https://drive.google.com/file/d/1ZWRrCXfTtR8bIcFWzo95PNe5TaXv9AHr/view?usp=sharing |
| 22-08-2020 | https://drive.google.com/file/d/1EZoc56P9ThZC2N93FQdOk6P1SqZ-0rRd/view?usp=sharing | https://drive.google.com/file/d/1cQfzuEUrdbyTzsMSHgdXbIlKb-1kRi_X/view?usp=sharing | https://drive.google.com/file/d/1OnPWOmDIL3Zmk8j8sSAOpDS8q6N2nSEJ/view?usp=sharing | https://drive.google.com/file/d/1ZWRrCXfTtR8bIcFWzo95PNe5TaXv9AHr/view?usp=sharing |
| 21-08-2020 | https://drive.google.com/file/d/1ZOIpJC039Y0jViyZVeFF4jr1FnX2-OIu/view?usp=sharing | https://drive.google.com/file/d/1m89QrPj6jIy7FB8y6WaWTUT95Az1mLLo/view?usp=sharing | https://drive.google.com/file/d/169OiQ-etKkop0nM9hWPPaVvwPHc-jQgq/view?usp=sharing | https://drive.google.com/file/d/1B-qjlwf8b_19_vjZkSdVuZtHoxY9juRl/view?usp=sharing |
| 20-08-2020 | https://drive.google.com/file/d/1RA8IKx5hzlPapj8-H1IZp8FeoE1gWfbT/view?usp=sharing | https://drive.google.com/file/d/1XLp3tU4xATjbcjxHLJxoJQdqiEEJ8JS6/view?usp=sharing | https://drive.google.com/file/d/1wz1GIE9OBFl8qc5cJmsAeETB4y3VjWAz/view?usp=sharing | https://drive.google.com/file/d/1gkT1OAkqt1xMZyHFnZn8Mb7GSQBGOl2J/view?usp=sharing |
| 19-08-2020 | https://drive.google.com/file/d/1Yb7h2KOj3afD2eMAJNv8CUdKYKW5gAZc/view?usp=sharing | https://drive.google.com/file/d/1q72jM7HBp9l8mwqPzYpZz6TLdBdjfxWA/view?usp=sharing | https://drive.google.com/file/d/1PHbd7P-5rKsJt0UGFVvina-C4WVFoxpv/view?usp=sharing | https://drive.google.com/file/d/159NQuCB1sD-uTQ1dLFwwPjuSh1UDMxJJ/view?usp=sharing |
| 18-08-2020 | https://drive.google.com/file/d/1dGiQNoLJ5MuTq5CaPPwD_amXsrbL7Usz/view?usp=sharing | https://drive.google.com/file/d/1MzFWdErdKC1Sqz8nDY4sCvqKug_JHsNn/view?usp=sharing | https://drive.google.com/file/d/1gkU8W84N03Z7HhkHqVJU6u8Ey9RVXGHk/view?usp=sharing | https://drive.google.com/file/d/1WVif8UJ-BEsbu1YkmnXpurkZ28Ar6Y0q/view?usp=sharing |
| 17-08-2020 | https://drive.google.com/file/d/1YAH-HkdIcw3LjYei3Ick_xldU5qre7Oi/view?usp=sharing | https://drive.google.com/file/d/1SKRo3O8brE0dSq5RvnWMBexIomqooXNJ/view?usp=sharing | https://drive.google.com/file/d/1jiyViAuUq5aeOH-wBI74UcB8poNRTR8F/view?usp=sharing | https://drive.google.com/file/d/1AB9YCi3w_INzJeZ8XGFFmnFA-PJ9gFH2/view?usp=sharing |
| 16-08-2020 | https://drive.google.com/file/d/12hJQrIJrag4_FnCPBqFW7d79DcOKK0NU/view?usp=sharing | https://drive.google.com/file/d/1tYV_bPMOFd2JqfkCUKsYCZ5OuIr1acQf/view?usp=sharing | https://drive.google.com/file/d/15EBZeXAqvInePSMQQWLRB8scvpZo7_M8/view?usp=sharing | https://drive.google.com/file/d/1S2oAYbAAixT6ca6-GQN2pES_zOmp0NNG/view?usp=sharing |
| 13-08-2020 | https://drive.google.com/file/d/1DeMsvWKrCZWWt7sIZ6fKev8EReNIXz9d/view?usp=sharing | https://drive.google.com/file/d/1DeMsvWKrCZWWt7sIZ6fKev8EReNIXz9d/view?usp=sharing | https://drive.google.com/file/d/1DeMsvWKrCZWWt7sIZ6fKev8EReNIXz9d/view?usp=sharing | https://drive.google.com/file/d/1DeMsvWKrCZWWt7sIZ6fKev8EReNIXz9d/view?usp=sharing |
| 12-08-2020 | https://vk.com/doc562341376_563348292?hash=089c85119b5047fcb7&dl=e33955a59d0295d78e | https://vk.com/doc562341376_563348292?hash=089c85119b5047fcb7&dl=e33955a59d0295d78e | https://vk.com/doc562341376_563348292?hash=089c85119b5047fcb7&dl=e33955a59d0295d78e | https://vk.com/doc562341376_563348292?hash=089c85119b5047fcb7&dl=e33955a59d0295d78e |
| 11-08-2020 | https://drive.google.com/file/d/1YF22qYVCMCBPMOyToDdBa_GIkPrbpayY/view?usp=sharing | https://drive.google.com/file/d/1YF22qYVCMCBPMOyToDdBa_GIkPrbpayY/view?usp=sharing | https://drive.google.com/file/d/1YF22qYVCMCBPMOyToDdBa_GIkPrbpayY/view?usp=sharing | https://drive.google.com/file/d/1YF22qYVCMCBPMOyToDdBa_GIkPrbpayY/view?usp=sharing |
| 10-08-2020 | https://drive.google.com/file/d/1RFZyqZ8BTbMnGM6kWuIW6wXFn-jWa9tF/view?usp=sharingg | https://drive.google.com/file/d/1RFZyqZ8BTbMnGM6kWuIW6wXFn-jWa9tF/view?usp=sharingg | https://drive.google.com/file/d/1RFZyqZ8BTbMnGM6kWuIW6wXFn-jWa9tF/view?usp=sharingg | https://drive.google.com/file/d/1RFZyqZ8BTbMnGM6kWuIW6wXFn-jWa9tF/view?usp=sharingg |
| 09-08-2020 | https://drive.google.com/file/d/1RFZyqZ8BTbMnGM6kWuIW6wXFn-jWa9tF/view?usp=sharing | https://drive.google.com/file/d/1RFZyqZ8BTbMnGM6kWuIW6wXFn-jWa9tF/view?usp=sharing | https://drive.google.com/file/d/1RFZyqZ8BTbMnGM6kWuIW6wXFn-jWa9tF/view?usp=sharing | https://drive.google.com/file/d/1RFZyqZ8BTbMnGM6kWuIW6wXFn-jWa9tF/view?usp=sharing |
| 08-08-2020 | https://vk.com/doc562341376_562871676?hash=17582b6a9dbd0051a1&dl=feed580dd976872e66 | https://vk.com/doc562341376_562871676?hash=17582b6a9dbd0051a1&dl=feed580dd976872e66 | https://vk.com/doc562341376_562871676?hash=17582b6a9dbd0051a1&dl=feed580dd976872e66 | https://vk.com/doc562341376_562871676?hash=17582b6a9dbd0051a1&dl=feed580dd976872e66 |
| 07-08-2020 | https://drive.google.com/file/d/1VBw7nSHrIGuKci91-lrVNtHPdEJPHc3g/view?usp=sharing | https://drive.google.com/file/d/1VBw7nSHrIGuKci91-lrVNtHPdEJPHc3g/view?usp=sharing | https://drive.google.com/file/d/1VBw7nSHrIGuKci91-lrVNtHPdEJPHc3g/view?usp=sharing | https://drive.google.com/file/d/1VBw7nSHrIGuKci91-lrVNtHPdEJPHc3g/view?usp=sharing |
| 06-08-2020 | https://drive.google.com/file/d/12cZy8gm5s_Ic7WEcbmDHzepa6BNeX9ru/view?usp=sharing | https://drive.google.com/file/d/12cZy8gm5s_Ic7WEcbmDHzepa6BNeX9ru/view?usp=sharing | https://drive.google.com/file/d/12cZy8gm5s_Ic7WEcbmDHzepa6BNeX9ru/view?usp=sharing | https://drive.google.com/file/d/12cZy8gm5s_Ic7WEcbmDHzepa6BNeX9ru/view?usp=sharing |
| 05-08-2020 | https://vk.com/doc562341376_562483144?hash=dba960e05cdd950567&dl=a7f0725092f5c0ece7 | https://vk.com/doc562341376_562483144?hash=dba960e05cdd950567&dl=a7f0725092f5c0ece7 | https://vk.com/doc562341376_562483144?hash=dba960e05cdd950567&dl=a7f0725092f5c0ece7 | https://vk.com/doc562341376_562483144?hash=dba960e05cdd950567&dl=a7f0725092f5c0ece7 |
| 04-08-2020 | https://drive.google.com/file/d/1BLxGrvHsggyPrI3tUz3mx7h8Q7ZBFOrC/view?usp=sharing | https://drive.google.com/file/d/1BLxGrvHsggyPrI3tUz3mx7h8Q7ZBFOrC/view?usp=sharing | https://drive.google.com/file/d/1BLxGrvHsggyPrI3tUz3mx7h8Q7ZBFOrC/view?usp=sharing | https://drive.google.com/file/d/1BLxGrvHsggyPrI3tUz3mx7h8Q7ZBFOrC/view?usp=sharing |
| 03-08-2020 | https://drive.google.com/file/d/1wTfzudDRT0K6H2Ghm6WzQ51nELrl8L8Q/view?usp=sharing | https://drive.google.com/file/d/1wTfzudDRT0K6H2Ghm6WzQ51nELrl8L8Q/view?usp=sharing | https://drive.google.com/file/d/1wTfzudDRT0K6H2Ghm6WzQ51nELrl8L8Q/view?usp=sharing | https://drive.google.com/file/d/1wTfzudDRT0K6H2Ghm6WzQ51nELrl8L8Q/view?usp=sharing |
| 02-08-2020 | https://drive.google.com/file/d/1wj-I8b-ysdNIF47oTC4eWIVUKoqHfyMA/view?usp=drivesdk | https://drive.google.com/file/d/1wj-I8b-ysdNIF47oTC4eWIVUKoqHfyMA/view?usp=drivesdk | https://drive.google.com/file/d/1wj-I8b-ysdNIF47oTC4eWIVUKoqHfyMA/view?usp=drivesdk | https://drive.google.com/file/d/1wj-I8b-ysdNIF47oTC4eWIVUKoqHfyMA/view?usp=drivesdk |
| 01-08-2020 | https://vk.com/doc562341376_561993224?hash=865c8d5e9c1ed354ac&dl=a730c54d3ec0de6620 | https://vk.com/doc562341376_561993224?hash=865c8d5e9c1ed354ac&dl=a730c54d3ec0de6620 | https://vk.com/doc562341376_561993224?hash=865c8d5e9c1ed354ac&dl=a730c54d3ec0de6620 | https://vk.com/doc562341376_561993224?hash=865c8d5e9c1ed354ac&dl=a730c54d3ec0de6620 |
| 31-07-2020 | https://drive.google.com/file/d/1X-VgE8IsMDVUBiYcC8dM1W9ZJrPOJ_B6/view?usp=drivesdk | https://drive.google.com/file/d/1WglVkcaAXAXXtrmffNLYkHtRnO7U0FgU/view?usp=drivesdk | https://drive.google.com/file/d/1Wk2dWDEn1bDVT0hZnP0MHQ6CA48dZu0O/view?usp=drivesdk | https://drive.google.com/file/d/1WiObchmRYFPRJ3CLOzH-kVOuPBfSiMCA/view?usp=drivesdk |
| 30-07-2020 | https://drive.google.com/file/d/1X-VgE8IsMDVUBiYcC8dM1W9ZJrPOJ_B6/view?usp=drivesdk | https://drive.google.com/file/d/1WglVkcaAXAXXtrmffNLYkHtRnO7U0FgU/view?usp=drivesdk | https://drive.google.com/file/d/1Wk2dWDEn1bDVT0hZnP0MHQ6CA48dZu0O/view?usp=drivesdk | https://drive.google.com/file/d/1WiObchmRYFPRJ3CLOzH-kVOuPBfSiMCA/view?usp=drivesdk |
| 29-07-2020 | https://drive.google.com/file/d/1UHx979JwOkDlqiNyDrIsJN9RfO7mtTAP/view?usp=sharing | https://drive.google.com/file/d/1UHx979JwOkDlqiNyDrIsJN9RfO7mtTAP/view?usp=sharing | https://drive.google.com/file/d/1UHx979JwOkDlqiNyDrIsJN9RfO7mtTAP/view?usp=sharing | https://drive.google.com/file/d/1UHx979JwOkDlqiNyDrIsJN9RfO7mtTAP/view?usp=sharing |
| 28-07-2020 | https://drive.google.com/file/d/1WKMhcVDcWrSKrQFTahos5lYL3s54eFB4/view?usp=sharing | https://epaperpdf.in/deccan-chronicle-epaper.php | https://drive.google.com/file/d/1ePyuMtDk07r679X40myOeAV4XLpY9Zna/view?usp=sharing | https://epaperpdf.in/deccan-chronicle-epaper.php |
| 27-07-2020 | https://drive.google.com/file/d/1p-vFnlKAkmEe5XGkFV-rbsFfBCdZCMG1/view?usp=drivesdk | https://drive.google.com/file/d/1p-vFnlKAkmEe5XGkFV-rbsFfBCdZCMG1/view?usp=drivesdk | https://drive.google.com/file/d/1p-vFnlKAkmEe5XGkFV-rbsFfBCdZCMG1/view?usp=drivesdk | https://drive.google.com/file/d/1p-vFnlKAkmEe5XGkFV-rbsFfBCdZCMG1/view?usp=drivesdk |
| 26-07-2020 | https://vk.com/doc562341376_561223760?hash=045d00403324bef345&dl=c918213d1987123a46 | https://vk.com/doc562341376_561223760?hash=045d00403324bef345&dl=c918213d1987123a46 | https://vk.com/doc562341376_561223760?hash=045d00403324bef345&dl=c918213d1987123a46 | https://vk.com/doc562341376_561223760?hash=045d00403324bef345&dl=c918213d1987123a46 |
| 25-07-2020 | https://drive.google.com/file/d/1PZGkOvzbCPiJYHCsrwAdbHEooLS1_z-6/view?usp=drivesdk | https://drive.google.com/file/d/1PZGkOvzbCPiJYHCsrwAdbHEooLS1_z-6/view?usp=drivesdk | https://drive.google.com/file/d/1PZGkOvzbCPiJYHCsrwAdbHEooLS1_z-6/view?usp=drivesdk | https://drive.google.com/file/d/1PZGkOvzbCPiJYHCsrwAdbHEooLS1_z-6/view?usp=drivesdk |
| 22-07-2020 | https://drive.google.com/file/d/1htiNr-QUrmBRWjN0e1ZV7wHw9j0gpYYh/view?usp=drivesdk | https://drive.google.com/file/d/1htiNr-QUrmBRWjN0e1ZV7wHw9j0gpYYh/view?usp=drivesdk | https://drive.google.com/file/d/1htiNr-QUrmBRWjN0e1ZV7wHw9j0gpYYh/view?usp=drivesdk | https://drive.google.com/file/d/1htiNr-QUrmBRWjN0e1ZV7wHw9j0gpYYh/view?usp=drivesdk |
| 21-07-2020 | https://drive.google.com/file/d/1FbtbZlSbaG0KcXiQUwRAStlbo-FCT2xo/view?usp=sharing | https://drive.google.com/file/d/1FbtbZlSbaG0KcXiQUwRAStlbo-FCT2xo/view?usp=sharing | https://drive.google.com/file/d/1FbtbZlSbaG0KcXiQUwRAStlbo-FCT2xo/view?usp=sharing | https://drive.google.com/file/d/1FbtbZlSbaG0KcXiQUwRAStlbo-FCT2xo/view?usp=sharing |
| 20-07-2020 | https://vk.com/doc562341376_560443463?hash=b0f328714cbaf4d0e8&dl=98efdf3cb97a3fb53b | https://vk.com/doc562341376_560443463?hash=b0f328714cbaf4d0e8&dl=98efdf3cb97a3fb53b | https://vk.com/doc562341376_560443463?hash=b0f328714cbaf4d0e8&dl=98efdf3cb97a3fb53b | https://vk.com/doc562341376_560443463?hash=b0f328714cbaf4d0e8&dl=98efdf3cb97a3fb53b |
| 19-07-2020 | https://drive.google.com/file/d/1dUvcKQ7VZAHN5RVQkyMHl5sfqUZYB1CG/view?usp=drivesdk | https://drive.google.com/file/d/1dUvcKQ7VZAHN5RVQkyMHl5sfqUZYB1CG/view?usp=drivesdk | https://drive.google.com/file/d/1dUvcKQ7VZAHN5RVQkyMHl5sfqUZYB1CG/view?usp=drivesdk | https://drive.google.com/file/d/1dUvcKQ7VZAHN5RVQkyMHl5sfqUZYB1CG/view?usp=drivesdk |
| 18-07-2020 | https://drive.google.com/file/d/1apdKzQAFwbhENhyRMvYXCTuCxzEEiNhs/view?usp=drivesdk | https://drive.google.com/file/d/1apdKzQAFwbhENhyRMvYXCTuCxzEEiNhs/view?usp=drivesdk | https://drive.google.com/file/d/1apdKzQAFwbhENhyRMvYXCTuCxzEEiNhs/view?usp=drivesdk | https://drive.google.com/file/d/1apdKzQAFwbhENhyRMvYXCTuCxzEEiNhs/view?usp=drivesdk |
| 17-07-2020 | https://drive.google.com/file/d/1apdKzQAFwbhENhyRMvYXCTuCxzEEiNhs/view?usp=drivesdk | https://drive.google.com/file/d/1apdKzQAFwbhENhyRMvYXCTuCxzEEiNhs/view?usp=drivesdk | https://drive.google.com/file/d/1apdKzQAFwbhENhyRMvYXCTuCxzEEiNhs/view?usp=drivesdk | https://drive.google.com/file/d/1apdKzQAFwbhENhyRMvYXCTuCxzEEiNhs/view?usp=drivesdk |
| 16-07-2020 | https://drive.google.com/file/d/1Z9g1F67pEpYTtSKaPuWi9s1Q30mkIY5b/view?usp=drivesdk | https://drive.google.com/file/d/1Z9g1F67pEpYTtSKaPuWi9s1Q30mkIY5b/view?usp=drivesdk | https://drive.google.com/file/d/1Z9g1F67pEpYTtSKaPuWi9s1Q30mkIY5b/view?usp=drivesdk | https://drive.google.com/file/d/1Z9g1F67pEpYTtSKaPuWi9s1Q30mkIY5b/view?usp=drivesdk |
| 15-07-2020 | https://drive.google.com/file/d/1_AzQRl5TTLqRKVLuZw_0DlbMvxOus6e6/view?usp=drivesdkk | https://drive.google.com/file/d/1_AzQRl5TTLqRKVLuZw_0DlbMvxOus6e6/view?usp=drivesdk | https://drive.google.com/file/d/1_AzQRl5TTLqRKVLuZw_0DlbMvxOus6e6/view?usp=drivesdk | https://drive.google.com/file/d/1_AzQRl5TTLqRKVLuZw_0DlbMvxOus6e6/view?usp=drivesdk |
| 14-07-2020 | https://drive.google.com/file/d/1XzgmeMXuzLZjXhUIK_MhT2f4Mq2ZYihS/view?usp=sharing | https://drive.google.com/file/d/1XzgmeMXuzLZjXhUIK_MhT2f4Mq2ZYihS/view?usp=sharing | https://drive.google.com/file/d/1XzgmeMXuzLZjXhUIK_MhT2f4Mq2ZYihS/view?usp=sharing | https://drive.google.com/file/d/1XzgmeMXuzLZjXhUIK_MhT2f4Mq2ZYihS/view?usp=sharing |
| 08-07-2020 | http://epaper.deccanchronicle.com/states.aspx | http://epaper.deccanchronicle.com/states.aspx | http://epaper.deccanchronicle.com/states.aspx | http://epaper.deccanchronicle.com/states.aspx |
| 07-07-2020 | https://drive.google.com/file/d/13xR0l51lw3RVT6sTaapabhd6NX2FgfHu/view?usp=sharing | https://drive.google.com/file/d/1PJMT04p_EFjDTgW-YqKoPMqvA0ZNMUVw/view?usp=sharing | https://drive.google.com/file/d/153d71y4ql8nxxmJetvXWnfxOrcJScUQs/view?usp=sharing | https://drive.google.com/file/d/1m_4f80otK6RiLKoIcFNcqQN-9ipjXg0Z/view?usp=sharing |
| 06-07-2020 | https://drive.google.com/file/d/1pRpg0yBBvwrrG1tmIS2GIR5iM1WyNvV5/view?usp=sharing | https://drive.google.com/file/d/1LJ6-p2hiwBwZc9PyJtCSpz36eWlyga5F/view?usp=sharing | https://drive.google.com/file/d/1C62NVYRjVMBwNkMm2Qg1Fo69CJKte74t/view?usp=sharing | https://drive.google.com/file/d/17H-iuOMbYMXU8dmbFVTKtPdOjeO7i4oO/view?usp=sharing |
| 05-07-2020 | https://drive.google.com/file/d/1P8DW88s5fwyqtovnguPSt5WdncYTUlOq/view?usp=drivesdk | https://drive.google.com/file/d/1P8DW88s5fwyqtovnguPSt5WdncYTUlOq/view?usp=drivesdk | https://drive.google.com/file/d/1P8DW88s5fwyqtovnguPSt5WdncYTUlOq/view?usp=drivesdk | https://drive.google.com/file/d/1P8DW88s5fwyqtovnguPSt5WdncYTUlOq/view?usp=drivesdk |
| 04-07-2020 | https://drive.google.com/file/d/1LqwfNiTcJE5qsBhfRC7lvJR5tS7yzu1s/view?usp=drivesdk | https://drive.google.com/file/d/1LqwfNiTcJE5qsBhfRC7lvJR5tS7yzu1s/view?usp=drivesdk | https://drive.google.com/file/d/1LqwfNiTcJE5qsBhfRC7lvJR5tS7yzu1s/view?usp=drivesdk | https://drive.google.com/file/d/1LqwfNiTcJE5qsBhfRC7lvJR5tS7yzu1s/view?usp=drivesdk |
| 03-07-2020 | https://drive.google.com/file/d/1pIJkCaTMU2oreGUk_3osPeK8kqB9oqJM/view?usp=sharing | https://drive.google.com/file/d/1BAqhR5351UjfjJzPXHwsJxZNwsJkCmxo/view?usp=sharing | https://drive.google.com/file/d/1vQ_QUZiwSfqgpPBX4xwsUBwgXbHSyJJT/view?usp=sharing | https://drive.google.com/file/d/1nTBOfcbFV47Ijg8QjdA_TcBwBZ29QDs9/view?usp=sharing |
| 02-07-2020 | https://drive.google.com/file/d/1hrXKYYwMTKSr0jCDsuoe2H1zEmTurzkM/view?usp=sharing | https://drive.google.com/file/d/1oFE51mA3FSmA_pZg4oVO0ANnJK03jJ8t/view?usp=sharing | https://drive.google.com/file/d/1yX477MJjEblP35aO5-NGnl-b4EZdfPu2/view?usp=sharing | https://drive.google.com/file/d/1dLuW684GwtHtWTRpZRzD_7yvEBmBJ8tk/view?usp=sharing |
| 01-07-2020 | https://drive.google.com/file/d/1St8QFVHoiDbKQyTlZ-Q7ibP_21dw0Bk_/view?usp=sharing | https://drive.google.com/file/d/1_Hz5i2Qrb2enxU0P2D3jVrh1OC_xn9rY/view?usp=sharing | https://drive.google.com/file/d/1VwH6RIB-GnfpRkVtRMk3pmHLkdb3hbA3/view?usp=sharing | https://drive.google.com/file/d/1z40iSKymwnwqmjUCsmXbDodxIPJc6Jm6/view?usp=sharing |
| 30-06-2020 | https://drive.google.com/file/d/1qepAGPkNkKmfjO4MBLt7nfuuyjLb1hhc/view?usp=sharing | https://drive.google.com/file/d/1QVgm6S1qvxxJnmpUdCiH-05G0EB0QQcL/view?usp=sharing | https://drive.google.com/file/d/1PqDrOewffS2xQCm_I0472xbu1tH_WsqC/view?usp=sharing | https://drive.google.com/file/d/1_PshJl_Y94psm0xibRgrHLooQZq2EL83/view?usp=sharing |
| 29-06-2020 | https://drive.google.com/file/d/1pIJkCaTMU2oreGUk_3osPeK8kqB9oqJM/view?usp=sharing | https://drive.google.com/file/d/1BAqhR5351UjfjJzPXHwsJxZNwsJkCmxo/view?usp=sharing | https://drive.google.com/file/d/1vQ_QUZiwSfqgpPBX4xwsUBwgXbHSyJJT/view?usp=sharing | https://drive.google.com/file/d/1nTBOfcbFV47Ijg8QjdA_TcBwBZ29QDs9/view?usp=sharing |
| 28-06-2020 | https://drive.google.com/file/d/18aI78e9GWcU4OzifTBq_PEddRHnAo61V/view?usp=sharing | https://drive.google.com/file/d/1mIZp-wdFRhidKKibGC-oh5mXKxOf38h_/view?usp=sharing | https://drive.google.com/file/d/1Klxk1LCPuM_D8LINK84YhTmsadv-Bain/view?usp=sharing | https://drive.google.com/file/d/19RHGdsz3opI5iShUihU44UcTFjzSXkvL/view?usp=sharing |
| 27-06-2020 | https://drive.google.com/file/d/1HzTrHCgYXgmsGli-esxlxdWpLIpmn6P7/view?usp=sharing | https://drive.google.com/file/d/1ZgbvV8IgSdXtYSVzG3n5rrfPY46hyzVZ/view?usp=sharing | https://drive.google.com/file/d/1j1v1k4khRiHxWPCMdZAX1chnY0yAq68o/view?usp=sharing | https://drive.google.com/file/d/1VaXoXuQtLbz8Dl37gRIF6jojWH1rxpKo/view?usp=sharing |
| 26-06-2020 | https://drive.google.com/file/d/1pmDZtAxvBUsHgWVgCz-mJAt_46S8LYkA/view?usp=sharing | https://drive.google.com/file/d/13A-bqvPAWxYr3hI8dexOiHoUuFqI7OtY/view?usp=sharing | https://drive.google.com/file/d/1oGP7DDH6MmqDGEJfHSp3sId4PVusP-cm/view?usp=sharing | https://drive.google.com/file/d/1VBJISKTdmuacbZkkaD7ebTRSNwETgqMJ/view?usp=sharing |
| 25-06-2020 | https://drive.google.com/file/d/1HeemLPPKgf7skUWnpXOMXVh5kGqvk3SU/view?usp=sharing | https://drive.google.com/file/d/1vxTdERwlwVse3Bp_hk3c82DiY-R4wjOc/view?usp=sharing | https://drive.google.com/file/d/1_UebSQIAGU87JKW1Pv7wNsUgGl6WxXdb/view?usp=sharing | https://drive.google.com/file/d/1OtKwDLZ3-jHacp97l24NKxqVdfMv106Y/view?usp=sharing |
| 24-06-2020 | https://drive.google.com/file/d/1xmXwFL0P8xC-RbDWAzHXWqmgIe5kVOzZ/view?usp=sharing | https://drive.google.com/file/d/1azsdziCzW8HlhEMqDFd6_eaD9_RT05mj/view?usp=sharing | https://drive.google.com/file/d/1CsBzEDgHibjpsleMVmMG9HZyFZz3_vFq/view?usp=sharing | https://drive.google.com/file/d/1fOPEx1P0yQHivj6jaMk6t1txukoczAcZ/view?usp=sharing |
| 23-06-2020 | https://drive.google.com/file/d/1gBsURCPC_wdEG1Sd58Z2a_nBuACjoQnx/view?usp=sharing | https://drive.google.com/file/d/1tKRPO0DnSg4YZtNmfej3luKh6oOLlF-p/view?usp=sharing | https://drive.google.com/file/d/1-fQ3DZuxf3Ucato7ROpya_roMR7tR59y/view?usp=sharing | https://drive.google.com/file/d/1-fQ3DZuxf3Ucato7ROpya_roMR7tR59y/view?usp=sharing |
| 22-06-2020 | https://drive.google.com/file/d/1aEy6fsGOuNsV1bru_OH0XJodaCdNWkwL/view?usp=sharing | https://drive.google.com/file/d/1neO6hkYLujH7izAvcPVZdja7tPu3MpNK/view?usp=sharing | https://drive.google.com/file/d/1Umt5cJgxJPiLsZLTG_-TgWyfU4MY35oD/view?usp=sharing | https://drive.google.com/file/d/1mBpdpZGBayELy19eSVeTg2c1l09HMfp-/view?usp=sharing |
| 21-06-2020 | https://drive.google.com/file/d/1RvRUlx4295JGMLpzwAE7wWElqzpJ_6i6/view?usp=sharing | https://drive.google.com/file/d/1c2Wf348YB5K_5LtDuQh4y456qHQD5gHk/view?usp=sharing | https://drive.google.com/file/d/1nebX-ETm2nFo2hj6a9IoxOGlNee3MRJj/view?usp=sharing | https://drive.google.com/file/d/19n2rAVAiKfrvw_brInvIlOEQgipivc3o/view?usp=sharing |
| 20-06-2020 | https://drive.google.com/file/d/1Tij8kHbdueFV7-Hg53zcWL5bXvu0dToA/view?usp=sharing | https://newspaperpdf.in/deccan-chronicle-epaper-pdf-free-download-online.php | https://drive.google.com/file/d/1xZRMmJoDv6WHeMCbC2AzBlzclHWN2zEh/view?usp=sharing | https://drive.google.com/file/d/1EcGRXbmgzQ-zrY5r4lhvY6q3rVFAeyqk/view?usp=sharing |
| 19-06-2020 | https://drive.google.com/file/d/1ig0YJ-zjncQzu4Ktc9iXuPPeoMB5K8tl/view?usp=sharing | https://drive.google.com/file/d/1bu3pNvhLVGA0dUvsThobotRV0PtOlTD5/view?usp=sharing | https://drive.google.com/file/d/1K6GbriGZ9LKRyWZPWrhDQbrf4nINvWav/view?usp=sharing | https://drive.google.com/file/d/1-TfRfglDIFdR1LtJ0uounjrzYlUObcJX/view?usp=sharing |
| 18-06-2020 | https://drive.google.com/file/d/14GIm-q_SBw20EzV2-hmAKjunVpNDnD7r/view?usp=sharing | https://drive.google.com/file/d/15LHGTAuCjMIVKoGL2ZXW06HpQ6ukLjkK/view?usp=sharing | https://drive.google.com/file/d/1d0aTQlXjucNklnIlplT92xgYl_flOi81/view?usp=sharing | https://drive.google.com/file/d/1USQPqXega3dyUceeyVnmNvS-chBK-r2j/view?usp=sharing |
| 17-06-2020 | https://drive.google.com/file/d/1LKfSyQEQ493bVxSZ6939r6lAi8deWV4O/view?usp=sharing | https://drive.google.com/file/d/1DdYpk_EDrwhl3HjMGBwl0qPYywBlMpku/view?usp=sharing | https://drive.google.com/file/d/1RVbprmNiHbeBz5QGJax7lg6aBU7xl37U/view?usp=sharing | https://drive.google.com/file/d/1MM1NaF2oTHT901aK1xlQKGn-542TIac0/view?usp=sharing |
| 16-06-2020 | https://drive.google.com/file/d/1WYuqk5g83fAF0HZeObf7HJ6fUSgFDyn6/view?usp=sharing | https://drive.google.com/file/d/1WYuqk5g83fAF0HZeObf7HJ6fUSgFDyn6/view?usp=sharing | https://drive.google.com/file/d/1_OvjdmKPFtSuVaYJh_rQhHczeHGdUAnm/view?usp=sharing | https://drive.google.com/file/d/1HAviuQh_NSJpmk4VtAA5xOmWGO4bhpV5/view?usp=sharing |
| 15-06-2020 | https://drive.google.com/file/d/1a7uVmJiwTpILN9_i3uPT0-iedVLLLvup/view?usp=sharing | https://drive.google.com/file/d/1gzfbrHRpAGu3Sym7m-SlZV2D_jYOqujL/view?usp=sharing | https://drive.google.com/file/d/1kcSQDnXf5FIRp9ZR7cB-L8eS-u1bMpK2/view?usp=sharing | https://drive.google.com/file/d/1Z4RzXV4hPonxa_GgSRlTJHuPyXbvDzw6/view?usp=sharing |
| 14-06-2020 | https://drive.google.com/file/d/1BhDk-uUXb0_p57DGJnQ3uVXpFpU4fWqU/view?usp=sharing | https://drive.google.com/file/d/1BTioHEprvLqgkoLkPP1FWFN_f-R0LtoF/view?usp=sharing | https://drive.google.com/file/d/1Nbr41loT6wscM3Q_VgictGq0k1JCpaK3/view?usp=sharing | https://drive.google.com/file/d/1BrM-0fKrmbNY9L3aQITdLDKv6giT756E/view?usp=sharing |
| 13-06-2020 | https://drive.google.com/file/d/1BOOdhP7_-CmHHy8A8o8AckzXb-Tl-3ZB/view?usp=sharing | https://drive.google.com/file/d/1NfJ7ke1vOwpVhcoIZMDiPzuzphnUXptZ/view?usp=sharing | https://drive.google.com/file/d/1NFyhyQMK_QHJunbkIwYMKDUrMxGMIojP/view?usp=sharing | https://drive.google.com/file/d/1jMkTFm9q_2MtJ09D0val4JtSTuCkm5dh/view?usp=sharing |
| 12-06-2020 | https://drive.google.com/file/d/1HJWEzqBMWZK-ICcuO8mRSRb0bJRoZC4X/view?usp=sharing | https://drive.google.com/file/d/122XTaRN6NyX1V9tyvHrg8jYTbBBpNJkx/view?usp=sharing | https://drive.google.com/file/d/1Ko91ylrXVZcHDXIT0wXMsdEgrU9uQbRM/view?usp=sharing | https://drive.google.com/file/d/1Muin84Pji2WPN9QTmiziLRHt-5jUiAyJ/view?usp=sharing |
| 11-06-2020 | https://drive.google.com/file/d/1nutqg3vmZxDoLDpsuW4hJ6q-S7NITk8a/view?usp=sharing | https://drive.google.com/file/d/1KIFUSeGzZQKe0RYMPj0Nw9CBS2xxDPxH/view?usp=sharing | https://drive.google.com/file/d/1zIrJfFVsTNKWNqe9XcHxYDipY72Qa52M/view?usp=sharing | https://drive.google.com/file/d/1wHjwVtzcazVWCbXt5TS95gf_KnhYdHcS/view?usp=sharing |
| 10-06-2020 | https://drive.google.com/file/d/1dvf7R_NtK0lPT8ieNvhaO7pNztVpky8p/view?usp=sharing | https://drive.google.com/file/d/1xV98pxmKbV1d3Eb7Sg3DLq944LUv6ieu/view?usp=sharing | https://drive.google.com/file/d/1vQN0fZ9vn4w1y4lZixNzmgsmrjb2mHGx/view?usp=sharing | https://drive.google.com/file/d/1vZxf6jRrSzXA8HqDSbokRg49Ei-Q1GD_/view?usp=sharing |
| 09-06-2020 | https://drive.google.com/file/d/1WSN7goequj8q1AbF6ycbWn-MLgT8GKli/view?usp=sharing | https://drive.google.com/file/d/1Bsjwp-V-qs8T3cJP8lHutNC5yxuRAVke/view?usp=sharing | https://drive.google.com/file/d/1V1H4WX_F08r5KOUiJXhMVHivAqE1JcXA/view?usp=sharing | https://drive.google.com/file/d/1Wu6Lh2FHjz2XczdrBMFem8mjMLXJiGks/view?usp=sharing |
| 08-06-2020 | https://drive.google.com/file/d/1wf1kC8nbHqhu_bwwK2gPmlcNuQhHDgMr/view | https://drive.google.com/file/d/1gY_LoyeM55VqFYQBoTiLhAFccVVZQgUE/view?usp=sharing | https://drive.google.com/file/d/1EyXTJxXJTkXYToFyuXu1LbDp5A-eRyDH/view?usp=sharing | https://drive.google.com/file/d/1ktLHixenvSgX3hsWG4wWy8OgzQhBTD0m/view?usp=sharing |
| 07-06-2020 | https://drive.google.com/file/d/1Un27kZI174EoiTR8gnclMX4Gy3R_BZjq/view?usp=sharing | https://drive.google.com/file/d/1QGn4GQF3DdbFQJMtS-7xaq8cS8qztSy7/view?usp=sharing | https://drive.google.com/file/d/1lA9lb0Pdfakf1sxRz85O0748izURSmfU/view?usp=sharing | https://drive.google.com/file/d/1-KrdE23qkgoku5g12yLVycK90E_JwKlm/view?usp=sharing |
| 06-06-2020 | https://drive.google.com/file/d/1fo8MDJabu4tO7f8JU1NCGDo-oBzI1wLe/view?usp=sharing | https://drive.google.com/file/d/1QAHg3QWClUvxXWWiMRaba5-Y-3thDCYp/view?usp=sharing | https://drive.google.com/file/d/17G2oVRalBEb6jE4-2515efc_HCw2si5Z/view?usp=sharing | https://drive.google.com/file/d/1P7hKL1qXd5-A62dbqMbhxU7krwNockk1/view?usp=sharing |
| 05-06-2020 | https://drive.google.com/file/d/1MbKBSAB3vJe3vJtwkxcn6hssoEOhFx8A/view?usp=sharing | https://drive.google.com/file/d/1pksl_QH-AU0q7PAfj_b9B4IyKcBXMAPe/view?usp=sharing | https://drive.google.com/file/d/1vt87HuaFTwPxx5DwPwUVMUYZ7EYZhTpt/view?usp=sharing | https://drive.google.com/file/d/1f69XCdyj4XBd-fJMxjRO7R4diZYaHpu6/view?usp=sharing |
| 03-06-2020 | https://drive.google.com/file/d/1CmFAyemMVjkc0gsQEBZq-cFVIlDNmXIf/view?usp=sharing | https://drive.google.com/file/d/1Hi5OjsBCC1RB6uyIZTsNllqzsoXAaXZi/view?usp=sharing | https://drive.google.com/file/d/1Q29r8-jNtSSi4Hi_vVuS6dNjXkLaIBlP/view?usp=sharing | https://drive.google.com/file/d/1bEglsW-auihuLKw7eAd-BNZ-6-uGSVE2/view?usp=sharing |
| 02-06-2020 | https://drive.google.com/file/d/1U2RDNZ5MVxe6RhINUE2rq1QOsfJKLCUx/view?usp=sharing | https://drive.google.com/file/d/14FLX4CnUVIjDxWZDxywPaPN5G3_A23WO/view?usp=sharing | https://drive.google.com/file/d/1CvJsf37zlyFcKQei7Gm11SaTXor14_4n/view?usp=sharing | https://drive.google.com/file/d/1CvJsf37zlyFcKQei7Gm11SaTXor14_4n/view?usp=sharing |
| 01-06-2020 | https://drive.google.com/open?id=18E8MtcBy1gw-IYKQZ3k67tNnel0zxZTV | https://drive.google.com/open?id=1idrrRlJwRnaP3993kTKqMk34BJCDozvA | https://drive.google.com/open?id=1ADHgoxWoy09UfdKwZcCKIXgB_jT9V6fN | https://drive.google.com/open?id=1plQtZETdZ1VuWjuObi2CE-q2qjb9zSiY |
May 2020
31 May 2020  Chennai | Coimbatore | Vijayawada | Hyderabad
30 May 2020  Chennai | Coimbatore | Vijayawada | Hyderabad
29 May 2020  Chennai | Coimbatore | Vijayawada | Hyderabad
28 May 2020  Chennai | Coimbatore | Vijayawada | Hyderabad
27 May 2020  Chennai | Coimbatore | Vijayawada | Hyderabad
26 May 2020  Chennai | Coimbatore | Vijayawada | Hyderabad
25 May 2020  Chennai | Coimbatore | Vijayawada | Hyderabad
24 May 2020  Chennai | Coimbatore | Vijayawada | Hyderabad
23 May 2020  Chennai | Coimbatore | Vijayawada | Hyderabad
22 May 2020  Chennai | Coimbatore | Vijayawada | Hyderabad
21 May 2020  Chennai | Coimbatore | Vijayawada | Hyderabad
20 May 2020  Chennai | Coimbatore | Vijayawada | Hyderabad
19 May 2020  Chennai | Coimbatore | Vijayawada | Hyderabad
18 May 2020  Chennai | Coimbatore | Vijayawada | Hyderabad
17 May 2020  Chennai | Coimbatore | Vijayawada | Hyderabad
16 May Download Now
15 May Download Now
14 May Download Now 
13 May Download Now
12 May Download Now
11 May Download Now
10 May Download Now
9 May Download Now
8 May Download Now
7 May Download Now
6 May Download Now
5 May Download Now
03 May 2020 |Coimbatore | Chennai | Hyderabad
02 May 2020 |Coimbatore | Chennai | Hyderabad
01 May 2020 |Coimbatore | Chennai | Hyderabad
[/expander_maker]