Today's Loksatta Newspaper PDF Download is one of the best Marathi Newspaper in India. In this page readers can find Loksatta epaper Pdf Download links.
Loksatta Newspaper Download Free PDF
Loksatta (Lōksattā) is a Marathi daily newspaper in Maharashtra, India. It is published by The Indian Express Group, and was launched on 14 January 1948. Loksatta is published out of Mumbai, Pune, Nagpur, Ahmednagar, Aurangabad, and Delhi.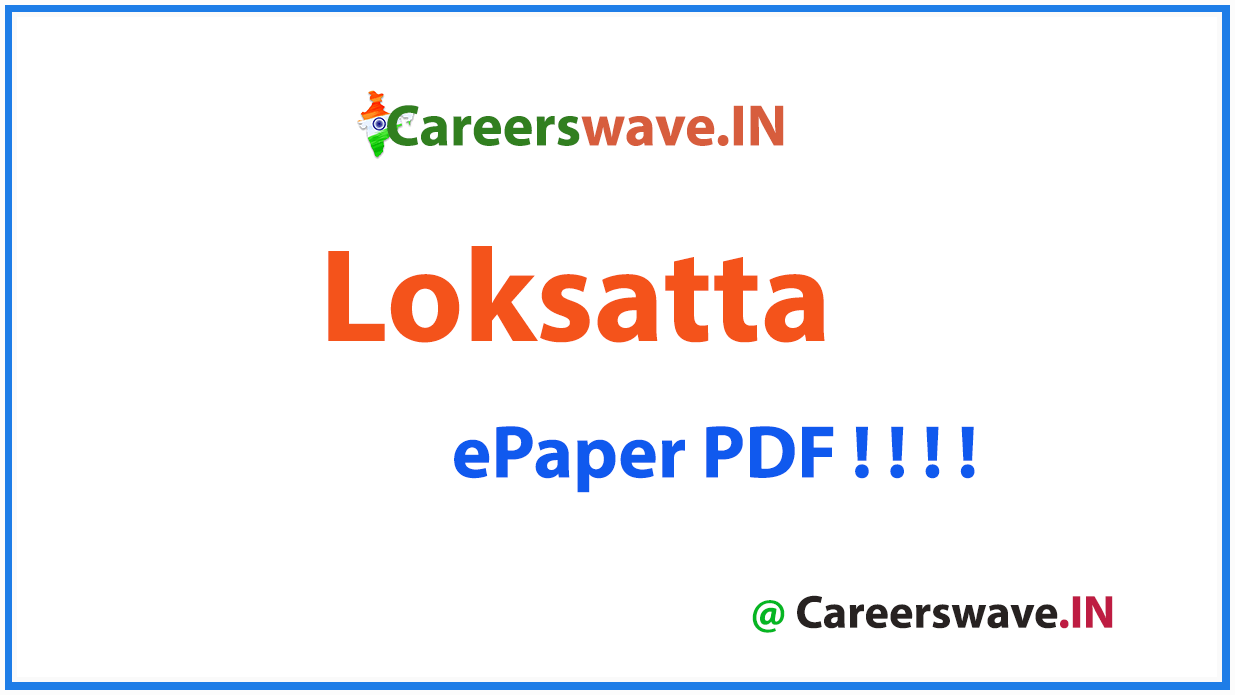 About Loksatta Newspaper Short History
| | |
| --- | --- |
| TYPE | Daily |
| FORMAT | Broadsheet |
| OWNER(S) | Indian Express Group |
| FOUNDER(S) | Ramnath Goenka |
| EDITOR | Girish Kuber |
| FOUNDED | 14 January 1948 |
| LANGUAGE | Marathi |
| HEADQUARTERS | Mumbai |
| WEBSITE | www.loksatta.com |
| FREE ONLINE ARCHIVES | epaper.loksatta.com |
How to download Loksatta Epaper PDF?
We are daily upload Loksatta Newspaper PDF which is absolutely free to download the Loksatta Epaper PDF File. Scroll down the page and find out the download link by date wise of Loksatta Epape.
Can I Download Old Loksatta Epaper PDF?
Yes! You can go below of the page and you can see a list date wise newspaper..
When do I Get Loksatta Epaper?
Daily news ePaper download link available in Morning between 6:00 AM to 7:00 AM. If there any technical issue please comment below.
Important Notice for Copyright Issue:
We are not the owner of the Loksatta epaper, we are just sharing the pdf file of the epaper which is already freely available on the Internet. Therefore, we are just sharing the link only for Educational purposes Loksatta newspaper. If, anyone has any questions about violating the rules and regulation of Loksatta, please contact us. We are helping the poor students who are not able to effort to buy newspaper. Our email address: [email protected]
Loksatta High Quality PDF ePaper
Visitors can easily find epaper downloadable link by clicking that visitors can download the pdf file of Loksatta. Also, You can download Loksatta newspaper pdf download
Download The Hindu PDF Adfree epaper.
Download Times of India PDF Adfree epaper.
Download Today's AdFree e-Papers
Adfree Loksatta Newspaper Download.
Adfree Sakal Epaper Download.
Adfree Lokmat Epaper Download.
Adfree Divya Marathi epaper Download.
[If do not find file please reload/refresh again/comment]
| Date | Mumbai | Pune | Aurangabad | Ahmedabad | Nagpur | Nasik |
| --- | --- | --- | --- | --- | --- | --- |
| 16-01-2021 | https://pdf.indianexpress.com/pdfupload/icici/ls-mumbai-16-01-2021.pdf | https://pdf.indianexpress.com/pdfupload/icici/ls-mumbai-16-01-2021.pdf | https://pdf.indianexpress.com/pdfupload/icici/ls-aurangabad-16-01-2021.pdf | https://pdf.indianexpress.com/pdfupload/icici/ls-ahmednagar-16-01-2021.pdf | https://pdf.indianexpress.com/pdfupload/icici/ls-nagpur-16-01-2021.pdf | https://pdf.indianexpress.com/pdfupload/icici/ls-nasik-16-01-2021.pdf |
| 15-01-2021 | https://pdf.indianexpress.com/pdfupload/icici/ls-mumbai-15-01-2021.pdf | https://pdf.indianexpress.com/pdfupload/icici/ls-mumbai-15-01-2021.pdf | https://pdf.indianexpress.com/pdfupload/icici/ls-aurangabad-15-01-2021.pdf | https://pdf.indianexpress.com/pdfupload/icici/ls-ahmednagar-15-01-2021.pdf | https://pdf.indianexpress.com/pdfupload/icici/ls-nagpur-15-01-2021.pdf | https://pdf.indianexpress.com/pdfupload/icici/ls-nasik-15-01-2021.pdf |
| 14-01-2021 | https://pdf.indianexpress.com/pdfupload/icici/ls-mumbai-14-01-2021.pdf | https://pdf.indianexpress.com/pdfupload/icici/ls-mumbai-14-01-2021.pdf | https://pdf.indianexpress.com/pdfupload/icici/ls-aurangabad-14-01-2021.pdf | https://pdf.indianexpress.com/pdfupload/icici/ls-ahmednagar-14-01-2021.pdf | https://pdf.indianexpress.com/pdfupload/icici/ls-nagpur-14-01-2021.pdf | https://pdf.indianexpress.com/pdfupload/icici/ls-nasik-14-01-2021.pdf |
| 13-01-2021 | https://pdf.indianexpress.com/pdfupload/icici/ls-mumbai-13-01-2021.pdf | https://pdf.indianexpress.com/pdfupload/icici/ls-mumbai-13-01-2021.pdf | https://pdf.indianexpress.com/pdfupload/icici/ls-aurangabad-13-01-2021.pdf | https://pdf.indianexpress.com/pdfupload/icici/ls-ahmednagar-13-01-2021.pdf | https://pdf.indianexpress.com/pdfupload/icici/ls-nagpur-13-01-2021.pdf | https://pdf.indianexpress.com/pdfupload/icici/ls-nasik-13-01-2021.pdf |
| 12-01-2021 | https://pdf.indianexpress.com/pdfupload/icici/ls-mumbai-12-01-2021.pdf | https://pdf.indianexpress.com/pdfupload/icici/ls-mumbai-12-01-2021.pdf | https://pdf.indianexpress.com/pdfupload/icici/ls-aurangabad-12-01-2021.pdf | https://pdf.indianexpress.com/pdfupload/icici/ls-ahmednagar-12-01-2021.pdf | https://pdf.indianexpress.com/pdfupload/icici/ls-nagpur-12-01-2021.pdf | https://pdf.indianexpress.com/pdfupload/icici/ls-nasik-12-01-2021.pdf |
| 11-01-2021 | https://pdf.indianexpress.com/pdfupload/icici/ls-mumbai-11-01-2021.pdf | https://pdf.indianexpress.com/pdfupload/icici/ls-mumbai-11-01-2021.pdf | https://pdf.indianexpress.com/pdfupload/icici/ls-aurangabad-11-01-2021.pdf | https://pdf.indianexpress.com/pdfupload/icici/ls-ahmednagar-11-01-2021.pdf | https://pdf.indianexpress.com/pdfupload/icici/ls-nagpur-11-01-2021.pdf | https://pdf.indianexpress.com/pdfupload/icici/ls-nasik-11-01-2021.pdf |
| 10-01-2021 | https://pdf.indianexpress.com/pdfupload/icici/ls-mumbai-10-01-2021.pdf | https://pdf.indianexpress.com/pdfupload/icici/ls-mumbai-10-01-2021.pdf | https://pdf.indianexpress.com/pdfupload/icici/ls-aurangabad-10-01-2021.pdf | https://pdf.indianexpress.com/pdfupload/icici/ls-ahmednagar-10-01-2021.pdf | https://pdf.indianexpress.com/pdfupload/icici/ls-nagpur-10-01-2021.pdf | https://pdf.indianexpress.com/pdfupload/icici/ls-nasik-10-01-2021.pdf |
| 09-01-2021 | https://pdf.indianexpress.com/pdfupload/icici/ls-mumbai-09-01-2021.pdf | https://pdf.indianexpress.com/pdfupload/icici/ls-mumbai-09-01-2021.pdf | https://pdf.indianexpress.com/pdfupload/icici/ls-aurangabad-09-01-2021.pdf | https://pdf.indianexpress.com/pdfupload/icici/ls-ahmednagar-09-01-2021.pdf | https://pdf.indianexpress.com/pdfupload/icici/ls-nagpur-09-01-2021.pdf | https://pdf.indianexpress.com/pdfupload/icici/ls-nasik-09-01-2021.pdf |
| 08-01-2021 | https://pdf.indianexpress.com/pdfupload/icici/ls-mumbai-08-01-2021.pdf | https://pdf.indianexpress.com/pdfupload/icici/ls-mumbai-08-01-2021.pdf | https://pdf.indianexpress.com/pdfupload/icici/ls-aurangabad-08-01-2021.pdf | https://pdf.indianexpress.com/pdfupload/icici/ls-ahmednagar-08-01-2021.pdf | https://pdf.indianexpress.com/pdfupload/icici/ls-nagpur-08-01-2021.pdf | https://pdf.indianexpress.com/pdfupload/icici/ls-nasik-08-01-2021.pdf |
| 07-01-2021 | https://pdf.indianexpress.com/pdfupload/icici/ls-mumbai-07-01-2021.pdf | https://pdf.indianexpress.com/pdfupload/icici/ls-mumbai-07-01-2021.pdf | https://pdf.indianexpress.com/pdfupload/icici/ls-aurangabad-07-01-2021.pdf | https://pdf.indianexpress.com/pdfupload/icici/ls-ahmednagar-07-01-2021.pdf | https://pdf.indianexpress.com/pdfupload/icici/ls-nagpur-07-01-2021.pdf | https://pdf.indianexpress.com/pdfupload/icici/ls-nasik-07-01-2021.pdf |
| 06-01-2021 | https://pdf.indianexpress.com/pdfupload/icici/ls-mumbai-06-01-2021.pdf | https://pdf.indianexpress.com/pdfupload/icici/ls-mumbai-06-01-2021.pdf | https://pdf.indianexpress.com/pdfupload/icici/ls-aurangabad-06-01-2021.pdf | https://pdf.indianexpress.com/pdfupload/icici/ls-ahmednagar-06-01-2021.pdf | https://pdf.indianexpress.com/pdfupload/icici/ls-nagpur-06-01-2021.pdf | https://pdf.indianexpress.com/pdfupload/icici/ls-nasik-06-01-2021.pdf |
| 05-01-2021 | https://pdf.indianexpress.com/pdfupload/icici/ls-mumbai-05-01-2021.pdf | https://pdf.indianexpress.com/pdfupload/icici/ls-mumbai-05-01-2021.pdf | https://pdf.indianexpress.com/pdfupload/icici/ls-aurangabad-05-01-2021.pdf | https://pdf.indianexpress.com/pdfupload/icici/ls-ahmednagar-05-01-2021.pdf | https://pdf.indianexpress.com/pdfupload/icici/ls-nagpur-05-01-2021.pdf | https://pdf.indianexpress.com/pdfupload/icici/ls-nasik-05-01-2021.pdf |
| 04-01-2021 | https://pdf.indianexpress.com/pdfupload/icici/ls-mumbai-04-01-2021.pdf | https://pdf.indianexpress.com/pdfupload/icici/ls-mumbai-04-01-2021.pdf | https://pdf.indianexpress.com/pdfupload/icici/ls-aurangabad-04-01-2021.pdf | https://pdf.indianexpress.com/pdfupload/icici/ls-ahmednagar-04-01-2021.pdf | https://pdf.indianexpress.com/pdfupload/icici/ls-nagpur-04-01-2021.pdf | https://pdf.indianexpress.com/pdfupload/icici/ls-nasik-04-01-2021.pdf |
| 03-01-2021 | https://pdf.indianexpress.com/pdfupload/icici/ls-mumbai-03-01-2021.pdf | https://pdf.indianexpress.com/pdfupload/icici/ls-mumbai-03-01-2021.pdf | https://pdf.indianexpress.com/pdfupload/icici/ls-aurangabad-03-01-2021.pdf | https://pdf.indianexpress.com/pdfupload/icici/ls-ahmednagar-03-01-2021.pdf | https://pdf.indianexpress.com/pdfupload/icici/ls-nagpur-03-01-2021.pdf | https://pdf.indianexpress.com/pdfupload/icici/ls-nasik-03-01-2021.pdf |
| 02-01-2021 | https://pdf.indianexpress.com/pdfupload/icici/ls-mumbai-02-01-2021.pdf | https://pdf.indianexpress.com/pdfupload/icici/ls-mumbai-02-01-2021.pdf | https://pdf.indianexpress.com/pdfupload/icici/ls-aurangabad-02-01-2021.pdf | https://pdf.indianexpress.com/pdfupload/icici/ls-ahmednagar-02-01-2021.pdf | https://pdf.indianexpress.com/pdfupload/icici/ls-nagpur-02-01-2021.pdf | https://pdf.indianexpress.com/pdfupload/icici/ls-nasik-02-01-2021.pdf |
| 01-01-2021 | https://pdf.indianexpress.com/pdfupload/icici/ls-mumbai-01-01-2021.pdf | https://pdf.indianexpress.com/pdfupload/icici/ls-mumbai-01-01-2021.pdf | https://pdf.indianexpress.com/pdfupload/icici/ls-aurangabad-01-01-2021.pdf | https://pdf.indianexpress.com/pdfupload/icici/ls-ahmednagar-01-01-2021.pdf | https://pdf.indianexpress.com/pdfupload/icici/ls-nagpur-01-01-2021.pdf | https://pdf.indianexpress.com/pdfupload/icici/ls-nasik-01-01-2021.pdf |
| 31-12-2020 | https://pdf.indianexpress.com/pdfupload/icici/ls-mumbai-31-12-2020.pdf | https://pdf.indianexpress.com/pdfupload/icici/ls-mumbai-31-12-2020.pdf | https://pdf.indianexpress.com/pdfupload/icici/ls-aurangabad-31-12-2020.pdf | https://pdf.indianexpress.com/pdfupload/icici/ls-ahmednagar-31-12-2020.pdf | https://pdf.indianexpress.com/pdfupload/icici/ls-nagpur-31-12-2020.pdf | https://pdf.indianexpress.com/pdfupload/icici/ls-nasik-31-12-2020.pdf |
| 30-12-2020 | https://pdf.indianexpress.com/pdfupload/icici/ls-mumbai-30-12-2020.pdf | https://pdf.indianexpress.com/pdfupload/icici/ls-mumbai-30-12-2020.pdf | https://pdf.indianexpress.com/pdfupload/icici/ls-aurangabad-30-12-2020.pdf | https://pdf.indianexpress.com/pdfupload/icici/ls-ahmednagar-30-12-2020.pdf | https://pdf.indianexpress.com/pdfupload/icici/ls-nagpur-30-12-2020.pdf | https://pdf.indianexpress.com/pdfupload/icici/ls-nasik-30-12-2020.pdf |
| 29-12-2020 | https://pdf.indianexpress.com/pdfupload/icici/ls-mumbai-29-12-2020.pdf | https://pdf.indianexpress.com/pdfupload/icici/ls-mumbai-29-12-2020.pdf | https://pdf.indianexpress.com/pdfupload/icici/ls-aurangabad-29-12-2020.pdf | https://pdf.indianexpress.com/pdfupload/icici/ls-ahmednagar-29-12-2020.pdf | https://pdf.indianexpress.com/pdfupload/icici/ls-nagpur-29-12-2020.pdf | https://pdf.indianexpress.com/pdfupload/icici/ls-nasik-29-12-2020.pdf |
| 28-12-2020 | https://pdf.indianexpress.com/pdfupload/icici/ls-mumbai-28-12-2020.pdf | https://pdf.indianexpress.com/pdfupload/icici/ls-mumbai-28-12-2020.pdf | https://pdf.indianexpress.com/pdfupload/icici/ls-aurangabad-28-12-2020.pdf | https://pdf.indianexpress.com/pdfupload/icici/ls-ahmednagar-28-12-2020.pdf | https://pdf.indianexpress.com/pdfupload/icici/ls-nagpur-28-12-2020.pdf | https://pdf.indianexpress.com/pdfupload/icici/ls-nasik-28-12-2020.pdf |
| 27-12-2020 | https://pdf.indianexpress.com/pdfupload/icici/ls-mumbai-27-12-2020.pdf | https://pdf.indianexpress.com/pdfupload/icici/ls-mumbai-27-12-2020.pdf | https://pdf.indianexpress.com/pdfupload/icici/ls-aurangabad-27-12-2020.pdf | https://pdf.indianexpress.com/pdfupload/icici/ls-ahmednagar-27-12-2020.pdf | https://pdf.indianexpress.com/pdfupload/icici/ls-nagpur-27-12-2020.pdf | https://pdf.indianexpress.com/pdfupload/icici/ls-nasik-27-12-2020.pdf |
| 26-12-2020 | https://pdf.indianexpress.com/pdfupload/icici/ls-mumbai-26-12-2020.pdf | https://pdf.indianexpress.com/pdfupload/icici/ls-mumbai-26-12-2020.pdf | https://pdf.indianexpress.com/pdfupload/icici/ls-aurangabad-26-12-2020.pdf | https://pdf.indianexpress.com/pdfupload/icici/ls-ahmednagar-26-12-2020.pdf | https://pdf.indianexpress.com/pdfupload/icici/ls-nagpur-26-12-2020.pdf | https://pdf.indianexpress.com/pdfupload/icici/ls-nasik-26-12-2020.pdf |
| 25-12-2020 | https://pdf.indianexpress.com/pdfupload/icici/ls-mumbai-25-12-2020.pdf | https://pdf.indianexpress.com/pdfupload/icici/ls-mumbai-25-12-2020.pdf | https://pdf.indianexpress.com/pdfupload/icici/ls-aurangabad-25-12-2020.pdf | https://pdf.indianexpress.com/pdfupload/icici/ls-ahmednagar-25-12-2020.pdf | https://pdf.indianexpress.com/pdfupload/icici/ls-nagpur-25-12-2020.pdf | https://pdf.indianexpress.com/pdfupload/icici/ls-nasik-25-12-2020.pdf |
| 24-12-2020 | https://pdf.indianexpress.com/pdfupload/icici/ls-mumbai-24-12-2020.pdf | https://pdf.indianexpress.com/pdfupload/icici/ls-mumbai-24-12-2020.pdf | https://pdf.indianexpress.com/pdfupload/icici/ls-aurangabad-24-12-2020.pdf | https://pdf.indianexpress.com/pdfupload/icici/ls-ahmednagar-24-12-2020.pdf | https://pdf.indianexpress.com/pdfupload/icici/ls-nagpur-24-12-2020.pdf | https://pdf.indianexpress.com/pdfupload/icici/ls-nasik-24-12-2020.pdf |
| 23-12-2020 | https://pdf.indianexpress.com/pdfupload/icici/ls-mumbai-23-12-2020.pdf | https://pdf.indianexpress.com/pdfupload/icici/ls-mumbai-23-12-2020.pdf | https://pdf.indianexpress.com/pdfupload/icici/ls-aurangabad-23-12-2020.pdf | https://pdf.indianexpress.com/pdfupload/icici/ls-ahmednagar-23-12-2020.pdf | https://pdf.indianexpress.com/pdfupload/icici/ls-nagpur-23-12-2020.pdf | https://pdf.indianexpress.com/pdfupload/icici/ls-nasik-23-12-2020.pdf |
| 22-12-2020 | https://pdf.indianexpress.com/pdfupload/icici/ls-mumbai-22-12-2020.pdf | https://pdf.indianexpress.com/pdfupload/icici/ls-mumbai-22-12-2020.pdf | https://pdf.indianexpress.com/pdfupload/icici/ls-aurangabad-22-12-2020.pdf | https://pdf.indianexpress.com/pdfupload/icici/ls-ahmednagar-22-12-2020.pdf | https://pdf.indianexpress.com/pdfupload/icici/ls-nagpur-22-12-2020.pdf | https://pdf.indianexpress.com/pdfupload/icici/ls-nasik-22-12-2020.pdf |
| 21-12-2020 | https://pdf.indianexpress.com/pdfupload/icici/ls-mumbai-21-12-2020.pdf | https://pdf.indianexpress.com/pdfupload/icici/ls-mumbai-21-12-2020.pdf | https://pdf.indianexpress.com/pdfupload/icici/ls-aurangabad-21-12-2020.pdf | https://pdf.indianexpress.com/pdfupload/icici/ls-ahmednagar-21-12-2020.pdf | https://pdf.indianexpress.com/pdfupload/icici/ls-nagpur-21-12-2020.pdf | https://pdf.indianexpress.com/pdfupload/icici/ls-nasik-21-12-2020.pdf |
| 20-12-2020 | https://pdf.indianexpress.com/pdfupload/icici/ls-mumbai-20-12-2020.pdf | https://pdf.indianexpress.com/pdfupload/icici/ls-mumbai-20-12-2020.pdf | https://pdf.indianexpress.com/pdfupload/icici/ls-aurangabad-20-12-2020.pdf | https://pdf.indianexpress.com/pdfupload/icici/ls-ahmednagar-20-12-2020.pdf | https://pdf.indianexpress.com/pdfupload/icici/ls-nagpur-20-12-2020.pdf | https://pdf.indianexpress.com/pdfupload/icici/ls-nasik-20-12-2020.pdf |
| 19-12-2020 | https://pdf.indianexpress.com/pdfupload/icici/ls-mumbai-19-12-2020.pdf | https://pdf.indianexpress.com/pdfupload/icici/ls-mumbai-19-12-2020.pdf | https://pdf.indianexpress.com/pdfupload/icici/ls-aurangabad-19-12-2020.pdf | https://pdf.indianexpress.com/pdfupload/icici/ls-ahmednagar-19-12-2020.pdf | https://pdf.indianexpress.com/pdfupload/icici/ls-nagpur-19-12-2020.pdf | https://pdf.indianexpress.com/pdfupload/icici/ls-nasik-19-12-2020.pdf |
| 18-12-2020 | https://pdf.indianexpress.com/pdfupload/icici/ls-mumbai-18-12-2020.pdf | https://pdf.indianexpress.com/pdfupload/icici/ls-mumbai-18-12-2020.pdf | https://pdf.indianexpress.com/pdfupload/icici/ls-aurangabad-18-12-2020.pdf | https://pdf.indianexpress.com/pdfupload/icici/ls-ahmednagar-18-12-2020.pdf | https://pdf.indianexpress.com/pdfupload/icici/ls-nagpur-18-12-2020.pdf | https://pdf.indianexpress.com/pdfupload/icici/ls-nasik-18-12-2020.pdf |
| 17-12-2020 | https://pdf.indianexpress.com/pdfupload/icici/ls-mumbai-17-12-2020.pdf | https://pdf.indianexpress.com/pdfupload/icici/ls-mumbai-17-12-2020.pdf | https://pdf.indianexpress.com/pdfupload/icici/ls-aurangabad-17-12-2020.pdf | https://pdf.indianexpress.com/pdfupload/icici/ls-ahmednagar-17-12-2020.pdf | https://pdf.indianexpress.com/pdfupload/icici/ls-nagpur-17-12-2020.pdf | https://pdf.indianexpress.com/pdfupload/icici/ls-nasik-17-12-2020.pdf |
| 16-12-2020 | https://pdf.indianexpress.com/pdfupload/icici/ls-mumbai-16-12-2020.pdf | https://pdf.indianexpress.com/pdfupload/icici/ls-mumbai-16-12-2020.pdf | https://pdf.indianexpress.com/pdfupload/icici/ls-aurangabad-16-12-2020.pdf | https://pdf.indianexpress.com/pdfupload/icici/ls-ahmednagar-16-12-2020.pdf | https://pdf.indianexpress.com/pdfupload/icici/ls-nagpur-16-12-2020.pdf | https://pdf.indianexpress.com/pdfupload/icici/ls-nasik-16-12-2020.pdf |
| 15-12-2020 | https://pdf.indianexpress.com/pdfupload/icici/ls-mumbai-15-12-2020.pdf | https://pdf.indianexpress.com/pdfupload/icici/ls-mumbai-15-12-2020.pdf | https://pdf.indianexpress.com/pdfupload/icici/ls-aurangabad-15-12-2020.pdf | https://pdf.indianexpress.com/pdfupload/icici/ls-ahmednagar-15-12-2020.pdf | https://pdf.indianexpress.com/pdfupload/icici/ls-nagpur-15-12-2020.pdf | https://pdf.indianexpress.com/pdfupload/icici/ls-nasik-15-12-2020.pdf |
| 14-12-2020 | https://pdf.indianexpress.com/pdfupload/icici/ls-mumbai-14-12-2020.pdf | https://pdf.indianexpress.com/pdfupload/icici/ls-mumbai-14-12-2020.pdf | https://pdf.indianexpress.com/pdfupload/icici/ls-aurangabad-14-12-2020.pdf | https://pdf.indianexpress.com/pdfupload/icici/ls-ahmednagar-14-12-2020.pdf | https://pdf.indianexpress.com/pdfupload/icici/ls-nagpur-14-12-2020.pdf | https://pdf.indianexpress.com/pdfupload/icici/ls-nasik-14-12-2020.pdf |
| 13-12-2020 | https://pdf.indianexpress.com/pdfupload/icici/ls-mumbai-13-12-2020.pdf | https://pdf.indianexpress.com/pdfupload/icici/ls-mumbai-13-12-2020.pdf | https://pdf.indianexpress.com/pdfupload/icici/ls-aurangabad-13-12-2020.pdf | https://pdf.indianexpress.com/pdfupload/icici/ls-ahmednagar-13-12-2020.pdf | https://pdf.indianexpress.com/pdfupload/icici/ls-nagpur-13-12-2020.pdf | https://pdf.indianexpress.com/pdfupload/icici/ls-nasik-13-12-2020.pdf |
| 12-12-2020 | https://pdf.indianexpress.com/pdfupload/icici/ls-mumbai-12-12-2020.pdf | https://pdf.indianexpress.com/pdfupload/icici/ls-mumbai-12-12-2020.pdf | https://pdf.indianexpress.com/pdfupload/icici/ls-aurangabad-12-12-2020.pdf | https://pdf.indianexpress.com/pdfupload/icici/ls-ahmednagar-12-12-2020.pdf | https://pdf.indianexpress.com/pdfupload/icici/ls-nagpur-12-12-2020.pdf | https://pdf.indianexpress.com/pdfupload/icici/ls-nasik-12-12-2020.pdf |
| 11-12-2020 | https://pdf.indianexpress.com/pdfupload/icici/ls-mumbai-11-12-2020.pdf | https://pdf.indianexpress.com/pdfupload/icici/ls-mumbai-11-12-2020.pdf | https://pdf.indianexpress.com/pdfupload/icici/ls-aurangabad-11-12-2020.pdf | https://pdf.indianexpress.com/pdfupload/icici/ls-ahmednagar-11-12-2020.pdf | https://pdf.indianexpress.com/pdfupload/icici/ls-nagpur-11-12-2020.pdf | https://pdf.indianexpress.com/pdfupload/icici/ls-nasik-11-12-2020.pdf |
| 10-12-2020 | https://pdf.indianexpress.com/pdfupload/icici/ls-mumbai-10-12-2020.pdf | https://pdf.indianexpress.com/pdfupload/icici/ls-mumbai-10-12-2020.pdf | https://pdf.indianexpress.com/pdfupload/icici/ls-aurangabad-10-12-2020.pdf | https://pdf.indianexpress.com/pdfupload/icici/ls-ahmednagar-10-12-2020.pdf | https://pdf.indianexpress.com/pdfupload/icici/ls-nagpur-10-12-2020.pdf | https://pdf.indianexpress.com/pdfupload/icici/ls-nasik-10-12-2020.pdf |
| 09-12-2020 | https://pdf.indianexpress.com/pdfupload/icici/ls-mumbai-09-12-2020.pdf | https://pdf.indianexpress.com/pdfupload/icici/ls-mumbai-09-12-2020.pdf | https://pdf.indianexpress.com/pdfupload/icici/ls-aurangabad-09-12-2020.pdf | https://pdf.indianexpress.com/pdfupload/icici/ls-ahmednagar-09-12-2020.pdf | https://pdf.indianexpress.com/pdfupload/icici/ls-nagpur-09-12-2020.pdf | https://pdf.indianexpress.com/pdfupload/icici/ls-nasik-09-12-2020.pdf |
| 08-12-2020 | https://pdf.indianexpress.com/pdfupload/icici/ls-mumbai-08-12-2020.pdf | https://pdf.indianexpress.com/pdfupload/icici/ls-mumbai-08-12-2020.pdf | https://pdf.indianexpress.com/pdfupload/icici/ls-aurangabad-08-12-2020.pdf | https://pdf.indianexpress.com/pdfupload/icici/ls-ahmednagar-08-12-2020.pdf | https://pdf.indianexpress.com/pdfupload/icici/ls-nagpur-08-12-2020.pdf | https://pdf.indianexpress.com/pdfupload/icici/ls-nasik-08-12-2020.pdf |
| 07-12-2020 | https://pdf.indianexpress.com/pdfupload/icici/ls-mumbai-07-12-2020.pdf | https://pdf.indianexpress.com/pdfupload/icici/ls-mumbai-07-12-2020.pdf | https://pdf.indianexpress.com/pdfupload/icici/ls-aurangabad-07-12-2020.pdf | https://pdf.indianexpress.com/pdfupload/icici/ls-ahmednagar-07-12-2020.pdf | https://pdf.indianexpress.com/pdfupload/icici/ls-nagpur-07-12-2020.pdf | https://pdf.indianexpress.com/pdfupload/icici/ls-nasik-07-12-2020.pdf |
| 06-12-2020 | https://pdf.indianexpress.com/pdfupload/icici/ls-mumbai-06-12-2020.pdf | https://pdf.indianexpress.com/pdfupload/icici/ls-mumbai-06-12-2020.pdf | https://pdf.indianexpress.com/pdfupload/icici/ls-aurangabad-06-12-2020.pdf | https://pdf.indianexpress.com/pdfupload/icici/ls-ahmednagar-06-12-2020.pdf | https://pdf.indianexpress.com/pdfupload/icici/ls-nagpur-06-12-2020.pdf | https://pdf.indianexpress.com/pdfupload/icici/ls-nasik-06-12-2020.pdf |
| 05-12-2020 | https://pdf.indianexpress.com/pdfupload/icici/ls-mumbai-05-12-2020.pdf | https://pdf.indianexpress.com/pdfupload/icici/ls-mumbai-05-12-2020.pdf | https://pdf.indianexpress.com/pdfupload/icici/ls-aurangabad-05-12-2020.pdf | https://pdf.indianexpress.com/pdfupload/icici/ls-ahmednagar-05-12-2020.pdf | https://pdf.indianexpress.com/pdfupload/icici/ls-nagpur-05-12-2020.pdf | https://pdf.indianexpress.com/pdfupload/icici/ls-nasik-05-12-2020.pdf |
| 04-12-2020 | https://pdf.indianexpress.com/pdfupload/icici/ls-mumbai-04-12-2020.pdf | https://pdf.indianexpress.com/pdfupload/icici/ls-mumbai-04-12-2020.pdf | https://pdf.indianexpress.com/pdfupload/icici/ls-aurangabad-04-12-2020.pdf | https://pdf.indianexpress.com/pdfupload/icici/ls-ahmednagar-04-12-2020.pdf | https://pdf.indianexpress.com/pdfupload/icici/ls-nagpur-04-12-2020.pdf | https://pdf.indianexpress.com/pdfupload/icici/ls-nasik-04-12-2020.pdf |
| 03-12-2020 | https://pdf.indianexpress.com/pdfupload/icici/ls-mumbai-03-12-2020.pdf | https://pdf.indianexpress.com/pdfupload/icici/ls-mumbai-03-12-2020.pdf | https://pdf.indianexpress.com/pdfupload/icici/ls-aurangabad-03-12-2020.pdf | https://pdf.indianexpress.com/pdfupload/icici/ls-ahmednagar-03-12-2020.pdf | https://pdf.indianexpress.com/pdfupload/icici/ls-nagpur-03-12-2020.pdf | https://pdf.indianexpress.com/pdfupload/icici/ls-nasik-03-12-2020.pdf |
| 02-12-2020 | https://pdf.indianexpress.com/pdfupload/icici/ls-mumbai-02-12-2020.pdf | https://pdf.indianexpress.com/pdfupload/icici/ls-mumbai-02-12-2020.pdf | https://pdf.indianexpress.com/pdfupload/icici/ls-aurangabad-02-12-2020.pdf | https://pdf.indianexpress.com/pdfupload/icici/ls-ahmednagar-02-12-2020.pdf | https://pdf.indianexpress.com/pdfupload/icici/ls-nagpur-02-12-2020.pdf | https://pdf.indianexpress.com/pdfupload/icici/ls-nasik-02-12-2020.pdf |
| 01-12-2020 | https://pdf.indianexpress.com/pdfupload/icici/ls-mumbai-01-12-2020.pdf | https://pdf.indianexpress.com/pdfupload/icici/ls-mumbai-01-12-2020.pdf | https://pdf.indianexpress.com/pdfupload/icici/ls-aurangabad-01-12-2020.pdf | https://pdf.indianexpress.com/pdfupload/icici/ls-ahmednagar-01-12-2020.pdf | https://pdf.indianexpress.com/pdfupload/icici/ls-nagpur-01-12-2020.pdf | https://pdf.indianexpress.com/pdfupload/icici/ls-nasik-01-12-2020.pdf |
| 30-11-2020 | https://pdf.indianexpress.com/pdfupload/icici/ls-mumbai-30-11-2020.pdf | https://pdf.indianexpress.com/pdfupload/icici/ls-mumbai-30-11-2020.pdf | https://pdf.indianexpress.com/pdfupload/icici/ls-aurangabad-30-11-2020.pdf | https://pdf.indianexpress.com/pdfupload/icici/ls-ahmednagar-30-11-2020.pdf | https://pdf.indianexpress.com/pdfupload/icici/ls-nagpur-30-11-2020.pdf | https://pdf.indianexpress.com/pdfupload/icici/ls-nasik-30-11-2020.pdf |
| 29-11-2020 | https://pdf.indianexpress.com/pdfupload/icici/ls-mumbai-29-11-2020.pdf | https://pdf.indianexpress.com/pdfupload/icici/ls-mumbai-29-11-2020.pdf | https://pdf.indianexpress.com/pdfupload/icici/ls-aurangabad-29-11-2020.pdf | https://pdf.indianexpress.com/pdfupload/icici/ls-ahmednagar-29-11-2020.pdf | https://pdf.indianexpress.com/pdfupload/icici/ls-nagpur-29-11-2020.pdf | https://pdf.indianexpress.com/pdfupload/icici/ls-nasik-29-11-2020.pdf |
| 28-11-2020 | https://pdf.indianexpress.com/pdfupload/icici/ls-mumbai-28-11-2020.pdf | https://pdf.indianexpress.com/pdfupload/icici/ls-mumbai-28-11-2020.pdf | https://pdf.indianexpress.com/pdfupload/icici/ls-aurangabad-28-11-2020.pdf | https://pdf.indianexpress.com/pdfupload/icici/ls-ahmednagar-28-11-2020.pdf | https://pdf.indianexpress.com/pdfupload/icici/ls-nagpur-28-11-2020.pdf | https://pdf.indianexpress.com/pdfupload/icici/ls-nasik-28-11-2020.pdf |
| 27-11-2020 | https://pdf.indianexpress.com/pdfupload/icici/ls-mumbai-27-11-2020.pdf | https://pdf.indianexpress.com/pdfupload/icici/ls-mumbai-27-11-2020.pdf | https://pdf.indianexpress.com/pdfupload/icici/ls-aurangabad-27-11-2020.pdf | https://pdf.indianexpress.com/pdfupload/icici/ls-ahmednagar-27-11-2020.pdf | https://pdf.indianexpress.com/pdfupload/icici/ls-nagpur-27-11-2020.pdf | https://pdf.indianexpress.com/pdfupload/icici/ls-nasik-27-11-2020.pdf |
| 26-11-2020 | https://pdf.indianexpress.com/pdfupload/icici/ls-mumbai-26-11-2020.pdf | https://pdf.indianexpress.com/pdfupload/icici/ls-mumbai-26-11-2020.pdf | https://pdf.indianexpress.com/pdfupload/icici/ls-aurangabad-26-11-2020.pdf | https://pdf.indianexpress.com/pdfupload/icici/ls-ahmednagar-26-11-2020.pdf | https://pdf.indianexpress.com/pdfupload/icici/ls-nagpur-26-11-2020.pdf | https://pdf.indianexpress.com/pdfupload/icici/ls-nasik-26-11-2020.pdf |
| 25-11-2020 | https://pdf.indianexpress.com/pdfupload/icici/ls-mumbai-25-11-2020.pdf | https://pdf.indianexpress.com/pdfupload/icici/ls-mumbai-25-11-2020.pdf | https://pdf.indianexpress.com/pdfupload/icici/ls-aurangabad-25-11-2020.pdf | https://pdf.indianexpress.com/pdfupload/icici/ls-ahmednagar-25-11-2020.pdf | https://pdf.indianexpress.com/pdfupload/icici/ls-nagpur-25-11-2020.pdf | https://pdf.indianexpress.com/pdfupload/icici/ls-nasik-25-11-2020.pdf |
| 24-11-2020 | https://pdf.indianexpress.com/pdfupload/icici/ls-mumbai-24-11-2020.pdf | https://pdf.indianexpress.com/pdfupload/icici/ls-mumbai-24-11-2020.pdf | https://pdf.indianexpress.com/pdfupload/icici/ls-aurangabad-24-11-2020.pdf | https://pdf.indianexpress.com/pdfupload/icici/ls-ahmednagar-24-11-2020.pdf | https://pdf.indianexpress.com/pdfupload/icici/ls-nagpur-24-11-2020.pdf | https://pdf.indianexpress.com/pdfupload/icici/ls-nasik-24-11-2020.pdf |
| 23-11-2020 | https://pdf.indianexpress.com/pdfupload/icici/ls-mumbai-23-11-2020.pdf | https://pdf.indianexpress.com/pdfupload/icici/ls-mumbai-23-11-2020.pdf | https://pdf.indianexpress.com/pdfupload/icici/ls-aurangabad-23-11-2020.pdf | https://pdf.indianexpress.com/pdfupload/icici/ls-ahmednagar-23-11-2020.pdf | https://pdf.indianexpress.com/pdfupload/icici/ls-nagpur-23-11-2020.pdf | https://pdf.indianexpress.com/pdfupload/icici/ls-nasik-23-11-2020.pdf |
| 22-11-2020 | https://pdf.indianexpress.com/pdfupload/icici/ls-mumbai-22-11-2020.pdf | https://pdf.indianexpress.com/pdfupload/icici/ls-mumbai-22-11-2020.pdf | https://pdf.indianexpress.com/pdfupload/icici/ls-aurangabad-22-11-2020.pdf | https://pdf.indianexpress.com/pdfupload/icici/ls-ahmednagar-22-11-2020.pdf | https://pdf.indianexpress.com/pdfupload/icici/ls-nagpur-22-11-2020.pdf | https://pdf.indianexpress.com/pdfupload/icici/ls-nasik-22-11-2020.pdf |
| 21-11-2020 | https://pdf.indianexpress.com/pdfupload/icici/ls-mumbai-21-11-2020.pdf | https://pdf.indianexpress.com/pdfupload/icici/ls-mumbai-21-11-2020.pdf | https://pdf.indianexpress.com/pdfupload/icici/ls-aurangabad-21-11-2020.pdf | https://pdf.indianexpress.com/pdfupload/icici/ls-ahmednagar-21-11-2020.pdf | https://pdf.indianexpress.com/pdfupload/icici/ls-nagpur-21-11-2020.pdf | https://pdf.indianexpress.com/pdfupload/icici/ls-nasik-21-11-2020.pdf |
| 21-11-2020 | https://pdf.indianexpress.com/pdfupload/icici/ls-mumbai-21-11-2020.pdf | https://pdf.indianexpress.com/pdfupload/icici/ls-mumbai-21-11-2020.pdf | https://pdf.indianexpress.com/pdfupload/icici/ls-aurangabad-21-11-2020.pdf | https://pdf.indianexpress.com/pdfupload/icici/ls-ahmednagar-21-11-2020.pdf | https://pdf.indianexpress.com/pdfupload/icici/ls-nagpur-21-11-2020.pdf | https://pdf.indianexpress.com/pdfupload/icici/ls-nasik-21-11-2020.pdf |
| 19-11-2020 | https://pdf.indianexpress.com/pdfupload/icici/ls-mumbai-19-11-2020.pdf | https://pdf.indianexpress.com/pdfupload/icici/ls-mumbai-19-11-2020.pdf | https://pdf.indianexpress.com/pdfupload/icici/ls-aurangabad-19-11-2020.pdf | https://pdf.indianexpress.com/pdfupload/icici/ls-ahmednagar-19-11-2020.pdf | https://pdf.indianexpress.com/pdfupload/icici/ls-nagpur-19-11-2020.pdf | https://pdf.indianexpress.com/pdfupload/icici/ls-nasik-19-11-2020.pdf |
| 18-11-2020 | https://pdf.indianexpress.com/pdfupload/icici/ls-mumbai-18-11-2020.pdf | https://pdf.indianexpress.com/pdfupload/icici/ls-mumbai-18-11-2020.pdf | https://pdf.indianexpress.com/pdfupload/icici/ls-aurangabad-18-11-2020.pdf | https://pdf.indianexpress.com/pdfupload/icici/ls-ahmednagar-18-11-2020.pdf | https://pdf.indianexpress.com/pdfupload/icici/ls-nagpur-18-11-2020.pdf | https://pdf.indianexpress.com/pdfupload/icici/ls-nasik-18-11-2020.pdf |
| 17-11-2020 | https://pdf.indianexpress.com/pdfupload/icici/ls-mumbai-17-11-2020.pdf | https://pdf.indianexpress.com/pdfupload/icici/ls-mumbai-17-11-2020.pdf | https://pdf.indianexpress.com/pdfupload/icici/ls-aurangabad-17-11-2020.pdf | https://pdf.indianexpress.com/pdfupload/icici/ls-ahmednagar-17-11-2020.pdf | https://pdf.indianexpress.com/pdfupload/icici/ls-nagpur-17-11-2020.pdf | https://pdf.indianexpress.com/pdfupload/icici/ls-nasik-17-11-2020.pdf |
| 16-11-2020 | https://pdf.indianexpress.com/pdfupload/icici/ls-mumbai-16-11-2020.pdf | https://pdf.indianexpress.com/pdfupload/icici/ls-mumbai-16-11-2020.pdf | https://pdf.indianexpress.com/pdfupload/icici/ls-aurangabad-16-11-2020.pdf | https://pdf.indianexpress.com/pdfupload/icici/ls-ahmednagar-16-11-2020.pdf | https://pdf.indianexpress.com/pdfupload/icici/ls-nagpur-16-11-2020.pdf | https://pdf.indianexpress.com/pdfupload/icici/ls-nasik-16-11-2020.pdf |
| 15-11-2020 | https://pdf.indianexpress.com/pdfupload/icici/ls-mumbai-15-11-2020.pdf | https://pdf.indianexpress.com/pdfupload/icici/ls-mumbai-15-11-2020.pdf | https://pdf.indianexpress.com/pdfupload/icici/ls-aurangabad-15-11-2020.pdf | https://pdf.indianexpress.com/pdfupload/icici/ls-ahmednagar-15-11-2020.pdf | https://pdf.indianexpress.com/pdfupload/icici/ls-nagpur-15-11-2020.pdf | https://pdf.indianexpress.com/pdfupload/icici/ls-nasik-15-11-2020.pdf |
| 14-11-2020 | https://pdf.indianexpress.com/pdfupload/icici/ls-mumbai-14-11-2020.pdf | https://pdf.indianexpress.com/pdfupload/icici/ls-mumbai-14-11-2020.pdf | https://pdf.indianexpress.com/pdfupload/icici/ls-aurangabad-14-11-2020.pdf | https://pdf.indianexpress.com/pdfupload/icici/ls-ahmednagar-14-11-2020.pdf | https://pdf.indianexpress.com/pdfupload/icici/ls-nagpur-14-11-2020.pdf | https://pdf.indianexpress.com/pdfupload/icici/ls-nasik-14-11-2020.pdf |
| 13-11-2020 | https://pdf.indianexpress.com/pdfupload/icici/ls-mumbai-13-11-2020.pdf | https://pdf.indianexpress.com/pdfupload/icici/ls-mumbai-13-11-2020.pdf | https://pdf.indianexpress.com/pdfupload/icici/ls-aurangabad-13-11-2020.pdf | https://pdf.indianexpress.com/pdfupload/icici/ls-ahmednagar-13-11-2020.pdf | https://pdf.indianexpress.com/pdfupload/icici/ls-nagpur-13-11-2020.pdf | https://pdf.indianexpress.com/pdfupload/icici/ls-nasik-13-11-2020.pdf |
| 12-11-2020 | https://pdf.indianexpress.com/pdfupload/icici/ls-mumbai-12-11-2020.pdf | https://pdf.indianexpress.com/pdfupload/icici/ls-mumbai-12-11-2020.pdf | https://pdf.indianexpress.com/pdfupload/icici/ls-aurangabad-12-11-2020.pdf | https://pdf.indianexpress.com/pdfupload/icici/ls-ahmednagar-12-11-2020.pdf | https://pdf.indianexpress.com/pdfupload/icici/ls-nagpur-12-11-2020.pdf | https://pdf.indianexpress.com/pdfupload/icici/ls-nasik-12-11-2020.pdf |
| 11-11-2020 | https://pdf.indianexpress.com/pdfupload/icici/ls-mumbai-11-11-2020.pdf | https://pdf.indianexpress.com/pdfupload/icici/ls-mumbai-11-11-2020.pdf | https://pdf.indianexpress.com/pdfupload/icici/ls-aurangabad-11-11-2020.pdf | https://pdf.indianexpress.com/pdfupload/icici/ls-ahmednagar-11-11-2020.pdf | https://pdf.indianexpress.com/pdfupload/icici/ls-nagpur-11-11-2020.pdf | https://pdf.indianexpress.com/pdfupload/icici/ls-nasik-11-11-2020.pdf |
| 10-11-2020 | https://pdf.indianexpress.com/pdfupload/icici/ls-mumbai-10-11-2020.pdf | https://pdf.indianexpress.com/pdfupload/icici/ls-mumbai-10-11-2020.pdf | https://pdf.indianexpress.com/pdfupload/icici/ls-aurangabad-10-11-2020.pdf | https://pdf.indianexpress.com/pdfupload/icici/ls-ahmednagar-10-11-2020.pdf | https://pdf.indianexpress.com/pdfupload/icici/ls-nagpur-10-11-2020.pdf | https://pdf.indianexpress.com/pdfupload/icici/ls-nasik-10-11-2020.pdf |
| 09-11-2020 | https://pdf.indianexpress.com/pdfupload/icici/ls-mumbai-09-11-2020.pdf | https://pdf.indianexpress.com/pdfupload/icici/ls-mumbai-09-11-2020.pdf | https://pdf.indianexpress.com/pdfupload/icici/ls-aurangabad-09-11-2020.pdf | https://pdf.indianexpress.com/pdfupload/icici/ls-ahmednagar-09-11-2020.pdf | https://pdf.indianexpress.com/pdfupload/icici/ls-nagpur-09-11-2020.pdf | https://pdf.indianexpress.com/pdfupload/icici/ls-nasik-09-11-2020.pdf |
| 08-11-2020 | https://pdf.indianexpress.com/pdfupload/icici/ls-mumbai-08-11-2020.pdf | https://pdf.indianexpress.com/pdfupload/icici/ls-mumbai-08-11-2020.pdf | https://pdf.indianexpress.com/pdfupload/icici/ls-aurangabad-08-11-2020.pdf | https://pdf.indianexpress.com/pdfupload/icici/ls-ahmednagar-08-11-2020.pdf | https://pdf.indianexpress.com/pdfupload/icici/ls-nagpur-08-11-2020.pdf | https://pdf.indianexpress.com/pdfupload/icici/ls-nasik-08-11-2020.pdf |
| 07-11-2020 | https://pdf.indianexpress.com/pdfupload/icici/ls-mumbai-07-11-2020.pdf | https://pdf.indianexpress.com/pdfupload/icici/ls-mumbai-07-11-2020.pdf | https://pdf.indianexpress.com/pdfupload/icici/ls-aurangabad-07-11-2020.pdf | https://pdf.indianexpress.com/pdfupload/icici/ls-ahmednagar-07-11-2020.pdf | https://pdf.indianexpress.com/pdfupload/icici/ls-nagpur-07-11-2020.pdf | https://pdf.indianexpress.com/pdfupload/icici/ls-nasik-07-11-2020.pdf |
| 06-11-2020 | https://pdf.indianexpress.com/pdfupload/icici/ls-mumbai-06-11-2020.pdf | https://pdf.indianexpress.com/pdfupload/icici/ls-mumbai-06-11-2020.pdf | https://pdf.indianexpress.com/pdfupload/icici/ls-aurangabad-06-11-2020.pdf | https://pdf.indianexpress.com/pdfupload/icici/ls-ahmednagar-06-11-2020.pdf | https://pdf.indianexpress.com/pdfupload/icici/ls-nagpur-06-11-2020.pdf | https://pdf.indianexpress.com/pdfupload/icici/ls-nasik-06-11-2020.pdf |
| 05-11-2020 | https://pdf.indianexpress.com/pdfupload/icici/ls-mumbai-05-11-2020.pdf | https://pdf.indianexpress.com/pdfupload/icici/ls-mumbai-05-11-2020.pdf | https://pdf.indianexpress.com/pdfupload/icici/ls-aurangabad-05-11-2020.pdf | https://pdf.indianexpress.com/pdfupload/icici/ls-ahmednagar-05-11-2020.pdf | https://pdf.indianexpress.com/pdfupload/icici/ls-nagpur-05-11-2020.pdf | https://pdf.indianexpress.com/pdfupload/icici/ls-nasik-05-11-2020.pdf |
| 04-11-2020 | https://pdf.indianexpress.com/pdfupload/icici/ls-mumbai-04-11-2020.pdf | https://pdf.indianexpress.com/pdfupload/icici/ls-mumbai-04-11-2020.pdf | https://pdf.indianexpress.com/pdfupload/icici/ls-aurangabad-04-11-2020.pdf | https://pdf.indianexpress.com/pdfupload/icici/ls-ahmednagar-04-11-2020.pdf | https://pdf.indianexpress.com/pdfupload/icici/ls-nagpur-04-11-2020.pdf | https://pdf.indianexpress.com/pdfupload/icici/ls-nasik-04-11-2020.pdf |
| 03-11-2020 | https://pdf.indianexpress.com/pdfupload/icici/ls-mumbai-03-11-2020.pdf | https://pdf.indianexpress.com/pdfupload/icici/ls-mumbai-03-11-2020.pdf | https://pdf.indianexpress.com/pdfupload/icici/ls-aurangabad-03-11-2020.pdf | https://pdf.indianexpress.com/pdfupload/icici/ls-ahmednagar-03-11-2020.pdf | https://pdf.indianexpress.com/pdfupload/icici/ls-nagpur-03-11-2020.pdf | https://pdf.indianexpress.com/pdfupload/icici/ls-nasik-03-11-2020.pdf |
| 02-11-2020 | https://pdf.indianexpress.com/pdfupload/icici/ls-mumbai-02-11-2020.pdf | https://pdf.indianexpress.com/pdfupload/icici/ls-mumbai-02-11-2020.pdf | https://pdf.indianexpress.com/pdfupload/icici/ls-aurangabad-02-11-2020.pdf | https://pdf.indianexpress.com/pdfupload/icici/ls-ahmednagar-02-11-2020.pdf | https://pdf.indianexpress.com/pdfupload/icici/ls-nagpur-02-11-2020.pdf | https://pdf.indianexpress.com/pdfupload/icici/ls-nasik-02-11-2020.pdf |
| 01-11-2020 | https://pdf.indianexpress.com/pdfupload/icici/ls-mumbai-01-11-2020.pdf | https://pdf.indianexpress.com/pdfupload/icici/ls-mumbai-01-11-2020.pdf | https://pdf.indianexpress.com/pdfupload/icici/ls-aurangabad-01-11-2020.pdf | https://pdf.indianexpress.com/pdfupload/icici/ls-ahmednagar-01-11-2020.pdf | https://pdf.indianexpress.com/pdfupload/icici/ls-nagpur-01-11-2020.pdf | https://pdf.indianexpress.com/pdfupload/icici/ls-nasik-01-11-2020.pdf |
| 31-10-2020 | https://pdf.indianexpress.com/pdfupload/icici/ls-mumbai-31-10-2020.pdf | https://pdf.indianexpress.com/pdfupload/icici/ls-mumbai-31-10-2020.pdf | https://pdf.indianexpress.com/pdfupload/icici/ls-aurangabad-31-10-2020.pdf | https://pdf.indianexpress.com/pdfupload/icici/ls-ahmednagar-31-10-2020.pdf | https://pdf.indianexpress.com/pdfupload/icici/ls-nagpur-31-10-2020.pdf | https://pdf.indianexpress.com/pdfupload/icici/ls-nasik-31-10-2020.pdf |
| 30-10-2020 | https://pdf.indianexpress.com/pdfupload/icici/ls-mumbai-30-10-2020.pdf | https://pdf.indianexpress.com/pdfupload/icici/ls-mumbai-30-10-2020.pdf | https://pdf.indianexpress.com/pdfupload/icici/ls-aurangabad-30-10-2020.pdf | https://pdf.indianexpress.com/pdfupload/icici/ls-ahmednagar-30-10-2020.pdf | https://pdf.indianexpress.com/pdfupload/icici/ls-nagpur-30-10-2020.pdf | https://pdf.indianexpress.com/pdfupload/icici/ls-nasik-30-10-2020.pdf |
| 29-10-2020 | https://pdf.indianexpress.com/pdfupload/icici/ls-mumbai-29-10-2020.pdf | https://pdf.indianexpress.com/pdfupload/icici/ls-mumbai-29-10-2020.pdf | https://pdf.indianexpress.com/pdfupload/icici/ls-aurangabad-29-10-2020.pdf | https://pdf.indianexpress.com/pdfupload/icici/ls-ahmednagar-29-10-2020.pdf | https://pdf.indianexpress.com/pdfupload/icici/ls-nagpur-29-10-2020.pdf | https://pdf.indianexpress.com/pdfupload/icici/ls-nasik-29-10-2020.pdf |
| 28-10-2020 | https://pdf.indianexpress.com/pdfupload/icici/ls-mumbai-28-10-2020.pdf | https://pdf.indianexpress.com/pdfupload/icici/ls-mumbai-28-10-2020.pdf | https://pdf.indianexpress.com/pdfupload/icici/ls-aurangabad-28-10-2020.pdf | https://pdf.indianexpress.com/pdfupload/icici/ls-ahmednagar-28-10-2020.pdf | https://pdf.indianexpress.com/pdfupload/icici/ls-nagpur-28-10-2020.pdf | https://pdf.indianexpress.com/pdfupload/icici/ls-nasik-28-10-2020.pdf |
| 27-10-2020 | https://pdf.indianexpress.com/pdfupload/icici/ls-mumbai-27-10-2020.pdf | https://pdf.indianexpress.com/pdfupload/icici/ls-mumbai-27-10-2020.pdf | https://pdf.indianexpress.com/pdfupload/icici/ls-aurangabad-27-10-2020.pdf | https://pdf.indianexpress.com/pdfupload/icici/ls-ahmednagar-27-10-2020.pdf | https://pdf.indianexpress.com/pdfupload/icici/ls-nagpur-27-10-2020.pdf | https://pdf.indianexpress.com/pdfupload/icici/ls-nasik-27-10-2020.pdf |
| 26-10-2020 | https://pdf.indianexpress.com/pdfupload/icici/ls-mumbai-26-10-2020.pdf | https://pdf.indianexpress.com/pdfupload/icici/ls-mumbai-26-10-2020.pdf | https://pdf.indianexpress.com/pdfupload/icici/ls-aurangabad-26-10-2020.pdf | https://pdf.indianexpress.com/pdfupload/icici/ls-ahmednagar-26-10-2020.pdf | https://pdf.indianexpress.com/pdfupload/icici/ls-nagpur-26-10-2020.pdf | https://pdf.indianexpress.com/pdfupload/icici/ls-nasik-26-10-2020.pdf |
| 25-10-2020 | https://pdf.indianexpress.com/pdfupload/icici/ls-mumbai-25-10-2020.pdf | https://pdf.indianexpress.com/pdfupload/icici/ls-mumbai-25-10-2020.pdf | https://pdf.indianexpress.com/pdfupload/icici/ls-aurangabad-25-10-2020.pdf | https://pdf.indianexpress.com/pdfupload/icici/ls-ahmednagar-25-10-2020.pdf | https://pdf.indianexpress.com/pdfupload/icici/ls-nagpur-25-10-2020.pdf | https://pdf.indianexpress.com/pdfupload/icici/ls-nasik-25-10-2020.pdf |
| 24-10-2020 | https://pdf.indianexpress.com/pdfupload/icici/ls-mumbai-24-10-2020.pdf | https://pdf.indianexpress.com/pdfupload/icici/ls-mumbai-24-10-2020.pdf | https://pdf.indianexpress.com/pdfupload/icici/ls-aurangabad-24-10-2020.pdf | https://pdf.indianexpress.com/pdfupload/icici/ls-ahmednagar-24-10-2020.pdf | https://pdf.indianexpress.com/pdfupload/icici/ls-nagpur-24-10-2020.pdf | https://pdf.indianexpress.com/pdfupload/icici/ls-nasik-24-10-2020.pdf |
| 23-10-2020 | https://pdf.indianexpress.com/pdfupload/icici/ls-mumbai-23-10-2020.pdf | https://pdf.indianexpress.com/pdfupload/icici/ls-mumbai-23-10-2020.pdf | https://pdf.indianexpress.com/pdfupload/icici/ls-aurangabad-23-10-2020.pdf | https://pdf.indianexpress.com/pdfupload/icici/ls-ahmednagar-23-10-2020.pdf | https://pdf.indianexpress.com/pdfupload/icici/ls-nagpur-23-10-2020.pdf | https://pdf.indianexpress.com/pdfupload/icici/ls-nasik-23-10-2020.pdf |
| 22-10-2020 | https://pdf.indianexpress.com/pdfupload/icici/ls-mumbai-22-10-2020.pdf | https://pdf.indianexpress.com/pdfupload/icici/ls-mumbai-22-10-2020.pdf | https://pdf.indianexpress.com/pdfupload/icici/ls-aurangabad-22-10-2020.pdf | https://pdf.indianexpress.com/pdfupload/icici/ls-ahmednagar-22-10-2020.pdf | https://pdf.indianexpress.com/pdfupload/icici/ls-nagpur-22-10-2020.pdf | https://pdf.indianexpress.com/pdfupload/icici/ls-nasik-22-10-2020.pdf |
| 21-10-2020 | https://pdf.indianexpress.com/pdfupload/icici/ls-mumbai-21-10-2020.pdf | https://pdf.indianexpress.com/pdfupload/icici/ls-mumbai-21-10-2020.pdf | https://pdf.indianexpress.com/pdfupload/icici/ls-aurangabad-21-10-2020.pdf | https://pdf.indianexpress.com/pdfupload/icici/ls-ahmednagar-21-10-2020.pdf | https://pdf.indianexpress.com/pdfupload/icici/ls-nagpur-21-10-2020.pdf | https://pdf.indianexpress.com/pdfupload/icici/ls-nasik-21-10-2020.pdf |
| 20-10-2020 | https://pdf.indianexpress.com/pdfupload/icici/ls-mumbai-20-10-2020.pdf | https://pdf.indianexpress.com/pdfupload/icici/ls-mumbai-20-10-2020.pdf | https://pdf.indianexpress.com/pdfupload/icici/ls-aurangabad-20-10-2020.pdf | https://pdf.indianexpress.com/pdfupload/icici/ls-ahmednagar-20-10-2020.pdf | https://pdf.indianexpress.com/pdfupload/icici/ls-nagpur-20-10-2020.pdf | https://pdf.indianexpress.com/pdfupload/icici/ls-nasik-20-10-2020.pdf |
| 19-10-2020 | https://pdf.indianexpress.com/pdfupload/icici/ls-mumbai-19-10-2020.pdf | https://pdf.indianexpress.com/pdfupload/icici/ls-mumbai-19-10-2020.pdf | https://pdf.indianexpress.com/pdfupload/icici/ls-aurangabad-19-10-2020.pdf | https://pdf.indianexpress.com/pdfupload/icici/ls-ahmednagar-19-10-2020.pdf | https://pdf.indianexpress.com/pdfupload/icici/ls-nagpur-19-10-2020.pdf | https://pdf.indianexpress.com/pdfupload/icici/ls-nasik-19-10-2020.pdf |
| 18-10-2020 | https://pdf.indianexpress.com/pdfupload/icici/ls-mumbai-18-10-2020.pdf | https://pdf.indianexpress.com/pdfupload/icici/ls-mumbai-18-10-2020.pdf | https://pdf.indianexpress.com/pdfupload/icici/ls-aurangabad-18-10-2020.pdf | https://pdf.indianexpress.com/pdfupload/icici/ls-ahmednagar-18-10-2020.pdf | https://pdf.indianexpress.com/pdfupload/icici/ls-nagpur-18-10-2020.pdf | https://pdf.indianexpress.com/pdfupload/icici/ls-nasik-18-10-2020.pdf |
| 17-10-2020 | https://pdf.indianexpress.com/pdfupload/icici/ls-mumbai-17-10-2020.pdf | https://pdf.indianexpress.com/pdfupload/icici/ls-mumbai-17-10-2020.pdf | https://pdf.indianexpress.com/pdfupload/icici/ls-aurangabad-17-10-2020.pdf | https://pdf.indianexpress.com/pdfupload/icici/ls-ahmednagar-17-10-2020.pdf | https://pdf.indianexpress.com/pdfupload/icici/ls-nagpur-17-10-2020.pdf | https://pdf.indianexpress.com/pdfupload/icici/ls-nasik-17-10-2020.pdf |
| 16-10-2020 | https://pdf.indianexpress.com/pdfupload/icici/ls-mumbai-16-10-2020.pdf | https://pdf.indianexpress.com/pdfupload/icici/ls-mumbai-16-10-2020.pdf | https://pdf.indianexpress.com/pdfupload/icici/ls-aurangabad-16-10-2020.pdf | https://pdf.indianexpress.com/pdfupload/icici/ls-ahmednagar-16-10-2020.pdf | https://pdf.indianexpress.com/pdfupload/icici/ls-nagpur-16-10-2020.pdf | https://pdf.indianexpress.com/pdfupload/icici/ls-nasik-16-10-2020.pdf |
| 15-10-2020 | https://pdf.indianexpress.com/pdfupload/icici/ls-mumbai-15-10-2020.pdf | https://pdf.indianexpress.com/pdfupload/icici/ls-mumbai-15-10-2020.pdf | https://pdf.indianexpress.com/pdfupload/icici/ls-aurangabad-15-10-2020.pdf | https://pdf.indianexpress.com/pdfupload/icici/ls-ahmednagar-15-10-2020.pdf | https://pdf.indianexpress.com/pdfupload/icici/ls-nagpur-15-10-2020.pdf | https://pdf.indianexpress.com/pdfupload/icici/ls-nasik-15-10-2020.pdf |
| 14-10-2020 | https://pdf.indianexpress.com/pdfupload/icici/ls-mumbai-14-10-2020.pdf | https://pdf.indianexpress.com/pdfupload/icici/ls-mumbai-14-10-2020.pdf | https://pdf.indianexpress.com/pdfupload/icici/ls-aurangabad-14-10-2020.pdf | https://pdf.indianexpress.com/pdfupload/icici/ls-ahmednagar-14-10-2020.pdf | https://pdf.indianexpress.com/pdfupload/icici/ls-nagpur-14-10-2020.pdf | https://pdf.indianexpress.com/pdfupload/icici/ls-nasik-14-10-2020.pdf |
| 13-10-2020 | https://pdf.indianexpress.com/pdfupload/icici/ls-mumbai-13-10-2020.pdf | https://pdf.indianexpress.com/pdfupload/icici/ls-mumbai-13-10-2020.pdf | https://pdf.indianexpress.com/pdfupload/icici/ls-aurangabad-13-10-2020.pdf | https://pdf.indianexpress.com/pdfupload/icici/ls-ahmednagar-13-10-2020.pdf | https://pdf.indianexpress.com/pdfupload/icici/ls-nagpur-13-10-2020.pdf | https://pdf.indianexpress.com/pdfupload/icici/ls-nasik-13-10-2020.pdf |
| 12-10-2020 | https://pdf.indianexpress.com/pdfupload/icici/ls-mumbai-12-10-2020.pdf | https://pdf.indianexpress.com/pdfupload/icici/ls-mumbai-12-10-2020.pdf | https://pdf.indianexpress.com/pdfupload/icici/ls-aurangabad-12-10-2020.pdf | https://pdf.indianexpress.com/pdfupload/icici/ls-ahmednagar-12-10-2020.pdf | https://pdf.indianexpress.com/pdfupload/icici/ls-nagpur-12-10-2020.pdf | https://pdf.indianexpress.com/pdfupload/icici/ls-nasik-12-10-2020.pdf |
| 11-10-2020 | https://pdf.indianexpress.com/pdfupload/icici/ls-mumbai-11-10-2020.pdf | https://pdf.indianexpress.com/pdfupload/icici/ls-mumbai-11-10-2020.pdf | https://pdf.indianexpress.com/pdfupload/icici/ls-aurangabad-11-10-2020.pdf | https://pdf.indianexpress.com/pdfupload/icici/ls-ahmednagar-11-10-2020.pdf | https://pdf.indianexpress.com/pdfupload/icici/ls-nagpur-11-10-2020.pdf | https://pdf.indianexpress.com/pdfupload/icici/ls-nasik-11-10-2020.pdf |
| 10-10-2020 | https://pdf.indianexpress.com/pdfupload/icici/ls-mumbai-10-10-2020.pdf | https://pdf.indianexpress.com/pdfupload/icici/ls-mumbai-10-10-2020.pdf | https://pdf.indianexpress.com/pdfupload/icici/ls-aurangabad-10-10-2020.pdf | https://pdf.indianexpress.com/pdfupload/icici/ls-ahmednagar-10-10-2020.pdf | https://pdf.indianexpress.com/pdfupload/icici/ls-nagpur-10-10-2020.pdf | https://pdf.indianexpress.com/pdfupload/icici/ls-nasik-10-10-2020.pdf |
| 09-10-2020 | https://pdf.indianexpress.com/pdfupload/icici/ls-mumbai-09-10-2020.pdf | https://pdf.indianexpress.com/pdfupload/icici/ls-mumbai-09-10-2020.pdf | https://pdf.indianexpress.com/pdfupload/icici/ls-aurangabad-09-10-2020.pdf | https://pdf.indianexpress.com/pdfupload/icici/ls-ahmednagar-09-10-2020.pdf | https://pdf.indianexpress.com/pdfupload/icici/ls-nagpur-09-10-2020.pdf | https://pdf.indianexpress.com/pdfupload/icici/ls-nasik-09-10-2020.pdf |
| 08-10-2020 | https://pdf.indianexpress.com/pdfupload/icici/ls-mumbai-08-10-2020.pdf | https://pdf.indianexpress.com/pdfupload/icici/ls-mumbai-08-10-2020.pdf | https://pdf.indianexpress.com/pdfupload/icici/ls-aurangabad-08-10-2020.pdf | https://pdf.indianexpress.com/pdfupload/icici/ls-ahmednagar-08-10-2020.pdf | https://pdf.indianexpress.com/pdfupload/icici/ls-nagpur-08-10-2020.pdf | https://pdf.indianexpress.com/pdfupload/icici/ls-nasik-08-10-2020.pdf |
| 07-10-2020 | https://pdf.indianexpress.com/pdfupload/icici/ls-mumbai-07-10-2020.pdf | https://pdf.indianexpress.com/pdfupload/icici/ls-mumbai-07-10-2020.pdf | https://pdf.indianexpress.com/pdfupload/icici/ls-aurangabad-07-10-2020.pdf | https://pdf.indianexpress.com/pdfupload/icici/ls-ahmednagar-07-10-2020.pdf | https://pdf.indianexpress.com/pdfupload/icici/ls-nagpur-07-10-2020.pdf | https://pdf.indianexpress.com/pdfupload/icici/ls-nasik-07-10-2020.pdf |
| 06-10-2020 | https://pdf.indianexpress.com/pdfupload/icici/ls-mumbai-06-10-2020.pdf | https://pdf.indianexpress.com/pdfupload/icici/ls-mumbai-06-10-2020.pdf | https://pdf.indianexpress.com/pdfupload/icici/ls-aurangabad-06-10-2020.pdf | https://pdf.indianexpress.com/pdfupload/icici/ls-ahmednagar-06-10-2020.pdf | https://pdf.indianexpress.com/pdfupload/icici/ls-nagpur-06-10-2020.pdf | https://pdf.indianexpress.com/pdfupload/icici/ls-nasik-06-10-2020.pdf |
| 05-10-2020 | https://pdf.indianexpress.com/pdfupload/icici/ls-mumbai-05-10-2020.pdf | https://pdf.indianexpress.com/pdfupload/icici/ls-mumbai-05-10-2020.pdf | https://pdf.indianexpress.com/pdfupload/icici/ls-aurangabad-05-10-2020.pdf | https://pdf.indianexpress.com/pdfupload/icici/ls-ahmednagar-05-10-2020.pdf | https://pdf.indianexpress.com/pdfupload/icici/ls-nagpur-05-10-2020.pdf | https://pdf.indianexpress.com/pdfupload/icici/ls-nasik-05-10-2020.pdf |
| 04-10-2020 | https://pdf.indianexpress.com/pdfupload/icici/ls-mumbai-04-10-2020.pdf | https://pdf.indianexpress.com/pdfupload/icici/ls-mumbai-04-10-2020.pdf | https://pdf.indianexpress.com/pdfupload/icici/ls-aurangabad-04-10-2020.pdf | https://pdf.indianexpress.com/pdfupload/icici/ls-ahmednagar-04-10-2020.pdf | https://pdf.indianexpress.com/pdfupload/icici/ls-nagpur-04-10-2020.pdf | https://pdf.indianexpress.com/pdfupload/icici/ls-nasik-04-10-2020.pdf |
| 03-10-2020 | https://pdf.indianexpress.com/pdfupload/icici/ls-mumbai-03-10-2020.pdf | https://pdf.indianexpress.com/pdfupload/icici/ls-mumbai-03-10-2020.pdf | https://pdf.indianexpress.com/pdfupload/icici/ls-aurangabad-03-10-2020.pdf | https://pdf.indianexpress.com/pdfupload/icici/ls-ahmednagar-03-10-2020.pdf | https://pdf.indianexpress.com/pdfupload/icici/ls-nagpur-03-10-2020.pdf | https://pdf.indianexpress.com/pdfupload/icici/ls-nasik-03-10-2020.pdf |
| 02-10-2020 | https://pdf.indianexpress.com/pdfupload/icici/ls-mumbai-02-10-2020.pdf | https://pdf.indianexpress.com/pdfupload/icici/ls-mumbai-02-10-2020.pdf | https://pdf.indianexpress.com/pdfupload/icici/ls-aurangabad-02-10-2020.pdf | https://pdf.indianexpress.com/pdfupload/icici/ls-ahmednagar-02-10-2020.pdf | https://pdf.indianexpress.com/pdfupload/icici/ls-nagpur-02-10-2020.pdf | https://pdf.indianexpress.com/pdfupload/icici/ls-nasik-02-10-2020.pdf |
| 01-10-2020 | https://pdf.indianexpress.com/pdfupload/icici/ls-mumbai-01-10-2020.pdf | https://pdf.indianexpress.com/pdfupload/icici/ls-mumbai-01-10-2020.pdf | https://pdf.indianexpress.com/pdfupload/icici/ls-aurangabad-01-10-2020.pdf | https://pdf.indianexpress.com/pdfupload/icici/ls-ahmednagar-01-10-2020.pdf | https://pdf.indianexpress.com/pdfupload/icici/ls-nagpur-01-10-2020.pdf | https://pdf.indianexpress.com/pdfupload/icici/ls-nasik-01-10-2020.pdf |
| 30-09-2020 | https://pdf.indianexpress.com/pdfupload/icici/ls-mumbai-30-09-2020.pdf | https://pdf.indianexpress.com/pdfupload/icici/ls-mumbai-30-09-2020.pdf | https://pdf.indianexpress.com/pdfupload/icici/ls-aurangabad-30-09-2020.pdf | https://pdf.indianexpress.com/pdfupload/icici/ls-ahmednagar-30-09-2020.pdf | https://pdf.indianexpress.com/pdfupload/icici/ls-nagpur-30-09-2020.pdf | https://pdf.indianexpress.com/pdfupload/icici/ls-nasik-30-09-2020.pdf |
| 29-09-2020 | https://pdf.indianexpress.com/pdfupload/icici/ls-mumbai-29-09-2020.pdf | https://pdf.indianexpress.com/pdfupload/icici/ls-mumbai-29-09-2020.pdf | https://pdf.indianexpress.com/pdfupload/icici/ls-aurangabad-29-09-2020.pdf | https://pdf.indianexpress.com/pdfupload/icici/ls-ahmednagar-29-09-2020.pdf | https://pdf.indianexpress.com/pdfupload/icici/ls-nagpur-29-09-2020.pdf | https://pdf.indianexpress.com/pdfupload/icici/ls-nasik-29-09-2020.pdf |
| 28-09-2020 | https://pdf.indianexpress.com/pdfupload/icici/ls-mumbai-28-09-2020.pdf | https://pdf.indianexpress.com/pdfupload/icici/ls-mumbai-28-09-2020.pdf | https://pdf.indianexpress.com/pdfupload/icici/ls-aurangabad-28-09-2020.pdf | https://pdf.indianexpress.com/pdfupload/icici/ls-ahmednagar-28-09-2020.pdf | https://pdf.indianexpress.com/pdfupload/icici/ls-nagpur-28-09-2020.pdf | https://pdf.indianexpress.com/pdfupload/icici/ls-nasik-28-09-2020.pdf |
| 27-09-2020 | https://pdf.indianexpress.com/pdfupload/icici/ls-mumbai-27-09-2020.pdf | https://pdf.indianexpress.com/pdfupload/icici/ls-mumbai-27-09-2020.pdf | https://pdf.indianexpress.com/pdfupload/icici/ls-aurangabad-27-09-2020.pdf | https://pdf.indianexpress.com/pdfupload/icici/ls-ahmednagar-27-09-2020.pdf | https://pdf.indianexpress.com/pdfupload/icici/ls-nagpur-27-09-2020.pdf | https://pdf.indianexpress.com/pdfupload/icici/ls-nasik-27-09-2020.pdf |
| 26-09-2020 | https://pdf.indianexpress.com/pdfupload/icici/ls-mumbai-26-09-2020.pdf | https://pdf.indianexpress.com/pdfupload/icici/ls-mumbai-26-09-2020.pdf | https://pdf.indianexpress.com/pdfupload/icici/ls-aurangabad-26-09-2020.pdf | https://pdf.indianexpress.com/pdfupload/icici/ls-ahmednagar-26-09-2020.pdf | https://pdf.indianexpress.com/pdfupload/icici/ls-nagpur-26-09-2020.pdf | https://pdf.indianexpress.com/pdfupload/icici/ls-nasik-26-09-2020.pdf |
| 25-09-2020 | https://pdf.indianexpress.com/pdfupload/icici/ls-mumbai-25-09-2020.pdf | https://pdf.indianexpress.com/pdfupload/icici/ls-mumbai-25-09-2020.pdf | https://pdf.indianexpress.com/pdfupload/icici/ls-aurangabad-25-09-2020.pdf | https://pdf.indianexpress.com/pdfupload/icici/ls-ahmednagar-25-09-2020.pdf | https://pdf.indianexpress.com/pdfupload/icici/ls-nagpur-25-09-2020.pdf | https://pdf.indianexpress.com/pdfupload/icici/ls-nasik-25-09-2020.pdf |
| 24-09-2020 | https://pdf.indianexpress.com/pdfupload/icici/ls-mumbai-24-09-2020.pdf | https://pdf.indianexpress.com/pdfupload/icici/ls-mumbai-24-09-2020.pdf | https://pdf.indianexpress.com/pdfupload/icici/ls-aurangabad-24-09-2020.pdf | https://pdf.indianexpress.com/pdfupload/icici/ls-ahmednagar-24-09-2020.pdf | https://pdf.indianexpress.com/pdfupload/icici/ls-nagpur-24-09-2020.pdf | https://pdf.indianexpress.com/pdfupload/icici/ls-nasik-24-09-2020.pdf |
| 23-09-2020 | https://pdf.indianexpress.com/pdfupload/icici/ls-mumbai-23-09-2020.pdf | https://pdf.indianexpress.com/pdfupload/icici/ls-mumbai-23-09-2020.pdf | https://pdf.indianexpress.com/pdfupload/icici/ls-aurangabad-23-09-2020.pdf | https://pdf.indianexpress.com/pdfupload/icici/ls-ahmednagar-23-09-2020.pdf | https://pdf.indianexpress.com/pdfupload/icici/ls-nagpur-23-09-2020.pdf | https://pdf.indianexpress.com/pdfupload/icici/ls-nasik-23-09-2020.pdf |
| 22-09-2020 | https://pdf.indianexpress.com/pdfupload/icici/ls-mumbai-22-09-2020.pdf | https://pdf.indianexpress.com/pdfupload/icici/ls-mumbai-22-09-2020.pdf | https://pdf.indianexpress.com/pdfupload/icici/ls-aurangabad-22-09-2020.pdf | https://pdf.indianexpress.com/pdfupload/icici/ls-ahmednagar-22-09-2020.pdf | https://pdf.indianexpress.com/pdfupload/icici/ls-nagpur-22-09-2020.pdf | https://pdf.indianexpress.com/pdfupload/icici/ls-nasik-22-09-2020.pdf |
| 21-09-2020 | https://pdf.indianexpress.com/pdfupload/icici/ls-mumbai-21-09-2020.pdf | https://pdf.indianexpress.com/pdfupload/icici/ls-mumbai-21-09-2020.pdf | https://pdf.indianexpress.com/pdfupload/icici/ls-aurangabad-21-09-2020.pdf | https://pdf.indianexpress.com/pdfupload/icici/ls-ahmednagar-21-09-2020.pdf | https://pdf.indianexpress.com/pdfupload/icici/ls-nagpur-21-09-2020.pdf | https://pdf.indianexpress.com/pdfupload/icici/ls-nasik-21-09-2020.pdf |
| 20-09-2020 | https://pdf.indianexpress.com/pdfupload/icici/ls-mumbai-20-09-2020.pdf | https://pdf.indianexpress.com/pdfupload/icici/ls-mumbai-20-09-2020.pdf | https://pdf.indianexpress.com/pdfupload/icici/ls-aurangabad-20-09-2020.pdf | https://pdf.indianexpress.com/pdfupload/icici/ls-ahmednagar-20-09-2020.pdf | https://pdf.indianexpress.com/pdfupload/icici/ls-nagpur-20-09-2020.pdf | https://pdf.indianexpress.com/pdfupload/icici/ls-nasik-20-09-2020.pdf |
| 19-09-2020 | https://pdf.indianexpress.com/pdfupload/icici/ls-mumbai-19-09-2020.pdf | https://pdf.indianexpress.com/pdfupload/icici/ls-mumbai-19-09-2020.pdf | https://pdf.indianexpress.com/pdfupload/icici/ls-aurangabad-19-09-2020.pdf | https://pdf.indianexpress.com/pdfupload/icici/ls-ahmednagar-19-09-2020.pdf | https://pdf.indianexpress.com/pdfupload/icici/ls-nagpur-19-09-2020.pdf | https://pdf.indianexpress.com/pdfupload/icici/ls-nasik-19-09-2020.pdf |
| 18-09-2020 | https://pdf.indianexpress.com/pdfupload/icici/ls-mumbai-18-09-2020.pdf | https://pdf.indianexpress.com/pdfupload/icici/ls-mumbai-18-09-2020.pdf | https://pdf.indianexpress.com/pdfupload/icici/ls-aurangabad-18-09-2020.pdf | https://pdf.indianexpress.com/pdfupload/icici/ls-ahmednagar-18-09-2020.pdf | https://pdf.indianexpress.com/pdfupload/icici/ls-nagpur-18-09-2020.pdf | https://pdf.indianexpress.com/pdfupload/icici/ls-nasik-18-09-2020.pdf |
| 17-09-2020 | https://pdf.indianexpress.com/pdfupload/icici/ls-mumbai-17-09-2020.pdf | https://pdf.indianexpress.com/pdfupload/icici/ls-mumbai-17-09-2020.pdf | https://pdf.indianexpress.com/pdfupload/icici/ls-aurangabad-17-09-2020.pdf | https://pdf.indianexpress.com/pdfupload/icici/ls-ahmednagar-17-09-2020.pdf | https://pdf.indianexpress.com/pdfupload/icici/ls-nagpur-17-09-2020.pdf | https://pdf.indianexpress.com/pdfupload/icici/ls-nasik-17-09-2020.pdf |
| 16-09-2020 | https://pdf.indianexpress.com/pdfupload/icici/ls-mumbai-16-09-2020.pdf | https://pdf.indianexpress.com/pdfupload/icici/ls-mumbai-16-09-2020.pdf | https://pdf.indianexpress.com/pdfupload/icici/ls-aurangabad-16-09-2020.pdf | https://pdf.indianexpress.com/pdfupload/icici/ls-ahmednagar-16-09-2020.pdf | https://pdf.indianexpress.com/pdfupload/icici/ls-nagpur-16-09-2020.pdf | https://pdf.indianexpress.com/pdfupload/icici/ls-nasik-16-09-2020.pdf |
| 15-09-2020 | https://pdf.indianexpress.com/pdfupload/icici/ls-mumbai-15-09-2020.pdf | https://pdf.indianexpress.com/pdfupload/icici/ls-mumbai-15-09-2020.pdf | https://pdf.indianexpress.com/pdfupload/icici/ls-aurangabad-15-09-2020.pdf | https://pdf.indianexpress.com/pdfupload/icici/ls-ahmednagar-15-09-2020.pdf | https://pdf.indianexpress.com/pdfupload/icici/ls-nagpur-15-09-2020.pdf | https://pdf.indianexpress.com/pdfupload/icici/ls-nasik-15-09-2020.pdf |
| 14-09-2020 | https://pdf.indianexpress.com/pdfupload/icici/ls-mumbai-14-09-2020.pdf | https://pdf.indianexpress.com/pdfupload/icici/ls-mumbai-14-09-2020.pdf | https://pdf.indianexpress.com/pdfupload/icici/ls-aurangabad-14-09-2020.pdf | https://pdf.indianexpress.com/pdfupload/icici/ls-ahmednagar-14-09-2020.pdf | https://pdf.indianexpress.com/pdfupload/icici/ls-nagpur-14-09-2020.pdf | https://pdf.indianexpress.com/pdfupload/icici/ls-nasik-14-09-2020.pdf |
| 13-09-2020 | https://pdf.indianexpress.com/pdfupload/icici/ls-mumbai-13-09-2020.pdf | https://pdf.indianexpress.com/pdfupload/icici/ls-mumbai-13-09-2020.pdf | https://pdf.indianexpress.com/pdfupload/icici/ls-aurangabad-13-09-2020.pdf | https://pdf.indianexpress.com/pdfupload/icici/ls-ahmednagar-13-09-2020.pdf | https://pdf.indianexpress.com/pdfupload/icici/ls-nagpur-13-09-2020.pdf | https://pdf.indianexpress.com/pdfupload/icici/ls-nasik-13-09-2020.pdf |
| 12-09-2020 | https://pdf.indianexpress.com/pdfupload/icici/ls-mumbai-12-09-2020.pdf | https://pdf.indianexpress.com/pdfupload/icici/ls-mumbai-12-09-2020.pdf | https://pdf.indianexpress.com/pdfupload/icici/ls-aurangabad-12-09-2020.pdf | https://pdf.indianexpress.com/pdfupload/icici/ls-ahmednagar-12-09-2020.pdf | https://pdf.indianexpress.com/pdfupload/icici/ls-nagpur-12-09-2020.pdf | https://pdf.indianexpress.com/pdfupload/icici/ls-nasik-12-09-2020.pdf |
| 11-09-2020 | https://pdf.indianexpress.com/pdfupload/icici/ls-mumbai-11-09-2020.pdf | https://pdf.indianexpress.com/pdfupload/icici/ls-mumbai-11-09-2020.pdf | https://pdf.indianexpress.com/pdfupload/icici/ls-aurangabad-11-09-2020.pdf | https://pdf.indianexpress.com/pdfupload/icici/ls-ahmednagar-11-09-2020.pdf | https://pdf.indianexpress.com/pdfupload/icici/ls-nagpur-11-09-2020.pdf | https://pdf.indianexpress.com/pdfupload/icici/ls-nasik-11-09-2020.pdf |
| 10-09-2020 | https://pdf.indianexpress.com/pdfupload/icici/ls-mumbai-10-09-2020.pdf | https://pdf.indianexpress.com/pdfupload/icici/ls-mumbai-10-09-2020.pdf | https://pdf.indianexpress.com/pdfupload/icici/ls-aurangabad-10-09-2020.pdf | https://pdf.indianexpress.com/pdfupload/icici/ls-ahmednagar-10-09-2020.pdf | https://pdf.indianexpress.com/pdfupload/icici/ls-nagpur-10-09-2020.pdf | https://pdf.indianexpress.com/pdfupload/icici/ls-nasik-10-09-2020.pdf |
| 09-09-2020 | https://pdf.indianexpress.com/pdfupload/icici/ls-mumbai-09-09-2020.pdf | https://pdf.indianexpress.com/pdfupload/icici/ls-mumbai-09-09-2020.pdf | https://pdf.indianexpress.com/pdfupload/icici/ls-aurangabad-09-09-2020.pdf | https://pdf.indianexpress.com/pdfupload/icici/ls-ahmednagar-09-09-2020.pdf | https://pdf.indianexpress.com/pdfupload/icici/ls-nagpur-09-09-2020.pdf | https://pdf.indianexpress.com/pdfupload/icici/ls-nasik-09-09-2020.pdf |
| 08-09-2020 | https://pdf.indianexpress.com/pdfupload/icici/ls-mumbai-08-09-2020.pdf | https://pdf.indianexpress.com/pdfupload/icici/ls-mumbai-08-09-2020.pdf | https://pdf.indianexpress.com/pdfupload/icici/ls-aurangabad-08-09-2020.pdf | https://pdf.indianexpress.com/pdfupload/icici/ls-ahmednagar-08-09-2020.pdf | https://pdf.indianexpress.com/pdfupload/icici/ls-nagpur-08-09-2020.pdf | https://pdf.indianexpress.com/pdfupload/icici/ls-nasik-08-09-2020.pdf |
| 07-09-2020 | https://pdf.indianexpress.com/pdfupload/icici/ls-mumbai-07-09-2020.pdf | https://pdf.indianexpress.com/pdfupload/icici/ls-mumbai-07-09-2020.pdf | https://pdf.indianexpress.com/pdfupload/icici/ls-aurangabad-07-09-2020.pdf | https://pdf.indianexpress.com/pdfupload/icici/ls-ahmednagar-07-09-2020.pdf | https://pdf.indianexpress.com/pdfupload/icici/ls-nagpur-07-09-2020.pdf | https://pdf.indianexpress.com/pdfupload/icici/ls-nasik-07-09-2020.pdf |
| 06-09-2020 | https://pdf.indianexpress.com/pdfupload/icici/ls-mumbai-06-09-2020.pdf | https://pdf.indianexpress.com/pdfupload/icici/ls-mumbai-06-09-2020.pdf | https://pdf.indianexpress.com/pdfupload/icici/ls-aurangabad-06-09-2020.pdf | https://pdf.indianexpress.com/pdfupload/icici/ls-ahmednagar-06-09-2020.pdf | https://pdf.indianexpress.com/pdfupload/icici/ls-nagpur-06-09-2020.pdf | https://pdf.indianexpress.com/pdfupload/icici/ls-nasik-06-09-2020.pdf |
| 05-09-2020 | https://pdf.indianexpress.com/pdfupload/icici/ls-mumbai-05-09-2020.pdf | https://pdf.indianexpress.com/pdfupload/icici/ls-mumbai-05-09-2020.pdf | https://pdf.indianexpress.com/pdfupload/icici/ls-aurangabad-05-09-2020.pdf | https://pdf.indianexpress.com/pdfupload/icici/ls-ahmednagar-05-09-2020.pdf | https://pdf.indianexpress.com/pdfupload/icici/ls-nagpur-05-09-2020.pdf | https://pdf.indianexpress.com/pdfupload/icici/ls-nasik-05-09-2020.pdf |
| 04-09-2020 | https://pdf.indianexpress.com/pdfupload/icici/ls-mumbai-04-09-2020.pdf | https://pdf.indianexpress.com/pdfupload/icici/ls-mumbai-04-09-2020.pdf | https://pdf.indianexpress.com/pdfupload/icici/ls-aurangabad-04-09-2020.pdf | https://pdf.indianexpress.com/pdfupload/icici/ls-ahmednagar-04-09-2020.pdf | https://pdf.indianexpress.com/pdfupload/icici/ls-nagpur-04-09-2020.pdf | https://pdf.indianexpress.com/pdfupload/icici/ls-nasik-04-09-2020.pdf |
| 03-09-2020 | https://pdf.indianexpress.com/pdfupload/icici/ls-mumbai-03-09-2020.pdf | https://pdf.indianexpress.com/pdfupload/icici/ls-mumbai-03-09-2020.pdf | https://pdf.indianexpress.com/pdfupload/icici/ls-aurangabad-03-09-2020.pdf | https://pdf.indianexpress.com/pdfupload/icici/ls-ahmednagar-03-09-2020.pdf | https://pdf.indianexpress.com/pdfupload/icici/ls-nagpur-03-09-2020.pdf | https://pdf.indianexpress.com/pdfupload/icici/ls-nasik-03-09-2020.pdf |
| 02-09-2020 | https://pdf.indianexpress.com/pdfupload/icici/ls-mumbai-02-09-2020.pdf | https://pdf.indianexpress.com/pdfupload/icici/ls-mumbai-02-09-2020.pdf | https://pdf.indianexpress.com/pdfupload/icici/ls-aurangabad-02-09-2020.pdf | https://pdf.indianexpress.com/pdfupload/icici/ls-ahmednagar-02-09-2020.pdf | https://pdf.indianexpress.com/pdfupload/icici/ls-nagpur-02-09-2020.pdf | https://pdf.indianexpress.com/pdfupload/icici/ls-nasik-02-09-2020.pdf |
| 01-09-2020 | https://pdf.indianexpress.com/pdfupload/icici/ls-mumbai-01-09-2020.pdf | https://pdf.indianexpress.com/pdfupload/icici/ls-mumbai-01-09-2020.pdf | https://pdf.indianexpress.com/pdfupload/icici/ls-aurangabad-01-09-2020.pdf | https://pdf.indianexpress.com/pdfupload/icici/ls-ahmednagar-01-09-2020.pdf | https://pdf.indianexpress.com/pdfupload/icici/ls-nagpur-01-09-2020.pdf | https://pdf.indianexpress.com/pdfupload/icici/ls-nasik-01-09-2020.pdf |
| 31-08-2020 | https://pdf.indianexpress.com/pdfupload/icici/ls-mumbai-31-08-2020.pdf | https://pdf.indianexpress.com/pdfupload/icici/ls-mumbai-31-08-2020.pdf | https://pdf.indianexpress.com/pdfupload/icici/ls-aurangabad-31-08-2020.pdf | https://pdf.indianexpress.com/pdfupload/icici/ls-ahmednagar-31-08-2020.pdf | https://pdf.indianexpress.com/pdfupload/icici/ls-nagpur-31-08-2020.pdf | https://pdf.indianexpress.com/pdfupload/icici/ls-nasik-31-08-2020.pdf |
| 30-08-2020 | https://pdf.indianexpress.com/pdfupload/icici/ls-mumbai-30-08-2020.pdf | https://pdf.indianexpress.com/pdfupload/icici/ls-mumbai-30-08-2020.pdf | https://pdf.indianexpress.com/pdfupload/icici/ls-aurangabad-30-08-2020.pdf | https://pdf.indianexpress.com/pdfupload/icici/ls-ahmednagar-30-08-2020.pdf | https://pdf.indianexpress.com/pdfupload/icici/ls-nagpur-30-08-2020.pdf | https://pdf.indianexpress.com/pdfupload/icici/ls-nasik-30-08-2020.pdf |
| 29-08-2020 | https://pdf.indianexpress.com/pdfupload/icici/ls-mumbai-29-08-2020.pdf | https://pdf.indianexpress.com/pdfupload/icici/ls-mumbai-29-08-2020.pdf | https://pdf.indianexpress.com/pdfupload/icici/ls-aurangabad-29-08-2020.pdf | https://pdf.indianexpress.com/pdfupload/icici/ls-ahmednagar-29-08-2020.pdf | https://pdf.indianexpress.com/pdfupload/icici/ls-nagpur-29-08-2020.pdf | https://pdf.indianexpress.com/pdfupload/icici/ls-nasik-29-08-2020.pdf |
| 28-08-2020 | https://pdf.indianexpress.com/pdfupload/icici/ls-mumbai-28-08-2020.pdf | https://pdf.indianexpress.com/pdfupload/icici/ls-mumbai-28-08-2020.pdf | https://pdf.indianexpress.com/pdfupload/icici/ls-aurangabad-28-08-2020.pdf | https://pdf.indianexpress.com/pdfupload/icici/ls-ahmednagar-28-08-2020.pdf | https://pdf.indianexpress.com/pdfupload/icici/ls-nagpur-28-08-2020.pdf | https://pdf.indianexpress.com/pdfupload/icici/ls-nasik-28-08-2020.pdf |
| 27-08-2020 | https://pdf.indianexpress.com/pdfupload/icici/ls-mumbai-27-08-2020.pdf | https://pdf.indianexpress.com/pdfupload/icici/ls-mumbai-27-08-2020.pdf | https://pdf.indianexpress.com/pdfupload/icici/ls-aurangabad-27-08-2020.pdf | https://pdf.indianexpress.com/pdfupload/icici/ls-ahmednagar-27-08-2020.pdf | https://pdf.indianexpress.com/pdfupload/icici/ls-nagpur-27-08-2020.pdf | https://pdf.indianexpress.com/pdfupload/icici/ls-nasik-27-08-2020.pdf |
| 26-08-2020 | https://pdf.indianexpress.com/pdfupload/icici/ls-mumbai-26-08-2020.pdf | https://pdf.indianexpress.com/pdfupload/icici/ls-mumbai-26-08-2020.pdf | https://pdf.indianexpress.com/pdfupload/icici/ls-aurangabad-26-08-2020.pdf | https://pdf.indianexpress.com/pdfupload/icici/ls-ahmednagar-26-08-2020.pdf | https://pdf.indianexpress.com/pdfupload/icici/ls-nagpur-26-08-2020.pdf | https://pdf.indianexpress.com/pdfupload/icici/ls-nasik-26-08-2020.pdf |
| 25-08-2020 | https://pdf.indianexpress.com/pdfupload/icici/ls-mumbai-25-08-2020.pdf | https://pdf.indianexpress.com/pdfupload/icici/ls-mumbai-25-08-2020.pdf | https://pdf.indianexpress.com/pdfupload/icici/ls-aurangabad-25-08-2020.pdf | https://pdf.indianexpress.com/pdfupload/icici/ls-ahmednagar-25-08-2020.pdf | https://pdf.indianexpress.com/pdfupload/icici/ls-nagpur-25-08-2020.pdf | https://pdf.indianexpress.com/pdfupload/icici/ls-nasik-25-08-2020.pdf |
| 24-08-2020 | https://pdf.indianexpress.com/pdfupload/icici/ls-mumbai-24-08-2020.pdf | https://pdf.indianexpress.com/pdfupload/icici/ls-mumbai-24-08-2020.pdf | https://pdf.indianexpress.com/pdfupload/icici/ls-aurangabad-24-08-2020.pdf | https://pdf.indianexpress.com/pdfupload/icici/ls-ahmednagar-24-08-2020.pdf | https://pdf.indianexpress.com/pdfupload/icici/ls-nagpur-24-08-2020.pdf | https://pdf.indianexpress.com/pdfupload/icici/ls-nasik-24-08-2020.pdf |
| 23-08-2020 | https://pdf.indianexpress.com/pdfupload/icici/ls-mumbai-23-08-2020.pdf | https://pdf.indianexpress.com/pdfupload/icici/ls-mumbai-23-08-2020.pdf | https://pdf.indianexpress.com/pdfupload/icici/ls-aurangabad-23-08-2020.pdf | https://pdf.indianexpress.com/pdfupload/icici/ls-ahmednagar-23-08-2020.pdf | https://pdf.indianexpress.com/pdfupload/icici/ls-nagpur-23-08-2020.pdf | https://pdf.indianexpress.com/pdfupload/icici/ls-nasik-23-08-2020.pdf |
| 22-08-2020 | https://pdf.indianexpress.com/pdfupload/icici/ls-mumbai-22-08-2020.pdf | https://pdf.indianexpress.com/pdfupload/icici/ls-mumbai-22-08-2020.pdf | https://pdf.indianexpress.com/pdfupload/icici/ls-aurangabad-22-08-2020.pdf | https://pdf.indianexpress.com/pdfupload/icici/ls-ahmednagar-22-08-2020.pdf | https://pdf.indianexpress.com/pdfupload/icici/ls-nagpur-22-08-2020.pdf | https://pdf.indianexpress.com/pdfupload/icici/ls-nasik-22-08-2020.pdf |
| 21-08-2020 | https://pdf.indianexpress.com/pdfupload/icici/ls-mumbai-21-08-2020.pdf | https://pdf.indianexpress.com/pdfupload/icici/ls-mumbai-21-08-2020.pdf | https://pdf.indianexpress.com/pdfupload/icici/ls-aurangabad-21-08-2020.pdf | https://pdf.indianexpress.com/pdfupload/icici/ls-ahmednagar-21-08-2020.pdf | https://pdf.indianexpress.com/pdfupload/icici/ls-nagpur-21-08-2020.pdf | https://pdf.indianexpress.com/pdfupload/icici/ls-nasik-21-08-2020.pdf |
| 20-08-2020 | https://pdf.indianexpress.com/pdfupload/icici/ls-mumbai-20-08-2020.pdf | https://pdf.indianexpress.com/pdfupload/icici/ls-mumbai-20-08-2020.pdf | https://pdf.indianexpress.com/pdfupload/icici/ls-aurangabad-20-08-2020.pdf | https://pdf.indianexpress.com/pdfupload/icici/ls-ahmednagar-20-08-2020.pdf | https://pdf.indianexpress.com/pdfupload/icici/ls-nagpur-20-08-2020.pdf | https://pdf.indianexpress.com/pdfupload/icici/ls-nasik-20-08-2020.pdf |
| 19-08-2020 | https://pdf.indianexpress.com/pdfupload/icici/ls-mumbai-19-08-2020.pdf | https://pdf.indianexpress.com/pdfupload/icici/ls-mumbai-19-08-2020.pdf | https://pdf.indianexpress.com/pdfupload/icici/ls-aurangabad-19-08-2020.pdf | https://pdf.indianexpress.com/pdfupload/icici/ls-ahmednagar-19-08-2020.pdf | https://pdf.indianexpress.com/pdfupload/icici/ls-nagpur-19-08-2020.pdf | https://pdf.indianexpress.com/pdfupload/icici/ls-nasik-19-08-2020.pdf |
| 18-08-2020 | https://pdf.indianexpress.com/pdfupload/icici/ls-mumbai-18-08-2020.pdf | https://pdf.indianexpress.com/pdfupload/icici/ls-mumbai-18-08-2020.pdf | https://pdf.indianexpress.com/pdfupload/icici/ls-aurangabad-18-08-2020.pdf | https://pdf.indianexpress.com/pdfupload/icici/ls-ahmednagar-18-08-2020.pdf | https://pdf.indianexpress.com/pdfupload/icici/ls-nagpur-18-08-2020.pdf | https://pdf.indianexpress.com/pdfupload/icici/ls-nasik-18-08-2020.pdf |
| 17-08-2020 | https://pdf.indianexpress.com/pdfupload/icici/ls-mumbai-17-08-2020.pdf | https://pdf.indianexpress.com/pdfupload/icici/ls-mumbai-17-08-2020.pdf | https://pdf.indianexpress.com/pdfupload/icici/ls-aurangabad-17-08-2020.pdf | https://pdf.indianexpress.com/pdfupload/icici/ls-ahmednagar-17-08-2020.pdf | https://pdf.indianexpress.com/pdfupload/icici/ls-nagpur-17-08-2020.pdf | https://pdf.indianexpress.com/pdfupload/icici/ls-nasik-17-08-2020.pdf |
| 16-08-2020 | https://pdf.indianexpress.com/pdfupload/icici/ls-mumbai-16-08-2020.pdf | https://pdf.indianexpress.com/pdfupload/icici/ls-mumbai-16-08-2020.pdf | https://pdf.indianexpress.com/pdfupload/icici/ls-aurangabad-16-08-2020.pdf | https://pdf.indianexpress.com/pdfupload/icici/ls-ahmednagar-16-08-2020.pdf | https://pdf.indianexpress.com/pdfupload/icici/ls-nagpur-16-08-2020.pdf | https://pdf.indianexpress.com/pdfupload/icici/ls-nasik-16-08-2020.pdf |
| 15-08-2020 | https://pdf.indianexpress.com/pdfupload/icici/ls-mumbai-15-08-2020.pdf | https://pdf.indianexpress.com/pdfupload/icici/ls-mumbai-15-08-2020.pdf | https://pdf.indianexpress.com/pdfupload/icici/ls-aurangabad-15-08-2020.pdf | https://pdf.indianexpress.com/pdfupload/icici/ls-ahmednagar-15-08-2020.pdf | https://pdf.indianexpress.com/pdfupload/icici/ls-nagpur-15-08-2020.pdf | https://pdf.indianexpress.com/pdfupload/icici/ls-nasik-15-08-2020.pdf |
| 14-08-2020 | https://pdf.indianexpress.com/pdfupload/icici/ls-mumbai-14-08-2020.pdf | https://pdf.indianexpress.com/pdfupload/icici/ls-mumbai-14-08-2020.pdf | https://pdf.indianexpress.com/pdfupload/icici/ls-aurangabad-14-08-2020.pdf | https://pdf.indianexpress.com/pdfupload/icici/ls-ahmednagar-14-08-2020.pdf | https://pdf.indianexpress.com/pdfupload/icici/ls-nagpur-14-08-2020.pdf | https://pdf.indianexpress.com/pdfupload/icici/ls-nasik-14-08-2020.pdf |
| 13-08-2020 | https://pdf.indianexpress.com/pdfupload/icici/ls-mumbai-13-08-2020.pdf | https://pdf.indianexpress.com/pdfupload/icici/ls-mumbai-13-08-2020.pdf | https://pdf.indianexpress.com/pdfupload/icici/ls-aurangabad-13-08-2020.pdf | https://pdf.indianexpress.com/pdfupload/icici/ls-ahmednagar-13-08-2020.pdf | https://pdf.indianexpress.com/pdfupload/icici/ls-nagpur-13-08-2020.pdf | https://pdf.indianexpress.com/pdfupload/icici/ls-nasik-13-08-2020.pdf |
| 12-08-2020 | https://pdf.indianexpress.com/pdfupload/icici/ls-mumbai-12-08-2020.pdf | https://pdf.indianexpress.com/pdfupload/icici/ls-mumbai-12-08-2020.pdf | https://pdf.indianexpress.com/pdfupload/icici/ls-aurangabad-12-08-2020.pdf | https://pdf.indianexpress.com/pdfupload/icici/ls-ahmednagar-12-08-2020.pdf | https://pdf.indianexpress.com/pdfupload/icici/ls-nagpur-12-08-2020.pdf | https://pdf.indianexpress.com/pdfupload/icici/ls-nasik-12-08-2020.pdf |
| 11-08-2020 | https://pdf.indianexpress.com/pdfupload/icici/ls-mumbai-11-08-2020.pdf | https://pdf.indianexpress.com/pdfupload/icici/ls-mumbai-11-08-2020.pdf | https://pdf.indianexpress.com/pdfupload/icici/ls-aurangabad-11-08-2020.pdf | https://pdf.indianexpress.com/pdfupload/icici/ls-ahmednagar-11-08-2020.pdf | https://pdf.indianexpress.com/pdfupload/icici/ls-nagpur-11-08-2020.pdf | https://pdf.indianexpress.com/pdfupload/icici/ls-nasik-11-08-2020.pdf |
| 10-08-2020 | https://pdf.indianexpress.com/pdfupload/icici/ls-mumbai-10-08-2020.pdf | https://pdf.indianexpress.com/pdfupload/icici/ls-mumbai-10-08-2020.pdf | https://pdf.indianexpress.com/pdfupload/icici/ls-aurangabad-10-08-2020.pdf | https://pdf.indianexpress.com/pdfupload/icici/ls-ahmednagar-10-08-2020.pdf | https://pdf.indianexpress.com/pdfupload/icici/ls-nagpur-10-08-2020.pdf | https://pdf.indianexpress.com/pdfupload/icici/ls-nasik-10-08-2020.pdf |
| 09-08-2020 | https://pdf.indianexpress.com/pdfupload/icici/ls-mumbai-09-08-2020.pdf | https://pdf.indianexpress.com/pdfupload/icici/ls-mumbai-09-08-2020.pdf | https://pdf.indianexpress.com/pdfupload/icici/ls-aurangabad-09-08-2020.pdf | https://pdf.indianexpress.com/pdfupload/icici/ls-ahmednagar-09-08-2020.pdf | https://pdf.indianexpress.com/pdfupload/icici/ls-nagpur-09-08-2020.pdf | https://pdf.indianexpress.com/pdfupload/icici/ls-nasik-09-08-2020.pdf |
| 08-08-2020 | https://pdf.indianexpress.com/pdfupload/icici/ls-mumbai-08-08-2020.pdf | https://pdf.indianexpress.com/pdfupload/icici/ls-mumbai-08-08-2020.pdf | https://pdf.indianexpress.com/pdfupload/icici/ls-aurangabad-08-08-2020.pdf | https://pdf.indianexpress.com/pdfupload/icici/ls-ahmednagar-08-08-2020.pdf | https://pdf.indianexpress.com/pdfupload/icici/ls-nagpur-08-08-2020.pdf | https://pdf.indianexpress.com/pdfupload/icici/ls-nasik-08-08-2020.pdf |
| 07-08-2020 | https://pdf.indianexpress.com/pdfupload/icici/ls-mumbai-07-08-2020.pdf | https://pdf.indianexpress.com/pdfupload/icici/ls-mumbai-07-08-2020.pdf | https://pdf.indianexpress.com/pdfupload/icici/ls-aurangabad-07-08-2020.pdf | https://pdf.indianexpress.com/pdfupload/icici/ls-ahmednagar-07-08-2020.pdf | https://pdf.indianexpress.com/pdfupload/icici/ls-nagpur-07-08-2020.pdf | https://pdf.indianexpress.com/pdfupload/icici/ls-nasik-07-08-2020.pdf |
| 06-08-2020 | https://pdf.indianexpress.com/pdfupload/icici/ls-mumbai-06-08-2020.pdf | https://pdf.indianexpress.com/pdfupload/icici/ls-mumbai-06-08-2020.pdf | https://pdf.indianexpress.com/pdfupload/icici/ls-aurangabad-06-08-2020.pdf | https://pdf.indianexpress.com/pdfupload/icici/ls-ahmednagar-06-08-2020.pdf | https://pdf.indianexpress.com/pdfupload/icici/ls-nagpur-06-08-2020.pdf | https://pdf.indianexpress.com/pdfupload/icici/ls-nasik-06-08-2020.pdf |
| 05-08-2020 | https://pdf.indianexpress.com/pdfupload/icici/ls-mumbai-05-08-2020.pdf | https://pdf.indianexpress.com/pdfupload/icici/ls-mumbai-05-08-2020.pdf | https://pdf.indianexpress.com/pdfupload/icici/ls-aurangabad-05-08-2020.pdf | https://pdf.indianexpress.com/pdfupload/icici/ls-ahmednagar-05-08-2020.pdf | https://pdf.indianexpress.com/pdfupload/icici/ls-nagpur-05-08-2020.pdf | https://pdf.indianexpress.com/pdfupload/icici/ls-nasik-05-08-2020.pdf |
| 04-08-2020 | https://pdf.indianexpress.com/pdfupload/icici/ls-mumbai-04-08-2020.pdf | https://pdf.indianexpress.com/pdfupload/icici/ls-mumbai-04-08-2020.pdf | https://pdf.indianexpress.com/pdfupload/icici/ls-aurangabad-04-08-2020.pdf | https://pdf.indianexpress.com/pdfupload/icici/ls-ahmednagar-04-08-2020.pdf | https://pdf.indianexpress.com/pdfupload/icici/ls-nagpur-04-08-2020.pdf | https://pdf.indianexpress.com/pdfupload/icici/ls-nasik-04-08-2020.pdf |
| 03-08-2020 | https://pdf.indianexpress.com/pdfupload/icici/ls-mumbai-03-08-2020.pdf | https://pdf.indianexpress.com/pdfupload/icici/ls-mumbai-03-08-2020.pdf | https://pdf.indianexpress.com/pdfupload/icici/ls-aurangabad-03-08-2020.pdf | https://pdf.indianexpress.com/pdfupload/icici/ls-ahmednagar-03-08-2020.pdf | https://pdf.indianexpress.com/pdfupload/icici/ls-nagpur-03-08-2020.pdf | https://pdf.indianexpress.com/pdfupload/icici/ls-nasik-03-08-2020.pdf |
| 02-08-2020 | https://pdf.indianexpress.com/pdfupload/icici/ls-mumbai-02-08-2020.pdf | https://pdf.indianexpress.com/pdfupload/icici/ls-mumbai-02-08-2020.pdf | https://pdf.indianexpress.com/pdfupload/icici/ls-aurangabad-02-08-2020.pdf | https://pdf.indianexpress.com/pdfupload/icici/ls-ahmednagar-02-08-2020.pdf | https://pdf.indianexpress.com/pdfupload/icici/ls-nagpur-02-08-2020.pdf | https://pdf.indianexpress.com/pdfupload/icici/ls-nasik-02-08-2020.pdf |
| 01-08-2020 | https://pdf.indianexpress.com/pdfupload/icici/ls-mumbai-01-08-2020.pdf | https://pdf.indianexpress.com/pdfupload/icici/ls-mumbai-01-08-2020.pdf | https://pdf.indianexpress.com/pdfupload/icici/ls-aurangabad-01-08-2020.pdf | https://pdf.indianexpress.com/pdfupload/icici/ls-ahmednagar-01-08-2020.pdf | https://pdf.indianexpress.com/pdfupload/icici/ls-nagpur-01-08-2020.pdf | https://pdf.indianexpress.com/pdfupload/icici/ls-nasik-01-08-2020.pdf |
| 31-07-2020 | https://pdf.indianexpress.com/pdfupload/icici/ls-mumbai-31-07-2020.pdf | https://pdf.indianexpress.com/pdfupload/icici/ls-mumbai-31-07-2020.pdf | https://pdf.indianexpress.com/pdfupload/icici/ls-aurangabad-31-07-2020.pdf | https://pdf.indianexpress.com/pdfupload/icici/ls-ahmednagar-31-07-2020.pdf | https://pdf.indianexpress.com/pdfupload/icici/ls-nagpur-31-07-2020.pdf | https://pdf.indianexpress.com/pdfupload/icici/ls-nasik-31-07-2020.pdf |
| 30-07-2020 | https://pdf.indianexpress.com/pdfupload/icici/ls-mumbai-30-07-2020.pdf | https://pdf.indianexpress.com/pdfupload/icici/ls-mumbai-30-07-2020.pdf | https://pdf.indianexpress.com/pdfupload/icici/ls-aurangabad-30-07-2020.pdf | https://pdf.indianexpress.com/pdfupload/icici/ls-ahmednagar-30-07-2020.pdf | https://pdf.indianexpress.com/pdfupload/icici/ls-nagpur-30-07-2020.pdf | https://pdf.indianexpress.com/pdfupload/icici/ls-nasik-30-07-2020.pdf |
| 29-07-2020 | https://pdf.indianexpress.com/pdfupload/icici/ls-mumbai-29-07-2020.pdf | https://pdf.indianexpress.com/pdfupload/icici/ls-mumbai-29-07-2020.pdf | https://pdf.indianexpress.com/pdfupload/icici/ls-aurangabad-29-07-2020.pdf | https://pdf.indianexpress.com/pdfupload/icici/ls-ahmednagar-29-07-2020.pdf | https://pdf.indianexpress.com/pdfupload/icici/ls-nagpur-29-07-2020.pdf | https://pdf.indianexpress.com/pdfupload/icici/ls-nasik-29-07-2020.pdf |
| 28-07-2020 | https://pdf.indianexpress.com/pdfupload/icici/ls-mumbai-28-07-2020.pdf | https://pdf.indianexpress.com/pdfupload/icici/ls-mumbai-28-07-2020.pdf | https://pdf.indianexpress.com/pdfupload/icici/ls-aurangabad-28-07-2020.pdf | https://pdf.indianexpress.com/pdfupload/icici/ls-ahmednagar-28-07-2020.pdf | https://pdf.indianexpress.com/pdfupload/icici/ls-nagpur-28-07-2020.pdf | https://pdf.indianexpress.com/pdfupload/icici/ls-nasik-28-07-2020.pdf |
| 27-07-2020 | https://pdf.indianexpress.com/pdfupload/icici/ls-mumbai-27-07-2020.pdf | https://pdf.indianexpress.com/pdfupload/icici/ls-mumbai-27-07-2020.pdf | https://pdf.indianexpress.com/pdfupload/icici/ls-aurangabad-27-07-2020.pdf | https://pdf.indianexpress.com/pdfupload/icici/ls-ahmednagar-27-07-2020.pdf | https://pdf.indianexpress.com/pdfupload/icici/ls-nagpur-27-07-2020.pdf | https://pdf.indianexpress.com/pdfupload/icici/ls-nasik-27-07-2020.pdf |
| 26-07-2020 | https://pdf.indianexpress.com/pdfupload/icici/ls-mumbai-26-07-2020.pdf | https://pdf.indianexpress.com/pdfupload/icici/ls-mumbai-26-07-2020.pdf | https://pdf.indianexpress.com/pdfupload/icici/ls-aurangabad-26-07-2020.pdf | https://pdf.indianexpress.com/pdfupload/icici/ls-ahmednagar-26-07-2020.pdf | https://pdf.indianexpress.com/pdfupload/icici/ls-nagpur-26-07-2020.pdf | https://pdf.indianexpress.com/pdfupload/icici/ls-nasik-26-07-2020.pdf |
| 25-07-2020 | https://pdf.indianexpress.com/pdfupload/icici/ls-mumbai-25-07-2020.pdf | https://pdf.indianexpress.com/pdfupload/icici/ls-mumbai-25-07-2020.pdf | https://pdf.indianexpress.com/pdfupload/icici/ls-aurangabad-25-07-2020.pdf | https://pdf.indianexpress.com/pdfupload/icici/ls-ahmednagar-25-07-2020.pdf | https://pdf.indianexpress.com/pdfupload/icici/ls-nagpur-25-07-2020.pdf | https://pdf.indianexpress.com/pdfupload/icici/ls-nasik-25-07-2020.pdf |
| 24-07-2020 | https://pdf.indianexpress.com/pdfupload/icici/ls-mumbai-24-07-2020.pdf | https://pdf.indianexpress.com/pdfupload/icici/ls-mumbai-24-07-2020.pdf | https://pdf.indianexpress.com/pdfupload/icici/ls-aurangabad-24-07-2020.pdf | https://pdf.indianexpress.com/pdfupload/icici/ls-ahmednagar-24-07-2020.pdf | https://pdf.indianexpress.com/pdfupload/icici/ls-nagpur-24-07-2020.pdf | https://pdf.indianexpress.com/pdfupload/icici/ls-nasik-24-07-2020.pdf |
| 23-07-2020 | https://pdf.indianexpress.com/pdfupload/icici/ls-mumbai-23-07-2020.pdf | https://pdf.indianexpress.com/pdfupload/icici/ls-mumbai-23-07-2020.pdf | https://pdf.indianexpress.com/pdfupload/icici/ls-aurangabad-23-07-2020.pdf | https://pdf.indianexpress.com/pdfupload/icici/ls-ahmednagar-23-07-2020.pdf | https://pdf.indianexpress.com/pdfupload/icici/ls-nagpur-23-07-2020.pdf | https://pdf.indianexpress.com/pdfupload/icici/ls-nasik-23-07-2020.pdf |
| 22-07-2020 | https://pdf.indianexpress.com/pdfupload/icici/ls-mumbai-22-07-2020.pdf | https://pdf.indianexpress.com/pdfupload/icici/ls-mumbai-22-07-2020.pdf | https://pdf.indianexpress.com/pdfupload/icici/ls-aurangabad-22-07-2020.pdf | https://pdf.indianexpress.com/pdfupload/icici/ls-ahmednagar-22-07-2020.pdf | https://pdf.indianexpress.com/pdfupload/icici/ls-nagpur-22-07-2020.pdf | https://pdf.indianexpress.com/pdfupload/icici/ls-nasik-22-07-2020.pdf |
| 21-07-2020 | https://pdf.indianexpress.com/pdfupload/icici/ls-mumbai-21-07-2020.pdf | https://pdf.indianexpress.com/pdfupload/icici/ls-mumbai-21-07-2020.pdf | https://pdf.indianexpress.com/pdfupload/icici/ls-aurangabad-21-07-2020.pdf | https://pdf.indianexpress.com/pdfupload/icici/ls-ahmednagar-21-07-2020.pdf | https://pdf.indianexpress.com/pdfupload/icici/ls-nagpur-21-07-2020.pdf | https://pdf.indianexpress.com/pdfupload/icici/ls-nasik-21-07-2020.pdf |
| 20-07-2020 | https://pdf.indianexpress.com/pdfupload/icici/ls-mumbai-20-07-2020.pdf | https://pdf.indianexpress.com/pdfupload/icici/ls-mumbai-20-07-2020.pdf | https://pdf.indianexpress.com/pdfupload/icici/ls-aurangabad-20-07-2020.pdf | https://pdf.indianexpress.com/pdfupload/icici/ls-ahmednagar-20-07-2020.pdf | https://pdf.indianexpress.com/pdfupload/icici/ls-nagpur-20-07-2020.pdf | https://pdf.indianexpress.com/pdfupload/icici/ls-nasik-20-07-2020.pdf |
| 19-07-2020 | https://pdf.indianexpress.com/pdfupload/icici/ls-mumbai-19-07-2020.pdf | https://pdf.indianexpress.com/pdfupload/icici/ls-mumbai-19-07-2020.pdf | https://pdf.indianexpress.com/pdfupload/icici/ls-aurangabad-19-07-2020.pdf | https://pdf.indianexpress.com/pdfupload/icici/ls-ahmednagar-19-07-2020.pdf | https://pdf.indianexpress.com/pdfupload/icici/ls-nagpur-19-07-2020.pdf | https://pdf.indianexpress.com/pdfupload/icici/ls-nasik-19-07-2020.pdf |
| 18-07-2020 | https://pdf.indianexpress.com/pdfupload/icici/ls-mumbai-18-07-2020.pdf | https://pdf.indianexpress.com/pdfupload/icici/ls-mumbai-18-07-2020.pdf | https://pdf.indianexpress.com/pdfupload/icici/ls-aurangabad-18-07-2020.pdf | https://pdf.indianexpress.com/pdfupload/icici/ls-ahmednagar-18-07-2020.pdf | https://pdf.indianexpress.com/pdfupload/icici/ls-nagpur-18-07-2020.pdf | https://pdf.indianexpress.com/pdfupload/icici/ls-nasik-18-07-2020.pdf |
| 17-07-2020 | https://pdf.indianexpress.com/pdfupload/icici/ls-mumbai-17-07-2020.pdf | https://pdf.indianexpress.com/pdfupload/icici/ls-mumbai-17-07-2020.pdf | https://pdf.indianexpress.com/pdfupload/icici/ls-aurangabad-17-07-2020.pdf | https://pdf.indianexpress.com/pdfupload/icici/ls-ahmednagar-17-07-2020.pdf | https://pdf.indianexpress.com/pdfupload/icici/ls-nagpur-17-07-2020.pdf | https://pdf.indianexpress.com/pdfupload/icici/ls-nasik-17-07-2020.pdf |
| 16-07-2020 | https://pdf.indianexpress.com/pdfupload/icici/ls-mumbai-16-07-2020.pdf | https://pdf.indianexpress.)com/pdfupload/icici/ls-mumbai-16-07-2020.pdf | https://pdf.indianexpress.com/pdfupload/icici/ls-aurangabad-16-07-2020.pdf | https://pdf.indianexpress.com/pdfupload/icici/ls-ahmednagar-16-07-2020.pdf | https://pdf.indianexpress.com/pdfupload/icici/ls-nagpur-16-07-2020.pdf | https://pdf.indianexpress.com/pdfupload/icici/ls-nasik-16-07-2020.pdf |
| 15-07-2020 | https://pdf.indianexpress.com/pdfupload/icici/ls-mumbai-15-07-2020.pdf | https://pdf.indianexpress.com/pdfupload/icici/ls-mumbai-15-07-2020.pdf | https://pdf.indianexpress.com/pdfupload/icici/ls-aurangabad-15-07-2020.pdf | https://pdf.indianexpress.com/pdfupload/icici/ls-ahmednagar-15-07-2020.pdf | https://pdf.indianexpress.com/pdfupload/icici/ls-nagpur-15-07-2020.pdf | https://pdf.indianexpress.com/pdfupload/icici/ls-nasik-15-07-2020.pdf |
| 14-07-2020 | https://pdf.indianexpress.com/pdfupload/icici/ls-mumbai-14-07-2020.pdf | https://pdf.indianexpress.com/pdfupload/icici/ls-mumbai-14-07-2020.pdf | https://pdf.indianexpress.com/pdfupload/icici/ls-aurangabad-14-07-2020.pdf | https://pdf.indianexpress.com/pdfupload/icici/ls-ahmednagar-14-07-2020.pdf | https://pdf.indianexpress.com/pdfupload/icici/ls-nagpur-14-07-2020.pdf | https://pdf.indianexpress.com/pdfupload/icici/ls-nasik-14-07-2020.pdf |
| 08-07-2020 | https://epaper.loksatta.com/download/newspaper/2741855# | https://epaper.loksatta.com/download/newspaper/2741855# | https://epaper.loksatta.com/download/newspaper/2741855# | https://epaper.loksatta.com/download/newspaper/2741855 | https://epaper.loksatta.com/download/newspaper/2741855# | https://epaper.loksatta.com/download/newspaper/2741855# |
| 07-07-2020 | https://pdf.indianexpress.com/pdfupload/icici/ls-mumbai-07-07-2020.pdf | https://pdf.indianexpress.com/pdfupload/icici/ls-mumbai-07-07-2020.pdf | https://pdf.indianexpress.com/pdfupload/icici/ls-aurangabad-07-07-2020.pdf | https://pdf.indianexpress.com/pdfupload/icici/ls-ahmednagar-07-07-2020.pdf | https://pdf.indianexpress.com/pdfupload/icici/ls-nagpur-07-07-2020.pdf | https://pdf.indianexpress.com/pdfupload/icici/ls-nasik-07-07-2020.pdf |
| 06-07-2020 | https://pdf.indianexpress.com/pdfupload/icici/ls-mumbai-06-07-2020.pdf | https://pdf.indianexpress.com/pdfupload/icici/ls-mumbai-06-07-2020.pdf | https://pdf.indianexpress.com/pdfupload/icici/ls-aurangabad-06-07-2020.pdf | https://pdf.indianexpress.com/pdfupload/icici/ls-ahmednagar-06-07-2020.pdf | https://pdf.indianexpress.com/pdfupload/icici/ls-nagpur-06-07-2020.pdf | https://pdf.indianexpress.com/pdfupload/icici/ls-nasik-06-07-2020.pdf |
| 05-07-2020 | https://pdf.indianexpress.com/pdfupload/icici/ls-mumbai-05-07-2020.pdf | https://pdf.indianexpress.com/pdfupload/icici/ls-mumbai-05-07-2020.pdf | https://pdf.indianexpress.com/pdfupload/icici/ls-aurangabad-05-07-2020.pdf | https://pdf.indianexpress.com/pdfupload/icici/ls-ahmednagar-05-07-2020.pdf | https://pdf.indianexpress.com/pdfupload/icici/ls-nagpur-05-07-2020.pdf | https://pdf.indianexpress.com/pdfupload/icici/ls-nasik-05-07-2020.pdf |
| 04-07-2020 | https://pdf.indianexpress.com/pdfupload/icici/ls-mumbai-04-07-2020.pdf | https://pdf.indianexpress.com/pdfupload/icici/ls-mumbai-04-07-2020.pdf | https://pdf.indianexpress.com/pdfupload/icici/ls-aurangabad-04-07-2020.pdf | https://pdf.indianexpress.com/pdfupload/icici/ls-ahmednagar-04-07-2020.pdf | https://pdf.indianexpress.com/pdfupload/icici/ls-nagpur-04-07-2020.pdf | https://pdf.indianexpress.com/pdfupload/icici/ls-nasik-04-07-2020.pdf |
| 03-07-2020 | https://pdf.indianexpress.com/pdfupload/icici/ls-mumbai-03-07-2020.pdf | https://pdf.indianexpress.com/pdfupload/icici/ls-mumbai-03-07-2020.pdf | https://pdf.indianexpress.com/pdfupload/icici/ls-aurangabad-03-07-2020.pdf | https://pdf.indianexpress.com/pdfupload/icici/ls-ahmednagar-03-07-2020.pdf | https://pdf.indianexpress.com/pdfupload/icici/ls-nagpur-03-07-2020.pdf | https://pdf.indianexpress.com/pdfupload/icici/ls-nasik-03-07-2020.pdf |
| 02-07-2020 | https://pdf.indianexpress.com/pdfupload/icici/ls-mumbai-02-07-2020.pdf | https://pdf.indianexpress.com/pdfupload/icici/ls-mumbai-02-07-2020.pdf | https://pdf.indianexpress.com/pdfupload/icici/ls-aurangabad-02-07-2020.pdf | https://pdf.indianexpress.com/pdfupload/icici/ls-ahmednagar-02-07-2020.pdf | https://pdf.indianexpress.com/pdfupload/icici/ls-nagpur-02-07-2020.pdf | https://pdf.indianexpress.com/pdfupload/icici/ls-nasik-02-07-2020.pdf |
| 01-07-2020 | https://pdf.indianexpress.com/pdfupload/icici/ls-mumbai-01-07-2020.pdf | https://pdf.indianexpress.com/pdfupload/icici/ls-mumbai-01-07-2020.pdf | https://pdf.indianexpress.com/pdfupload/icici/ls-aurangabad-01-07-2020.pdf | https://pdf.indianexpress.com/pdfupload/icici/ls-ahmednagar-01-07-2020.pdf | https://pdf.indianexpress.com/pdfupload/icici/ls-nagpur-01-07-2020.pdf | https://pdf.indianexpress.com/pdfupload/icici/ls-nasik-01-07-2020.pdf |
| 30-06-2020 | https://pdf.indianexpress.com/pdfupload/icici/ls-mumbai-30-06-2020.pdf | https://pdf.indianexpress.com/pdfupload/icici/ls-mumbai-30-06-2020.pdf | https://pdf.indianexpress.com/pdfupload/icici/ls-aurangabad-30-06-2020.pdf | https://pdf.indianexpress.com/pdfupload/icici/ls-ahmednagar-30-06-2020.pdf | https://pdf.indianexpress.com/pdfupload/icici/ls-nagpur-30-06-2020.pdf | https://pdf.indianexpress.com/pdfupload/icici/ls-nasik-30-06-2020.pdf |
| 29-06-2020 | https://pdf.indianexpress.com/pdfupload/icici/ls-mumbai-29-06-2020.pdf | https://pdf.indianexpress.com/pdfupload/icici/ls-mumbai-29-06-2020.pdf | https://pdf.indianexpress.com/pdfupload/icici/ls-aurangabad-29-06-2020.pdf | https://pdf.indianexpress.com/pdfupload/icici/ls-ahmednagar-29-06-2020.pdf | https://pdf.indianexpress.com/pdfupload/icici/ls-nagpur-29-06-2020.pdf | https://pdf.indianexpress.com/pdfupload/icici/ls-nasik-29-06-2020.pdf |
| 28-06-2020 | https://pdf.indianexpress.com/pdfupload/icici/ls-mumbai-28-06-2020.pdf | https://pdf.indianexpress.com/pdfupload/icici/ls-mumbai-28-06-2020.pdf | https://pdf.indianexpress.com/pdfupload/icici/ls-aurangabad-28-06-2020.pdf | https://pdf.indianexpress.com/pdfupload/icici/ls-ahmednagar-28-06-2020.pdf | https://pdf.indianexpress.com/pdfupload/icici/ls-nagpur-28-06-2020.pdf | https://pdf.indianexpress.com/pdfupload/icici/ls-nasik-28-06-2020.pdf |
| 27-06-2020 | https://pdf.indianexpress.com/pdfupload/icici/ls-mumbai-27-06-2020.pdf | https://pdf.indianexpress.com/pdfupload/icici/ls-mumbai-27-06-2020.pdf | https://pdf.indianexpress.com/pdfupload/icici/ls-aurangabad-27-06-2020.pdf | https://pdf.indianexpress.com/pdfupload/icici/ls-ahmednagar-27-06-2020.pdf | https://pdf.indianexpress.com/pdfupload/icici/ls-nagpur-27-06-2020.pdf | https://pdf.indianexpress.com/pdfupload/icici/ls-nasik-27-06-2020.pdf |
| 26-06-2020 | https://pdf.indianexpress.com/pdfupload/icici/ls-mumbai-26-06-2020.pdf | https://pdf.indianexpress.com/pdfupload/icici/ls-mumbai-26-06-2020.pdf | https://pdf.indianexpress.com/pdfupload/icici/ls-aurangabad-26-06-2020.pdf | https://pdf.indianexpress.com/pdfupload/icici/ls-ahmednagar-26-06-2020.pdf | https://pdf.indianexpress.com/pdfupload/icici/ls-nagpur-26-06-2020.pdf | https://pdf.indianexpress.com/pdfupload/icici/ls-nasik-26-06-2020.pdf |
| 25-06-2020 | https://pdf.indianexpress.com/pdfupload/icici/ls-mumbai-25-06-2020.pdf | https://pdf.indianexpress.com/pdfupload/icici/ls-mumbai-25-06-2020.pdf | https://pdf.indianexpress.com/pdfupload/icici/ls-aurangabad-25-06-2020.pdf | https://pdf.indianexpress.com/pdfupload/icici/ls-ahmednagar-25-06-2020.pdf | https://pdf.indianexpress.com/pdfupload/icici/ls-nagpur-25-06-2020.pdf | https://pdf.indianexpress.com/pdfupload/icici/ls-nasik-25-06-2020.pdf |
| 24-06-2020 | https://pdf.indianexpress.com/pdfupload/icici/ls-mumbai-24-06-2020.pdf | https://pdf.indianexpress.com/pdfupload/icici/ls-mumbai-24-06-2020.pdf | https://pdf.indianexpress.com/pdfupload/icici/ls-aurangabad-24-06-2020.pdf | https://pdf.indianexpress.com/pdfupload/icici/ls-ahmednagar-24-06-2020.pdf | https://pdf.indianexpress.com/pdfupload/icici/ls-nagpur-24-06-2020.pdf | https://pdf.indianexpress.com/pdfupload/icici/ls-nasik-24-06-2020.pdf |
| 23-06-2020 | https://pdf.indianexpress.com/pdfupload/icici/ls-mumbai-23-06-2020.pdf | https://pdf.indianexpress.com/pdfupload/icici/ls-mumbai-23-06-2020.pdf | https://pdf.indianexpress.com/pdfupload/icici/ls-aurangabad-23-06-2020.pdf | https://pdf.indianexpress.com/pdfupload/icici/ls-ahmednagar-23-06-2020.pdf | https://pdf.indianexpress.com/pdfupload/icici/ls-nagpur-23-06-2020.pdf | https://pdf.indianexpress.com/pdfupload/icici/ls-nasik-23-06-2020.pdf |
| 22-06-2020 | https://pdf.indianexpress.com/pdfupload/icici/ls-mumbai-22-06-2020.pdf | https://pdf.indianexpress.com/pdfupload/icici/ls-mumbai-22-06-2020.pdf | https://pdf.indianexpress.com/pdfupload/icici/ls-aurangabad-22-06-2020.pdf | https://pdf.indianexpress.com/pdfupload/icici/ls-ahmednagar-22-06-2020.pdf | https://pdf.indianexpress.com/pdfupload/icici/ls-nagpur-22-06-2020.pdf | https://pdf.indianexpress.com/pdfupload/icici/ls-nasik-22-06-2020.pdf |
| 21-06-2020 | https://pdf.indianexpress.com/pdfupload/icici/ls-mumbai-21-06-2020.pdf | https://pdf.indianexpress.com/pdfupload/icici/ls-mumbai-21-06-2020.pdf | https://pdf.indianexpress.com/pdfupload/icici/ls-aurangabad-21-06-2020.pdf | https://pdf.indianexpress.com/pdfupload/icici/ls-ahmednagar-21-06-2020.pdf | https://pdf.indianexpress.com/pdfupload/icici/ls-nagpur-21-06-2020.pdf | https://pdf.indianexpress.com/pdfupload/icici/ls-nasik-21-06-2020.pdf |
| 20-06-2020 | https://pdf.indianexpress.com/pdfupload/icici/ls-mumbai-20-06-2020.pdf | https://pdf.indianexpress.com/pdfupload/icici/ls-mumbai-20-06-2020.pdf | https://pdf.indianexpress.com/pdfupload/icici/ls-aurangabad-20-06-2020.pdf | https://pdf.indianexpress.com/pdfupload/icici/ls-ahmednagar-20-06-2020.pdf | https://pdf.indianexpress.com/pdfupload/icici/ls-nagpur-20-06-2020.pdf | https://pdf.indianexpress.com/pdfupload/icici/ls-nasik-20-06-2020.pdf |
| 19-06-2020 | https://pdf.indianexpress.com/pdfupload/icici/ls-mumbai-19-06-2020.pdf | https://pdf.indianexpress.com/pdfupload/icici/ls-mumbai-19-06-2020.pdf | https://pdf.indianexpress.com/pdfupload/icici/ls-aurangabad-19-06-2020.pdf | https://pdf.indianexpress.com/pdfupload/icici/ls-ahmednagar-19-06-2020.pdf | https://pdf.indianexpress.com/pdfupload/icici/ls-nagpur-19-06-2020.pdf | https://pdf.indianexpress.com/pdfupload/icici/ls-nasik-19-06-2020.pdf |
| 18-06-2020 | https://pdf.indianexpress.com/pdfupload/icici/ls-mumbai-18-06-2020.pdf | https://pdf.indianexpress.com/pdfupload/icici/ls-mumbai-18-06-2020.pdf | https://pdf.indianexpress.com/pdfupload/icici/ls-aurangabad-18-06-2020.pdf | https://pdf.indianexpress.com/pdfupload/icici/ls-ahmednagar-18-06-2020.pdf | https://pdf.indianexpress.com/pdfupload/icici/ls-nagpur-18-06-2020.pdf | https://pdf.indianexpress.com/pdfupload/icici/ls-nasik-18-06-2020.pdf |
| 17-06-2020 | https://pdf.indianexpress.com/pdfupload/icici/ls-mumbai-17-06-2020.pdf | https://pdf.indianexpress.com/pdfupload/icici/ls-mumbai-17-06-2020.pdf | https://pdf.indianexpress.com/pdfupload/icici/ls-aurangabad-17-06-2020.pdf | https://pdf.indianexpress.com/pdfupload/icici/ls-ahmednagar-17-06-2020.pdf | https://pdf.indianexpress.com/pdfupload/icici/ls-nagpur-17-06-2020.pdf | https://pdf.indianexpress.com/pdfupload/icici/ls-nasik-17-06-2020.pdf |
| 16-06-2020 | https://pdf.indianexpress.com/pdfupload/icici/ls-mumbai-16-06-2020.pdf | https://pdf.indianexpress.com/pdfupload/icici/ls-mumbai-16-06-2020.pdf | https://pdf.indianexpress.com/pdfupload/icici/ls-aurangabad-16-06-2020.pdf | https://pdf.indianexpress.com/pdfupload/icici/ls-ahmednagar-16-06-2020.pdf | https://pdf.indianexpress.com/pdfupload/icici/ls-nagpur-16-06-2020.pdf | https://pdf.indianexpress.com/pdfupload/icici/ls-nasik-16-06-2020.pdf |
| 15-06-2020 | https://pdf.indianexpress.com/pdfupload/icici/ls-mumbai-15-06-2020.pdf | https://pdf.indianexpress.com/pdfupload/icici/ls-mumbai-15-06-2020.pdf | https://pdf.indianexpress.com/pdfupload/icici/ls-aurangabad-15-06-2020.pdf | https://pdf.indianexpress.com/pdfupload/icici/ls-ahmednagar-15-06-2020.pdf | https://pdf.indianexpress.com/pdfupload/icici/ls-nagpur-15-06-2020.pdf | https://pdf.indianexpress.com/pdfupload/icici/ls-nasik-15-06-2020.pdf |
| 14-06-2020 | https://pdf.indianexpress.com/pdfupload/icici/ls-mumbai-14-06-2020.pdf | https://pdf.indianexpress.com/pdfupload/icici/ls-mumbai-14-06-2020.pdf | https://pdf.indianexpress.com/pdfupload/icici/ls-aurangabad-14-06-2020.pdf | https://pdf.indianexpress.com/pdfupload/icici/ls-ahmednagar-14-06-2020.pdf | https://pdf.indianexpress.com/pdfupload/icici/ls-nagpur-14-06-2020.pdf | https://pdf.indianexpress.com/pdfupload/icici/ls-nasik-14-06-2020.pdf |
| 13-06-2020 | https://pdf.indianexpress.com/pdfupload/icici/ls-mumbai-13-06-2020.pdf | https://pdf.indianexpress.com/pdfupload/icici/ls-mumbai-13-06-2020.pdf | https://pdf.indianexpress.com/pdfupload/icici/ls-aurangabad-13-06-2020.pdf | https://pdf.indianexpress.com/pdfupload/icici/ls-ahmednagar-13-06-2020.pdf | https://pdf.indianexpress.com/pdfupload/icici/ls-nagpur-13-06-2020.pdf | https://pdf.indianexpress.com/pdfupload/icici/ls-nasik-13-06-2020.pdf |
| 12-06-2020 | https://pdf.indianexpress.com/pdfupload/icici/ls-mumbai-12-06-2020.pdf | https://pdf.indianexpress.com/pdfupload/icici/ls-mumbai-12-06-2020.pdf | https://pdf.indianexpress.com/pdfupload/icici/ls-aurangabad-12-06-2020.pdf | https://pdf.indianexpress.com/pdfupload/icici/ls-ahmednagar-12-06-2020.pdf | https://pdf.indianexpress.com/pdfupload/icici/ls-nagpur-12-06-2020.pdf | https://pdf.indianexpress.com/pdfupload/icici/ls-nasik-12-06-2020.pdf |
| 11-06-2020 | https://pdf.indianexpress.com/pdfupload/icici/ls-mumbai-11-06-2020.pdf | https://pdf.indianexpress.com/pdfupload/icici/ls-mumbai-11-06-2020.pdf | https://pdf.indianexpress.com/pdfupload/icici/ls-aurangabad-11-06-2020.pdf | https://pdf.indianexpress.com/pdfupload/icici/ls-ahmednagar-11-06-2020.pdf | https://pdf.indianexpress.com/pdfupload/icici/ls-nagpur-11-06-2020.pdf | https://pdf.indianexpress.com/pdfupload/icici/ls-nasik-11-06-2020.pdf |
| 10-06-2020 | https://pdf.indianexpress.com/pdfupload/icici/ls-mumbai-10-06-2020.pdf | https://pdf.indianexpress.com/pdfupload/icici/ls-mumbai-10-06-2020.pdf | https://pdf.indianexpress.com/pdfupload/icici/ls-aurangabad-10-06-2020.pdf | https://pdf.indianexpress.com/pdfupload/icici/ls-ahmednagar-10-06-2020.pdf | https://pdf.indianexpress.com/pdfupload/icici/ls-nagpur-10-06-2020.pdf | https://pdf.indianexpress.com/pdfupload/icici/ls-nasik-10-06-2020.pdf |
| 09-06-2020 | https://pdf.indianexpress.com/pdfupload/icici/ls-mumbai-09-06-2020.pdf | https://pdf.indianexpress.com/pdfupload/icici/ls-mumbai-09-06-2020.pdf | https://pdf.indianexpress.com/pdfupload/icici/ls-aurangabad-09-06-2020.pdf | https://pdf.indianexpress.com/pdfupload/icici/ls-ahmednagar-09-06-2020.pdf | https://pdf.indianexpress.com/pdfupload/icici/ls-nagpur-09-06-2020.pdf | https://pdf.indianexpress.com/pdfupload/icici/ls-nasik-09-06-2020.pdf |
| 08-06-2020 | https://pdf.indianexpress.com/pdfupload/icici/ls-mumbai-08-06-2020.pdf | https://pdf.indianexpress.com/pdfupload/icici/ls-mumbai-08-06-2020.pdf | https://pdf.indianexpress.com/pdfupload/icici/ls-aurangabad-08-06-2020.pdf | https://pdf.indianexpress.com/pdfupload/icici/ls-ahmednagar-08-06-2020.pdf | https://pdf.indianexpress.com/pdfupload/icici/ls-nagpur-08-06-2020.pdf | https://pdf.indianexpress.com/pdfupload/icici/ls-nasik-08-06-2020.pdf |
| 07-06-2020 | https://pdf.indianexpress.com/pdfupload/icici/ls-mumbai-07-06-2020.pdf | https://pdf.indianexpress.com/pdfupload/icici/ls-mumbai-07-06-2020.pdf | https://pdf.indianexpress.com/pdfupload/icici/ls-aurangabad-07-06-2020.pdf | https://pdf.indianexpress.com/pdfupload/icici/ls-ahmednagar-07-06-2020.pdf | https://pdf.indianexpress.com/pdfupload/icici/ls-nagpur-07-06-2020.pdf | https://pdf.indianexpress.com/pdfupload/icici/ls-nasik-07-06-2020.pdf |
| 06-06-2020 | https://pdf.indianexpress.com/pdfupload/icici/ls-mumbai-06-06-2020.pdf | https://pdf.indianexpress.com/pdfupload/icici/ls-mumbai-06-06-2020.pdf | https://pdf.indianexpress.com/pdfupload/icici/ls-aurangabad-06-06-2020.pdf | https://pdf.indianexpress.com/pdfupload/icici/ls-ahmednagar-06-06-2020.pdf | https://pdf.indianexpress.com/pdfupload/icici/ls-nagpur-06-06-2020.pdf | https://pdf.indianexpress.com/pdfupload/icici/ls-nasik-06-06-2020.pdf |
| 05-06-2020 | https://pdf.indianexpress.com/pdfupload/icici/ls-mumbai-05-06-2020.pdf | https://pdf.indianexpress.com/pdfupload/icici/ls-mumbai-05-06-2020.pdf | https://pdf.indianexpress.com/pdfupload/icici/ls-aurangabad-05-06-2020.pdf | https://pdf.indianexpress.com/pdfupload/icici/ls-ahmednagar-05-06-2020.pdf | https://pdf.indianexpress.com/pdfupload/icici/ls-nagpur-05-06-2020.pdf | https://pdf.indianexpress.com/pdfupload/icici/ls-nasik-05-06-2020.pdf |
| 04-06-2020 | https://pdf.indianexpress.com/pdfupload/icici/ls-mumbai-04-06-2020.pdf | https://pdf.indianexpress.com/pdfupload/icici/ls-mumbai-04-06-2020.pdf | https://pdf.indianexpress.com/pdfupload/icici/ls-aurangabad-04-06-2020.pdf | https://pdf.indianexpress.com/pdfupload/icici/ls-ahmednagar-04-06-2020.pdf | https://pdf.indianexpress.com/pdfupload/icici/ls-nagpur-04-06-2020.pdf | https://pdf.indianexpress.com/pdfupload/icici/ls-nasik-04-06-2020.pdf |
| 03-06-2020 | https://pdf.indianexpress.com/pdfupload/icici/ls-mumbai-03-06-2020.pdf | https://pdf.indianexpress.com/pdfupload/icici/ls-mumbai-03-06-2020.pdf | https://pdf.indianexpress.com/pdfupload/icici/ls-aurangabad-03-06-2020.pdf | https://pdf.indianexpress.com/pdfupload/icici/ls-ahmednagar-03-06-2020.pdf | https://pdf.indianexpress.com/pdfupload/icici/ls-nagpur-03-06-2020.pdf | https://pdf.indianexpress.com/pdfupload/icici/ls-nasik-03-06-2020.pdf |
| 02-06-2020 | https://pdf.indianexpress.com/pdfupload/icici/ls-mumbai-02-06-2020.pdf | https://pdf.indianexpress.com/pdfupload/icici/ls-mumbai-02-06-2020.pdf | https://pdf.indianexpress.com/pdfupload/icici/ls-aurangabad-02-06-2020.pdf | https://pdf.indianexpress.com/pdfupload/icici/ls-ahmednagar-02-06-2020.pdf | https://pdf.indianexpress.com/pdfupload/icici/ls-nagpur-02-06-2020.pdf | https://pdf.indianexpress.com/pdfupload/icici/ls-nasik-02-06-2020.pdf |
| 01-06-2020 | https://pdf.indianexpress.com/pdfupload/icici/ls-mumbai-01-06-2020.pdf | https://pdf.indianexpress.com/pdfupload/icici/ls-mumbai-01-06-2020.pdf | https://pdf.indianexpress.com/pdfupload/icici/ls-aurangabad-01-06-2020.pdf | https://pdf.indianexpress.com/pdfupload/icici/ls-ahmednagar-01-06-2020.pdf | https://pdf.indianexpress.com/pdfupload/icici/ls-nagpur-01-06-2020.pdf | https://pdf.indianexpress.com/pdfupload/icici/ls-nasik-01-06-2020.pdf |
| 31-05-2020 | https://pdf.indianexpress.com/pdfupload/icici/ls-mumbai-31-05-2020.pdf | https://pdf.indianexpress.com/pdfupload/icici/ls-mumbai-31-05-2020.pdf | https://pdf.indianexpress.com/pdfupload/icici/ls-aurangabad-31-05-2020.pdf | https://pdf.indianexpress.com/pdfupload/icici/ls-ahmednagar-31-05-2020.pdf | https://pdf.indianexpress.com/pdfupload/icici/ls-nagpur-31-05-2020.pdf | https://pdf.indianexpress.com/pdfupload/icici/ls-nasik-31-05-2020.pdf |
| 30-05-2020 | https://pdf.indianexpress.com/pdfupload/icici/ls-mumbai-30-05-2020.pdf | https://pdf.indianexpress.com/pdfupload/icici/ls-mumbai-30-05-2020.pdf | https://pdf.indianexpress.com/pdfupload/icici/ls-aurangabad-30-05-2020.pdf | https://pdf.indianexpress.com/pdfupload/icici/ls-ahmednagar-30-05-2020.pdf | https://pdf.indianexpress.com/pdfupload/icici/ls-nagpur-30-05-2020.pdf | https://pdf.indianexpress.com/pdfupload/icici/ls-nasik-30-05-2020.pdf |
| 29-05-2020 | https://pdf.indianexpress.com/pdfupload/icici/ls-mumbai-29-05-2020.pdf | https://pdf.indianexpress.com/pdfupload/icici/ls-mumbai-29-05-2020.pdf | https://pdf.indianexpress.com/pdfupload/icici/ls-aurangabad-29-05-2020.pdf | https://pdf.indianexpress.com/pdfupload/icici/ls-ahmednagar-29-05-2020.pdf | https://pdf.indianexpress.com/pdfupload/icici/ls-nagpur-29-05-2020.pdf | https://pdf.indianexpress.com/pdfupload/icici/ls-nasik-29-05-2020.pdf |
| 28-05-2020 | https://pdf.indianexpress.com/pdfupload/icici/ls-mumbai-28-05-2020.pdf | https://pdf.indianexpress.com/pdfupload/icici/ls-mumbai-28-05-2020.pdf | https://pdf.indianexpress.com/pdfupload/icici/ls-aurangabad-28-05-2020.pdf | https://pdf.indianexpress.com/pdfupload/icici/ls-ahmednagar-28-05-2020.pdf | https://pdf.indianexpress.com/pdfupload/icici/ls-nagpur-28-05-2020.pdf | https://pdf.indianexpress.com/pdfupload/icici/ls-nasik-28-05-2020.pdf |
| 27-05-2020 | https://pdf.indianexpress.com/pdfupload/icici/ls-mumbai-27-05-2020.pdf | https://pdf.indianexpress.com/pdfupload/icici/ls-mumbai-27-05-2020.pdf | https://pdf.indianexpress.com/pdfupload/icici/ls-aurangabad-27-05-2020.pdf | https://pdf.indianexpress.com/pdfupload/icici/ls-ahmednagar-27-05-2020.pdf | https://pdf.indianexpress.com/pdfupload/icici/ls-nagpur-27-05-2020.pdf | https://pdf.indianexpress.com/pdfupload/icici/ls-nasik-27-05-2020.pdf |
| 26-05-2020 | https://pdf.indianexpress.com/pdfupload/icici/ls-mumbai-26-05-2020.pdf | https://pdf.indianexpress.com/pdfupload/icici/ls-mumbai-26-05-2020.pdf | https://pdf.indianexpress.com/pdfupload/icici/ls-aurangabad-26-05-2020.pdf | https://pdf.indianexpress.com/pdfupload/icici/ls-ahmednagar-26-05-2020.pdf | https://pdf.indianexpress.com/pdfupload/icici/ls-nagpur-26-05-2020.pdf | https://pdf.indianexpress.com/pdfupload/icici/ls-nasik-26-05-2020.pdf |
| 25-05-2020 | https://pdf.indianexpress.com/pdfupload/icici/ls-mumbai-25-05-2020.pdf | https://pdf.indianexpress.com/pdfupload/icici/ls-mumbai-25-05-2020.pdf | https://pdf.indianexpress.com/pdfupload/icici/ls-aurangabad-25-05-2020.pdf | https://pdf.indianexpress.com/pdfupload/icici/ls-ahmednagar-25-05-2020.pdf | https://pdf.indianexpress.com/pdfupload/icici/ls-nagpur-25-05-2020.pdf | https://pdf.indianexpress.com/pdfupload/icici/ls-nasik-25-05-2020.pdf |
| 24-05-2020 | https://pdf.indianexpress.com/pdfupload/icici/ls-mumbai-24-05-2020.pdf | https://pdf.indianexpress.com/pdfupload/icici/ls-mumbai-24-05-2020.pdf | https://pdf.indianexpress.com/pdfupload/icici/ls-aurangabad-24-05-2020.pdf | https://pdf.indianexpress.com/pdfupload/icici/ls-ahmednagar-24-05-2020.pdf | https://pdf.indianexpress.com/pdfupload/icici/ls-nagpur-24-05-2020.pdf | https://pdf.indianexpress.com/pdfupload/icici/ls-nasik-24-05-2020.pdf |
| 23-05-2020 | https://pdf.indianexpress.com/pdfupload/icici/ls-mumbai-23-05-2020.pdf | https://pdf.indianexpress.com/pdfupload/icici/ls-mumbai-23-05-2020.pdf | https://pdf.indianexpress.com/pdfupload/icici/ls-aurangabad-23-05-2020.pdf | https://pdf.indianexpress.com/pdfupload/icici/ls-ahmednagar-23-05-2020.pdf | https://pdf.indianexpress.com/pdfupload/icici/ls-nagpur-23-05-2020.pdf | https://pdf.indianexpress.com/pdfupload/icici/ls-nasik-23-05-2020.pdf |
| 22-05-2020 | https://pdf.indianexpress.com/pdfupload/icici/ls-mumbai-22-05-2020.pdf | https://pdf.indianexpress.com/pdfupload/icici/ls-mumbai-22-05-2020.pdf | https://pdf.indianexpress.com/pdfupload/icici/ls-aurangabad-22-05-2020.pdf | https://pdf.indianexpress.com/pdfupload/icici/ls-ahmednagar-22-05-2020.pdf | https://pdf.indianexpress.com/pdfupload/icici/ls-nagpur-22-05-2020.pdf | https://pdf.indianexpress.com/pdfupload/icici/ls-nasik-22-05-2020.pdf |
| 21-05-2020 | https://pdf.indianexpress.com/pdfupload/icici/ls-mumbai-21-05-2020.pdf | https://pdf.indianexpress.com/pdfupload/icici/ls-mumbai-21-05-2020.pdf | https://pdf.indianexpress.com/pdfupload/icici/ls-aurangabad-21-05-2020.pdf | https://pdf.indianexpress.com/pdfupload/icici/ls-ahmednagar-21-05-2020.pdf | https://pdf.indianexpress.com/pdfupload/icici/ls-nagpur-21-05-2020.pdf | https://pdf.indianexpress.com/pdfupload/icici/ls-nasik-21-05-2020.pdf |
| 20-05-2020 | https://pdf.indianexpress.com/pdfupload/icici/ls-mumbai-20-05-2020.pdf | https://pdf.indianexpress.com/pdfupload/icici/ls-mumbai-20-05-2020.pdf | https://pdf.indianexpress.com/pdfupload/icici/ls-aurangabad-20-05-2020.pdf | https://pdf.indianexpress.com/pdfupload/icici/ls-ahmednagar-20-05-2020.pdf | https://pdf.indianexpress.com/pdfupload/icici/ls-nagpur-20-05-2020.pdf | https://pdf.indianexpress.com/pdfupload/icici/ls-nasik-20-05-2020.pdf |
| 19-05-2020 | https://pdf.indianexpress.com/pdfupload/icici/ls-mumbai-19-05-2020.pdf | https://pdf.indianexpress.com/pdfupload/icici/ls-mumbai-19-05-2020.pdf | https://pdf.indianexpress.com/pdfupload/icici/ls-aurangabad-19-05-2020.pdf | https://pdf.indianexpress.com/pdfupload/icici/ls-ahmednagar-19-05-2020.pdf | https://pdf.indianexpress.com/pdfupload/icici/ls-nagpur-19-05-2020.pdf | https://pdf.indianexpress.com/pdfupload/icici/ls-nasik-19-05-2020.pdf |
18 May लोकसत्ता अहमदनगर | औरंगाबाद | नागपुर | नाशिक | पुणे | मुंबई
17 May 2020: Download Now
16 May 2020: Download Now
15 May 2020: Download Now
14 May 2020: Download Now
13 May 2020: Download Now
12 May 2020: Download Now 
11 May 2020: Download Now 
10 May 2020: Download Now 
09 May 2020: Download Now 
08 May 2020: Download Now 
07 May 2020 Download Now
06 May 2020  Download Now
05 May 2020  Download Now
04 May 2020 Download Now
04 May 2020 Download Now
03 May 2020 Download Now
02 May 2020 Download Now
01 May 2020 Download Now
April 2020
30 April 2020 Download Now
29 April 2020 Download Now
28 April 2020 Download Now
27 April 2020 Download Now
26 April 2020 Download Now
25 April 2020 Download Now
24 April 2020 Download Now
23 April 2020 Download Now
22 April 2020 Download Now
21 April 2020 Download Now
20 April 2020 Download Now
19 April 2020 Download Now
18 April 2020 Download Now
17 April 2020 Download Now
16 April 2020 Download Now
15 April 2020 Download Now
14 April 2020 Download Now
13 April 2020 Download Now
12 April 2020 Download Now
11 April 2020 Download Now
10 April 2020 Download Now
09 April 2020 Download Now
08 April 2020 Download Now
07 April 2020 Download Now
06 April 2020 Download Now
05 April 2020 Download Now
04 April 2020 Download Now
03 April 2020 Download Now
02 April 2020 Download Now
01 April 2020 Download Now
March 2020
31 March Download Now
30 March Download Now
29 March Download Now
28 March Download Now
27 March Download Now
26 March Download Now
25 March Download Now
24 March Download Now
23 March Download Now
22 March Download Now
21 March Download Now
21 March Download Now
20 March Download Now
19 March Download Now
18 March Download Now
17 March Download Now
16 March Download Now
15 March Download Now
14 March Download Now
13 March Download Now
12 March Download Now
11 March  Download Now
10 March  Download Now
9 March  Download Now
8 March  Download Now
7 March  Download Now
6 March  Download Now
5 March  Download Now
4 March  Download Now
3 March  Download Now
2 March  Download Now
1 March  Download Now
February 2020
29 February Download Now
28 February Download Now
27 February Download Now
26 February Download Now
25 February Download Now
24 February Download Now
23 February Download Now
22 February Download Now
21 February Download Now
20 February Download Now
19 February Download Now
18 February Download Now
17 February Download Now
16 February Download Now
15 February Download Now
14 February Download Now
13 February Download Now
12 February Download Now
11 February Download Now
10 February Download Now
9 February Download Now
8 February Download Now
7 February Download Now
6 February Download Now
5 February Download Now
4 February Download Now
3 February Download Now
2 February Download Now
1 February Download Now
January 2020
31 January Download Now
30 January Download Now
29 January Download Now
28 January Download Now
25 January Download Now
24 January Download Now
23 January Download Now
22 January Download Now
21 January Download Now
20 January Download Now
19 January Download Now
18 January Download Now
17 January Download Now
16 January Download Now
15 January Download Now
14 January Download Now
December 2019
November, 2019
October, 2019
 September, 2019
[/expander_maker]