The Hindu epaper PDF: The Hindu is daily English Newspaper is one of best newspaper in India. We are updating The Hindu Newspaper free download google Drive Link daily Morning.
Hi readers, we are providing The Hindu epaper pdf google drive link daily which are freely available on internet. Who want to download The Hindu newspaper pdf google drive file date wise which we given at the end of this post. Readers download today's The Hindu newspaper 2020 and read it on your mobile or pc offline. We had provided adfree The Hindu google drive newspaper regularly.
About The Hindu epaper PDF | Hindu Newspaper Free download
Aspirant/Reader can find The Hindu newspaper PDF download link scroll down post. In this post we are covering topics like The Hindu Analysis, The Hindu Vocabulary and The Hindu Editorial on a daily basis.
The Hindu newspaper is best newspaper in India, it easy to understand and read even little bit English known. You can learn vocabulary and technical terms. The editorial section is comprehensive coverage of national and international news of government and country situations which very helpful for reader.
The Hindu is an English language daily newspaper owned by The Hindu Group.
The Hindu newspaper was founded in Madras on 20 September 1878 as a weekly newspaper and in 1889 became a daily.
The Hindu Newspaper Headquartered in Chennai, India.
The Hindu newspaper is second circulated English newspaper in India, after is The Times of India.
The Hindu all over India 62,26,000 readers daily.
The Hindu is published from 21 locations across 11 states: Bengaluru, Chennai, Hyderabad, Thiruvananthapuram, Vijayawada, Kolkata, Mumbai, Coimbatore, Madurai, Noida, Visakhapatnam, Kochi, Mangaluru, Tiruchirappalli, Hubballi, Mohali, Allahabad, Kozhikode, Lucknow, Tirupati, Cuttack, and Patna.
Hindu Management
Kasturi Ranga Iyengar family run The Hindu. It was headed by G Kasturi from 1965 to 1991, N Ravi from 1991 to 2003, and by his brother, N Ram, from 27.06.2003 to 18.01.2011. As of 2020, there are 8 managing directors in the board of Kasturi & Sons.
The Hindu Managing directors from 1878-2020
Veeraraghavachariar (1878–1904)
Kasturi Ranga Iyengar (1904–1923)
Srinivasan (1923–1959)
Narasimhan (1959–1977)
Ram (1977–2011)
Balaji (2011–2012)
Rajiv C Lochan

(2013- 2019)

L V Navaneeth

(2019–present)
The Hindu Editors from 1878-2020
Subramania Iyer (1878–1898)
Karunakara Menon (1898–1905)
Kasturi Ranga Iyengar

(1905–1923)

Rangaswami Iyengar (1923–1926)
Srinivasan (1926–1928)
Rangaswami Iyengar (1928–1934)
Srinivasan (1934–1959)
Parthasarathy (1959–1965)
Kasturi (1965–1991)
Ravi (1991–2003)
Ram (2003–2012)
Siddharth Varadarajan

(2012–2013

Ravi (2013–2015)
Malini Parthasarathy

(2015–2016)

Mukund Padmanabhan

(2016–2019)

Suresh Nambath

(2019–present)
The Hindu epaper PDF Printing Centres
The Hindu printed in seventeen centres including the Main Edition at Chennai (Madras) where the Corporate Office is based. The printing centres at Coimbatore, Bangalore, Hyderabad, Madurai, Noida, Visakhapatnam, Thiruvanathapuram, Kochi, Vijayawada, Mangalore, Tiruchirapalli, Kolkata, Hubli, Mohali, Allahabad and Kozhikode.
The Hindu with the Chennai Edition brings out supplements and features on all days of the week.
On Mondays: Metro Plus, Business Review and Education Plus
On Tuesdays: Metro Plus, Young World and Book Review
On Wednesdays: Metro Plus and Empower
On Thursdays: Metro Plus, Nxg and Science, Engineering, Technology & Agriculture
On Fridays: Friday Review, Metro Plus Weekend
On Saturdays: Metro Plus and Habitat
On Sundays: Weekly Magazine, Downtown, Cinema Plus, Classifieds, Open Page, Literary Review, every first Sunday
The Hindu publishes
The Hindu Tamil – A Tamil Daily across 8 editions: Coimbatore City edition, Chennai Edition, Madurai City Edition, Puducherry/ South Arcot, Salem & Namakkal, Tirunelveli/ Tuticorin split, Tiruchirapalli city, Vellore/ North Arcot and The Hindu Tamil also comes out with periodical magazines such as: Chitirai Malar, Navarathri Malar, Aadi Malar, Diwali Malar
The Hindu Business Line – Business Daily
Sport star – Fortnightly Sports magazine
Frontline – Fortnightly magazine
The Hindu Newspaper Covers
National news like government statements not political, policies, initiatives,
International news like treaties, agreements, disputes
Economy.
Science and technology.
Environment and biodiversity news.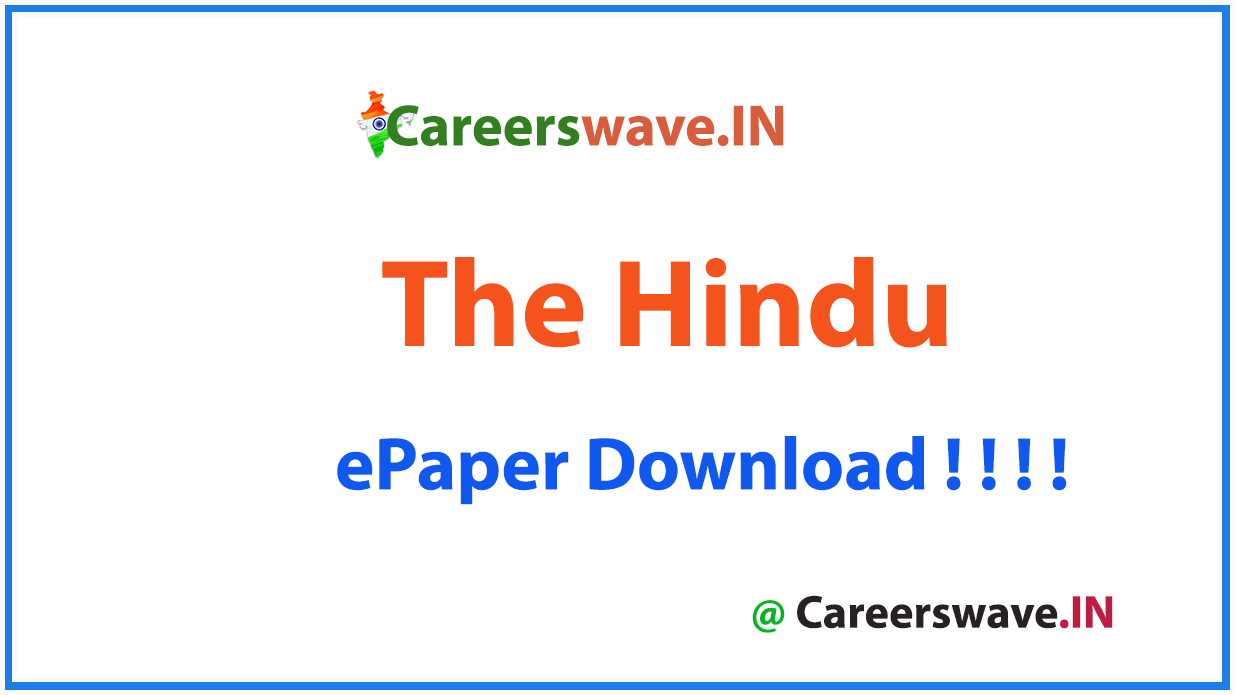 Type
Daily newspaper
Format
Broadsheet
Owner(s)
The Hindu Group, and
Kasturi and Sons Limited
Founder(s)
G. Subramania Iyer
Publisher
N. Ravi
Editor
Suresh Nambath
Founded
20 September 1878; 141 years ago
Language
English
Headquarters
Chennai, Tamil Nadu, India
Country
India
Circulation
1,404,901 daily (as of January–June 2019)
ISSN
0971-751X
OCLC number
13119119
Website
www.thehindu.com
www.hindutamil.in
How to download The Hindu Epaper PDF?
We are daily uploading The Hindu Newspaper PDF which is absolutely free of cost to download The Hindu e-paper. Scroll down the page and find out the download link by date wise of The Hindu e-paper.
When do I get The Hindu Epaper pdf?
You can get English Newspaper pdf link is available in the morning between 6:00 AM to 7:00 AM. If there any technical issue please comment below.
Why should you read The Hindu epaper pdf?
The Hindu newspaper differentiates between news and opinions. English news paper gives priority to areas of national concern & local issues. If you want to read whole newspaper it takes more time, you have to read it in smart way. By reading daily The Hindu English gradually your vocabulary & communication skills will improve.
The Hindu newspaper PDF Disclaimer
We are not the owner of the paper The Hindu. We are just sharing The Hindu English pdf file which is available on internet.
The Hindu English epaper PDF adfree google drive link
Here we are sharing the download link of The Hindu English PDF Daily and readers can download The Hindu English newspaper pdf. We try always to give to The Hindu English PDF as early as possible. Download Process is very easy to use. Just Click on the below Download Link and you will get The Hindu English PDF file and read it offline.
Download Today's AdFree e-Papers
Download The Hindu epaper Download.
Adfree Times of India Epaper Download.
Adfree Deccan Chronicle Epaper Free Download.
Adfree Hindustan Times Epaper Download.
Note: The Hindu epaper PDF will not be uploaded from 08 February 2020 as promised to The Hindu Officials 
Disclaimer: The Hindu e-paper is a paid version. So, we stop uploading The Hindu e-paper
The Hindu epaper and The Hindu current affairs PDF
| Date | Delhi | Mumbai | Chennai | Bangaluru | Hyderabad | Vijayawada |
| --- | --- | --- | --- | --- | --- | --- |
| 09-07-2020 | https://vk.com/doc562341376_559009941?hash=7b9aa86421fc7d9012&dl=1ca55a4f196b3ac318 | https://vk.com/doc562341376_559009941?hash=7b9aa86421fc7d9012&dl=1ca55a4f196b3ac318 | https://vk.com/doc562341376_559009941?hash=7b9aa86421fc7d9012&dl=1ca55a4f196b3ac318 | https://vk.com/doc562341376_559009941?hash=7b9aa86421fc7d9012&dl=1ca55a4f196b3ac318 | https://vk.com/doc562341376_559009941?hash=7b9aa86421fc7d9012&dl=1ca55a4f196b3ac318 | https://vk.com/doc562341376_559009941?hash=7b9aa86421fc7d9012&dl=1ca55a4f196b3ac318 |
| 08-07-2020 | https://vk.com/doc562341376_558872592?hash=e14b934d9fe0fbf4ca&dl=c1cbcd08156d428831 | https://vk.com/doc562341376_558872592?hash=e14b934d9fe0fbf4ca&dl=c1cbcd08156d428831 | https://vk.com/doc562341376_558872592?hash=e14b934d9fe0fbf4ca&dl=c1cbcd08156d428831 | https://vk.com/doc562341376_558872592?hash=e14b934d9fe0fbf4ca&dl=c1cbcd08156d428831 | https://vk.com/doc562341376_558872592?hash=e14b934d9fe0fbf4ca&dl=c1cbcd08156d428831 | https://vk.com/doc562341376_558872592?hash=e14b934d9fe0fbf4ca&dl=c1cbcd08156d428831 |
| 07-07-2020 | https://drive.google.com/file/d/11AVVQmBFPLDmudCeIwGfEdMpLBWD-Z96/view?usp=sharing | https://drive.google.com/file/d/11AVVQmBFPLDmudCeIwGfEdMpLBWD-Z96/view?usp=sharing | https://drive.google.com/file/d/10yPO-MSso1AqXRT0DYuk0lmGZ0r400uw/view?usp=sharing | https://drive.google.com/file/d/11HykstPtNXOrhVnCuY4NV0Af302dFSUm/view?usp=sharing | https://drive.google.com/file/d/11DQ5FNuRwlnJHkc4V_vq37D291Gt0BBF/view?usp=sharing | https://drive.google.com/file/d/11DQ5FNuRwlnJHkc4V_vq37D291Gt0BBF/view?usp=sharing |
| 06-07-2020 | https://drive.google.com/file/d/1-Y_uiKctrF4yjHmKYrHq3b8bH3LS9dIl/view?usp=sharing | https://drive.google.com/file/d/1Y_9amhBgge51n246vQbZCus3kNAOdzAa/view?usp=sharing | https://drive.google.com/file/d/1QWjqtBLE1Afw411BOO0ENMkl-dX1dela/view?usp=sharing | https://drive.google.com/file/d/1ARe_Pq-nBvF7y3aJgVOFZ_JUmPC3_Tlx/view?usp=sharing | https://drive.google.com/file/d/1-8glvBW2iq1ocYHb9kZ2MoI9dtUMbkgY/view?usp=sharing | https://drive.google.com/file/d/1XRdbOoL-OtVYMjFoAz1TA1rbMhjwaBWs/view?usp=sharing |
| 02-07-2020 | https://drive.google.com/file/d/1FtyzAhygzN5rjULyybsnwQ5sNbb0zkrc/view?usp=sharing | https://drive.google.com/file/d/1WiiC8iSrpEEdVPEaKFWm3BPH7nrpPRv5/view?usp=sharing | https://drive.google.com/file/d/1QWjqtBLE1Afw411BOO0ENMkl-dX1dela/view?usp=sharing | https://drive.google.com/file/d/19Xnd0I6G5ohSupLta-f-ijPP7zRJNTYx/view?usp=sharing | https://drive.google.com/file/d/1P_RlbWtSs2iIc9-JkSfk2XnmkBPi5yOQ/view?usp=sharing | https://drive.google.com/file/d/1XRdbOoL-OtVYMjFoAz1TA1rbMhjwaBWs/view?usp=sharing |
| 01-07-2020 | https://drive.google.com/file/d/1DNxkNwBuH_S7PyNWm6OkOsFbQ16pGA5y/view?usp=sharing | https://drive.google.com/file/d/13raAhuD5g9szpfvvPwQIE8CzQJaoOILT/view?usp=sharing | https://drive.google.com/file/d/1Gu6jft9ax2MDVzi5SqYn5Y37NTYPMvW8/view?usp=sharing | https://drive.google.com/file/d/1-N7ohiOaHGNFv106-iPp-Eg6B-e4IQAp/view?usp=sharing | https://drive.google.com/file/d/1cHLWxx0aOf8gCsLG4pEip6RonPTcfsQ7/view?usp=sharing | https://drive.google.com/file/d/1saIetXV-08BlGVO4m9SiWTY8-28SPkJz/view?usp=sharing |
| 30-06-2020 | https://drive.google.com/file/d/1rlvOF35kveyDoqk-aoTkkSbIYgHMHYz-/view?usp=sharing | https://drive.google.com/file/d/1lwc9AOr0bMS6OHoX6PsYj5U0taR24_Br/view?usp=sharing | https://drive.google.com/file/d/1FnlncJXRn8CBY7mBt3hr5TwLV9DYzEZb/view?usp=sharing | https://drive.google.com/file/d/1ZFWL9np3KzlRERdSfShdnMqJuOYjgm1S/view?usp=sharing | https://drive.google.com/file/d/1fXMK782_EnLsJAN1YrvuxufqsGgv6IdI/view?usp=sharing | https://drive.google.com/file/d/1hF_IOZrYvMGT7omXyDwG97tgoEInHX4M/view?usp=sharing |
| 29-06-2020 | https://drive.google.com/file/d/1b3vxF7u5BJvi6FMUmzrwWlvDzxNC2HmG/view?usp=sharing | https://drive.google.com/file/d/1t65C6Git9E-BgioEJQAZRKYwOTki_Pwo/view?usp=sharing | https://drive.google.com/file/d/14H78ipw1vCaLMifduwvxpUNQfGO-i01r/view?usp=sharing | https://drive.google.com/file/d/1iF76Mu1Obcv4CK_jLDFDYmOqRbb4VYbq/view?usp=sharing | https://drive.google.com/file/d/1LmsJasspIpuglrrUpD33ZxLLjOuQlp63/view?usp=sharing | https://drive.google.com/file/d/11uHBmyDBa6MjKrvxT7BNo1Y_uCO9m5qh/view?usp=sharing |
| 28-06-2020 | https://drive.google.com/file/d/15EsrvLrCkwL9u6zMek6NUUhw5mI-7SrB/view?usp=sharing | https://drive.google.com/file/d/1dRVXGLD4aSu_0RICafwtlY7lZp-ojTI9/view?usp=sharing | https://drive.google.com/file/d/1JurnLNvlcO1jeVdMTRaFbN2lU_GDP0ua/view?usp=sharing | https://drive.google.com/file/d/1c3qBOgLh9M-hKkF9VarKGtwhxW2FoSrT/view?usp=sharing | https://drive.google.com/file/d/19nXNpJQJ-xmbnKDwrKF7VmjN_Mwg-G8v/view?usp=sharing | https://drive.google.com/file/d/1FxEPci5YtdYI5xQFXCcnheBSq5n9veR9/view?usp=sharing |
| 27-06-2020 | https://drive.google.com/file/d/1bo8qH3MB6K2QFqDRDf-RNGnqsy6vACft/view?usp=sharing | https://drive.google.com/file/d/1avDsI6wnXhCByytYElEiCaDeYboR7_Iy/view?usp=sharing | https://drive.google.com/file/d/1kVHTrOf064O3LhPTcur3qD1SGwwod9wD/view?usp=sharing | https://drive.google.com/file/d/1FoJDEnplxLvwg-990g-4_wErKvyNd5Ay/view?usp=sharing | https://drive.google.com/file/d/1WEmaxsTGHJE32NDtfteWIdS2mFsJ1DP-/view?usp=sharing | https://drive.google.com/file/d/1xGgrsuk7zqhnyb61sE5xgQPs1r9sxH_1/view?usp=sharing |
| 26-06-2020 | https://drive.google.com/file/d/181gm8pdoVlJWyP76MCQ13jy6ACOJnnKw/view?usp=sharing | https://drive.google.com/file/d/181gm8pdoVlJWyP76MCQ13jy6ACOJnnKw/view?usp=sharing | https://drive.google.com/file/d/1OOyUeybhf_ZqCpxFxwBlB-UfA0TNidaX/view?usp=sharing | https://drive.google.com/file/d/1p0w5Z5vvJs79erjthggzmWh25U2NuAse/view?usp=sharing | https://drive.google.com/file/d/1hXI-h5GBotC9QHymMJ5RlR502KqDNp_n/view?usp=sharing | https://drive.google.com/file/d/1pY3uqcgz2aIYBAEwkLEWKGZhx-lUpaRL/view?usp=sharing |
| 25-06-2020 | https://drive.google.com/file/d/10USFOWEFbtjDs6etHD1qWgKxgEhE89cJ/view?usp=sharing | https://drive.google.com/file/d/1HLz-mzeK3JVYx3vicHpeVdtHFMd-EECT/view?usp=sharing | https://drive.google.com/file/d/1BkSNbJiJ1a05RrrE2LxVt0i6T3Mpk7ZO/view?usp=sharing | https://drive.google.com/file/d/1-3TLWlD7gA2JOrg_W-yWC8hwfp-EJVNm/view?usp=sharing | https://drive.google.com/file/d/1uvAIW8A0wY07r7CxrNU23I18YjfWALLL/view?usp=sharing | https://drive.google.com/file/d/1DI32iedXu-sXQzbwkW7XaPpPzru3qgOT/view?usp=sharing |
| 24-06-2020 | https://drive.google.com/file/d/1lJtV331RSPtUM_jOrdScugXWf1vUUYeL/view?usp=sharing | https://drive.google.com/file/d/1lJtV331RSPtUM_jOrdScugXWf1vUUYeL/view?usp=sharing | https://drive.google.com/file/d/1wFrI3wh_f1gY2p_y63IOFMpPvUL5TSXX/view?usp=sharing | https://drive.google.com/file/d/1NSGI_j3Nevzolj3zuZM6Ho4YO3sSBkZo/view?usp=sharing | https://drive.google.com/file/d/1ZpWNxYt_RsO0H6WDo_uTqF87m2S71nlY/view?usp=sharing | https://drive.google.com/file/d/1dOeB83GKFtJM9ZGHLNHNhdrhgeK0nAoL/view?usp=sharing |
| 23-06-2020 | https://drive.google.com/file/d/1YZO-cNSIeIh363PNy1FWwqh01oobrckG/view?usp=sharing | https://drive.google.com/file/d/1tF0WQ7Ux1htGftBebqhGhgnXzjOIuHAM/view?usp=sharing | https://drive.google.com/file/d/1vyPN9i4pLk9kJLGegrbOc5GqMvoapcqT/view?usp=sharing | https://drive.google.com/file/d/15RUKrMZC-GOY4lTPMIz0YNV4zHmWpavR/view?usp=sharing | https://drive.google.com/file/d/1htDdeBjMvZilYxFzr01mAkfEpVJ6cND3/view?usp=sharing | https://drive.google.com/file/d/1gPddf5XTosSxit_qyJVGcot3Nij03ipO/view?usp=sharing |
| 22-06-2020 | https://drive.google.com/file/d/1ve86QCZWraLQWO9MuZyswZOHf8rkCcOO/view?usp=sharing | https://drive.google.com/file/d/1U4wASCVydDnMNLET5Fq2pf29dfjjqZqs/view?usp=sharing | https://drive.google.com/file/d/1qQKsN0LdM3Ou_LwHyab3ad_Oo9fcI7Pz/view?usp=sharing | https://drive.google.com/file/d/1RCZhOkjXZSuIu_EbNbmDNUWEviLDCt20/view?usp=sharing | https://drive.google.com/file/d/1iud70aBG7F2EiG15oKovpfAF0HHQMQ3D/view?usp=sharing | https://drive.google.com/file/d/1HMQgEXZKtaR_pp23Riwu6tn9DDgWZ_9K/view?usp=sharing |
| 21-06-2020 | https://drive.google.com/file/d/1D6oymRtyxsvZwEwg1nShqo7u1Dt1LWhe/view?usp=sharing | https://drive.google.com/file/d/1KLY5N0-Uw6IqFW0_SNksINL1IcVSI99D/view?usp=sharing | https://drive.google.com/file/d/1Va90aEeKvqrrY87AhIq5Eq1chRopCpKz/view?usp=sharing | https://drive.google.com/file/d/14JxqLf0ybgP5MpsIXxLiGcqfVdqwyTIx/view?usp=sharing | https://drive.google.com/file/d/1uZS79eWxzlVft6leX2q1em3EmqeTjZ3z/view?usp=sharing | https://drive.google.com/file/d/1dHjpSqPZ6MCCfmmsNaTzY4Xcq0MAr5EU/view?usp=sharing |
| 20-06-2020 | https://drive.google.com/file/d/1w7ssaQVHzELtF62tKesFqvRpH2Jpdyq9/view?usp=sharing | https://drive.google.com/file/d/1E0I1ffIFfAzdie8GZnZKT-swejQxCIzT/view?usp=sharing | https://drive.google.com/file/d/16uREIDPSj-LeMFqi6PlrthliOLbZK7Mt/view?usp=sharing | https://drive.google.com/file/d/1tes3XGdLWZQ6YrpsyQc2W-lxBj8M4-wx/view?usp=sharing | https://drive.google.com/file/d/1fIv7A57FR1YPYwirMNiDbV0lUP_wDUVc/view?usp=sharing | https://drive.google.com/file/d/15yiBs8RFxqdQdjOqzs5osvljmZsrdkRA/view?usp=sharing |
| 19-06-2020 | https://drive.google.com/file/d/1rAfUnH46kgd0B_bzx6sZdjgWj6V3l93u/view?usp=sharing | https://drive.google.com/file/d/1ooR033QM0G4kbRjlD2XZbPRTOc0InaqG/view?usp=sharing | https://drive.google.com/file/d/1dTDoFnetoQteQddYOo58FHFQ_3MXOWXl/view?usp=sharing | https://drive.google.com/file/d/1OB5LjuXofWBIWYdvB5P0h2Swe8llh0b1/view?usp=sharing | https://drive.google.com/file/d/1r5ZxTDW6BL318G2A5cmqRJ1equTP4lKA/view?usp=sharing | https://drive.google.com/file/d/1Dykhb-o-z-Czomm8pwPjJ50Vy7NZTF1i/view?usp=sharing |
| 18-06-2020 | https://drive.google.com/file/d/1aPKItWhIAs3NaZGVe5jz4rWLgjTuIzdY/view?usp=sharing | https://drive.google.com/file/d/1aPKItWhIAs3NaZGVe5jz4rWLgjTuIzdY/view?usp=sharing | https://drive.google.com/file/d/1ejo5vhnBqza92yMWDIsDI6XjuAi7t4uD/view?usp=sharing | https://drive.google.com/file/d/1mb0pA5ieUJKKl6oyvh28xpttOXfo_MjY/view?usp=sharing | https://drive.google.com/file/d/1tojeoPaGbn0S0paU9YdU0IGR_eqpOMvl/view?usp=sharing | https://drive.google.com/file/d/1lCE-CIcq63KKiuoWjOnZpwe-dtKhAOqG/view?usp=sharing |
| 17-06-2020 | https://drive.google.com/file/d/1YohQwLQEUe77-28Go5V-FKUQ-YnYa3Er/view?usp=sharing | https://drive.google.com/file/d/1ReYC4BxnmfdfZ-4Y7Fbi6TbGrP6ZdEUP/view?usp=sharing | https://drive.google.com/file/d/17XrkB2E5r-eeY9vqT1UMVejZk4h-Cpd_/view?usp=sharing | https://drive.google.com/file/d/1iJm8oWEe6xkBWJZwqGQ4cGEpafKu4sXF/view?usp=sharing | https://drive.google.com/file/d/1bKzmBa84HBwC8_xKcqruVyDWiYuLhKxG/view?usp=sharing | https://drive.google.com/file/d/1MzkFYN-MH_XIz2Slazbych-xJuqnL4A_/view?usp=sharing |
| 16-06-2020 | https://drive.google.com/file/d/1tLdXoX7hthWDcMBVxpyqOJ1ptxiQAG8t/view?usp=sharing | https://drive.google.com/file/d/1olgIGqHwyUj9eaZH-ixa4xYSLTpwUVUI/view?usp=sharing | https://drive.google.com/file/d/1KxphnnNeYK1eynOxZz_MNnRNptzHBBVf/view?usp=sharing | https://drive.google.com/file/d/151iNEpDORE5zUF-NDyzmxdLduavc2dyW/view?usp=sharing | https://drive.google.com/file/d/1PZOHNZ05zaCYL1o3-yfyblL9zh6zGmew/view?usp=sharing | https://drive.google.com/file/d/1LNm3QWlJCNyYwGmEVx-DlERBYCutnYJQ/view?usp=sharing |
| 15-06-2020 | https://drive.google.com/file/d/1VOwbSTmZV3EBe24_OTKs_Cg-QyDrekiX/view?usp=sharing | https://drive.google.com/file/d/1xRwTKsj-S_4r17aJedPtzDjWtHMbGVE5/view?usp=sharing | https://drive.google.com/file/d/1MGiW66YshTkpVCHB6j2j4OYnPNb3zDz6/view?usp=sharing | https://drive.google.com/file/d/1tkZqiaakzYVgDTQsQzMUlqYLkhtjEVEU/view?usp=sharing | https://drive.google.com/file/d/1e-UDkJUfkZstL3P75I4iMxjFUrUf44hP/view?usp=sharing | https://drive.google.com/file/d/1vwRwMqbdFHtcvKOL421ylHr8wRooLWY-/view?usp=sharing |
| 14-06-2020 | https://drive.google.com/file/d/1AP7n4cIzUghOHrwoY2k5ZBvz3MZ7FkFB/view?usp=sharing | https://drive.google.com/file/d/1i-UFmpEJUaBTdeU5AcvRXAW_Y5fVQukL/view?usp=sharing | https://drive.google.com/file/d/1Okes04GV8vraBHIv50E-tpTurwpCrxfX/view?usp=sharing | https://drive.google.com/file/d/1MRVikP2kFAxscEC93tND3wQuMXrFntDE/view?usp=sharing | https://drive.google.com/file/d/1Rl7v0ay-1NLm8N21C4JAKhvSKuCrEXHO/view?usp=sharing | https://drive.google.com/file/d/1od8cacOZQ5-XZSzlF-uCNeDoSC_eUi7E/view?usp=sharing |
| 13-06-2020 | https://drive.google.com/file/d/1EcjNUJ_-IHpn70PdPWq6uvYingDSqVWH/view?usp=sharing | https://drive.google.com/file/d/1tIMDmkIpW6kBDZ-MbefJASrW1swAQ14t/view?usp=sharing | https://drive.google.com/file/d/1NcXW-SajWWvit874xJk7GEYYuy9yBhFV/view?usp=sharing | https://drive.google.com/file/d/1876VAYVy5GSe4jy3cfUEnxXCN7J4kk0V/view?usp=sharing | https://drive.google.com/file/d/1x0kBGWBcrQngGQ_fdgCjmIaMJJ5iSan0/view?usp=sharing | https://drive.google.com/file/d/1aQKW5wSWXwKIbwh-lnri_luBFWumDA8n/view?usp=sharing |
| 12-06-2020 | https://drive.google.com/file/d/1Y5vnIBYSN7DQMxjPSpKpal4Af7gqqD1U/view?usp=sharing | https://drive.google.com/file/d/1BIpgASKdtSosq5QUrNDXF4r1WouasSAY/view?usp=sharing | https://drive.google.com/file/d/1cUoAZWMhCnQppcnwjRGdgTMS9hVuYayf/view?usp=sharing | https://drive.google.com/file/d/1fiXasFgvOR4WGTIpGz_kwwCyZcwwhZe4/view?usp=sharing | https://drive.google.com/file/d/1nDDXoe4n9H_Rqmm7h171Nb8sweo7anDA/view?usp=sharing | https://drive.google.com/file/d/1xPrs_CjncRoXiZBYcEpn3xpyjFI6E0nE/view?usp=sharing |
| 11-06-2020 | https://drive.google.com/file/d/13Hf5NNQ0sZ_GyidGB4MihEEyVGiv8HQK/view?usp=sharing | https://drive.google.com/file/d/14eOPZBILif3HQRQ5M1LqZykWtgdIVuSr/view?usp=sharing | https://drive.google.com/file/d/1WisJ16n_k7vaUIPvLjLJXelu9XpvNVnE/view?usp=sharing | https://drive.google.com/file/d/1X0ObnFyaaL1ofeky022Bq0r2Kqk21S82/view?usp=sharing | https://drive.google.com/file/d/1aJKD3tk5szpX9l7QHojWp6k3GMdS7qBK/view?usp=sharing | https://drive.google.com/file/d/1wi6TDcvniJJVb6RbGqvuwuhAFUdC2Xx0/view?usp=sharing |
| 10-06-2020 | https://drive.google.com/file/d/1UOSAuLew8m1mWoNpAU3wKZw2xxwfGOLU/view?usp=sharing | https://drive.google.com/file/d/1dwzEZ8uzE9BX00EHyz9N8GTt8xw_xOK6/view?usp=sharing | https://drive.google.com/file/d/1ED8oIZozpSRct_135p_cCla3loaBW7mD/view?usp=sharing | https://drive.google.com/file/d/1BgDaUNkYmkKIuHWOh7JkjPYg0TtXE6EE/view?usp=sharing | https://drive.google.com/file/d/1CtFApduS3XHwIjVC4Nc9oKA6aD2Vqjty/view?usp=sharing | https://drive.google.com/file/d/1BAPxkRV2cylxL9G6G0qv_BiKK1bJQ-oV/view?usp=sharing |
| 09-06-2020 | https://drive.google.com/file/d/1PsiTTUshxot3KdHPNqtIE79soy8qJm0P/view?usp=sharing | https://drive.google.com/file/d/1Pp_srkhq1xKZJdYbgZCrKZ6gyj_VSaN8/view?usp=sharing | https://drive.google.com/file/d/1NK6L9wLz10JaTl69ZhkgQZIynylvXpSl/view?usp=sharing | https://drive.google.com/file/d/1Op8XII7x4s8F9joWeEON2-wp_t6bpiP7/view?usp=sharing | https://drive.google.com/file/d/18tUvmDbXDct34MU-SQATPMm9LSOoxeHf/view?usp=sharing | https://drive.google.com/file/d/1tDu5b2VN6BElDNB0BNd-zCDOhhqCtlh6/view?usp=sharing |
| 08-06-2020 | https://drive.google.com/file/d/1xPwpjzgJVB5FBG73juVs31cGz09oBLq6/view?usp=sharing | https://drive.google.com/file/d/1b1_G4We7NWYsc7kNqXWFdZaR4eqvGtHM/view?usp=sharing | https://drive.google.com/file/d/1dnvJe5i8AQQfggbc6Ug-Oo20J5XRGjI5/view?usp=sharing | https://drive.google.com/file/d/1lbTHabE4AUuPVZXF0je2okoXvAb5EimA/view?usp=sharing | https://drive.google.com/file/d/177mOVPJFBGEYPu-bA1oQjhnJbAX10byc/view?usp=sharing | https://drive.google.com/file/d/1Crc3oIUAtYPn6a9oRCHoRCdmvBZnlUH-/view?usp=sharing |
| 07-06-2020 | https://drive.google.com/file/d/1Usq-6QAogrAAupG07OuRCNyU5Cr4HWKl/view?usp=sharing | https://drive.google.com/file/d/1jGmawEosNhdDEnPzaWNDejND09A6O5D8/view?usp=sharing | https://drive.google.com/file/d/1bWAeq25ffZqpiDJRwlYC74iKpN4S8KIM/view?usp=sharing | https://drive.google.com/file/d/1fFlEBvEXkXT9NgIPCrNtPeP5FaBXjgrJ/view?usp=sharing | https://drive.google.com/file/d/1zuhJS-8GTqJUBFHuBGbq8ohGwi1fuoyA/view?usp=sharing | https://drive.google.com/file/d/1H9_jjaseF9UnDjUtxQZlLIL0llen31WZ/view?usp=sharing |
| 06-06-2020 | https://drive.google.com/file/d/12RBQ7r1ucgLU7-2KgfZYgjanEcUcS3eH/view?usp=sharing | https://drive.google.com/file/d/1yLgxg5LO0fuUY_IVyBpnD5-4JMOZxxyQ/view?usp=sharing | https://drive.google.com/file/d/1igaPZ27jsAMkTAKPHiZVT750HcaYnk5Y/view?usp=sharing | https://drive.google.com/file/d/1lPp7Ocgv94G7uGJHj161wrMtj6zmk_lT/view?usp=sharing | https://drive.google.com/file/d/1U4-gyLzPsKgxJchxRV7C0UViq8CWlQqH/view?usp=sharing | https://drive.google.com/file/d/1aUuTWtzbPco_C6VRQKlZh209Up5iZHMQ/view?usp=sharing |
| 05-06-2020 | https://drive.google.com/file/d/1o3nXY9a_nuelT9SDpqqlGcbqRq59rBDM/view?usp=sharing | https://drive.google.com/file/d/1TmPhgfRjaJpSWHatDz6-jKJrN_Xu8AwQ/view?usp=sharing | https://drive.google.com/file/d/1lbGutG48u4SUoqnF_uXox_EuXaLMVQAp/view?usp=sharing | https://drive.google.com/file/d/1S4bVDydW2jk5uWxwZT5OaBPir5D1Z3bg/view?usp=sharing | https://drive.google.com/file/d/1QV_1X4ZsGXEKz1Peb4tdSr1COgI0-bF5/view?usp=sharing | https://drive.google.com/file/d/1BV0FD6JboVsE64Wk2RpAmS0X7B0HKr9E/view?usp=sharing |
| 03-06-2020 | https://drive.google.com/file/d/1clo9EjYd90nVD5PwX03UQACan_ip6jwX/view?usp=sharing | https://drive.google.com/file/d/1ATOgLF9WFOscZFyOfT3XN-7ydW_B20CR/view?usp=sharing | https://drive.google.com/file/d/1u5TaWtbCyWNHpdNSirkV-D6wRYAdVApm/view?usp=sharing | https://drive.google.com/file/d/1znpiX2kdqcbc4fOrrLiylSMUFiTmMQU_/view?usp=sharing | https://drive.google.com/file/d/1kDASkCXgE4rUNHjLLeYxf1TP3BKTPcGI/view?usp=sharing | https://drive.google.com/file/d/1yWiX6vKdrxIti1Ox0WAZtGF0pMpz1FgB/view?usp=sharing |
| 02-06-2020 | https://drive.google.com/file/d/1XDAGnvEZvYKT-TudNXWT4XMGcnIzTYI9/view?usp=sharing | https://drive.google.com/file/d/1T8eFMf_hNNk0Z9TUbG5qXPGKlkDChfq7/view?usp=sharing | https://drive.google.com/file/d/1AkbrPcSZmrYSaH-ITAkrhzNtFGA8c_-u/view?usp=sharing | https://drive.google.com/file/d/18Z3hAqLpTrof16VrEhUXVhC2rbc63reP/view?usp=sharing | https://drive.google.com/file/d/190_J9zkGGCgDtLfhww2Ui2AYio4HfLFh/view?usp=sharing | https://drive.google.com/file/d/1anPX5XHYHa9mSlIh-jypQuvnPVY-QsWT/view?usp=sharing |
| 01-06-2020 | https://drive.google.com/open?id=115CfSnikcnOrbVAeVN61ucImd6DqmSc9 | https://drive.google.com/open?id=1ER1rVWKW-_W8UNlc_yop2McGNNcBDQLN | https://drive.google.com/open?id=11mQOplBjFeY2AfJ9gMM0MWLe_FwPo_T5 | https://drive.google.com/open?id=19f3EIXykvGYcFxvh1z9vZpQG4cjNyLiw | https://drive.google.com/open?id=1SnRPW6EAGwFXf3bQBApx6gIVq3N-iCeW | https://drive.google.com/open?id=1sKYzoD4E-tXLqHndwpRvCEn5bXEZ7JW0 |