Indian Express epaper PDF: Indian Express Newspaper PDF Download is Daily English Newspaper. It is the best newspaper in India. We have updated Indian Express epaper PDF Download Links.
Hi readers, we are providing Indian Express epaper pdf google drive link daily which are freely available on internet. Who want to download Indian Express newspaper pdf google drive file date wise which we given at the end of this post. Readers download today's Indian Express newspaper 2020 and read it on your mobile or pc offline. We had provided adfree Indian Express google drive newspaper regularly.
About Indian Express epaper PDF | English epaper PDF
Indian Express Limited is an Indian news media publishing company. It publishes several widely circulated dailies, including The Indian Express and The Financial Express in English, the Loksatta in Marathi and the Jansatta in Hindi. The company's newspapers are published from over a dozen cities daily, including New Delhi, Mumbai, Ahmedabad, Bengaluru, Kolkata, Pune, Chandigarh, Hyderabad, Kochi, Lucknow, Jaipur, Nagpur, Vadodara and Chennai. Its weekly entertainment magazine Screen, covering Indian film industry, also has a popular following
On 2 November 2006, the Indian Express Group signed a print syndication deal with The Economist, which included allowing the Indian Express Group to publish surveys, some reports, and various other content published in The Economist magazine
| | |
| --- | --- |
| Type | Daily English newspaper |
| Format | Broadsheet |
| Owner(s) | Vivek Goenka |
| Founder(s) | Ramnath Goenka |
| Publisher | N. Ravi |
| Editor | Suresh Nambath |
| Founded | 1932 |
| Language | English |
| Headquarters | New Delhi, India |
| Country | India |
| Website | https://indianexpress.com/ |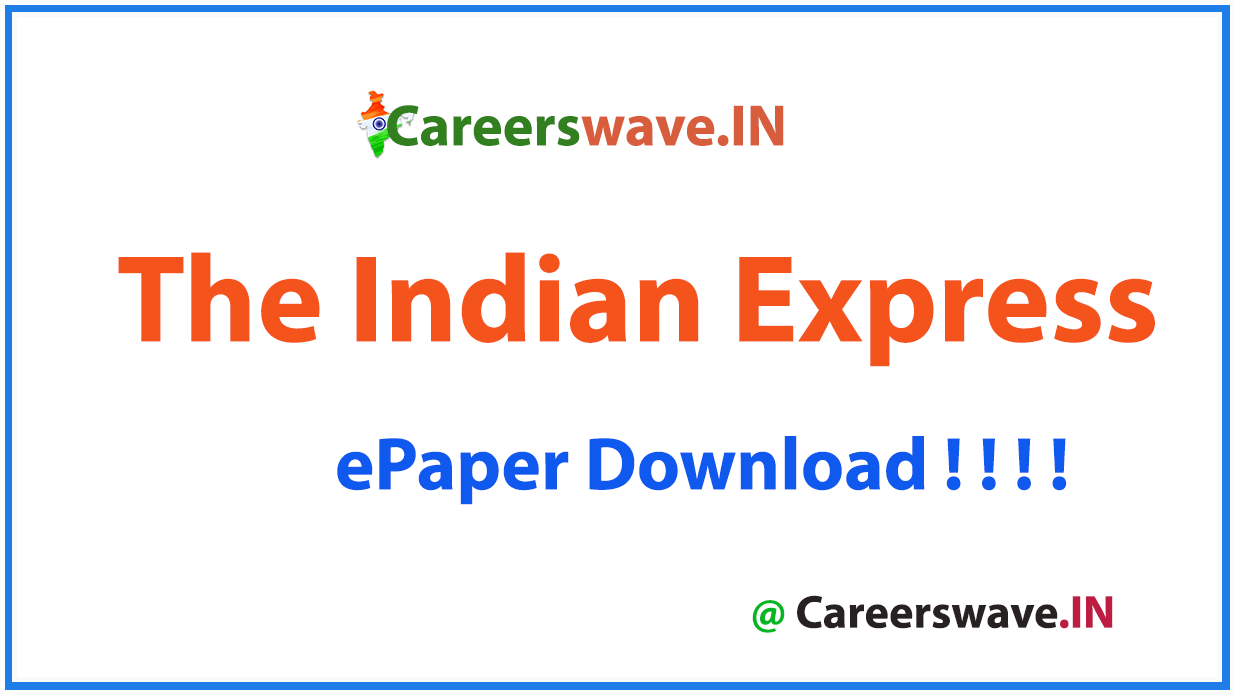 How to download Indian Express Epaper PDF?
We are daily uploading Indian Express Newspaper PDF which is absolutely free of cost to download Indian Express e-paper. Scroll down the page and find out the download link by date wise of Indian Express e-paper.
When do I get Indian Express Epaper pdf?
You can get English Newspaper pdf link is available in the morning between 6:00 AM to 7:00 AM. If there any technical issue please comment below.
Why should you read Indian Express epaper pdf?
Indian Express newspaper differentiates between news and opinions. English news paper gives priority to areas of national concern & local issues. If you want to read whole newspaper it takes more time, you have to read it in smart way. By reading daily Indian Express English gradually your vocabulary & communication skills will improve.
Indian Express newspaper PDF Disclaimer
We are not the owner of the paper Indian Express. We are just sharing Indian Express English pdf file which is available on internet.
Indian Express English epaper PDF adfree google drive link
Here we are sharing the download link of Indian Express English PDF Daily and readers can download Indian Express English newspaper pdf. We try always to give to Indian Express English PDF as early as possible. Download Process is very easy to use. Just Click on the below Download Link and you will get Indian Express English PDF file and read it offline.
Important Notice for Copyright Issue:
We are not the owner of the Indian Express epaper , we are just sharing the pdf file of the epaper which is already freely available on the Internet. Therefore, we are just sharing the link only for Educational purposes Indian Express newspaper. If, anyone has any questions about violating the rules and regulation of Indian Express, please contact us. we are helping the poor students who are not able to effort to buy newspaper. our email address: [email protected]
Download more Newspapers
Download The Hindu PDF Adfree epaper.
Download Times of India PDF Adfree epaper.
Download Today's The Indian Express ePaper in PDF
Today Indian Express full Newspaper PDF
Readers click below button to download Indian Express official epaper
[If do not find file please reload/refresh again/comment]




| Date | Delhi | Mumbai | Pune | Lucknow | Ahmedabad | Kolkata | Jaipur | Chandigarh |
| --- | --- | --- | --- | --- | --- | --- | --- | --- |
| 24-01-2021 | https://pdf.indianexpress.com/pdfupload/icici/ie-delhi-24-01-2021.pdf | https://pdf.indianexpress.com/pdfupload/icici/ie-mumbai-24-01-2021.pdf | https://pdf.indianexpress.com/pdfupload/icici/ie-pune-24-01-2021.pdf | https://pdf.indianexpress.com/pdfupload/icici/ie-lucknow-24-01-2021.pdf | https://pdf.indianexpress.com/pdfupload/icici/ie-ahmedabad-24-01-2021.pdf | https://pdf.indianexpress.com/pdfupload/icici/ie-kolkata-24-01-2021.pdf | https://pdf.indianexpress.com/pdfupload/icici/ie-jaipur-24-01-2021.pdf | https://pdf.indianexpress.com/pdfupload/icici/ie-chandigarh-24-01-2021.pdf |
| 23-01-2021 | https://pdf.indianexpress.com/pdfupload/icici/ie-delhi-23-01-2021.pdf | https://pdf.indianexpress.com/pdfupload/icici/ie-mumbai-23-01-2021.pdf | https://pdf.indianexpress.com/pdfupload/icici/ie-pune-23-01-2021.pdf | https://pdf.indianexpress.com/pdfupload/icici/ie-lucknow-23-01-2021.pdf | https://pdf.indianexpress.com/pdfupload/icici/ie-ahmedabad-23-01-2021.pdf | https://pdf.indianexpress.com/pdfupload/icici/ie-kolkata-23-01-2021.pdf | https://pdf.indianexpress.com/pdfupload/icici/ie-jaipur-23-01-2021.pdf | https://pdf.indianexpress.com/pdfupload/icici/ie-chandigarh-23-01-2021.pdf |
| 22-01-2021 | https://pdf.indianexpress.com/pdfupload/icici/ie-delhi-22-01-2021.pdf | https://pdf.indianexpress.com/pdfupload/icici/ie-mumbai-22-01-2021.pdf | https://pdf.indianexpress.com/pdfupload/icici/ie-pune-22-01-2021.pdf | https://pdf.indianexpress.com/pdfupload/icici/ie-lucknow-22-01-2021.pdf | https://pdf.indianexpress.com/pdfupload/icici/ie-ahmedabad-22-01-2021.pdf | https://pdf.indianexpress.com/pdfupload/icici/ie-kolkata-22-01-2021.pdf | https://pdf.indianexpress.com/pdfupload/icici/ie-jaipur-22-01-2021.pdf | https://pdf.indianexpress.com/pdfupload/icici/ie-chandigarh-22-01-2021.pdf |
| 21-01-2021 | https://pdf.indianexpress.com/pdfupload/icici/ie-delhi-21-01-2021.pdf | https://pdf.indianexpress.com/pdfupload/icici/ie-mumbai-21-01-2021.pdf | https://pdf.indianexpress.com/pdfupload/icici/ie-pune-21-01-2021.pdf | https://pdf.indianexpress.com/pdfupload/icici/ie-lucknow-21-01-2021.pdf | https://pdf.indianexpress.com/pdfupload/icici/ie-ahmedabad-21-01-2021.pdf | https://pdf.indianexpress.com/pdfupload/icici/ie-kolkata-21-01-2021.pdf | https://pdf.indianexpress.com/pdfupload/icici/ie-jaipur-21-01-2021.pdf | https://pdf.indianexpress.com/pdfupload/icici/ie-chandigarh-21-01-2021.pdf |
| 20-01-2021 | https://pdf.indianexpress.com/pdfupload/icici/ie-delhi-20-01-2021.pdf | https://pdf.indianexpress.com/pdfupload/icici/ie-mumbai-20-01-2021.pdf | https://pdf.indianexpress.com/pdfupload/icici/ie-pune-20-01-2021.pdf | https://pdf.indianexpress.com/pdfupload/icici/ie-lucknow-20-01-2021.pdf | https://pdf.indianexpress.com/pdfupload/icici/ie-ahmedabad-20-01-2021.pdf | https://pdf.indianexpress.com/pdfupload/icici/ie-kolkata-20-01-2021.pdf | https://pdf.indianexpress.com/pdfupload/icici/ie-jaipur-20-01-2021.pdf | https://pdf.indianexpress.com/pdfupload/icici/ie-chandigarh-20-01-2021.pdf |
| 19-01-2021 | https://pdf.indianexpress.com/pdfupload/icici/ie-delhi-19-01-2021.pdf | https://pdf.indianexpress.com/pdfupload/icici/ie-mumbai-19-01-2021.pdf | https://pdf.indianexpress.com/pdfupload/icici/ie-pune-19-01-2021.pdf | https://pdf.indianexpress.com/pdfupload/icici/ie-lucknow-19-01-2021.pdf | https://pdf.indianexpress.com/pdfupload/icici/ie-ahmedabad-19-01-2021.pdf | https://pdf.indianexpress.com/pdfupload/icici/ie-kolkata-19-01-2021.pdf | https://pdf.indianexpress.com/pdfupload/icici/ie-jaipur-19-01-2021.pdf | https://pdf.indianexpress.com/pdfupload/icici/ie-chandigarh-19-01-2021.pdf |
| 18-01-2021 | https://pdf.indianexpress.com/pdfupload/icici/ie-delhi-18-01-2021.pdf | https://pdf.indianexpress.com/pdfupload/icici/ie-mumbai-18-01-2021.pdf | https://pdf.indianexpress.com/pdfupload/icici/ie-pune-18-01-2021.pdf | https://pdf.indianexpress.com/pdfupload/icici/ie-lucknow-18-01-2021.pdf | https://pdf.indianexpress.com/pdfupload/icici/ie-ahmedabad-18-01-2021.pdf | https://pdf.indianexpress.com/pdfupload/icici/ie-kolkata-18-01-2021.pdf | https://pdf.indianexpress.com/pdfupload/icici/ie-jaipur-18-01-2021.pdf | https://pdf.indianexpress.com/pdfupload/icici/ie-chandigarh-18-01-2021.pdf |
| 17-01-2021 | https://pdf.indianexpress.com/pdfupload/icici/ie-delhi-17-01-2021.pdf | https://pdf.indianexpress.com/pdfupload/icici/ie-mumbai-17-01-2021.pdf | https://pdf.indianexpress.com/pdfupload/icici/ie-pune-17-01-2021.pdf | https://pdf.indianexpress.com/pdfupload/icici/ie-lucknow-17-01-2021.pdf | https://pdf.indianexpress.com/pdfupload/icici/ie-ahmedabad-17-01-2021.pdf | https://pdf.indianexpress.com/pdfupload/icici/ie-kolkata-17-01-2021.pdf | https://pdf.indianexpress.com/pdfupload/icici/ie-jaipur-17-01-2021.pdf | https://pdf.indianexpress.com/pdfupload/icici/ie-chandigarh-17-01-2021.pdf |
| 16-01-2021 | https://pdf.indianexpress.com/pdfupload/icici/ie-delhi-16-01-2021.pdf | https://pdf.indianexpress.com/pdfupload/icici/ie-mumbai-16-01-2021.pdf | https://pdf.indianexpress.com/pdfupload/icici/ie-pune-16-01-2021.pdf | https://pdf.indianexpress.com/pdfupload/icici/ie-lucknow-16-01-2021.pdf | https://pdf.indianexpress.com/pdfupload/icici/ie-ahmedabad-16-01-2021.pdf | https://pdf.indianexpress.com/pdfupload/icici/ie-kolkata-16-01-2021.pdf | https://pdf.indianexpress.com/pdfupload/icici/ie-jaipur-16-01-2021.pdf | https://pdf.indianexpress.com/pdfupload/icici/ie-chandigarh-16-01-2021.pdf |
| 15-01-2021 | https://pdf.indianexpress.com/pdfupload/icici/ie-delhi-15-01-2021.pdf | https://pdf.indianexpress.com/pdfupload/icici/ie-mumbai-15-01-2021.pdf | https://pdf.indianexpress.com/pdfupload/icici/ie-pune-15-01-2021.pdf | https://pdf.indianexpress.com/pdfupload/icici/ie-lucknow-15-01-2021.pdf | https://pdf.indianexpress.com/pdfupload/icici/ie-ahmedabad-15-01-2021.pdf | https://pdf.indianexpress.com/pdfupload/icici/ie-kolkata-15-01-2021.pdf | https://pdf.indianexpress.com/pdfupload/icici/ie-jaipur-15-01-2021.pdf | https://pdf.indianexpress.com/pdfupload/icici/ie-chandigarh-15-01-2021.pdf |
| 14-01-2021 | https://pdf.indianexpress.com/pdfupload/icici/ie-delhi-14-01-2021.pdf | https://pdf.indianexpress.com/pdfupload/icici/ie-mumbai-14-01-2021.pdf | https://pdf.indianexpress.com/pdfupload/icici/ie-pune-14-01-2021.pdf | https://pdf.indianexpress.com/pdfupload/icici/ie-lucknow-14-01-2021.pdf | https://pdf.indianexpress.com/pdfupload/icici/ie-ahmedabad-14-01-2021.pdf | https://pdf.indianexpress.com/pdfupload/icici/ie-kolkata-14-01-2021.pdf | https://pdf.indianexpress.com/pdfupload/icici/ie-jaipur-14-01-2021.pdf | https://pdf.indianexpress.com/pdfupload/icici/ie-chandigarh-14-01-2021.pdf |
| 13-01-2021 | https://pdf.indianexpress.com/pdfupload/icici/ie-delhi-13-01-2021.pdf | https://pdf.indianexpress.com/pdfupload/icici/ie-mumbai-13-01-2021.pdf | https://pdf.indianexpress.com/pdfupload/icici/ie-pune-13-01-2021.pdf | https://pdf.indianexpress.com/pdfupload/icici/ie-lucknow-13-01-2021.pdf | https://pdf.indianexpress.com/pdfupload/icici/ie-ahmedabad-13-01-2021.pdf | https://pdf.indianexpress.com/pdfupload/icici/ie-kolkata-13-01-2021.pdf | https://pdf.indianexpress.com/pdfupload/icici/ie-jaipur-13-01-2021.pdf | https://pdf.indianexpress.com/pdfupload/icici/ie-chandigarh-13-01-2021.pdf |
| 12-01-2021 | https://pdf.indianexpress.com/pdfupload/icici/ie-delhi-12-01-2021.pdf | https://pdf.indianexpress.com/pdfupload/icici/ie-mumbai-12-01-2021.pdf | https://pdf.indianexpress.com/pdfupload/icici/ie-pune-12-01-2021.pdf | https://pdf.indianexpress.com/pdfupload/icici/ie-lucknow-12-01-2021.pdf | https://pdf.indianexpress.com/pdfupload/icici/ie-ahmedabad-12-01-2021.pdf | https://pdf.indianexpress.com/pdfupload/icici/ie-kolkata-12-01-2021.pdf | https://pdf.indianexpress.com/pdfupload/icici/ie-jaipur-12-01-2021.pdf | https://pdf.indianexpress.com/pdfupload/icici/ie-chandigarh-12-01-2021.pdf |
| 11-01-2021 | https://pdf.indianexpress.com/pdfupload/icici/ie-delhi-11-01-2021.pdf | https://pdf.indianexpress.com/pdfupload/icici/ie-mumbai-11-01-2021.pdf | https://pdf.indianexpress.com/pdfupload/icici/ie-pune-11-01-2021.pdf | https://pdf.indianexpress.com/pdfupload/icici/ie-lucknow-11-01-2021.pdf | https://pdf.indianexpress.com/pdfupload/icici/ie-ahmedabad-11-01-2021.pdf | https://pdf.indianexpress.com/pdfupload/icici/ie-kolkata-11-01-2021.pdf | https://pdf.indianexpress.com/pdfupload/icici/ie-jaipur-11-01-2021.pdf | https://pdf.indianexpress.com/pdfupload/icici/ie-chandigarh-11-01-2021.pdf |
| 10-01-2021 | https://pdf.indianexpress.com/pdfupload/icici/ie-delhi-10-01-2021.pdf | https://pdf.indianexpress.com/pdfupload/icici/ie-mumbai-10-01-2021.pdf | https://pdf.indianexpress.com/pdfupload/icici/ie-pune-10-01-2021.pdf | https://pdf.indianexpress.com/pdfupload/icici/ie-lucknow-10-01-2021.pdf | https://pdf.indianexpress.com/pdfupload/icici/ie-ahmedabad-10-01-2021.pdf | https://pdf.indianexpress.com/pdfupload/icici/ie-kolkata-10-01-2021.pdf | https://pdf.indianexpress.com/pdfupload/icici/ie-jaipur-10-01-2021.pdf | https://pdf.indianexpress.com/pdfupload/icici/ie-chandigarh-10-01-2021.pdf |
| 09-01-2021 | https://pdf.indianexpress.com/pdfupload/icici/ie-delhi-09-01-2021.pdf | https://pdf.indianexpress.com/pdfupload/icici/ie-mumbai-09-01-2021.pdf | https://pdf.indianexpress.com/pdfupload/icici/ie-pune-09-01-2021.pdf | https://pdf.indianexpress.com/pdfupload/icici/ie-lucknow-09-01-2021.pdf | https://pdf.indianexpress.com/pdfupload/icici/ie-ahmedabad-09-01-2021.pdf | https://pdf.indianexpress.com/pdfupload/icici/ie-kolkata-09-01-2021.pdf | https://pdf.indianexpress.com/pdfupload/icici/ie-jaipur-09-01-2021.pdf | https://pdf.indianexpress.com/pdfupload/icici/ie-chandigarh-09-01-2021.pdf |
| 08-01-2021 | https://pdf.indianexpress.com/pdfupload/icici/ie-delhi-08-01-2021.pdf | https://pdf.indianexpress.com/pdfupload/icici/ie-mumbai-08-01-2021.pdf | https://pdf.indianexpress.com/pdfupload/icici/ie-pune-08-01-2021.pdf | https://pdf.indianexpress.com/pdfupload/icici/ie-lucknow-08-01-2021.pdf | https://pdf.indianexpress.com/pdfupload/icici/ie-ahmedabad-08-01-2021.pdf | https://pdf.indianexpress.com/pdfupload/icici/ie-kolkata-08-01-2021.pdf | https://pdf.indianexpress.com/pdfupload/icici/ie-jaipur-08-01-2021.pdf | https://pdf.indianexpress.com/pdfupload/icici/ie-chandigarh-08-01-2021.pdf |
| 07-01-2021 | https://pdf.indianexpress.com/pdfupload/icici/ie-delhi-07-01-2021.pdf | https://pdf.indianexpress.com/pdfupload/icici/ie-mumbai-07-01-2021.pdf | https://pdf.indianexpress.com/pdfupload/icici/ie-pune-07-01-2021.pdf | https://pdf.indianexpress.com/pdfupload/icici/ie-lucknow-07-01-2021.pdf | https://pdf.indianexpress.com/pdfupload/icici/ie-ahmedabad-07-01-2021.pdf | https://pdf.indianexpress.com/pdfupload/icici/ie-kolkata-07-01-2021.pdf | https://pdf.indianexpress.com/pdfupload/icici/ie-jaipur-07-01-2021.pdf | https://pdf.indianexpress.com/pdfupload/icici/ie-chandigarh-07-01-2021.pdf |
| 06-01-2021 | https://pdf.indianexpress.com/pdfupload/icici/ie-delhi-06-01-2021.pdf | https://pdf.indianexpress.com/pdfupload/icici/ie-mumbai-06-01-2021.pdf | https://pdf.indianexpress.com/pdfupload/icici/ie-pune-06-01-2021.pdf | https://pdf.indianexpress.com/pdfupload/icici/ie-lucknow-06-01-2021.pdf | https://pdf.indianexpress.com/pdfupload/icici/ie-ahmedabad-06-01-2021.pdf | https://pdf.indianexpress.com/pdfupload/icici/ie-kolkata-06-01-2021.pdf | https://pdf.indianexpress.com/pdfupload/icici/ie-jaipur-06-01-2021.pdf | https://pdf.indianexpress.com/pdfupload/icici/ie-chandigarh-06-01-2021.pdf |
| 05-01-2021 | https://pdf.indianexpress.com/pdfupload/icici/ie-delhi-05-01-2021.pdf | https://pdf.indianexpress.com/pdfupload/icici/ie-mumbai-05-01-2021.pdf | https://pdf.indianexpress.com/pdfupload/icici/ie-pune-05-01-2021.pdf | https://pdf.indianexpress.com/pdfupload/icici/ie-lucknow-05-01-2021.pdf | https://pdf.indianexpress.com/pdfupload/icici/ie-ahmedabad-05-01-2021.pdf | https://pdf.indianexpress.com/pdfupload/icici/ie-kolkata-05-01-2021.pdf | https://pdf.indianexpress.com/pdfupload/icici/ie-jaipur-05-01-2021.pdf | https://pdf.indianexpress.com/pdfupload/icici/ie-chandigarh-05-01-2021.pdf |
| 04-01-2021 | https://pdf.indianexpress.com/pdfupload/icici/ie-delhi-04-01-2021.pdf | https://pdf.indianexpress.com/pdfupload/icici/ie-mumbai-04-01-2021.pdf | https://pdf.indianexpress.com/pdfupload/icici/ie-pune-04-01-2021.pdf | https://pdf.indianexpress.com/pdfupload/icici/ie-lucknow-04-01-2021.pdf | https://pdf.indianexpress.com/pdfupload/icici/ie-ahmedabad-04-01-2021.pdf | https://pdf.indianexpress.com/pdfupload/icici/ie-kolkata-04-01-2021.pdf | https://pdf.indianexpress.com/pdfupload/icici/ie-jaipur-04-01-2021.pdf | https://pdf.indianexpress.com/pdfupload/icici/ie-chandigarh-04-01-2021.pdf |
| 03-01-2021 | https://pdf.indianexpress.com/pdfupload/icici/ie-delhi-03-01-2021.pdf | https://pdf.indianexpress.com/pdfupload/icici/ie-mumbai-03-01-2021.pdf | https://pdf.indianexpress.com/pdfupload/icici/ie-pune-03-01-2021.pdf | https://pdf.indianexpress.com/pdfupload/icici/ie-lucknow-03-01-2021.pdf | https://pdf.indianexpress.com/pdfupload/icici/ie-ahmedabad-03-01-2021.pdf | https://pdf.indianexpress.com/pdfupload/icici/ie-kolkata-03-01-2021.pdf | https://pdf.indianexpress.com/pdfupload/icici/ie-jaipur-03-01-2021.pdf | https://pdf.indianexpress.com/pdfupload/icici/ie-chandigarh-03-01-2021.pdf |
| 02-01-2021 | https://pdf.indianexpress.com/pdfupload/icici/ie-delhi-02-01-2021.pdf | https://pdf.indianexpress.com/pdfupload/icici/ie-mumbai-02-01-2021.pdf | https://pdf.indianexpress.com/pdfupload/icici/ie-pune-02-01-2021.pdf | https://pdf.indianexpress.com/pdfupload/icici/ie-lucknow-02-01-2021.pdf | https://pdf.indianexpress.com/pdfupload/icici/ie-ahmedabad-02-01-2021.pdf | https://pdf.indianexpress.com/pdfupload/icici/ie-kolkata-02-01-2021.pdf | https://pdf.indianexpress.com/pdfupload/icici/ie-jaipur-02-01-2021.pdf | https://pdf.indianexpress.com/pdfupload/icici/ie-chandigarh-02-01-2021.pdf |
| 01-01-2021 | https://pdf.indianexpress.com/pdfupload/icici/ie-delhi-01-01-2021.pdf | https://pdf.indianexpress.com/pdfupload/icici/ie-mumbai-01-01-2021.pdf | https://pdf.indianexpress.com/pdfupload/icici/ie-pune-01-01-2021.pdf | https://pdf.indianexpress.com/pdfupload/icici/ie-lucknow-01-01-2021.pdf | https://pdf.indianexpress.com/pdfupload/icici/ie-ahmedabad-01-01-2021.pdf | https://pdf.indianexpress.com/pdfupload/icici/ie-kolkata-01-01-2021.pdf | https://pdf.indianexpress.com/pdfupload/icici/ie-jaipur-01-01-2021.pdf | https://pdf.indianexpress.com/pdfupload/icici/ie-chandigarh-01-01-2021.pdf |
| 31-12-2020 | https://pdf.indianexpress.com/pdfupload/icici/ie-delhi-31-12-2020.pdf | https://pdf.indianexpress.com/pdfupload/icici/ie-mumbai-31-12-2020.pdf | https://pdf.indianexpress.com/pdfupload/icici/ie-pune-31-12-2020.pdf | https://pdf.indianexpress.com/pdfupload/icici/ie-lucknow-31-12-2020.pdf | https://pdf.indianexpress.com/pdfupload/icici/ie-ahmedabad-31-12-2020.pdf | https://pdf.indianexpress.com/pdfupload/icici/ie-kolkata-31-12-2020.pdf | https://pdf.indianexpress.com/pdfupload/icici/ie-jaipur-31-12-2020.pdf | https://pdf.indianexpress.com/pdfupload/icici/ie-chandigarh-31-12-2020.pdf |
| 30-12-2020 | https://pdf.indianexpress.com/pdfupload/icici/ie-delhi-30-12-2020.pdf | https://pdf.indianexpress.com/pdfupload/icici/ie-mumbai-30-12-2020.pdf | https://pdf.indianexpress.com/pdfupload/icici/ie-pune-30-12-2020.pdf | https://pdf.indianexpress.com/pdfupload/icici/ie-lucknow-30-12-2020.pdf | https://pdf.indianexpress.com/pdfupload/icici/ie-ahmedabad-30-12-2020.pdf | https://pdf.indianexpress.com/pdfupload/icici/ie-kolkata-30-12-2020.pdf | https://pdf.indianexpress.com/pdfupload/icici/ie-jaipur-30-12-2020.pdf | https://pdf.indianexpress.com/pdfupload/icici/ie-chandigarh-30-12-2020.pdf |
| 29-12-2020 | https://pdf.indianexpress.com/pdfupload/icici/ie-delhi-29-12-2020.pdf | https://pdf.indianexpress.com/pdfupload/icici/ie-mumbai-29-12-2020.pdf | https://pdf.indianexpress.com/pdfupload/icici/ie-pune-29-12-2020.pdf | https://pdf.indianexpress.com/pdfupload/icici/ie-lucknow-29-12-2020.pdf | https://pdf.indianexpress.com/pdfupload/icici/ie-ahmedabad-29-12-2020.pdf | https://pdf.indianexpress.com/pdfupload/icici/ie-kolkata-29-12-2020.pdf | https://pdf.indianexpress.com/pdfupload/icici/ie-jaipur-29-12-2020.pdf | https://pdf.indianexpress.com/pdfupload/icici/ie-chandigarh-29-12-2020.pdf |
| 28-12-2020 | https://pdf.indianexpress.com/pdfupload/icici/ie-delhi-28-12-2020.pdf | https://pdf.indianexpress.com/pdfupload/icici/ie-mumbai-28-12-2020.pdf | https://pdf.indianexpress.com/pdfupload/icici/ie-pune-28-12-2020.pdf | https://pdf.indianexpress.com/pdfupload/icici/ie-lucknow-28-12-2020.pdf | https://pdf.indianexpress.com/pdfupload/icici/ie-ahmedabad-28-12-2020.pdf | https://pdf.indianexpress.com/pdfupload/icici/ie-kolkata-28-12-2020.pdf | https://pdf.indianexpress.com/pdfupload/icici/ie-jaipur-28-12-2020.pdf | https://pdf.indianexpress.com/pdfupload/icici/ie-chandigarh-28-12-2020.pdf |
| 27-12-2020 | https://pdf.indianexpress.com/pdfupload/icici/ie-delhi-27-12-2020.pdf | https://pdf.indianexpress.com/pdfupload/icici/ie-mumbai-27-12-2020.pdf | https://pdf.indianexpress.com/pdfupload/icici/ie-pune-27-12-2020.pdf | https://pdf.indianexpress.com/pdfupload/icici/ie-lucknow-27-12-2020.pdf | https://pdf.indianexpress.com/pdfupload/icici/ie-ahmedabad-27-12-2020.pdf | https://pdf.indianexpress.com/pdfupload/icici/ie-kolkata-27-12-2020.pdf | https://pdf.indianexpress.com/pdfupload/icici/ie-jaipur-27-12-2020.pdf | https://pdf.indianexpress.com/pdfupload/icici/ie-chandigarh-27-12-2020.pdf |
| 26-12-2020 | https://pdf.indianexpress.com/pdfupload/icici/ie-delhi-26-12-2020.pdf | https://pdf.indianexpress.com/pdfupload/icici/ie-mumbai-26-12-2020.pdf | https://pdf.indianexpress.com/pdfupload/icici/ie-pune-26-12-2020.pdf | https://pdf.indianexpress.com/pdfupload/icici/ie-lucknow-26-12-2020.pdf | https://pdf.indianexpress.com/pdfupload/icici/ie-ahmedabad-26-12-2020.pdf | https://pdf.indianexpress.com/pdfupload/icici/ie-kolkata-26-12-2020.pdf | https://pdf.indianexpress.com/pdfupload/icici/ie-jaipur-26-12-2020.pdf | https://pdf.indianexpress.com/pdfupload/icici/ie-chandigarh-26-12-2020.pdf |
| 25-12-2020 | https://pdf.indianexpress.com/pdfupload/icici/ie-delhi-25-12-2020.pdf | https://pdf.indianexpress.com/pdfupload/icici/ie-mumbai-25-12-2020.pdf | https://pdf.indianexpress.com/pdfupload/icici/ie-pune-25-12-2020.pdf | https://pdf.indianexpress.com/pdfupload/icici/ie-lucknow-25-12-2020.pdf | https://pdf.indianexpress.com/pdfupload/icici/ie-ahmedabad-25-12-2020.pdf | https://pdf.indianexpress.com/pdfupload/icici/ie-kolkata-25-12-2020.pdf | https://pdf.indianexpress.com/pdfupload/icici/ie-jaipur-25-12-2020.pdf | https://pdf.indianexpress.com/pdfupload/icici/ie-chandigarh-25-12-2020.pdf |
| 24-12-2020 | https://pdf.indianexpress.com/pdfupload/icici/ie-delhi-24-12-2020.pdf | https://pdf.indianexpress.com/pdfupload/icici/ie-mumbai-24-12-2020.pdf | https://pdf.indianexpress.com/pdfupload/icici/ie-pune-24-12-2020.pdf | https://pdf.indianexpress.com/pdfupload/icici/ie-lucknow-24-12-2020.pdf | https://pdf.indianexpress.com/pdfupload/icici/ie-ahmedabad-24-12-2020.pdf | https://pdf.indianexpress.com/pdfupload/icici/ie-kolkata-24-12-2020.pdf | https://pdf.indianexpress.com/pdfupload/icici/ie-jaipur-24-12-2020.pdf | https://pdf.indianexpress.com/pdfupload/icici/ie-chandigarh-24-12-2020.pdf |
| 23-12-2020 | https://pdf.indianexpress.com/pdfupload/icici/ie-delhi-23-12-2020.pdf | https://pdf.indianexpress.com/pdfupload/icici/ie-mumbai-23-12-2020.pdf | https://pdf.indianexpress.com/pdfupload/icici/ie-pune-23-12-2020.pdf | https://pdf.indianexpress.com/pdfupload/icici/ie-lucknow-23-12-2020.pdf | https://pdf.indianexpress.com/pdfupload/icici/ie-ahmedabad-23-12-2020.pdf | https://pdf.indianexpress.com/pdfupload/icici/ie-kolkata-23-12-2020.pdf | https://pdf.indianexpress.com/pdfupload/icici/ie-jaipur-23-12-2020.pdf | https://pdf.indianexpress.com/pdfupload/icici/ie-chandigarh-23-12-2020.pdf |
| 22-12-2020 | https://pdf.indianexpress.com/pdfupload/icici/ie-delhi-22-12-2020.pdf | https://pdf.indianexpress.com/pdfupload/icici/ie-mumbai-22-12-2020.pdf | https://pdf.indianexpress.com/pdfupload/icici/ie-pune-22-12-2020.pdf | https://pdf.indianexpress.com/pdfupload/icici/ie-lucknow-22-12-2020.pdf | https://pdf.indianexpress.com/pdfupload/icici/ie-ahmedabad-22-12-2020.pdf | https://pdf.indianexpress.com/pdfupload/icici/ie-kolkata-22-12-2020.pdf | https://pdf.indianexpress.com/pdfupload/icici/ie-jaipur-22-12-2020.pdf | https://pdf.indianexpress.com/pdfupload/icici/ie-chandigarh-22-12-2020.pdf |
| 21-12-2020 | https://pdf.indianexpress.com/pdfupload/icici/ie-delhi-21-12-2020.pdf | https://pdf.indianexpress.com/pdfupload/icici/ie-mumbai-21-12-2020.pdf | https://pdf.indianexpress.com/pdfupload/icici/ie-pune-21-12-2020.pdf | https://pdf.indianexpress.com/pdfupload/icici/ie-lucknow-21-12-2020.pdf | https://pdf.indianexpress.com/pdfupload/icici/ie-ahmedabad-21-12-2020.pdf | https://pdf.indianexpress.com/pdfupload/icici/ie-kolkata-21-12-2020.pdf | https://pdf.indianexpress.com/pdfupload/icici/ie-jaipur-21-12-2020.pdf | https://pdf.indianexpress.com/pdfupload/icici/ie-chandigarh-21-12-2020.pdf |
| 20-12-2020 | https://pdf.indianexpress.com/pdfupload/icici/ie-delhi-20-12-2020.pdf | https://pdf.indianexpress.com/pdfupload/icici/ie-mumbai-20-12-2020.pdf | https://pdf.indianexpress.com/pdfupload/icici/ie-pune-20-12-2020.pdf | https://pdf.indianexpress.com/pdfupload/icici/ie-lucknow-20-12-2020.pdf | https://pdf.indianexpress.com/pdfupload/icici/ie-ahmedabad-20-12-2020.pdf | https://pdf.indianexpress.com/pdfupload/icici/ie-kolkata-20-12-2020.pdf | https://pdf.indianexpress.com/pdfupload/icici/ie-jaipur-20-12-2020.pdf | https://pdf.indianexpress.com/pdfupload/icici/ie-chandigarh-20-12-2020.pdf |
| 19-12-2020 | https://pdf.indianexpress.com/pdfupload/icici/ie-delhi-19-12-2020.pdf | https://pdf.indianexpress.com/pdfupload/icici/ie-mumbai-19-12-2020.pdf | https://pdf.indianexpress.com/pdfupload/icici/ie-pune-19-12-2020.pdf | https://pdf.indianexpress.com/pdfupload/icici/ie-lucknow-19-12-2020.pdf | https://pdf.indianexpress.com/pdfupload/icici/ie-ahmedabad-19-12-2020.pdf | https://pdf.indianexpress.com/pdfupload/icici/ie-kolkata-19-12-2020.pdf | https://pdf.indianexpress.com/pdfupload/icici/ie-jaipur-19-12-2020.pdf | https://pdf.indianexpress.com/pdfupload/icici/ie-chandigarh-19-12-2020.pdf |
| 18-12-2020 | https://pdf.indianexpress.com/pdfupload/icici/ie-delhi-18-12-2020.pdf | https://pdf.indianexpress.com/pdfupload/icici/ie-mumbai-18-12-2020.pdf | https://pdf.indianexpress.com/pdfupload/icici/ie-pune-18-12-2020.pdf | https://pdf.indianexpress.com/pdfupload/icici/ie-lucknow-18-12-2020.pdf | https://pdf.indianexpress.com/pdfupload/icici/ie-ahmedabad-18-12-2020.pdf | https://pdf.indianexpress.com/pdfupload/icici/ie-kolkata-18-12-2020.pdf | https://pdf.indianexpress.com/pdfupload/icici/ie-jaipur-18-12-2020.pdf | https://pdf.indianexpress.com/pdfupload/icici/ie-chandigarh-18-12-2020.pdf |
| 17-12-2020 | https://pdf.indianexpress.com/pdfupload/icici/ie-delhi-17-12-2020.pdf | https://pdf.indianexpress.com/pdfupload/icici/ie-mumbai-17-12-2020.pdf | https://pdf.indianexpress.com/pdfupload/icici/ie-pune-17-12-2020.pdf | https://pdf.indianexpress.com/pdfupload/icici/ie-lucknow-17-12-2020.pdf | https://pdf.indianexpress.com/pdfupload/icici/ie-ahmedabad-17-12-2020.pdf | https://pdf.indianexpress.com/pdfupload/icici/ie-kolkata-17-12-2020.pdf | https://pdf.indianexpress.com/pdfupload/icici/ie-jaipur-17-12-2020.pdf | https://pdf.indianexpress.com/pdfupload/icici/ie-chandigarh-17-12-2020.pdf |
| 16-12-2020 | https://pdf.indianexpress.com/pdfupload/icici/ie-delhi-16-12-2020.pdf | https://pdf.indianexpress.com/pdfupload/icici/ie-mumbai-16-12-2020.pdf | https://pdf.indianexpress.com/pdfupload/icici/ie-pune-16-12-2020.pdf | https://pdf.indianexpress.com/pdfupload/icici/ie-lucknow-16-12-2020.pdf | https://pdf.indianexpress.com/pdfupload/icici/ie-ahmedabad-16-12-2020.pdf | https://pdf.indianexpress.com/pdfupload/icici/ie-kolkata-16-12-2020.pdf | https://pdf.indianexpress.com/pdfupload/icici/ie-jaipur-16-12-2020.pdf | https://pdf.indianexpress.com/pdfupload/icici/ie-chandigarh-16-12-2020.pdf |
| 15-12-2020 | https://pdf.indianexpress.com/pdfupload/icici/ie-delhi-15-12-2020.pdf | https://pdf.indianexpress.com/pdfupload/icici/ie-mumbai-15-12-2020.pdf | https://pdf.indianexpress.com/pdfupload/icici/ie-pune-15-12-2020.pdf | https://pdf.indianexpress.com/pdfupload/icici/ie-lucknow-15-12-2020.pdf | https://pdf.indianexpress.com/pdfupload/icici/ie-ahmedabad-15-12-2020.pdf | https://pdf.indianexpress.com/pdfupload/icici/ie-kolkata-15-12-2020.pdf | https://pdf.indianexpress.com/pdfupload/icici/ie-jaipur-15-12-2020.pdf | https://pdf.indianexpress.com/pdfupload/icici/ie-chandigarh-15-12-2020.pdf |
| 14-12-2020 | https://pdf.indianexpress.com/pdfupload/icici/ie-delhi-14-12-2020.pdf | https://pdf.indianexpress.com/pdfupload/icici/ie-mumbai-14-12-2020.pdf | https://pdf.indianexpress.com/pdfupload/icici/ie-pune-14-12-2020.pdf | https://pdf.indianexpress.com/pdfupload/icici/ie-lucknow-14-12-2020.pdf | https://pdf.indianexpress.com/pdfupload/icici/ie-ahmedabad-14-12-2020.pdf | https://pdf.indianexpress.com/pdfupload/icici/ie-kolkata-14-12-2020.pdf | https://pdf.indianexpress.com/pdfupload/icici/ie-jaipur-14-12-2020.pdf | https://pdf.indianexpress.com/pdfupload/icici/ie-chandigarh-14-12-2020.pdf |
| 13-12-2020 | https://pdf.indianexpress.com/pdfupload/icici/ie-delhi-13-12-2020.pdf | https://pdf.indianexpress.com/pdfupload/icici/ie-mumbai-13-12-2020.pdf | https://pdf.indianexpress.com/pdfupload/icici/ie-pune-13-12-2020.pdf | https://pdf.indianexpress.com/pdfupload/icici/ie-lucknow-13-12-2020.pdf | https://pdf.indianexpress.com/pdfupload/icici/ie-ahmedabad-13-12-2020.pdf | https://pdf.indianexpress.com/pdfupload/icici/ie-kolkata-13-12-2020.pdf | https://pdf.indianexpress.com/pdfupload/icici/ie-jaipur-13-12-2020.pdf | https://pdf.indianexpress.com/pdfupload/icici/ie-chandigarh-13-12-2020.pdf |
| 12-12-2020 | https://pdf.indianexpress.com/pdfupload/icici/ie-delhi-12-12-2020.pdf | https://pdf.indianexpress.com/pdfupload/icici/ie-mumbai-12-12-2020.pdf | https://pdf.indianexpress.com/pdfupload/icici/ie-pune-12-12-2020.pdf | https://pdf.indianexpress.com/pdfupload/icici/ie-lucknow-12-12-2020.pdf | https://pdf.indianexpress.com/pdfupload/icici/ie-ahmedabad-12-12-2020.pdf | https://pdf.indianexpress.com/pdfupload/icici/ie-kolkata-12-12-2020.pdf | https://pdf.indianexpress.com/pdfupload/icici/ie-jaipur-12-12-2020.pdf | https://pdf.indianexpress.com/pdfupload/icici/ie-chandigarh-12-12-2020.pdf |
| 11-12-2020 | https://pdf.indianexpress.com/pdfupload/icici/ie-delhi-11-12-2020.pdf | https://pdf.indianexpress.com/pdfupload/icici/ie-mumbai-11-12-2020.pdf | https://pdf.indianexpress.com/pdfupload/icici/ie-pune-11-12-2020.pdf | https://pdf.indianexpress.com/pdfupload/icici/ie-lucknow-11-12-2020.pdf | https://pdf.indianexpress.com/pdfupload/icici/ie-ahmedabad-11-12-2020.pdf | https://pdf.indianexpress.com/pdfupload/icici/ie-kolkata-11-12-2020.pdf | https://pdf.indianexpress.com/pdfupload/icici/ie-jaipur-11-12-2020.pdf | https://pdf.indianexpress.com/pdfupload/icici/ie-chandigarh-11-12-2020.pdf |
| 10-12-2020 | https://pdf.indianexpress.com/pdfupload/icici/ie-delhi-10-12-2020.pdf | https://pdf.indianexpress.com/pdfupload/icici/ie-mumbai-10-12-2020.pdf | https://pdf.indianexpress.com/pdfupload/icici/ie-pune-10-12-2020.pdf | https://pdf.indianexpress.com/pdfupload/icici/ie-lucknow-10-12-2020.pdf | https://pdf.indianexpress.com/pdfupload/icici/ie-ahmedabad-10-12-2020.pdf | https://pdf.indianexpress.com/pdfupload/icici/ie-kolkata-10-12-2020.pdf | https://pdf.indianexpress.com/pdfupload/icici/ie-jaipur-10-12-2020.pdf | https://pdf.indianexpress.com/pdfupload/icici/ie-chandigarh-10-12-2020.pdf |
| 09-12-2020 | https://pdf.indianexpress.com/pdfupload/icici/ie-delhi-09-12-2020.pdf | https://pdf.indianexpress.com/pdfupload/icici/ie-mumbai-09-12-2020.pdf | https://pdf.indianexpress.com/pdfupload/icici/ie-pune-09-12-2020.pdf | https://pdf.indianexpress.com/pdfupload/icici/ie-lucknow-09-12-2020.pdf | https://pdf.indianexpress.com/pdfupload/icici/ie-ahmedabad-09-12-2020.pdf | https://pdf.indianexpress.com/pdfupload/icici/ie-kolkata-09-12-2020.pdf | https://pdf.indianexpress.com/pdfupload/icici/ie-jaipur-09-12-2020.pdf | https://pdf.indianexpress.com/pdfupload/icici/ie-chandigarh-09-12-2020.pdf |
| 08-12-2020 | https://pdf.indianexpress.com/pdfupload/icici/ie-delhi-08-12-2020.pdf | https://pdf.indianexpress.com/pdfupload/icici/ie-mumbai-08-12-2020.pdf | https://pdf.indianexpress.com/pdfupload/icici/ie-pune-08-12-2020.pdf | https://pdf.indianexpress.com/pdfupload/icici/ie-lucknow-08-12-2020.pdf | https://pdf.indianexpress.com/pdfupload/icici/ie-ahmedabad-08-12-2020.pdf | https://pdf.indianexpress.com/pdfupload/icici/ie-kolkata-08-12-2020.pdf | https://pdf.indianexpress.com/pdfupload/icici/ie-jaipur-08-12-2020.pdf | https://pdf.indianexpress.com/pdfupload/icici/ie-chandigarh-08-12-2020.pdf |
| 07-12-2020 | https://pdf.indianexpress.com/pdfupload/icici/ie-delhi-07-12-2020.pdf | https://pdf.indianexpress.com/pdfupload/icici/ie-mumbai-07-12-2020.pdf | https://pdf.indianexpress.com/pdfupload/icici/ie-pune-07-12-2020.pdf | https://pdf.indianexpress.com/pdfupload/icici/ie-lucknow-07-12-2020.pdf | https://pdf.indianexpress.com/pdfupload/icici/ie-ahmedabad-07-12-2020.pdf | https://pdf.indianexpress.com/pdfupload/icici/ie-kolkata-07-12-2020.pdf | https://pdf.indianexpress.com/pdfupload/icici/ie-jaipur-07-12-2020.pdf | https://pdf.indianexpress.com/pdfupload/icici/ie-chandigarh-07-12-2020.pdf |
| 06-12-2020 | https://pdf.indianexpress.com/pdfupload/icici/ie-delhi-06-12-2020.pdf | https://pdf.indianexpress.com/pdfupload/icici/ie-mumbai-06-12-2020.pdf | https://pdf.indianexpress.com/pdfupload/icici/ie-pune-06-12-2020.pdf | https://pdf.indianexpress.com/pdfupload/icici/ie-lucknow-06-12-2020.pdf | https://pdf.indianexpress.com/pdfupload/icici/ie-ahmedabad-06-12-2020.pdf | https://pdf.indianexpress.com/pdfupload/icici/ie-kolkata-06-12-2020.pdf | https://pdf.indianexpress.com/pdfupload/icici/ie-jaipur-06-12-2020.pdf | https://pdf.indianexpress.com/pdfupload/icici/ie-chandigarh-06-12-2020.pdf |
| 05-12-2020 | https://pdf.indianexpress.com/pdfupload/icici/ie-delhi-05-12-2020.pdf | https://pdf.indianexpress.com/pdfupload/icici/ie-mumbai-05-12-2020.pdf | https://pdf.indianexpress.com/pdfupload/icici/ie-pune-05-12-2020.pdf | https://pdf.indianexpress.com/pdfupload/icici/ie-lucknow-05-12-2020.pdf | https://pdf.indianexpress.com/pdfupload/icici/ie-ahmedabad-05-12-2020.pdf | https://pdf.indianexpress.com/pdfupload/icici/ie-kolkata-05-12-2020.pdf | https://pdf.indianexpress.com/pdfupload/icici/ie-jaipur-05-12-2020.pdf | https://pdf.indianexpress.com/pdfupload/icici/ie-chandigarh-05-12-2020.pdf |
| 04-12-2020 | https://pdf.indianexpress.com/pdfupload/icici/ie-delhi-04-12-2020.pdf | https://pdf.indianexpress.com/pdfupload/icici/ie-mumbai-04-12-2020.pdf | https://pdf.indianexpress.com/pdfupload/icici/ie-pune-04-12-2020.pdf | https://pdf.indianexpress.com/pdfupload/icici/ie-lucknow-04-12-2020.pdf | https://pdf.indianexpress.com/pdfupload/icici/ie-ahmedabad-04-12-2020.pdf | https://pdf.indianexpress.com/pdfupload/icici/ie-kolkata-04-12-2020.pdf | https://pdf.indianexpress.com/pdfupload/icici/ie-jaipur-04-12-2020.pdf | https://pdf.indianexpress.com/pdfupload/icici/ie-chandigarh-04-12-2020.pdf |
| 03-12-2020 | https://pdf.indianexpress.com/pdfupload/icici/ie-delhi-03-12-2020.pdf | https://pdf.indianexpress.com/pdfupload/icici/ie-mumbai-03-12-2020.pdf | https://pdf.indianexpress.com/pdfupload/icici/ie-pune-03-12-2020.pdf | https://pdf.indianexpress.com/pdfupload/icici/ie-lucknow-03-12-2020.pdf | https://pdf.indianexpress.com/pdfupload/icici/ie-ahmedabad-03-12-2020.pdf | https://pdf.indianexpress.com/pdfupload/icici/ie-kolkata-03-12-2020.pdf | https://pdf.indianexpress.com/pdfupload/icici/ie-jaipur-03-12-2020.pdf | https://pdf.indianexpress.com/pdfupload/icici/ie-chandigarh-03-12-2020.pdf |
| 02-12-2020 | https://pdf.indianexpress.com/pdfupload/icici/ie-delhi-02-12-2020.pdf | https://pdf.indianexpress.com/pdfupload/icici/ie-mumbai-02-12-2020.pdf | https://pdf.indianexpress.com/pdfupload/icici/ie-pune-02-12-2020.pdf | https://pdf.indianexpress.com/pdfupload/icici/ie-lucknow-02-12-2020.pdf | https://pdf.indianexpress.com/pdfupload/icici/ie-ahmedabad-02-12-2020.pdf | https://pdf.indianexpress.com/pdfupload/icici/ie-kolkata-02-12-2020.pdf | https://pdf.indianexpress.com/pdfupload/icici/ie-jaipur-02-12-2020.pdf | https://pdf.indianexpress.com/pdfupload/icici/ie-chandigarh-02-12-2020.pdf |
| 01-12-2020 | https://pdf.indianexpress.com/pdfupload/icici/ie-delhi-01-12-2020.pdf | https://pdf.indianexpress.com/pdfupload/icici/ie-mumbai-01-12-2020.pdf | https://pdf.indianexpress.com/pdfupload/icici/ie-pune-01-12-2020.pdf | https://pdf.indianexpress.com/pdfupload/icici/ie-lucknow-01-12-2020.pdf | https://pdf.indianexpress.com/pdfupload/icici/ie-ahmedabad-01-12-2020.pdf | https://pdf.indianexpress.com/pdfupload/icici/ie-kolkata-01-12-2020.pdf | https://pdf.indianexpress.com/pdfupload/icici/ie-jaipur-01-12-2020.pdf | https://pdf.indianexpress.com/pdfupload/icici/ie-chandigarh-01-12-2020.pdf |
| 30-11-2020 | https://pdf.indianexpress.com/pdfupload/icici/ie-delhi-30-11-2020.pdf | https://pdf.indianexpress.com/pdfupload/icici/ie-mumbai-30-11-2020.pdf | https://pdf.indianexpress.com/pdfupload/icici/ie-pune-30-11-2020.pdf | https://pdf.indianexpress.com/pdfupload/icici/ie-lucknow-30-11-2020.pdf | https://pdf.indianexpress.com/pdfupload/icici/ie-ahmedabad-30-11-2020.pdf | https://pdf.indianexpress.com/pdfupload/icici/ie-kolkata-30-11-2020.pdf | https://pdf.indianexpress.com/pdfupload/icici/ie-jaipur-30-11-2020.pdf | https://pdf.indianexpress.com/pdfupload/icici/ie-chandigarh-30-11-2020.pdf |
| 29-11-2020 | https://pdf.indianexpress.com/pdfupload/icici/ie-delhi-29-11-2020.pdf | https://pdf.indianexpress.com/pdfupload/icici/ie-mumbai-29-11-2020.pdf | https://pdf.indianexpress.com/pdfupload/icici/ie-pune-29-11-2020.pdf | https://pdf.indianexpress.com/pdfupload/icici/ie-lucknow-29-11-2020.pdf | https://pdf.indianexpress.com/pdfupload/icici/ie-ahmedabad-29-11-2020.pdf | https://pdf.indianexpress.com/pdfupload/icici/ie-kolkata-29-11-2020.pdf | https://pdf.indianexpress.com/pdfupload/icici/ie-jaipur-29-11-2020.pdf | https://pdf.indianexpress.com/pdfupload/icici/ie-chandigarh-29-11-2020.pdf |
| 28-11-2020 | https://pdf.indianexpress.com/pdfupload/icici/ie-delhi-28-11-2020.pdf | https://pdf.indianexpress.com/pdfupload/icici/ie-mumbai-28-11-2020.pdf | https://pdf.indianexpress.com/pdfupload/icici/ie-pune-28-11-2020.pdf | https://pdf.indianexpress.com/pdfupload/icici/ie-lucknow-28-11-2020.pdf | https://pdf.indianexpress.com/pdfupload/icici/ie-ahmedabad-28-11-2020.pdf | https://pdf.indianexpress.com/pdfupload/icici/ie-kolkata-28-11-2020.pdf | https://pdf.indianexpress.com/pdfupload/icici/ie-jaipur-28-11-2020.pdf | https://pdf.indianexpress.com/pdfupload/icici/ie-chandigarh-28-11-2020.pdf |
| 27-11-2020 | https://pdf.indianexpress.com/pdfupload/icici/ie-delhi-27-11-2020.pdf | https://pdf.indianexpress.com/pdfupload/icici/ie-mumbai-27-11-2020.pdf | https://pdf.indianexpress.com/pdfupload/icici/ie-pune-27-11-2020.pdf | https://pdf.indianexpress.com/pdfupload/icici/ie-lucknow-27-11-2020.pdf | https://pdf.indianexpress.com/pdfupload/icici/ie-ahmedabad-27-11-2020.pdf | https://pdf.indianexpress.com/pdfupload/icici/ie-kolkata-27-11-2020.pdf | https://pdf.indianexpress.com/pdfupload/icici/ie-jaipur-27-11-2020.pdf | https://pdf.indianexpress.com/pdfupload/icici/ie-chandigarh-27-11-2020.pdf |
| 26-11-2020 | https://pdf.indianexpress.com/pdfupload/icici/ie-delhi-26-11-2020.pdf | https://pdf.indianexpress.com/pdfupload/icici/ie-mumbai-26-11-2020.pdf | https://pdf.indianexpress.com/pdfupload/icici/ie-pune-26-11-2020.pdf | https://pdf.indianexpress.com/pdfupload/icici/ie-lucknow-26-11-2020.pdf | https://pdf.indianexpress.com/pdfupload/icici/ie-ahmedabad-26-11-2020.pdf | https://pdf.indianexpress.com/pdfupload/icici/ie-kolkata-26-11-2020.pdf | https://pdf.indianexpress.com/pdfupload/icici/ie-jaipur-26-11-2020.pdf | https://pdf.indianexpress.com/pdfupload/icici/ie-chandigarh-26-11-2020.pdf |
| 25-11-2020 | https://pdf.indianexpress.com/pdfupload/icici/ie-delhi-25-11-2020.pdf | https://pdf.indianexpress.com/pdfupload/icici/ie-mumbai-25-11-2020.pdf | https://pdf.indianexpress.com/pdfupload/icici/ie-pune-25-11-2020.pdf | https://pdf.indianexpress.com/pdfupload/icici/ie-lucknow-25-11-2020.pdf | https://pdf.indianexpress.com/pdfupload/icici/ie-ahmedabad-25-11-2020.pdf | https://pdf.indianexpress.com/pdfupload/icici/ie-kolkata-25-11-2020.pdf | https://pdf.indianexpress.com/pdfupload/icici/ie-jaipur-25-11-2020.pdf | https://pdf.indianexpress.com/pdfupload/icici/ie-chandigarh-25-11-2020.pdf |
| 24-11-2020 | https://pdf.indianexpress.com/pdfupload/icici/ie-delhi-24-11-2020.pdf | https://pdf.indianexpress.com/pdfupload/icici/ie-mumbai-24-11-2020.pdf | https://pdf.indianexpress.com/pdfupload/icici/ie-pune-24-11-2020.pdf | https://pdf.indianexpress.com/pdfupload/icici/ie-lucknow-24-11-2020.pdf | https://pdf.indianexpress.com/pdfupload/icici/ie-ahmedabad-24-11-2020.pdf | https://pdf.indianexpress.com/pdfupload/icici/ie-kolkata-24-11-2020.pdf | https://pdf.indianexpress.com/pdfupload/icici/ie-jaipur-24-11-2020.pdf | https://pdf.indianexpress.com/pdfupload/icici/ie-chandigarh-24-11-2020.pdf |
| 23-11-2020 | https://pdf.indianexpress.com/pdfupload/icici/ie-delhi-23-11-2020.pdf | https://pdf.indianexpress.com/pdfupload/icici/ie-mumbai-23-11-2020.pdf | https://pdf.indianexpress.com/pdfupload/icici/ie-pune-23-11-2020.pdf | https://pdf.indianexpress.com/pdfupload/icici/ie-lucknow-23-11-2020.pdf | https://pdf.indianexpress.com/pdfupload/icici/ie-ahmedabad-23-11-2020.pdf | https://pdf.indianexpress.com/pdfupload/icici/ie-kolkata-23-11-2020.pdf | https://pdf.indianexpress.com/pdfupload/icici/ie-jaipur-23-11-2020.pdf | https://pdf.indianexpress.com/pdfupload/icici/ie-chandigarh-23-11-2020.pdf |
| 22-11-2020 | https://pdf.indianexpress.com/pdfupload/icici/ie-delhi-22-11-2020.pdf | https://pdf.indianexpress.com/pdfupload/icici/ie-mumbai-22-11-2020.pdf | https://pdf.indianexpress.com/pdfupload/icici/ie-pune-22-11-2020.pdf | https://pdf.indianexpress.com/pdfupload/icici/ie-lucknow-22-11-2020.pdf | https://pdf.indianexpress.com/pdfupload/icici/ie-ahmedabad-22-11-2020.pdf | https://pdf.indianexpress.com/pdfupload/icici/ie-kolkata-22-11-2020.pdf | https://pdf.indianexpress.com/pdfupload/icici/ie-jaipur-22-11-2020.pdf | https://pdf.indianexpress.com/pdfupload/icici/ie-chandigarh-22-11-2020.pdf |
| 21-11-2020 | https://pdf.indianexpress.com/pdfupload/icici/ie-delhi-21-11-2020.pdf | https://pdf.indianexpress.com/pdfupload/icici/ie-mumbai-21-11-2020.pdf | https://pdf.indianexpress.com/pdfupload/icici/ie-pune-21-11-2020.pdf | https://pdf.indianexpress.com/pdfupload/icici/ie-lucknow-21-11-2020.pdf | https://pdf.indianexpress.com/pdfupload/icici/ie-ahmedabad-21-11-2020.pdf | https://pdf.indianexpress.com/pdfupload/icici/ie-kolkata-21-11-2020.pdf | https://pdf.indianexpress.com/pdfupload/icici/ie-jaipur-21-11-2020.pdf | https://pdf.indianexpress.com/pdfupload/icici/ie-chandigarh-21-11-2020.pdf |
| 20-11-2020 | https://pdf.indianexpress.com/pdfupload/icici/ie-delhi-20-11-2020.pdf | https://pdf.indianexpress.com/pdfupload/icici/ie-mumbai-20-11-2020.pdf | https://pdf.indianexpress.com/pdfupload/icici/ie-pune-20-11-2020.pdf | https://pdf.indianexpress.com/pdfupload/icici/ie-lucknow-20-11-2020.pdf | https://pdf.indianexpress.com/pdfupload/icici/ie-ahmedabad-20-11-2020.pdf | https://pdf.indianexpress.com/pdfupload/icici/ie-kolkata-20-11-2020.pdf | https://pdf.indianexpress.com/pdfupload/icici/ie-jaipur-20-11-2020.pdf | https://pdf.indianexpress.com/pdfupload/icici/ie-chandigarh-20-11-2020.pdf |
| 19-11-2020 | https://pdf.indianexpress.com/pdfupload/icici/ie-delhi-19-11-2020.pdf | https://pdf.indianexpress.com/pdfupload/icici/ie-mumbai-19-11-2020.pdf | https://pdf.indianexpress.com/pdfupload/icici/ie-pune-19-11-2020.pdf | https://pdf.indianexpress.com/pdfupload/icici/ie-lucknow-19-11-2020.pdf | https://pdf.indianexpress.com/pdfupload/icici/ie-ahmedabad-19-11-2020.pdf | https://pdf.indianexpress.com/pdfupload/icici/ie-kolkata-19-11-2020.pdf | https://pdf.indianexpress.com/pdfupload/icici/ie-jaipur-19-11-2020.pdf | https://pdf.indianexpress.com/pdfupload/icici/ie-chandigarh-19-11-2020.pdf |
| 18-11-2020 | https://pdf.indianexpress.com/pdfupload/icici/ie-delhi-18-11-2020.pdf | https://pdf.indianexpress.com/pdfupload/icici/ie-mumbai-18-11-2020.pdf | https://pdf.indianexpress.com/pdfupload/icici/ie-pune-18-11-2020.pdf | https://pdf.indianexpress.com/pdfupload/icici/ie-lucknow-18-11-2020.pdf | https://pdf.indianexpress.com/pdfupload/icici/ie-ahmedabad-18-11-2020.pdf | https://pdf.indianexpress.com/pdfupload/icici/ie-kolkata-18-11-2020.pdf | https://pdf.indianexpress.com/pdfupload/icici/ie-jaipur-18-11-2020.pdf | https://pdf.indianexpress.com/pdfupload/icici/ie-chandigarh-18-11-2020.pdf |
| 17-11-2020 | https://pdf.indianexpress.com/pdfupload/icici/ie-delhi-17-11-2020.pdf | https://pdf.indianexpress.com/pdfupload/icici/ie-mumbai-17-11-2020.pdf | https://pdf.indianexpress.com/pdfupload/icici/ie-pune-17-11-2020.pdf | https://pdf.indianexpress.com/pdfupload/icici/ie-lucknow-17-11-2020.pdf | https://pdf.indianexpress.com/pdfupload/icici/ie-ahmedabad-17-11-2020.pdf | https://pdf.indianexpress.com/pdfupload/icici/ie-kolkata-17-11-2020.pdf | https://pdf.indianexpress.com/pdfupload/icici/ie-jaipur-17-11-2020.pdf | https://pdf.indianexpress.com/pdfupload/icici/ie-chandigarh-17-11-2020.pdf |
| 16-11-2020 | https://pdf.indianexpress.com/pdfupload/icici/ie-delhi-16-11-2020.pdf | https://pdf.indianexpress.com/pdfupload/icici/ie-mumbai-16-11-2020.pdf | https://pdf.indianexpress.com/pdfupload/icici/ie-pune-16-11-2020.pdf | https://pdf.indianexpress.com/pdfupload/icici/ie-lucknow-16-11-2020.pdf | https://pdf.indianexpress.com/pdfupload/icici/ie-ahmedabad-16-11-2020.pdf | https://pdf.indianexpress.com/pdfupload/icici/ie-kolkata-16-11-2020.pdf | https://pdf.indianexpress.com/pdfupload/icici/ie-jaipur-16-11-2020.pdf | https://pdf.indianexpress.com/pdfupload/icici/ie-chandigarh-16-11-2020.pdf |
| 15-11-2020 | https://pdf.indianexpress.com/pdfupload/icici/ie-delhi-15-11-2020.pdf | https://pdf.indianexpress.com/pdfupload/icici/ie-mumbai-15-11-2020.pdf | https://pdf.indianexpress.com/pdfupload/icici/ie-pune-15-11-2020.pdf | https://pdf.indianexpress.com/pdfupload/icici/ie-lucknow-15-11-2020.pdf | https://pdf.indianexpress.com/pdfupload/icici/ie-ahmedabad-15-11-2020.pdf | https://pdf.indianexpress.com/pdfupload/icici/ie-kolkata-15-11-2020.pdf | https://pdf.indianexpress.com/pdfupload/icici/ie-jaipur-15-11-2020.pdf | https://pdf.indianexpress.com/pdfupload/icici/ie-chandigarh-15-11-2020.pdf |
| 14-11-2020 | https://pdf.indianexpress.com/pdfupload/icici/ie-delhi-14-11-2020.pdf | https://pdf.indianexpress.com/pdfupload/icici/ie-mumbai-14-11-2020.pdf | https://pdf.indianexpress.com/pdfupload/icici/ie-pune-14-11-2020.pdf | https://pdf.indianexpress.com/pdfupload/icici/ie-lucknow-14-11-2020.pdf | https://pdf.indianexpress.com/pdfupload/icici/ie-ahmedabad-14-11-2020.pdf | https://pdf.indianexpress.com/pdfupload/icici/ie-kolkata-14-11-2020.pdf | https://pdf.indianexpress.com/pdfupload/icici/ie-jaipur-14-11-2020.pdf | https://pdf.indianexpress.com/pdfupload/icici/ie-chandigarh-14-11-2020.pdf |
| 13-11-2020 | https://pdf.indianexpress.com/pdfupload/icici/ie-delhi-13-11-2020.pdf | https://pdf.indianexpress.com/pdfupload/icici/ie-mumbai-13-11-2020.pdf | https://pdf.indianexpress.com/pdfupload/icici/ie-pune-13-11-2020.pdf | https://pdf.indianexpress.com/pdfupload/icici/ie-lucknow-13-11-2020.pdf | https://pdf.indianexpress.com/pdfupload/icici/ie-ahmedabad-13-11-2020.pdf | https://pdf.indianexpress.com/pdfupload/icici/ie-kolkata-13-11-2020.pdf | https://pdf.indianexpress.com/pdfupload/icici/ie-jaipur-13-11-2020.pdf | https://pdf.indianexpress.com/pdfupload/icici/ie-chandigarh-13-11-2020.pdf |
| 12-11-2020 | https://pdf.indianexpress.com/pdfupload/icici/ie-delhi-12-11-2020.pdf | https://pdf.indianexpress.com/pdfupload/icici/ie-mumbai-12-11-2020.pdf | https://pdf.indianexpress.com/pdfupload/icici/ie-pune-12-11-2020.pdf | https://pdf.indianexpress.com/pdfupload/icici/ie-lucknow-12-11-2020.pdf | https://pdf.indianexpress.com/pdfupload/icici/ie-ahmedabad-12-11-2020.pdf | https://pdf.indianexpress.com/pdfupload/icici/ie-kolkata-12-11-2020.pdf | https://pdf.indianexpress.com/pdfupload/icici/ie-jaipur-12-11-2020.pdf | https://pdf.indianexpress.com/pdfupload/icici/ie-chandigarh-12-11-2020.pdf |
| 11-11-2020 | https://pdf.indianexpress.com/pdfupload/icici/ie-delhi-11-11-2020.pdf | https://pdf.indianexpress.com/pdfupload/icici/ie-mumbai-11-11-2020.pdf | https://pdf.indianexpress.com/pdfupload/icici/ie-pune-11-11-2020.pdf | https://pdf.indianexpress.com/pdfupload/icici/ie-lucknow-11-11-2020.pdf | https://pdf.indianexpress.com/pdfupload/icici/ie-ahmedabad-11-11-2020.pdf | https://pdf.indianexpress.com/pdfupload/icici/ie-kolkata-11-11-2020.pdf | https://pdf.indianexpress.com/pdfupload/icici/ie-jaipur-11-11-2020.pdf | https://pdf.indianexpress.com/pdfupload/icici/ie-chandigarh-11-11-2020.pdf |
| 10-11-2020 | https://pdf.indianexpress.com/pdfupload/icici/ie-delhi-10-11-2020.pdf | https://pdf.indianexpress.com/pdfupload/icici/ie-mumbai-10-11-2020.pdf | https://pdf.indianexpress.com/pdfupload/icici/ie-pune-10-11-2020.pdf | https://pdf.indianexpress.com/pdfupload/icici/ie-lucknow-10-11-2020.pdf | https://pdf.indianexpress.com/pdfupload/icici/ie-ahmedabad-10-11-2020.pdf | https://pdf.indianexpress.com/pdfupload/icici/ie-kolkata-10-11-2020.pdf | https://pdf.indianexpress.com/pdfupload/icici/ie-jaipur-10-11-2020.pdf | https://pdf.indianexpress.com/pdfupload/icici/ie-chandigarh-10-11-2020.pdf |
| 09-11-2020 | https://pdf.indianexpress.com/pdfupload/icici/ie-delhi-09-11-2020.pdf | https://pdf.indianexpress.com/pdfupload/icici/ie-mumbai-09-11-2020.pdf | https://pdf.indianexpress.com/pdfupload/icici/ie-pune-09-11-2020.pdf | https://pdf.indianexpress.com/pdfupload/icici/ie-lucknow-09-11-2020.pdf | https://pdf.indianexpress.com/pdfupload/icici/ie-ahmedabad-09-11-2020.pdf | https://pdf.indianexpress.com/pdfupload/icici/ie-kolkata-09-11-2020.pdf | https://pdf.indianexpress.com/pdfupload/icici/ie-jaipur-09-11-2020.pdf | https://pdf.indianexpress.com/pdfupload/icici/ie-chandigarh-09-11-2020.pdf |
| 08-11-2020 | https://pdf.indianexpress.com/pdfupload/icici/ie-delhi-08-11-2020.pdf | https://pdf.indianexpress.com/pdfupload/icici/ie-mumbai-08-11-2020.pdf | https://pdf.indianexpress.com/pdfupload/icici/ie-pune-08-11-2020.pdf | https://pdf.indianexpress.com/pdfupload/icici/ie-lucknow-08-11-2020.pdf | https://pdf.indianexpress.com/pdfupload/icici/ie-ahmedabad-08-11-2020.pdf | https://pdf.indianexpress.com/pdfupload/icici/ie-kolkata-08-11-2020.pdf | https://pdf.indianexpress.com/pdfupload/icici/ie-jaipur-08-11-2020.pdf | https://pdf.indianexpress.com/pdfupload/icici/ie-chandigarh-08-11-2020.pdf |
| 07-11-2020 | https://pdf.indianexpress.com/pdfupload/icici/ie-delhi-07-11-2020.pdf | https://pdf.indianexpress.com/pdfupload/icici/ie-mumbai-07-11-2020.pdf | https://pdf.indianexpress.com/pdfupload/icici/ie-pune-07-11-2020.pdf | https://pdf.indianexpress.com/pdfupload/icici/ie-lucknow-07-11-2020.pdf | https://pdf.indianexpress.com/pdfupload/icici/ie-ahmedabad-07-11-2020.pdf | https://pdf.indianexpress.com/pdfupload/icici/ie-kolkata-07-11-2020.pdf | https://pdf.indianexpress.com/pdfupload/icici/ie-jaipur-07-11-2020.pdf | https://pdf.indianexpress.com/pdfupload/icici/ie-chandigarh-07-11-2020.pdf |
| 06-11-2020 | https://pdf.indianexpress.com/pdfupload/icici/ie-delhi-06-11-2020.pdf | https://pdf.indianexpress.com/pdfupload/icici/ie-mumbai-06-11-2020.pdf | https://pdf.indianexpress.com/pdfupload/icici/ie-pune-06-11-2020.pdf | https://pdf.indianexpress.com/pdfupload/icici/ie-lucknow-06-11-2020.pdf | https://pdf.indianexpress.com/pdfupload/icici/ie-ahmedabad-06-11-2020.pdf | https://pdf.indianexpress.com/pdfupload/icici/ie-kolkata-06-11-2020.pdf | https://pdf.indianexpress.com/pdfupload/icici/ie-jaipur-06-11-2020.pdf | https://pdf.indianexpress.com/pdfupload/icici/ie-chandigarh-06-11-2020.pdf |
| 05-11-2020 | https://pdf.indianexpress.com/pdfupload/icici/ie-delhi-05-11-2020.pdf | https://pdf.indianexpress.com/pdfupload/icici/ie-mumbai-05-11-2020.pdf | https://pdf.indianexpress.com/pdfupload/icici/ie-pune-05-11-2020.pdf | https://pdf.indianexpress.com/pdfupload/icici/ie-lucknow-05-11-2020.pdf | https://pdf.indianexpress.com/pdfupload/icici/ie-ahmedabad-05-11-2020.pdf | https://pdf.indianexpress.com/pdfupload/icici/ie-kolkata-05-11-2020.pdf | https://pdf.indianexpress.com/pdfupload/icici/ie-jaipur-05-11-2020.pdf | https://pdf.indianexpress.com/pdfupload/icici/ie-chandigarh-05-11-2020.pdf |
| 04-11-2020 | https://pdf.indianexpress.com/pdfupload/icici/ie-delhi-04-11-2020.pdf | https://pdf.indianexpress.com/pdfupload/icici/ie-mumbai-04-11-2020.pdf | https://pdf.indianexpress.com/pdfupload/icici/ie-pune-04-11-2020.pdf | https://pdf.indianexpress.com/pdfupload/icici/ie-lucknow-04-11-2020.pdf | https://pdf.indianexpress.com/pdfupload/icici/ie-ahmedabad-04-11-2020.pdf | https://pdf.indianexpress.com/pdfupload/icici/ie-kolkata-04-11-2020.pdf | https://pdf.indianexpress.com/pdfupload/icici/ie-jaipur-04-11-2020.pdf | https://pdf.indianexpress.com/pdfupload/icici/ie-chandigarh-04-11-2020.pdf |
| 03-11-2020 | https://pdf.indianexpress.com/pdfupload/icici/ie-delhi-03-11-2020.pdf | https://pdf.indianexpress.com/pdfupload/icici/ie-mumbai-03-11-2020.pdf | https://pdf.indianexpress.com/pdfupload/icici/ie-pune-03-11-2020.pdf | https://pdf.indianexpress.com/pdfupload/icici/ie-lucknow-03-11-2020.pdf | https://pdf.indianexpress.com/pdfupload/icici/ie-ahmedabad-03-11-2020.pdf | https://pdf.indianexpress.com/pdfupload/icici/ie-kolkata-03-11-2020.pdf | https://pdf.indianexpress.com/pdfupload/icici/ie-jaipur-03-11-2020.pdf | https://pdf.indianexpress.com/pdfupload/icici/ie-chandigarh-03-11-2020.pdf |
| 02-11-2020 | https://pdf.indianexpress.com/pdfupload/icici/ie-delhi-02-11-2020.pdf | https://pdf.indianexpress.com/pdfupload/icici/ie-mumbai-02-11-2020.pdf | https://pdf.indianexpress.com/pdfupload/icici/ie-pune-02-11-2020.pdf | https://pdf.indianexpress.com/pdfupload/icici/ie-lucknow-02-11-2020.pdf | https://pdf.indianexpress.com/pdfupload/icici/ie-ahmedabad-02-11-2020.pdf | https://pdf.indianexpress.com/pdfupload/icici/ie-kolkata-02-11-2020.pdf | https://pdf.indianexpress.com/pdfupload/icici/ie-jaipur-02-11-2020.pdf | https://pdf.indianexpress.com/pdfupload/icici/ie-chandigarh-02-11-2020.pdf |
| 01-11-2020 | https://pdf.indianexpress.com/pdfupload/icici/ie-delhi-01-11-2020.pdf | https://pdf.indianexpress.com/pdfupload/icici/ie-mumbai-01-11-2020.pdf | https://pdf.indianexpress.com/pdfupload/icici/ie-pune-01-11-2020.pdf | https://pdf.indianexpress.com/pdfupload/icici/ie-lucknow-01-11-2020.pdf | https://pdf.indianexpress.com/pdfupload/icici/ie-ahmedabad-01-11-2020.pdf | https://pdf.indianexpress.com/pdfupload/icici/ie-kolkata-01-11-2020.pdf | https://pdf.indianexpress.com/pdfupload/icici/ie-jaipur-01-11-2020.pdf | https://pdf.indianexpress.com/pdfupload/icici/ie-chandigarh-01-11-2020.pdf |
| 31-10-2020 | https://pdf.indianexpress.com/pdfupload/icici/ie-delhi-31-10-2020.pdf | https://pdf.indianexpress.com/pdfupload/icici/ie-mumbai-31-10-2020.pdf | https://pdf.indianexpress.com/pdfupload/icici/ie-pune-31-10-2020.pdf | https://pdf.indianexpress.com/pdfupload/icici/ie-lucknow-31-10-2020.pdf | https://pdf.indianexpress.com/pdfupload/icici/ie-ahmedabad-31-10-2020.pdf | https://pdf.indianexpress.com/pdfupload/icici/ie-kolkata-31-10-2020.pdf | https://pdf.indianexpress.com/pdfupload/icici/ie-jaipur-31-10-2020.pdf | https://pdf.indianexpress.com/pdfupload/icici/ie-chandigarh-31-10-2020.pdf |
| 30-10-2020 | https://pdf.indianexpress.com/pdfupload/icici/ie-delhi-30-10-2020.pdf | https://pdf.indianexpress.com/pdfupload/icici/ie-mumbai-30-10-2020.pdf | https://pdf.indianexpress.com/pdfupload/icici/ie-pune-30-10-2020.pdf | https://pdf.indianexpress.com/pdfupload/icici/ie-lucknow-30-10-2020.pdf | https://pdf.indianexpress.com/pdfupload/icici/ie-ahmedabad-30-10-2020.pdf | https://pdf.indianexpress.com/pdfupload/icici/ie-kolkata-30-10-2020.pdf | https://pdf.indianexpress.com/pdfupload/icici/ie-jaipur-30-10-2020.pdf | https://pdf.indianexpress.com/pdfupload/icici/ie-chandigarh-30-10-2020.pdf |
| 29-10-2020 | https://pdf.indianexpress.com/pdfupload/icici/ie-delhi-29-10-2020.pdf | https://pdf.indianexpress.com/pdfupload/icici/ie-mumbai-29-10-2020.pdf | https://pdf.indianexpress.com/pdfupload/icici/ie-pune-29-10-2020.pdf | https://pdf.indianexpress.com/pdfupload/icici/ie-lucknow-29-10-2020.pdf | https://pdf.indianexpress.com/pdfupload/icici/ie-ahmedabad-29-10-2020.pdf | https://pdf.indianexpress.com/pdfupload/icici/ie-kolkata-29-10-2020.pdf | https://pdf.indianexpress.com/pdfupload/icici/ie-jaipur-29-10-2020.pdf | https://pdf.indianexpress.com/pdfupload/icici/ie-chandigarh-29-10-2020.pdf |
| 28-10-2020 | https://pdf.indianexpress.com/pdfupload/icici/ie-delhi-28-10-2020.pdf | https://pdf.indianexpress.com/pdfupload/icici/ie-mumbai-28-10-2020.pdf | https://pdf.indianexpress.com/pdfupload/icici/ie-pune-28-10-2020.pdf | https://pdf.indianexpress.com/pdfupload/icici/ie-lucknow-28-10-2020.pdf | https://pdf.indianexpress.com/pdfupload/icici/ie-ahmedabad-28-10-2020.pdf | https://pdf.indianexpress.com/pdfupload/icici/ie-kolkata-28-10-2020.pdf | https://pdf.indianexpress.com/pdfupload/icici/ie-jaipur-28-10-2020.pdf | https://pdf.indianexpress.com/pdfupload/icici/ie-chandigarh-28-10-2020.pdf |
| 27-10-2020 | https://pdf.indianexpress.com/pdfupload/icici/ie-delhi-27-10-2020.pdf | https://pdf.indianexpress.com/pdfupload/icici/ie-mumbai-27-10-2020.pdf | https://pdf.indianexpress.com/pdfupload/icici/ie-pune-27-10-2020.pdf | https://pdf.indianexpress.com/pdfupload/icici/ie-lucknow-27-10-2020.pdf | https://pdf.indianexpress.com/pdfupload/icici/ie-ahmedabad-27-10-2020.pdf | https://pdf.indianexpress.com/pdfupload/icici/ie-kolkata-27-10-2020.pdf | https://pdf.indianexpress.com/pdfupload/icici/ie-jaipur-27-10-2020.pdf | https://pdf.indianexpress.com/pdfupload/icici/ie-chandigarh-27-10-2020.pdf |
| 26-10-2020 | https://pdf.indianexpress.com/pdfupload/icici/ie-delhi-26-10-2020.pdf | https://pdf.indianexpress.com/pdfupload/icici/ie-mumbai-26-10-2020.pdf | https://pdf.indianexpress.com/pdfupload/icici/ie-pune-26-10-2020.pdf | https://pdf.indianexpress.com/pdfupload/icici/ie-lucknow-26-10-2020.pdf | https://pdf.indianexpress.com/pdfupload/icici/ie-ahmedabad-26-10-2020.pdf | https://pdf.indianexpress.com/pdfupload/icici/ie-kolkata-26-10-2020.pdf | https://pdf.indianexpress.com/pdfupload/icici/ie-jaipur-26-10-2020.pdf | https://pdf.indianexpress.com/pdfupload/icici/ie-chandigarh-26-10-2020.pdf |
| 25-10-2020 | https://pdf.indianexpress.com/pdfupload/icici/ie-delhi-25-10-2020.pdf | https://pdf.indianexpress.com/pdfupload/icici/ie-mumbai-25-10-2020.pdf | https://pdf.indianexpress.com/pdfupload/icici/ie-pune-25-10-2020.pdf | https://pdf.indianexpress.com/pdfupload/icici/ie-lucknow-25-10-2020.pdf | https://pdf.indianexpress.com/pdfupload/icici/ie-ahmedabad-25-10-2020.pdf | https://pdf.indianexpress.com/pdfupload/icici/ie-kolkata-25-10-2020.pdf | https://pdf.indianexpress.com/pdfupload/icici/ie-jaipur-25-10-2020.pdf | https://pdf.indianexpress.com/pdfupload/icici/ie-chandigarh-25-10-2020.pdf |
| 24-10-2020 | https://pdf.indianexpress.com/pdfupload/icici/ie-delhi-24-10-2020.pdf | https://pdf.indianexpress.com/pdfupload/icici/ie-mumbai-24-10-2020.pdf | https://pdf.indianexpress.com/pdfupload/icici/ie-pune-24-10-2020.pdf | https://pdf.indianexpress.com/pdfupload/icici/ie-lucknow-24-10-2020.pdf | https://pdf.indianexpress.com/pdfupload/icici/ie-ahmedabad-24-10-2020.pdf | https://pdf.indianexpress.com/pdfupload/icici/ie-kolkata-24-10-2020.pdf | https://pdf.indianexpress.com/pdfupload/icici/ie-jaipur-24-10-2020.pdf | https://pdf.indianexpress.com/pdfupload/icici/ie-chandigarh-24-10-2020.pdf |
| 23-10-2020 | https://pdf.indianexpress.com/pdfupload/icici/ie-delhi-23-10-2020.pdf | https://pdf.indianexpress.com/pdfupload/icici/ie-mumbai-23-10-2020.pdf | https://pdf.indianexpress.com/pdfupload/icici/ie-pune-23-10-2020.pdf | https://pdf.indianexpress.com/pdfupload/icici/ie-lucknow-23-10-2020.pdf | https://pdf.indianexpress.com/pdfupload/icici/ie-ahmedabad-23-10-2020.pdf | https://pdf.indianexpress.com/pdfupload/icici/ie-kolkata-23-10-2020.pdf | https://pdf.indianexpress.com/pdfupload/icici/ie-jaipur-23-10-2020.pdf | https://pdf.indianexpress.com/pdfupload/icici/ie-chandigarh-23-10-2020.pdf |
| 22-10-2020 | https://pdf.indianexpress.com/pdfupload/icici/ie-delhi-22-10-2020.pdf | https://pdf.indianexpress.com/pdfupload/icici/ie-mumbai-22-10-2020.pdf | https://pdf.indianexpress.com/pdfupload/icici/ie-pune-22-10-2020.pdf | https://pdf.indianexpress.com/pdfupload/icici/ie-lucknow-22-10-2020.pdf | https://pdf.indianexpress.com/pdfupload/icici/ie-ahmedabad-22-10-2020.pdf | https://pdf.indianexpress.com/pdfupload/icici/ie-kolkata-22-10-2020.pdf | https://pdf.indianexpress.com/pdfupload/icici/ie-jaipur-22-10-2020.pdf | https://pdf.indianexpress.com/pdfupload/icici/ie-chandigarh-22-10-2020.pdf |
| 21-10-2020 | https://pdf.indianexpress.com/pdfupload/icici/ie-delhi-21-10-2020.pdf | https://pdf.indianexpress.com/pdfupload/icici/ie-mumbai-21-10-2020.pdf | https://pdf.indianexpress.com/pdfupload/icici/ie-pune-21-10-2020.pdf | https://pdf.indianexpress.com/pdfupload/icici/ie-lucknow-21-10-2020.pdf | https://pdf.indianexpress.com/pdfupload/icici/ie-ahmedabad-21-10-2020.pdf | https://pdf.indianexpress.com/pdfupload/icici/ie-kolkata-21-10-2020.pdf | https://pdf.indianexpress.com/pdfupload/icici/ie-jaipur-21-10-2020.pdf | https://pdf.indianexpress.com/pdfupload/icici/ie-chandigarh-21-10-2020.pdf |
| 20-10-2020 | https://pdf.indianexpress.com/pdfupload/icici/ie-delhi-20-10-2020.pdf | https://pdf.indianexpress.com/pdfupload/icici/ie-mumbai-20-10-2020.pdf | https://pdf.indianexpress.com/pdfupload/icici/ie-pune-20-10-2020.pdf | https://pdf.indianexpress.com/pdfupload/icici/ie-lucknow-20-10-2020.pdf | https://pdf.indianexpress.com/pdfupload/icici/ie-ahmedabad-20-10-2020.pdf | https://pdf.indianexpress.com/pdfupload/icici/ie-kolkata-20-10-2020.pdf | https://pdf.indianexpress.com/pdfupload/icici/ie-jaipur-20-10-2020.pdf | https://pdf.indianexpress.com/pdfupload/icici/ie-chandigarh-20-10-2020.pdf |
| 19-10-2020 | https://pdf.indianexpress.com/pdfupload/icici/ie-delhi-19-10-2020.pdf | https://pdf.indianexpress.com/pdfupload/icici/ie-mumbai-19-10-2020.pdf | https://pdf.indianexpress.com/pdfupload/icici/ie-pune-19-10-2020.pdf | https://pdf.indianexpress.com/pdfupload/icici/ie-lucknow-19-10-2020.pdf | https://pdf.indianexpress.com/pdfupload/icici/ie-ahmedabad-19-10-2020.pdf | https://pdf.indianexpress.com/pdfupload/icici/ie-kolkata-19-10-2020.pdf | https://pdf.indianexpress.com/pdfupload/icici/ie-jaipur-19-10-2020.pdf | https://pdf.indianexpress.com/pdfupload/icici/ie-chandigarh-19-10-2020.pdf |
| 18-10-2020 | https://pdf.indianexpress.com/pdfupload/icici/ie-delhi-18-10-2020.pdf | https://pdf.indianexpress.com/pdfupload/icici/ie-mumbai-18-10-2020.pdf | https://pdf.indianexpress.com/pdfupload/icici/ie-pune-18-10-2020.pdf | https://pdf.indianexpress.com/pdfupload/icici/ie-lucknow-18-10-2020.pdf | https://pdf.indianexpress.com/pdfupload/icici/ie-ahmedabad-18-10-2020.pdf | https://pdf.indianexpress.com/pdfupload/icici/ie-kolkata-18-10-2020.pdf | https://pdf.indianexpress.com/pdfupload/icici/ie-jaipur-18-10-2020.pdf | https://pdf.indianexpress.com/pdfupload/icici/ie-chandigarh-18-10-2020.pdf |
| 17-10-2020 | https://pdf.indianexpress.com/pdfupload/icici/ie-delhi-17-10-2020.pdf | https://pdf.indianexpress.com/pdfupload/icici/ie-mumbai-17-10-2020.pdf | https://pdf.indianexpress.com/pdfupload/icici/ie-pune-17-10-2020.pdf | https://pdf.indianexpress.com/pdfupload/icici/ie-lucknow-17-10-2020.pdf | https://pdf.indianexpress.com/pdfupload/icici/ie-ahmedabad-17-10-2020.pdf | https://pdf.indianexpress.com/pdfupload/icici/ie-kolkata-17-10-2020.pdf | https://pdf.indianexpress.com/pdfupload/icici/ie-jaipur-17-10-2020.pdf | https://pdf.indianexpress.com/pdfupload/icici/ie-chandigarh-17-10-2020.pdf |
| 16-10-2020 | https://pdf.indianexpress.com/pdfupload/icici/ie-delhi-16-10-2020.pdf | https://pdf.indianexpress.com/pdfupload/icici/ie-mumbai-16-10-2020.pdf | https://pdf.indianexpress.com/pdfupload/icici/ie-pune-16-10-2020.pdf | https://pdf.indianexpress.com/pdfupload/icici/ie-lucknow-16-10-2020.pdf | https://pdf.indianexpress.com/pdfupload/icici/ie-ahmedabad-16-10-2020.pdf | https://pdf.indianexpress.com/pdfupload/icici/ie-kolkata-16-10-2020.pdf | https://pdf.indianexpress.com/pdfupload/icici/ie-jaipur-16-10-2020.pdf | https://pdf.indianexpress.com/pdfupload/icici/ie-chandigarh-16-10-2020.pdf |
| 15-10-2020 | https://pdf.indianexpress.com/pdfupload/icici/ie-delhi-15-10-2020.pdf | https://pdf.indianexpress.com/pdfupload/icici/ie-mumbai-15-10-2020.pdf | https://pdf.indianexpress.com/pdfupload/icici/ie-pune-15-10-2020.pdf | https://pdf.indianexpress.com/pdfupload/icici/ie-lucknow-15-10-2020.pdf | https://pdf.indianexpress.com/pdfupload/icici/ie-ahmedabad-15-10-2020.pdf | https://pdf.indianexpress.com/pdfupload/icici/ie-kolkata-15-10-2020.pdf | https://pdf.indianexpress.com/pdfupload/icici/ie-jaipur-15-10-2020.pdf | https://pdf.indianexpress.com/pdfupload/icici/ie-chandigarh-15-10-2020.pdf |
| 14-10-2020 | https://pdf.indianexpress.com/pdfupload/icici/ie-delhi-14-10-2020.pdf | https://pdf.indianexpress.com/pdfupload/icici/ie-mumbai-14-10-2020.pdf | https://pdf.indianexpress.com/pdfupload/icici/ie-pune-14-10-2020.pdf | https://pdf.indianexpress.com/pdfupload/icici/ie-lucknow-14-10-2020.pdf | https://pdf.indianexpress.com/pdfupload/icici/ie-ahmedabad-14-10-2020.pdf | https://pdf.indianexpress.com/pdfupload/icici/ie-kolkata-14-10-2020.pdf | https://pdf.indianexpress.com/pdfupload/icici/ie-jaipur-14-10-2020.pdf | https://pdf.indianexpress.com/pdfupload/icici/ie-chandigarh-14-10-2020.pdf |
| 13-10-2020 | https://pdf.indianexpress.com/pdfupload/icici/ie-delhi-13-10-2020.pdf | https://pdf.indianexpress.com/pdfupload/icici/ie-mumbai-13-10-2020.pdf | https://pdf.indianexpress.com/pdfupload/icici/ie-pune-13-10-2020.pdf | https://pdf.indianexpress.com/pdfupload/icici/ie-lucknow-13-10-2020.pdf | https://pdf.indianexpress.com/pdfupload/icici/ie-ahmedabad-13-10-2020.pdf | https://pdf.indianexpress.com/pdfupload/icici/ie-kolkata-13-10-2020.pdf | https://pdf.indianexpress.com/pdfupload/icici/ie-jaipur-13-10-2020.pdf | https://pdf.indianexpress.com/pdfupload/icici/ie-chandigarh-13-10-2020.pdf |
| 12-10-2020 | https://pdf.indianexpress.com/pdfupload/icici/ie-delhi-12-10-2020.pdf | https://pdf.indianexpress.com/pdfupload/icici/ie-mumbai-12-10-2020.pdf | https://pdf.indianexpress.com/pdfupload/icici/ie-pune-12-10-2020.pdf | https://pdf.indianexpress.com/pdfupload/icici/ie-lucknow-12-10-2020.pdf | https://pdf.indianexpress.com/pdfupload/icici/ie-ahmedabad-12-10-2020.pdf | https://pdf.indianexpress.com/pdfupload/icici/ie-kolkata-12-10-2020.pdf | https://pdf.indianexpress.com/pdfupload/icici/ie-jaipur-12-10-2020.pdf | https://pdf.indianexpress.com/pdfupload/icici/ie-chandigarh-12-10-2020.pdf |
| 11-10-2020 | https://pdf.indianexpress.com/pdfupload/icici/ie-delhi-11-10-2020.pdf | https://pdf.indianexpress.com/pdfupload/icici/ie-mumbai-11-10-2020.pdf | https://pdf.indianexpress.com/pdfupload/icici/ie-pune-11-10-2020.pdf | https://pdf.indianexpress.com/pdfupload/icici/ie-lucknow-11-10-2020.pdf | https://pdf.indianexpress.com/pdfupload/icici/ie-ahmedabad-11-10-2020.pdf | https://pdf.indianexpress.com/pdfupload/icici/ie-kolkata-11-10-2020.pdf | https://pdf.indianexpress.com/pdfupload/icici/ie-jaipur-11-10-2020.pdf | https://pdf.indianexpress.com/pdfupload/icici/ie-chandigarh-11-10-2020.pdf |
| 10-10-2020 | https://pdf.indianexpress.com/pdfupload/icici/ie-delhi-10-10-2020.pdf | https://pdf.indianexpress.com/pdfupload/icici/ie-mumbai-10-10-2020.pdf | https://pdf.indianexpress.com/pdfupload/icici/ie-pune-10-10-2020.pdf | https://pdf.indianexpress.com/pdfupload/icici/ie-lucknow-10-10-2020.pdf | https://pdf.indianexpress.com/pdfupload/icici/ie-ahmedabad-10-10-2020.pdf | https://pdf.indianexpress.com/pdfupload/icici/ie-kolkata-10-10-2020.pdf | https://pdf.indianexpress.com/pdfupload/icici/ie-jaipur-10-10-2020.pdf | https://pdf.indianexpress.com/pdfupload/icici/ie-chandigarh-10-10-2020.pdf |
| 09-10-2020 | https://pdf.indianexpress.com/pdfupload/icici/ie-delhi-09-10-2020.pdf | https://pdf.indianexpress.com/pdfupload/icici/ie-mumbai-09-10-2020.pdf | https://pdf.indianexpress.com/pdfupload/icici/ie-pune-09-10-2020.pdf | https://pdf.indianexpress.com/pdfupload/icici/ie-lucknow-09-10-2020.pdf | https://pdf.indianexpress.com/pdfupload/icici/ie-ahmedabad-09-10-2020.pdf | https://pdf.indianexpress.com/pdfupload/icici/ie-kolkata-09-10-2020.pdf | https://pdf.indianexpress.com/pdfupload/icici/ie-jaipur-09-10-2020.pdf | https://pdf.indianexpress.com/pdfupload/icici/ie-chandigarh-09-10-2020.pdf |
| 08-10-2020 | https://pdf.indianexpress.com/pdfupload/icici/ie-delhi-08-10-2020.pdf | https://pdf.indianexpress.com/pdfupload/icici/ie-mumbai-08-10-2020.pdf | https://pdf.indianexpress.com/pdfupload/icici/ie-pune-08-10-2020.pdf | https://pdf.indianexpress.com/pdfupload/icici/ie-lucknow-08-10-2020.pdf | https://pdf.indianexpress.com/pdfupload/icici/ie-ahmedabad-08-10-2020.pdf | https://pdf.indianexpress.com/pdfupload/icici/ie-kolkata-08-10-2020.pdf | https://pdf.indianexpress.com/pdfupload/icici/ie-jaipur-08-10-2020.pdf | https://pdf.indianexpress.com/pdfupload/icici/ie-chandigarh-08-10-2020.pdf |
| 07-10-2020 | https://pdf.indianexpress.com/pdfupload/icici/ie-delhi-07-10-2020.pdf | https://pdf.indianexpress.com/pdfupload/icici/ie-mumbai-07-10-2020.pdf | https://pdf.indianexpress.com/pdfupload/icici/ie-pune-07-10-2020.pdf | https://pdf.indianexpress.com/pdfupload/icici/ie-lucknow-07-10-2020.pdf | https://pdf.indianexpress.com/pdfupload/icici/ie-ahmedabad-07-10-2020.pdf | https://pdf.indianexpress.com/pdfupload/icici/ie-kolkata-07-10-2020.pdf | https://pdf.indianexpress.com/pdfupload/icici/ie-jaipur-07-10-2020.pdf | https://pdf.indianexpress.com/pdfupload/icici/ie-chandigarh-07-10-2020.pdf |
| 06-10-2020 | https://pdf.indianexpress.com/pdfupload/icici/ie-delhi-06-10-2020.pdf | https://pdf.indianexpress.com/pdfupload/icici/ie-mumbai-06-10-2020.pdf | https://pdf.indianexpress.com/pdfupload/icici/ie-pune-06-10-2020.pdf | https://pdf.indianexpress.com/pdfupload/icici/ie-lucknow-06-10-2020.pdf | https://pdf.indianexpress.com/pdfupload/icici/ie-ahmedabad-06-10-2020.pdf | https://pdf.indianexpress.com/pdfupload/icici/ie-kolkata-06-10-2020.pdf | https://pdf.indianexpress.com/pdfupload/icici/ie-jaipur-06-10-2020.pdf | https://pdf.indianexpress.com/pdfupload/icici/ie-chandigarh-06-10-2020.pdf |
| 05-10-2020 | https://pdf.indianexpress.com/pdfupload/icici/ie-delhi-05-10-2020.pdf | https://pdf.indianexpress.com/pdfupload/icici/ie-mumbai-05-10-2020.pdf | https://pdf.indianexpress.com/pdfupload/icici/ie-pune-05-10-2020.pdf | https://pdf.indianexpress.com/pdfupload/icici/ie-lucknow-05-10-2020.pdf | https://pdf.indianexpress.com/pdfupload/icici/ie-ahmedabad-05-10-2020.pdf | https://pdf.indianexpress.com/pdfupload/icici/ie-kolkata-05-10-2020.pdf | https://pdf.indianexpress.com/pdfupload/icici/ie-jaipur-05-10-2020.pdf | https://pdf.indianexpress.com/pdfupload/icici/ie-chandigarh-05-10-2020.pdf |
| 04-10-2020 | https://pdf.indianexpress.com/pdfupload/icici/ie-delhi-04-10-2020.pdf | https://pdf.indianexpress.com/pdfupload/icici/ie-mumbai-04-10-2020.pdf | https://pdf.indianexpress.com/pdfupload/icici/ie-pune-04-10-2020.pdf | https://pdf.indianexpress.com/pdfupload/icici/ie-lucknow-04-10-2020.pdf | https://pdf.indianexpress.com/pdfupload/icici/ie-ahmedabad-04-10-2020.pdf | https://pdf.indianexpress.com/pdfupload/icici/ie-kolkata-04-10-2020.pdf | https://pdf.indianexpress.com/pdfupload/icici/ie-jaipur-04-10-2020.pdf | https://pdf.indianexpress.com/pdfupload/icici/ie-chandigarh-04-10-2020.pdf |
| 03-10-2020 | https://pdf.indianexpress.com/pdfupload/icici/ie-delhi-03-10-2020.pdf | https://pdf.indianexpress.com/pdfupload/icici/ie-mumbai-03-10-2020.pdf | https://pdf.indianexpress.com/pdfupload/icici/ie-pune-03-10-2020.pdf | https://pdf.indianexpress.com/pdfupload/icici/ie-lucknow-03-10-2020.pdf | https://pdf.indianexpress.com/pdfupload/icici/ie-ahmedabad-03-10-2020.pdf | https://pdf.indianexpress.com/pdfupload/icici/ie-kolkata-03-10-2020.pdf | https://pdf.indianexpress.com/pdfupload/icici/ie-jaipur-03-10-2020.pdf | https://pdf.indianexpress.com/pdfupload/icici/ie-chandigarh-03-10-2020.pdf |
| 02-10-2020 | https://pdf.indianexpress.com/pdfupload/icici/ie-delhi-02-10-2020.pdf | https://pdf.indianexpress.com/pdfupload/icici/ie-mumbai-02-10-2020.pdf | https://pdf.indianexpress.com/pdfupload/icici/ie-pune-02-10-2020.pdf | https://pdf.indianexpress.com/pdfupload/icici/ie-lucknow-02-10-2020.pdf | https://pdf.indianexpress.com/pdfupload/icici/ie-ahmedabad-02-10-2020.pdf | https://pdf.indianexpress.com/pdfupload/icici/ie-kolkata-02-10-2020.pdf | https://pdf.indianexpress.com/pdfupload/icici/ie-jaipur-02-10-2020.pdf | https://pdf.indianexpress.com/pdfupload/icici/ie-chandigarh-02-10-2020.pdf |
| 01-10-2020 | https://pdf.indianexpress.com/pdfupload/icici/ie-delhi-01-10-2020.pdf | https://pdf.indianexpress.com/pdfupload/icici/ie-mumbai-01-10-2020.pdf | https://pdf.indianexpress.com/pdfupload/icici/ie-pune-01-10-2020.pdf | https://pdf.indianexpress.com/pdfupload/icici/ie-lucknow-01-10-2020.pdf | https://pdf.indianexpress.com/pdfupload/icici/ie-ahmedabad-01-10-2020.pdf | https://pdf.indianexpress.com/pdfupload/icici/ie-kolkata-01-10-2020.pdf | https://pdf.indianexpress.com/pdfupload/icici/ie-jaipur-01-10-2020.pdf | https://pdf.indianexpress.com/pdfupload/icici/ie-chandigarh-01-10-2020.pdf |
| 30-09-2020 | https://pdf.indianexpress.com/pdfupload/icici/ie-delhi-30-09-2020.pdf | https://pdf.indianexpress.com/pdfupload/icici/ie-mumbai-30-09-2020.pdf | https://pdf.indianexpress.com/pdfupload/icici/ie-pune-30-09-2020.pdf | https://pdf.indianexpress.com/pdfupload/icici/ie-lucknow-30-09-2020.pdf | https://pdf.indianexpress.com/pdfupload/icici/ie-ahmedabad-30-09-2020.pdf | https://pdf.indianexpress.com/pdfupload/icici/ie-kolkata-30-09-2020.pdf | https://pdf.indianexpress.com/pdfupload/icici/ie-jaipur-30-09-2020.pdf | https://pdf.indianexpress.com/pdfupload/icici/ie-chandigarh-30-09-2020.pdf |
| 29-09-2020 | https://pdf.indianexpress.com/pdfupload/icici/ie-delhi-29-09-2020.pdf | https://pdf.indianexpress.com/pdfupload/icici/ie-mumbai-29-09-2020.pdf | https://pdf.indianexpress.com/pdfupload/icici/ie-pune-29-09-2020.pdf | https://pdf.indianexpress.com/pdfupload/icici/ie-lucknow-29-09-2020.pdf | https://pdf.indianexpress.com/pdfupload/icici/ie-ahmedabad-29-09-2020.pdf | https://pdf.indianexpress.com/pdfupload/icici/ie-kolkata-29-09-2020.pdf | https://pdf.indianexpress.com/pdfupload/icici/ie-jaipur-29-09-2020.pdf | https://pdf.indianexpress.com/pdfupload/icici/ie-chandigarh-29-09-2020.pdf |
| 28-09-2020 | https://pdf.indianexpress.com/pdfupload/icici/ie-delhi-28-09-2020.pdf | https://pdf.indianexpress.com/pdfupload/icici/ie-mumbai-28-09-2020.pdf | https://pdf.indianexpress.com/pdfupload/icici/ie-pune-28-09-2020.pdf | https://pdf.indianexpress.com/pdfupload/icici/ie-lucknow-28-09-2020.pdf | https://pdf.indianexpress.com/pdfupload/icici/ie-ahmedabad-28-09-2020.pdf | https://pdf.indianexpress.com/pdfupload/icici/ie-kolkata-28-09-2020.pdf | https://pdf.indianexpress.com/pdfupload/icici/ie-jaipur-28-09-2020.pdf | https://pdf.indianexpress.com/pdfupload/icici/ie-chandigarh-28-09-2020.pdf |
| 27-09-2020 | https://pdf.indianexpress.com/pdfupload/icici/ie-delhi-27-09-2020.pdf | https://pdf.indianexpress.com/pdfupload/icici/ie-mumbai-27-09-2020.pdf | https://pdf.indianexpress.com/pdfupload/icici/ie-pune-27-09-2020.pdf | https://pdf.indianexpress.com/pdfupload/icici/ie-lucknow-27-09-2020.pdf | https://pdf.indianexpress.com/pdfupload/icici/ie-ahmedabad-27-09-2020.pdf | https://pdf.indianexpress.com/pdfupload/icici/ie-kolkata-27-09-2020.pdf | https://pdf.indianexpress.com/pdfupload/icici/ie-jaipur-27-09-2020.pdf | https://pdf.indianexpress.com/pdfupload/icici/ie-chandigarh-27-09-2020.pdf |
| 26-09-2020 | https://pdf.indianexpress.com/pdfupload/icici/ie-delhi-26-09-2020.pdf | https://pdf.indianexpress.com/pdfupload/icici/ie-mumbai-26-09-2020.pdf | https://pdf.indianexpress.com/pdfupload/icici/ie-pune-26-09-2020.pdf | https://pdf.indianexpress.com/pdfupload/icici/ie-lucknow-26-09-2020.pdf | https://pdf.indianexpress.com/pdfupload/icici/ie-ahmedabad-26-09-2020.pdf | https://pdf.indianexpress.com/pdfupload/icici/ie-kolkata-26-09-2020.pdf | https://pdf.indianexpress.com/pdfupload/icici/ie-jaipur-26-09-2020.pdf | https://pdf.indianexpress.com/pdfupload/icici/ie-chandigarh-26-09-2020.pdf |
| 25-09-2020 | https://pdf.indianexpress.com/pdfupload/icici/ie-delhi-25-09-2020.pdf | https://pdf.indianexpress.com/pdfupload/icici/ie-mumbai-25-09-2020.pdf | https://pdf.indianexpress.com/pdfupload/icici/ie-pune-25-09-2020.pdf | https://pdf.indianexpress.com/pdfupload/icici/ie-lucknow-25-09-2020.pdf | https://pdf.indianexpress.com/pdfupload/icici/ie-ahmedabad-25-09-2020.pdf | https://pdf.indianexpress.com/pdfupload/icici/ie-kolkata-25-09-2020.pdf | https://pdf.indianexpress.com/pdfupload/icici/ie-jaipur-25-09-2020.pdf | https://pdf.indianexpress.com/pdfupload/icici/ie-chandigarh-25-09-2020.pdf |
| 24-09-2020 | https://pdf.indianexpress.com/pdfupload/icici/ie-delhi-24-09-2020.pdf | https://pdf.indianexpress.com/pdfupload/icici/ie-mumbai-24-09-2020.pdf | https://pdf.indianexpress.com/pdfupload/icici/ie-pune-24-09-2020.pdf | https://pdf.indianexpress.com/pdfupload/icici/ie-lucknow-24-09-2020.pdf | https://pdf.indianexpress.com/pdfupload/icici/ie-ahmedabad-24-09-2020.pdf | https://pdf.indianexpress.com/pdfupload/icici/ie-kolkata-24-09-2020.pdf | https://pdf.indianexpress.com/pdfupload/icici/ie-jaipur-24-09-2020.pdf | https://pdf.indianexpress.com/pdfupload/icici/ie-chandigarh-24-09-2020.pdf |
| 23-09-2020 | https://pdf.indianexpress.com/pdfupload/icici/ie-delhi-23-09-2020.pdf | https://pdf.indianexpress.com/pdfupload/icici/ie-mumbai-23-09-2020.pdf | https://pdf.indianexpress.com/pdfupload/icici/ie-pune-23-09-2020.pdf | https://pdf.indianexpress.com/pdfupload/icici/ie-lucknow-23-09-2020.pdf | https://pdf.indianexpress.com/pdfupload/icici/ie-ahmedabad-23-09-2020.pdf | https://pdf.indianexpress.com/pdfupload/icici/ie-kolkata-23-09-2020.pdf | https://pdf.indianexpress.com/pdfupload/icici/ie-jaipur-23-09-2020.pdf | https://pdf.indianexpress.com/pdfupload/icici/ie-chandigarh-23-09-2020.pdf |
| 22-09-2020 | https://pdf.indianexpress.com/pdfupload/icici/ie-delhi-22-09-2020.pdf | https://pdf.indianexpress.com/pdfupload/icici/ie-mumbai-22-09-2020.pdf | https://pdf.indianexpress.com/pdfupload/icici/ie-pune-22-09-2020.pdf | https://pdf.indianexpress.com/pdfupload/icici/ie-lucknow-22-09-2020.pdf | https://pdf.indianexpress.com/pdfupload/icici/ie-ahmedabad-22-09-2020.pdf | https://pdf.indianexpress.com/pdfupload/icici/ie-kolkata-22-09-2020.pdf | https://pdf.indianexpress.com/pdfupload/icici/ie-jaipur-22-09-2020.pdf | https://pdf.indianexpress.com/pdfupload/icici/ie-chandigarh-22-09-2020.pdf |
| 21-09-2020 | https://pdf.indianexpress.com/pdfupload/icici/ie-delhi-21-09-2020.pdf | https://pdf.indianexpress.com/pdfupload/icici/ie-mumbai-21-09-2020.pdf | https://pdf.indianexpress.com/pdfupload/icici/ie-pune-21-09-2020.pdf | https://pdf.indianexpress.com/pdfupload/icici/ie-lucknow-21-09-2020.pdf | https://pdf.indianexpress.com/pdfupload/icici/ie-ahmedabad-21-09-2020.pdf | https://pdf.indianexpress.com/pdfupload/icici/ie-kolkata-21-09-2020.pdf | https://pdf.indianexpress.com/pdfupload/icici/ie-jaipur-21-09-2020.pdf | https://pdf.indianexpress.com/pdfupload/icici/ie-chandigarh-21-09-2020.pdf |
| 20-09-2020 | https://pdf.indianexpress.com/pdfupload/icici/ie-delhi-20-09-2020.pdf | https://pdf.indianexpress.com/pdfupload/icici/ie-mumbai-20-09-2020.pdf | https://pdf.indianexpress.com/pdfupload/icici/ie-pune-20-09-2020.pdf | https://pdf.indianexpress.com/pdfupload/icici/ie-lucknow-20-09-2020.pdf | https://pdf.indianexpress.com/pdfupload/icici/ie-ahmedabad-20-09-2020.pdf | https://pdf.indianexpress.com/pdfupload/icici/ie-kolkata-20-09-2020.pdf | https://pdf.indianexpress.com/pdfupload/icici/ie-jaipur-20-09-2020.pdf | https://pdf.indianexpress.com/pdfupload/icici/ie-chandigarh-20-09-2020.pdf |
| 19-09-2020 | https://pdf.indianexpress.com/pdfupload/icici/ie-delhi-19-09-2020.pdf | https://pdf.indianexpress.com/pdfupload/icici/ie-mumbai-19-09-2020.pdf | https://pdf.indianexpress.com/pdfupload/icici/ie-pune-19-09-2020.pdf | https://pdf.indianexpress.com/pdfupload/icici/ie-lucknow-19-09-2020.pdf | https://pdf.indianexpress.com/pdfupload/icici/ie-ahmedabad-19-09-2020.pdf | https://pdf.indianexpress.com/pdfupload/icici/ie-kolkata-19-09-2020.pdf | https://pdf.indianexpress.com/pdfupload/icici/ie-jaipur-19-09-2020.pdf | https://pdf.indianexpress.com/pdfupload/icici/ie-chandigarh-19-09-2020.pdf |
| 17-09-2020 | https://pdf.indianexpress.com/pdfupload/icici/ie-delhi-17-09-2020.pdf | https://pdf.indianexpress.com/pdfupload/icici/ie-mumbai-17-09-2020.pdf | https://pdf.indianexpress.com/pdfupload/icici/ie-pune-17-09-2020.pdf | https://pdf.indianexpress.com/pdfupload/icici/ie-lucknow-17-09-2020.pdf | https://pdf.indianexpress.com/pdfupload/icici/ie-ahmedabad-17-09-2020.pdf | https://pdf.indianexpress.com/pdfupload/icici/ie-kolkata-17-09-2020.pdf | https://pdf.indianexpress.com/pdfupload/icici/ie-jaipur-17-09-2020.pdf | https://pdf.indianexpress.com/pdfupload/icici/ie-chandigarh-17-09-2020.pdf |
| 16-09-2020 | https://pdf.indianexpress.com/pdfupload/icici/ie-delhi-16-09-2020.pdf | https://pdf.indianexpress.com/pdfupload/icici/ie-mumbai-16-09-2020.pdf | https://pdf.indianexpress.com/pdfupload/icici/ie-pune-16-09-2020.pdf | https://pdf.indianexpress.com/pdfupload/icici/ie-lucknow-16-09-2020.pdf | https://pdf.indianexpress.com/pdfupload/icici/ie-ahmedabad-16-09-2020.pdf | https://pdf.indianexpress.com/pdfupload/icici/ie-kolkata-16-09-2020.pdf | https://pdf.indianexpress.com/pdfupload/icici/ie-jaipur-16-09-2020.pdf | https://pdf.indianexpress.com/pdfupload/icici/ie-chandigarh-16-09-2020.pdf |
| 15-09-2020 | https://pdf.indianexpress.com/pdfupload/icici/ie-delhi-15-09-2020.pdf | https://pdf.indianexpress.com/pdfupload/icici/ie-mumbai-15-09-2020.pdf | https://pdf.indianexpress.com/pdfupload/icici/ie-pune-15-09-2020.pdf | https://pdf.indianexpress.com/pdfupload/icici/ie-lucknow-15-09-2020.pdf | https://pdf.indianexpress.com/pdfupload/icici/ie-ahmedabad-15-09-2020.pdf | https://pdf.indianexpress.com/pdfupload/icici/ie-kolkata-15-09-2020.pdf | https://pdf.indianexpress.com/pdfupload/icici/ie-jaipur-15-09-2020.pdf | https://pdf.indianexpress.com/pdfupload/icici/ie-chandigarh-15-09-2020.pdf |
| 14-09-2020 | https://pdf.indianexpress.com/pdfupload/icici/ie-delhi-14-09-2020.pdf | https://pdf.indianexpress.com/pdfupload/icici/ie-mumbai-14-09-2020.pdf | https://pdf.indianexpress.com/pdfupload/icici/ie-pune-14-09-2020.pdf | https://pdf.indianexpress.com/pdfupload/icici/ie-lucknow-14-09-2020.pdf | https://pdf.indianexpress.com/pdfupload/icici/ie-ahmedabad-14-09-2020.pdf | https://pdf.indianexpress.com/pdfupload/icici/ie-kolkata-14-09-2020.pdf | https://pdf.indianexpress.com/pdfupload/icici/ie-jaipur-14-09-2020.pdf | https://pdf.indianexpress.com/pdfupload/icici/ie-chandigarh-14-09-2020.pdf |
| 13-09-2020 | https://pdf.indianexpress.com/pdfupload/icici/ie-delhi-13-09-2020.pdf | https://pdf.indianexpress.com/pdfupload/icici/ie-mumbai-13-09-2020.pdf | https://pdf.indianexpress.com/pdfupload/icici/ie-pune-13-09-2020.pdf | https://pdf.indianexpress.com/pdfupload/icici/ie-lucknow-13-09-2020.pdf | https://pdf.indianexpress.com/pdfupload/icici/ie-ahmedabad-13-09-2020.pdf | https://pdf.indianexpress.com/pdfupload/icici/ie-kolkata-13-09-2020.pdf | https://pdf.indianexpress.com/pdfupload/icici/ie-jaipur-13-09-2020.pdf | https://pdf.indianexpress.com/pdfupload/icici/ie-chandigarh-13-09-2020.pdf |
| 12-09-2020 | https://pdf.indianexpress.com/pdfupload/icici/ie-delhi-12-09-2020.pdf | https://pdf.indianexpress.com/pdfupload/icici/ie-mumbai-12-09-2020.pdf | https://pdf.indianexpress.com/pdfupload/icici/ie-pune-12-09-2020.pdf | https://pdf.indianexpress.com/pdfupload/icici/ie-lucknow-12-09-2020.pdf | https://pdf.indianexpress.com/pdfupload/icici/ie-ahmedabad-12-09-2020.pdf | https://pdf.indianexpress.com/pdfupload/icici/ie-kolkata-12-09-2020.pdf | https://pdf.indianexpress.com/pdfupload/icici/ie-jaipur-12-09-2020.pdf | https://pdf.indianexpress.com/pdfupload/icici/ie-chandigarh-12-09-2020.pdf |
| 11-09-2020 | https://pdf.indianexpress.com/pdfupload/icici/ie-delhi-11-09-2020.pdf | https://pdf.indianexpress.com/pdfupload/icici/ie-mumbai-11-09-2020.pdf | https://pdf.indianexpress.com/pdfupload/icici/ie-pune-11-09-2020.pdf | https://pdf.indianexpress.com/pdfupload/icici/ie-lucknow-11-09-2020.pdf | https://pdf.indianexpress.com/pdfupload/icici/ie-ahmedabad-11-09-2020.pdf | https://pdf.indianexpress.com/pdfupload/icici/ie-kolkata-11-09-2020.pdf | https://pdf.indianexpress.com/pdfupload/icici/ie-jaipur-11-09-2020.pdf | https://pdf.indianexpress.com/pdfupload/icici/ie-chandigarh-11-09-2020.pdf |
| 10-09-2020 | https://pdf.indianexpress.com/pdfupload/icici/ie-delhi-10-09-2020.pdf | https://pdf.indianexpress.com/pdfupload/icici/ie-mumbai-10-09-2020.pdf | https://pdf.indianexpress.com/pdfupload/icici/ie-pune-10-09-2020.pdf | https://pdf.indianexpress.com/pdfupload/icici/ie-lucknow-10-09-2020.pdf | https://pdf.indianexpress.com/pdfupload/icici/ie-ahmedabad-10-09-2020.pdf | https://pdf.indianexpress.com/pdfupload/icici/ie-kolkata-10-09-2020.pdf | https://pdf.indianexpress.com/pdfupload/icici/ie-jaipur-10-09-2020.pdf | https://pdf.indianexpress.com/pdfupload/icici/ie-chandigarh-10-09-2020.pdf |
| 09-09-2020 | https://pdf.indianexpress.com/pdfupload/icici/ie-delhi-09-09-2020.pdf | https://pdf.indianexpress.com/pdfupload/icici/ie-mumbai-09-09-2020.pdf | https://pdf.indianexpress.com/pdfupload/icici/ie-pune-09-09-2020.pdf | https://pdf.indianexpress.com/pdfupload/icici/ie-lucknow-09-09-2020.pdf | https://pdf.indianexpress.com/pdfupload/icici/ie-ahmedabad-09-09-2020.pdf | https://pdf.indianexpress.com/pdfupload/icici/ie-kolkata-09-09-2020.pdf | https://pdf.indianexpress.com/pdfupload/icici/ie-jaipur-09-09-2020.pdf | https://pdf.indianexpress.com/pdfupload/icici/ie-chandigarh-09-09-2020.pdf |
| 08-09-2020 | https://pdf.indianexpress.com/pdfupload/icici/ie-delhi-08-09-2020.pdf | https://pdf.indianexpress.com/pdfupload/icici/ie-mumbai-08-09-2020.pdf | https://pdf.indianexpress.com/pdfupload/icici/ie-pune-08-09-2020.pdf | https://pdf.indianexpress.com/pdfupload/icici/ie-lucknow-08-09-2020.pdf | https://pdf.indianexpress.com/pdfupload/icici/ie-ahmedabad-08-09-2020.pdf | https://pdf.indianexpress.com/pdfupload/icici/ie-kolkata-08-09-2020.pdf | https://pdf.indianexpress.com/pdfupload/icici/ie-jaipur-08-09-2020.pdf | https://pdf.indianexpress.com/pdfupload/icici/ie-chandigarh-08-09-2020.pdf |
| 07-09-2020 | https://pdf.indianexpress.com/pdfupload/icici/ie-delhi-07-09-2020.pdf | https://pdf.indianexpress.com/pdfupload/icici/ie-mumbai-07-09-2020.pdf | https://pdf.indianexpress.com/pdfupload/icici/ie-pune-07-09-2020.pdf | https://pdf.indianexpress.com/pdfupload/icici/ie-lucknow-07-09-2020.pdf | https://pdf.indianexpress.com/pdfupload/icici/ie-ahmedabad-07-09-2020.pdf | https://pdf.indianexpress.com/pdfupload/icici/ie-kolkata-07-09-2020.pdf | https://pdf.indianexpress.com/pdfupload/icici/ie-jaipur-07-09-2020.pdf | https://pdf.indianexpress.com/pdfupload/icici/ie-chandigarh-07-09-2020.pdf |
| 06-09-2020 | https://pdf.indianexpress.com/pdfupload/icici/ie-delhi-06-09-2020.pdf | https://pdf.indianexpress.com/pdfupload/icici/ie-mumbai-06-09-2020.pdf | https://pdf.indianexpress.com/pdfupload/icici/ie-pune-06-09-2020.pdf | https://pdf.indianexpress.com/pdfupload/icici/ie-lucknow-06-09-2020.pdf | https://pdf.indianexpress.com/pdfupload/icici/ie-ahmedabad-06-09-2020.pdf | https://pdf.indianexpress.com/pdfupload/icici/ie-kolkata-06-09-2020.pdf | https://pdf.indianexpress.com/pdfupload/icici/ie-jaipur-06-09-2020.pdf | https://pdf.indianexpress.com/pdfupload/icici/ie-chandigarh-06-09-2020.pdf |
| 05-09-2020 | https://pdf.indianexpress.com/pdfupload/icici/ie-delhi-05-09-2020.pdf | https://pdf.indianexpress.com/pdfupload/icici/ie-mumbai-05-09-2020.pdf | https://pdf.indianexpress.com/pdfupload/icici/ie-pune-05-09-2020.pdf | https://pdf.indianexpress.com/pdfupload/icici/ie-lucknow-05-09-2020.pdf | https://pdf.indianexpress.com/pdfupload/icici/ie-ahmedabad-05-09-2020.pdf | https://pdf.indianexpress.com/pdfupload/icici/ie-kolkata-05-09-2020.pdf | https://pdf.indianexpress.com/pdfupload/icici/ie-jaipur-05-09-2020.pdf | https://pdf.indianexpress.com/pdfupload/icici/ie-chandigarh-05-09-2020.pdf |
| 04-09-2020 | https://pdf.indianexpress.com/pdfupload/icici/ie-delhi-04-09-2020.pdf | https://pdf.indianexpress.com/pdfupload/icici/ie-mumbai-04-09-2020.pdf | https://pdf.indianexpress.com/pdfupload/icici/ie-pune-04-09-2020.pdf | https://pdf.indianexpress.com/pdfupload/icici/ie-lucknow-04-09-2020.pdf | https://pdf.indianexpress.com/pdfupload/icici/ie-ahmedabad-04-09-2020.pdf | https://pdf.indianexpress.com/pdfupload/icici/ie-kolkata-04-09-2020.pdf | https://pdf.indianexpress.com/pdfupload/icici/ie-jaipur-04-09-2020.pdf | https://pdf.indianexpress.com/pdfupload/icici/ie-chandigarh-04-09-2020.pdf |
| 03-09-2020 | https://pdf.indianexpress.com/pdfupload/icici/ie-delhi-03-09-2020.pdf | https://pdf.indianexpress.com/pdfupload/icici/ie-mumbai-03-09-2020.pdf | https://pdf.indianexpress.com/pdfupload/icici/ie-pune-03-09-2020.pdf | https://pdf.indianexpress.com/pdfupload/icici/ie-lucknow-03-09-2020.pdf | https://pdf.indianexpress.com/pdfupload/icici/ie-ahmedabad-03-09-2020.pdf | https://pdf.indianexpress.com/pdfupload/icici/ie-kolkata-03-09-2020.pdf | https://pdf.indianexpress.com/pdfupload/icici/ie-jaipur-03-09-2020.pdf | https://pdf.indianexpress.com/pdfupload/icici/ie-chandigarh-03-09-2020.pdf |
| 02-09-2020 | https://pdf.indianexpress.com/pdfupload/icici/ie-delhi-02-09-2020.pdf | https://pdf.indianexpress.com/pdfupload/icici/ie-mumbai-02-09-2020.pdf | https://pdf.indianexpress.com/pdfupload/icici/ie-pune-02-09-2020.pdf | https://pdf.indianexpress.com/pdfupload/icici/ie-lucknow-02-09-2020.pdf | https://pdf.indianexpress.com/pdfupload/icici/ie-ahmedabad-02-09-2020.pdf | https://pdf.indianexpress.com/pdfupload/icici/ie-kolkata-02-09-2020.pdf | https://pdf.indianexpress.com/pdfupload/icici/ie-jaipur-02-09-2020.pdf | https://pdf.indianexpress.com/pdfupload/icici/ie-chandigarh-02-09-2020.pdf |
| 01-09-2020 | https://pdf.indianexpress.com/pdfupload/icici/ie-delhi-01-09-2020.pdf | https://pdf.indianexpress.com/pdfupload/icici/ie-mumbai-01-09-2020.pdf | https://pdf.indianexpress.com/pdfupload/icici/ie-pune-01-09-2020.pdf | https://pdf.indianexpress.com/pdfupload/icici/ie-lucknow-01-09-2020.pdf | https://pdf.indianexpress.com/pdfupload/icici/ie-ahmedabad-01-09-2020.pdf | https://pdf.indianexpress.com/pdfupload/icici/ie-kolkata-01-09-2020.pdf | https://pdf.indianexpress.com/pdfupload/icici/ie-jaipur-01-09-2020.pdf | https://pdf.indianexpress.com/pdfupload/icici/ie-chandigarh-01-09-2020.pdf |
| 31-08-2020 | https://pdf.indianexpress.com/pdfupload/icici/ie-delhi-31-08-2020.pdf | https://pdf.indianexpress.com/pdfupload/icici/ie-mumbai-31-08-2020.pdf | https://pdf.indianexpress.com/pdfupload/icici/ie-pune-31-08-2020.pdf | https://pdf.indianexpress.com/pdfupload/icici/ie-lucknow-31-08-2020.pdf | https://pdf.indianexpress.com/pdfupload/icici/ie-ahmedabad-31-08-2020.pdf | https://pdf.indianexpress.com/pdfupload/icici/ie-kolkata-31-08-2020.pdf | https://pdf.indianexpress.com/pdfupload/icici/ie-jaipur-31-08-2020.pdf | https://pdf.indianexpress.com/pdfupload/icici/ie-chandigarh-31-08-2020.pdf |
| 30-08-2020 | https://pdf.indianexpress.com/pdfupload/icici/ie-delhi-30-08-2020.pdf | https://pdf.indianexpress.com/pdfupload/icici/ie-mumbai-30-08-2020.pdf | https://pdf.indianexpress.com/pdfupload/icici/ie-pune-30-08-2020.pdf | https://pdf.indianexpress.com/pdfupload/icici/ie-lucknow-30-08-2020.pdf | https://pdf.indianexpress.com/pdfupload/icici/ie-ahmedabad-30-08-2020.pdf | https://pdf.indianexpress.com/pdfupload/icici/ie-kolkata-30-08-2020.pdf | https://pdf.indianexpress.com/pdfupload/icici/ie-jaipur-30-08-2020.pdf | https://pdf.indianexpress.com/pdfupload/icici/ie-chandigarh-30-08-2020.pdf |
| 29-08-2020 | https://pdf.indianexpress.com/pdfupload/icici/ie-delhi-29-08-2020.pdf | https://pdf.indianexpress.com/pdfupload/icici/ie-mumbai-29-08-2020.pdf | https://pdf.indianexpress.com/pdfupload/icici/ie-pune-29-08-2020.pdf | https://pdf.indianexpress.com/pdfupload/icici/ie-lucknow-29-08-2020.pdf | https://pdf.indianexpress.com/pdfupload/icici/ie-ahmedabad-29-08-2020.pdf | https://pdf.indianexpress.com/pdfupload/icici/ie-kolkata-29-08-2020.pdf | https://pdf.indianexpress.com/pdfupload/icici/ie-jaipur-29-08-2020.pdf | https://pdf.indianexpress.com/pdfupload/icici/ie-chandigarh-29-08-2020.pdf |
| 28-08-2020 | https://pdf.indianexpress.com/pdfupload/icici/ie-delhi-28-08-2020.pdf | https://pdf.indianexpress.com/pdfupload/icici/ie-mumbai-28-08-2020.pdf | https://pdf.indianexpress.com/pdfupload/icici/ie-pune-28-08-2020.pdf | https://pdf.indianexpress.com/pdfupload/icici/ie-lucknow-28-08-2020.pdf | https://pdf.indianexpress.com/pdfupload/icici/ie-ahmedabad-28-08-2020.pdf | https://pdf.indianexpress.com/pdfupload/icici/ie-kolkata-28-08-2020.pdf | https://pdf.indianexpress.com/pdfupload/icici/ie-jaipur-28-08-2020.pdf | https://pdf.indianexpress.com/pdfupload/icici/ie-chandigarh-28-08-2020.pdf |
| 27-08-2020 | https://pdf.indianexpress.com/pdfupload/icici/ie-delhi-27-08-2020.pdf | https://pdf.indianexpress.com/pdfupload/icici/ie-mumbai-27-08-2020.pdf | https://pdf.indianexpress.com/pdfupload/icici/ie-pune-27-08-2020.pdf | https://pdf.indianexpress.com/pdfupload/icici/ie-lucknow-27-08-2020.pdf | https://pdf.indianexpress.com/pdfupload/icici/ie-ahmedabad-27-08-2020.pdf | https://pdf.indianexpress.com/pdfupload/icici/ie-kolkata-27-08-2020.pdf | https://pdf.indianexpress.com/pdfupload/icici/ie-jaipur-27-08-2020.pdf | https://pdf.indianexpress.com/pdfupload/icici/ie-chandigarh-27-08-2020.pdf |
| 26-08-2020 | https://pdf.indianexpress.com/pdfupload/icici/ie-delhi-26-08-2020.pdf | https://pdf.indianexpress.com/pdfupload/icici/ie-mumbai-26-08-2020.pdf | https://pdf.indianexpress.com/pdfupload/icici/ie-pune-26-08-2020.pdf | https://pdf.indianexpress.com/pdfupload/icici/ie-lucknow-26-08-2020.pdf | https://pdf.indianexpress.com/pdfupload/icici/ie-ahmedabad-26-08-2020.pdf | https://pdf.indianexpress.com/pdfupload/icici/ie-kolkata-26-08-2020.pdf | https://pdf.indianexpress.com/pdfupload/icici/ie-jaipur-26-08-2020.pdf | https://pdf.indianexpress.com/pdfupload/icici/ie-chandigarh-26-08-2020.pdf |
| 25-08-2020 | https://pdf.indianexpress.com/pdfupload/icici/ie-delhi-25-08-2020.pdf | https://pdf.indianexpress.com/pdfupload/icici/ie-mumbai-25-08-2020.pdf | https://pdf.indianexpress.com/pdfupload/icici/ie-pune-25-08-2020.pdf | https://pdf.indianexpress.com/pdfupload/icici/ie-lucknow-25-08-2020.pdf | https://pdf.indianexpress.com/pdfupload/icici/ie-ahmedabad-25-08-2020.pdf | https://pdf.indianexpress.com/pdfupload/icici/ie-kolkata-25-08-2020.pdf | https://pdf.indianexpress.com/pdfupload/icici/ie-jaipur-25-08-2020.pdf | https://pdf.indianexpress.com/pdfupload/icici/ie-chandigarh-25-08-2020.pdf |
| 24-08-2020 | https://pdf.indianexpress.com/pdfupload/icici/ie-delhi-24-08-2020.pdf | https://pdf.indianexpress.com/pdfupload/icici/ie-mumbai-24-08-2020.pdf | https://pdf.indianexpress.com/pdfupload/icici/ie-pune-24-08-2020.pdf | https://pdf.indianexpress.com/pdfupload/icici/ie-lucknow-24-08-2020.pdf | https://pdf.indianexpress.com/pdfupload/icici/ie-ahmedabad-24-08-2020.pdf | https://pdf.indianexpress.com/pdfupload/icici/ie-kolkata-24-08-2020.pdf | https://pdf.indianexpress.com/pdfupload/icici/ie-jaipur-24-08-2020.pdf | https://pdf.indianexpress.com/pdfupload/icici/ie-chandigarh-24-08-2020.pdf |
| 23-08-2020 | https://pdf.indianexpress.com/pdfupload/icici/ie-delhi-23-08-2020.pdf | https://pdf.indianexpress.com/pdfupload/icici/ie-mumbai-23-08-2020.pdf | https://pdf.indianexpress.com/pdfupload/icici/ie-pune-23-08-2020.pdf | https://pdf.indianexpress.com/pdfupload/icici/ie-lucknow-23-08-2020.pdf | https://pdf.indianexpress.com/pdfupload/icici/ie-ahmedabad-23-08-2020.pdf | https://pdf.indianexpress.com/pdfupload/icici/ie-kolkata-23-08-2020.pdf | https://pdf.indianexpress.com/pdfupload/icici/ie-jaipur-23-08-2020.pdf | https://pdf.indianexpress.com/pdfupload/icici/ie-chandigarh-23-08-2020.pdf |
| 22-08-2020 | https://pdf.indianexpress.com/pdfupload/icici/ie-delhi-22-08-2020.pdf | https://pdf.indianexpress.com/pdfupload/icici/ie-mumbai-22-08-2020.pdf | https://pdf.indianexpress.com/pdfupload/icici/ie-pune-22-08-2020.pdf | https://pdf.indianexpress.com/pdfupload/icici/ie-lucknow-22-08-2020.pdf | https://pdf.indianexpress.com/pdfupload/icici/ie-ahmedabad-22-08-2020.pdf | https://pdf.indianexpress.com/pdfupload/icici/ie-kolkata-22-08-2020.pdf | https://pdf.indianexpress.com/pdfupload/icici/ie-jaipur-22-08-2020.pdf | https://pdf.indianexpress.com/pdfupload/icici/ie-chandigarh-22-08-2020.pdf |
| 21-08-2020 | https://pdf.indianexpress.com/pdfupload/icici/ie-delhi-21-08-2020.pdf | https://pdf.indianexpress.com/pdfupload/icici/ie-mumbai-21-08-2020.pdf | https://pdf.indianexpress.com/pdfupload/icici/ie-pune-21-08-2020.pdf | https://pdf.indianexpress.com/pdfupload/icici/ie-lucknow-21-08-2020.pdf | https://pdf.indianexpress.com/pdfupload/icici/ie-ahmedabad-21-08-2020.pdf | https://pdf.indianexpress.com/pdfupload/icici/ie-kolkata-21-08-2020.pdf | https://pdf.indianexpress.com/pdfupload/icici/ie-jaipur-21-08-2020.pdf | https://pdf.indianexpress.com/pdfupload/icici/ie-chandigarh-21-08-2020.pdf |
| 20-08-2020 | https://pdf.indianexpress.com/pdfupload/icici/ie-delhi-20-08-2020.pdf | https://pdf.indianexpress.com/pdfupload/icici/ie-mumbai-20-08-2020.pdf | https://pdf.indianexpress.com/pdfupload/icici/ie-pune-20-08-2020.pdf | https://pdf.indianexpress.com/pdfupload/icici/ie-lucknow-20-08-2020.pdf | https://pdf.indianexpress.com/pdfupload/icici/ie-ahmedabad-20-08-2020.pdf | https://pdf.indianexpress.com/pdfupload/icici/ie-kolkata-20-08-2020.pdf | https://pdf.indianexpress.com/pdfupload/icici/ie-jaipur-20-08-2020.pdf | https://pdf.indianexpress.com/pdfupload/icici/ie-chandigarh-20-08-2020.pdf |
| 19-08-2020 | https://pdf.indianexpress.com/pdfupload/icici/ie-delhi-19-08-2020.pdf | https://pdf.indianexpress.com/pdfupload/icici/ie-mumbai-19-08-2020.pdf | https://pdf.indianexpress.com/pdfupload/icici/ie-pune-19-08-2020.pdf | https://pdf.indianexpress.com/pdfupload/icici/ie-lucknow-19-08-2020.pdf | https://pdf.indianexpress.com/pdfupload/icici/ie-ahmedabad-19-08-2020.pdf | https://pdf.indianexpress.com/pdfupload/icici/ie-kolkata-19-08-2020.pdf | https://pdf.indianexpress.com/pdfupload/icici/ie-jaipur-19-08-2020.pdf | https://pdf.indianexpress.com/pdfupload/icici/ie-chandigarh-19-08-2020.pdf |
| 18-08-2020 | https://pdf.indianexpress.com/pdfupload/icici/ie-delhi-18-08-2020.pdf | https://pdf.indianexpress.com/pdfupload/icici/ie-mumbai-18-08-2020.pdf | https://pdf.indianexpress.com/pdfupload/icici/ie-pune-18-08-2020.pdf | https://pdf.indianexpress.com/pdfupload/icici/ie-lucknow-18-08-2020.pdf | https://pdf.indianexpress.com/pdfupload/icici/ie-ahmedabad-18-08-2020.pdf | https://pdf.indianexpress.com/pdfupload/icici/ie-kolkata-18-08-2020.pdf | https://pdf.indianexpress.com/pdfupload/icici/ie-jaipur-18-08-2020.pdf | https://pdf.indianexpress.com/pdfupload/icici/ie-chandigarh-18-08-2020.pdf |
| 17-08-2020 | https://pdf.indianexpress.com/pdfupload/icici/ie-delhi-17-08-2020.pdf | https://pdf.indianexpress.com/pdfupload/icici/ie-mumbai-17-08-2020.pdf | https://pdf.indianexpress.com/pdfupload/icici/ie-pune-17-08-2020.pdf | https://pdf.indianexpress.com/pdfupload/icici/ie-lucknow-17-08-2020.pdf | https://pdf.indianexpress.com/pdfupload/icici/ie-ahmedabad-17-08-2020.pdf | https://pdf.indianexpress.com/pdfupload/icici/ie-kolkata-17-08-2020.pdf | https://pdf.indianexpress.com/pdfupload/icici/ie-jaipur-17-08-2020.pdf | https://pdf.indianexpress.com/pdfupload/icici/ie-chandigarh-17-08-2020.pdf |
| 16-08-2020 | https://pdf.indianexpress.com/pdfupload/icici/ie-delhi-16-08-2020.pdf | https://pdf.indianexpress.com/pdfupload/icici/ie-mumbai-16-08-2020.pdf | https://pdf.indianexpress.com/pdfupload/icici/ie-pune-16-08-2020.pdf | https://pdf.indianexpress.com/pdfupload/icici/ie-lucknow-16-08-2020.pdf | https://pdf.indianexpress.com/pdfupload/icici/ie-ahmedabad-16-08-2020.pdf | https://pdf.indianexpress.com/pdfupload/icici/ie-kolkata-16-08-2020.pdf | https://pdf.indianexpress.com/pdfupload/icici/ie-jaipur-16-08-2020.pdf | https://pdf.indianexpress.com/pdfupload/icici/ie-chandigarh-16-08-2020.pdf |
| 15-08-2020 | https://pdf.indianexpress.com/pdfupload/icici/ie-delhi-15-08-2020.pdf | https://pdf.indianexpress.com/pdfupload/icici/ie-mumbai-15-08-2020.pdf | https://pdf.indianexpress.com/pdfupload/icici/ie-pune-15-08-2020.pdf | https://pdf.indianexpress.com/pdfupload/icici/ie-lucknow-15-08-2020.pdf | https://pdf.indianexpress.com/pdfupload/icici/ie-ahmedabad-15-08-2020.pdf | https://pdf.indianexpress.com/pdfupload/icici/ie-kolkata-15-08-2020.pdf | https://pdf.indianexpress.com/pdfupload/icici/ie-jaipur-15-08-2020.pdf | https://pdf.indianexpress.com/pdfupload/icici/ie-chandigarh-15-08-2020.pdf |
| 14-08-2020 | https://pdf.indianexpress.com/pdfupload/icici/ie-delhi-14-08-2020.pdf | https://pdf.indianexpress.com/pdfupload/icici/ie-mumbai-14-08-2020.pdf | https://pdf.indianexpress.com/pdfupload/icici/ie-pune-14-08-2020.pdf | https://pdf.indianexpress.com/pdfupload/icici/ie-lucknow-14-08-2020.pdf | https://pdf.indianexpress.com/pdfupload/icici/ie-ahmedabad-14-08-2020.pdf | https://pdf.indianexpress.com/pdfupload/icici/ie-kolkata-14-08-2020.pdf | https://pdf.indianexpress.com/pdfupload/icici/ie-jaipur-14-08-2020.pdf | https://pdf.indianexpress.com/pdfupload/icici/ie-chandigarh-14-08-2020.pdf |
| 13-08-2020 | https://pdf.indianexpress.com/pdfupload/icici/ie-delhi-13-08-2020.pdf | https://pdf.indianexpress.com/pdfupload/icici/ie-mumbai-13-08-2020.pdf | https://pdf.indianexpress.com/pdfupload/icici/ie-pune-13-08-2020.pdf | https://pdf.indianexpress.com/pdfupload/icici/ie-lucknow-13-08-2020.pdf | https://pdf.indianexpress.com/pdfupload/icici/ie-ahmedabad-13-08-2020.pdf | https://pdf.indianexpress.com/pdfupload/icici/ie-kolkata-13-08-2020.pdf | https://pdf.indianexpress.com/pdfupload/icici/ie-jaipur-13-08-2020.pdf | https://pdf.indianexpress.com/pdfupload/icici/ie-chandigarh-13-08-2020.pdf |
| 12-08-2020 | https://pdf.indianexpress.com/pdfupload/icici/ie-delhi-12-08-2020.pdf | https://pdf.indianexpress.com/pdfupload/icici/ie-mumbai-12-08-2020.pdf | https://pdf.indianexpress.com/pdfupload/icici/ie-pune-12-08-2020.pdf | https://pdf.indianexpress.com/pdfupload/icici/ie-lucknow-12-08-2020.pdf | https://pdf.indianexpress.com/pdfupload/icici/ie-ahmedabad-12-08-2020.pdf | https://pdf.indianexpress.com/pdfupload/icici/ie-kolkata-12-08-2020.pdf | https://pdf.indianexpress.com/pdfupload/icici/ie-jaipur-12-08-2020.pdf | https://pdf.indianexpress.com/pdfupload/icici/ie-chandigarh-12-08-2020.pdf |
| 11-08-2020 | https://pdf.indianexpress.com/pdfupload/icici/ie-delhi-11-08-2020.pdf | https://pdf.indianexpress.com/pdfupload/icici/ie-mumbai-11-08-2020.pdf | https://pdf.indianexpress.com/pdfupload/icici/ie-pune-11-08-2020.pdf | https://pdf.indianexpress.com/pdfupload/icici/ie-lucknow-11-08-2020.pdf | https://pdf.indianexpress.com/pdfupload/icici/ie-ahmedabad-11-08-2020.pdf | https://pdf.indianexpress.com/pdfupload/icici/ie-kolkata-11-08-2020.pdf | https://pdf.indianexpress.com/pdfupload/icici/ie-jaipur-11-08-2020.pdf | https://pdf.indianexpress.com/pdfupload/icici/ie-chandigarh-11-08-2020.pdf |
| 10-08-2020 | https://pdf.indianexpress.com/pdfupload/icici/ie-delhi-10-08-2020.pdf | https://pdf.indianexpress.com/pdfupload/icici/ie-mumbai-10-08-2020.pdf | https://pdf.indianexpress.com/pdfupload/icici/ie-pune-10-08-2020.pdf | https://pdf.indianexpress.com/pdfupload/icici/ie-lucknow-10-08-2020.pdf | https://pdf.indianexpress.com/pdfupload/icici/ie-ahmedabad-10-08-2020.pdf | https://pdf.indianexpress.com/pdfupload/icici/ie-kolkata-10-08-2020.pdf | https://pdf.indianexpress.com/pdfupload/icici/ie-jaipur-10-08-2020.pdf | https://pdf.indianexpress.com/pdfupload/icici/ie-chandigarh-10-08-2020.pdf |
| 09-08-2020 | https://pdf.indianexpress.com/pdfupload/icici/ie-delhi-09-08-2020.pdf | https://pdf.indianexpress.com/pdfupload/icici/ie-mumbai-09-08-2020.pdf | https://pdf.indianexpress.com/pdfupload/icici/ie-pune-09-08-2020.pdf | https://pdf.indianexpress.com/pdfupload/icici/ie-lucknow-09-08-2020.pdf | https://pdf.indianexpress.com/pdfupload/icici/ie-ahmedabad-09-08-2020.pdf | https://pdf.indianexpress.com/pdfupload/icici/ie-kolkata-09-08-2020.pdf | https://pdf.indianexpress.com/pdfupload/icici/ie-jaipur-09-08-2020.pdf | https://pdf.indianexpress.com/pdfupload/icici/ie-chandigarh-09-08-2020.pdf |
| 08-08-2020 | https://pdf.indianexpress.com/pdfupload/icici/ie-delhi-08-08-2020.pdf | https://pdf.indianexpress.com/pdfupload/icici/ie-mumbai-08-08-2020.pdf | https://pdf.indianexpress.com/pdfupload/icici/ie-pune-08-08-2020.pdf | https://pdf.indianexpress.com/pdfupload/icici/ie-lucknow-08-08-2020.pdf | https://pdf.indianexpress.com/pdfupload/icici/ie-ahmedabad-08-08-2020.pdf | https://pdf.indianexpress.com/pdfupload/icici/ie-kolkata-08-08-2020.pdf | https://pdf.indianexpress.com/pdfupload/icici/ie-jaipur-08-08-2020.pdf | https://pdf.indianexpress.com/pdfupload/icici/ie-chandigarh-08-08-2020.pdf |
| 07-08-2020 | https://pdf.indianexpress.com/pdfupload/icici/ie-delhi-07-08-2020.pdf | https://pdf.indianexpress.com/pdfupload/icici/ie-mumbai-07-08-2020.pdf | https://pdf.indianexpress.com/pdfupload/icici/ie-pune-07-08-2020.pdf | https://pdf.indianexpress.com/pdfupload/icici/ie-lucknow-07-08-2020.pdf | https://pdf.indianexpress.com/pdfupload/icici/ie-ahmedabad-07-08-2020.pdf | https://pdf.indianexpress.com/pdfupload/icici/ie-kolkata-07-08-2020.pdf | https://pdf.indianexpress.com/pdfupload/icici/ie-jaipur-07-08-2020.pdf | https://pdf.indianexpress.com/pdfupload/icici/ie-chandigarh-07-08-2020.pdf |
| 06-08-2020 | https://pdf.indianexpress.com/pdfupload/icici/ie-delhi-06-08-2020.pdf | https://pdf.indianexpress.com/pdfupload/icici/ie-mumbai-06-08-2020.pdf | https://pdf.indianexpress.com/pdfupload/icici/ie-pune-06-08-2020.pdf | https://pdf.indianexpress.com/pdfupload/icici/ie-lucknow-06-08-2020.pdf | https://pdf.indianexpress.com/pdfupload/icici/ie-ahmedabad-06-08-2020.pdf | https://pdf.indianexpress.com/pdfupload/icici/ie-kolkata-06-08-2020.pdf | https://pdf.indianexpress.com/pdfupload/icici/ie-jaipur-06-08-2020.pdf | https://pdf.indianexpress.com/pdfupload/icici/ie-chandigarh-06-08-2020.pdf |
| 05-08-2020 | https://pdf.indianexpress.com/pdfupload/icici/ie-delhi-05-08-2020.pdf | https://pdf.indianexpress.com/pdfupload/icici/ie-mumbai-05-08-2020.pdf | https://pdf.indianexpress.com/pdfupload/icici/ie-pune-05-08-2020.pdf | https://pdf.indianexpress.com/pdfupload/icici/ie-lucknow-05-08-2020.pdf | https://pdf.indianexpress.com/pdfupload/icici/ie-ahmedabad-05-08-2020.pdf | https://pdf.indianexpress.com/pdfupload/icici/ie-kolkata-05-08-2020.pdf | https://pdf.indianexpress.com/pdfupload/icici/ie-jaipur-05-08-2020.pdf | https://pdf.indianexpress.com/pdfupload/icici/ie-chandigarh-05-08-2020.pdf |
| 04-08-2020 | https://pdf.indianexpress.com/pdfupload/icici/ie-delhi-04-08-2020.pdf | https://pdf.indianexpress.com/pdfupload/icici/ie-mumbai-04-08-2020.pdf | https://pdf.indianexpress.com/pdfupload/icici/ie-pune-04-08-2020.pdf | https://pdf.indianexpress.com/pdfupload/icici/ie-lucknow-04-08-2020.pdf | https://pdf.indianexpress.com/pdfupload/icici/ie-ahmedabad-04-08-2020.pdf | https://pdf.indianexpress.com/pdfupload/icici/ie-kolkata-04-08-2020.pdf | https://pdf.indianexpress.com/pdfupload/icici/ie-jaipur-04-08-2020.pdf | https://pdf.indianexpress.com/pdfupload/icici/ie-chandigarh-04-08-2020.pdf |
| 03-08-2020 | https://pdf.indianexpress.com/pdfupload/icici/ie-delhi-03-08-2020.pdf | https://pdf.indianexpress.com/pdfupload/icici/ie-mumbai-03-08-2020.pdf | https://pdf.indianexpress.com/pdfupload/icici/ie-pune-03-08-2020.pdf | https://pdf.indianexpress.com/pdfupload/icici/ie-lucknow-03-08-2020.pdf | https://pdf.indianexpress.com/pdfupload/icici/ie-ahmedabad-03-08-2020.pdf | https://pdf.indianexpress.com/pdfupload/icici/ie-kolkata-03-08-2020.pdf | https://pdf.indianexpress.com/pdfupload/icici/ie-jaipur-03-08-2020.pdf | https://pdf.indianexpress.com/pdfupload/icici/ie-chandigarh-03-08-2020.pdf |
| 02-08-2020 | https://pdf.indianexpress.com/pdfupload/icici/ie-delhi-02-08-2020.pdf | https://pdf.indianexpress.com/pdfupload/icici/ie-mumbai-02-08-2020.pdf | https://pdf.indianexpress.com/pdfupload/icici/ie-pune-02-08-2020.pdf | https://pdf.indianexpress.com/pdfupload/icici/ie-lucknow-02-08-2020.pdf | https://pdf.indianexpress.com/pdfupload/icici/ie-ahmedabad-02-08-2020.pdf | https://pdf.indianexpress.com/pdfupload/icici/ie-kolkata-02-08-2020.pdf | https://pdf.indianexpress.com/pdfupload/icici/ie-jaipur-02-08-2020.pdf | https://pdf.indianexpress.com/pdfupload/icici/ie-chandigarh-02-08-2020.pdf |
| 01-08-2020 | https://pdf.indianexpress.com/pdfupload/icici/ie-delhi-01-08-2020.pdf | https://pdf.indianexpress.com/pdfupload/icici/ie-mumbai-01-08-2020.pdf | https://pdf.indianexpress.com/pdfupload/icici/ie-pune-01-08-2020.pdf | https://pdf.indianexpress.com/pdfupload/icici/ie-lucknow-01-08-2020.pdf | https://pdf.indianexpress.com/pdfupload/icici/ie-ahmedabad-01-08-2020.pdf | https://pdf.indianexpress.com/pdfupload/icici/ie-kolkata-01-08-2020.pdf | https://pdf.indianexpress.com/pdfupload/icici/ie-jaipur-01-08-2020.pdf | https://pdf.indianexpress.com/pdfupload/icici/ie-chandigarh-01-08-2020.pdf |
| 31-07-2020 | https://pdf.indianexpress.com/pdfupload/icici/ie-delhi-31-07-2020.pdf | https://pdf.indianexpress.com/pdfupload/icici/ie-mumbai-31-07-2020.pdf | https://pdf.indianexpress.com/pdfupload/icici/ie-pune-31-07-2020.pdf | https://pdf.indianexpress.com/pdfupload/icici/ie-lucknow-31-07-2020.pdf | https://pdf.indianexpress.com/pdfupload/icici/ie-ahmedabad-31-07-2020.pdf | https://pdf.indianexpress.com/pdfupload/icici/ie-kolkata-31-07-2020.pdf | https://pdf.indianexpress.com/pdfupload/icici/ie-jaipur-31-07-2020.pdf | https://pdf.indianexpress.com/pdfupload/icici/ie-chandigarh-31-07-2020.pdf |
| 30-07-2020 | https://pdf.indianexpress.com/pdfupload/icici/ie-delhi-30-07-2020.pdf | https://pdf.indianexpress.com/pdfupload/icici/ie-mumbai-30-07-2020.pdf | https://pdf.indianexpress.com/pdfupload/icici/ie-pune-30-07-2020.pdf | https://pdf.indianexpress.com/pdfupload/icici/ie-lucknow-30-07-2020.pdf | https://pdf.indianexpress.com/pdfupload/icici/ie-ahmedabad-30-07-2020.pdf | https://pdf.indianexpress.com/pdfupload/icici/ie-kolkata-30-07-2020.pdf | https://pdf.indianexpress.com/pdfupload/icici/ie-jaipur-30-07-2020.pdf | https://pdf.indianexpress.com/pdfupload/icici/ie-chandigarh-30-07-2020.pdf |
| 29-07-2020 | https://pdf.indianexpress.com/pdfupload/icici/ie-delhi-29-07-2020.pdf | https://pdf.indianexpress.com/pdfupload/icici/ie-mumbai-29-07-2020.pdf | https://pdf.indianexpress.com/pdfupload/icici/ie-pune-29-07-2020.pdf | https://pdf.indianexpress.com/pdfupload/icici/ie-lucknow-29-07-2020.pdf | https://pdf.indianexpress.com/pdfupload/icici/ie-ahmedabad-29-07-2020.pdf | https://pdf.indianexpress.com/pdfupload/icici/ie-kolkata-29-07-2020.pdf | https://pdf.indianexpress.com/pdfupload/icici/ie-jaipur-29-07-2020.pdf | https://pdf.indianexpress.com/pdfupload/icici/ie-chandigarh-29-07-2020.pdf |
| 28-07-2020 | https://pdf.indianexpress.com/pdfupload/icici/ie-delhi-28-07-2020.pdf | https://pdf.indianexpress.com/pdfupload/icici/ie-mumbai-28-07-2020.pdf | https://pdf.indianexpress.com/pdfupload/icici/ie-pune-28-07-2020.pdf | https://pdf.indianexpress.com/pdfupload/icici/ie-lucknow-28-07-2020.pdf | https://pdf.indianexpress.com/pdfupload/icici/ie-ahmedabad-28-07-2020.pdf | https://pdf.indianexpress.com/pdfupload/icici/ie-kolkata-28-07-2020.pdf | https://pdf.indianexpress.com/pdfupload/icici/ie-jaipur-28-07-2020.pdf | https://pdf.indianexpress.com/pdfupload/icici/ie-chandigarh-28-07-2020.pdf |
| 27-07-2020 | https://pdf.indianexpress.com/pdfupload/icici/ie-delhi-27-07-2020.pdf | https://pdf.indianexpress.com/pdfupload/icici/ie-mumbai-27-07-2020.pdf | https://pdf.indianexpress.com/pdfupload/icici/ie-pune-27-07-2020.pdf | https://pdf.indianexpress.com/pdfupload/icici/ie-lucknow-27-07-2020.pdf | https://pdf.indianexpress.com/pdfupload/icici/ie-ahmedabad-27-07-2020.pdf | https://pdf.indianexpress.com/pdfupload/icici/ie-kolkata-27-07-2020.pdf | https://pdf.indianexpress.com/pdfupload/icici/ie-jaipur-27-07-2020.pdf | https://pdf.indianexpress.com/pdfupload/icici/ie-chandigarh-27-07-2020.pdf |
| 26-07-2020 | https://pdf.indianexpress.com/pdfupload/icici/ie-delhi-26-07-2020.pdf | https://pdf.indianexpress.com/pdfupload/icici/ie-mumbai-26-07-2020.pdf | https://pdf.indianexpress.com/pdfupload/icici/ie-pune-26-07-2020.pdf | https://pdf.indianexpress.com/pdfupload/icici/ie-lucknow-26-07-2020.pdf | https://pdf.indianexpress.com/pdfupload/icici/ie-ahmedabad-26-07-2020.pdf | https://pdf.indianexpress.com/pdfupload/icici/ie-kolkata-26-07-2020.pdf | https://pdf.indianexpress.com/pdfupload/icici/ie-jaipur-26-07-2020.pdf | https://pdf.indianexpress.com/pdfupload/icici/ie-chandigarh-26-07-2020.pdf |
| 25-07-2020 | https://pdf.indianexpress.com/pdfupload/icici/ie-delhi-25-07-2020.pdf | https://pdf.indianexpress.com/pdfupload/icici/ie-mumbai-25-07-2020.pdf | https://pdf.indianexpress.com/pdfupload/icici/ie-pune-25-07-2020.pdf | https://pdf.indianexpress.com/pdfupload/icici/ie-lucknow-25-07-2020.pdf | https://pdf.indianexpress.com/pdfupload/icici/ie-ahmedabad-25-07-2020.pdf | https://pdf.indianexpress.com/pdfupload/icici/ie-kolkata-25-07-2020.pdf | https://pdf.indianexpress.com/pdfupload/icici/ie-jaipur-25-07-2020.pdf | https://pdf.indianexpress.com/pdfupload/icici/ie-chandigarh-25-07-2020.pdf |
| 24-07-2020 | https://pdf.indianexpress.com/pdfupload/icici/ie-delhi-24-07-2020.pdf | https://pdf.indianexpress.com/pdfupload/icici/ie-mumbai-24-07-2020.pdf | https://pdf.indianexpress.com/pdfupload/icici/ie-pune-24-07-2020.pdf | https://pdf.indianexpress.com/pdfupload/icici/ie-lucknow-24-07-2020.pdf | https://pdf.indianexpress.com/pdfupload/icici/ie-ahmedabad-24-07-2020.pdf | https://pdf.indianexpress.com/pdfupload/icici/ie-kolkata-24-07-2020.pdf | https://pdf.indianexpress.com/pdfupload/icici/ie-jaipur-24-07-2020.pdf | https://pdf.indianexpress.com/pdfupload/icici/ie-chandigarh-24-07-2020.pdf |
| 23-07-2020 | https://pdf.indianexpress.com/pdfupload/icici/ie-delhi-23-07-2020.pdf | https://pdf.indianexpress.com/pdfupload/icici/ie-mumbai-23-07-2020.pdf | https://pdf.indianexpress.com/pdfupload/icici/ie-pune-23-07-2020.pdf | https://pdf.indianexpress.com/pdfupload/icici/ie-lucknow-23-07-2020.pdf | https://pdf.indianexpress.com/pdfupload/icici/ie-ahmedabad-23-07-2020.pdf | https://pdf.indianexpress.com/pdfupload/icici/ie-kolkata-23-07-2020.pdf | https://pdf.indianexpress.com/pdfupload/icici/ie-jaipur-23-07-2020.pdf | https://pdf.indianexpress.com/pdfupload/icici/ie-chandigarh-23-07-2020.pdf |
| 22-07-2020 | https://pdf.indianexpress.com/pdfupload/icici/ie-delhi-22-07-2020.pdf | https://pdf.indianexpress.com/pdfupload/icici/ie-mumbai-22-07-2020.pdf | https://pdf.indianexpress.com/pdfupload/icici/ie-pune-22-07-2020.pdf | https://pdf.indianexpress.com/pdfupload/icici/ie-lucknow-22-07-2020.pdf | https://pdf.indianexpress.com/pdfupload/icici/ie-ahmedabad-22-07-2020.pdf | https://pdf.indianexpress.com/pdfupload/icici/ie-kolkata-22-07-2020.pdf | https://pdf.indianexpress.com/pdfupload/icici/ie-jaipur-22-07-2020.pdf | https://pdf.indianexpress.com/pdfupload/icici/ie-chandigarh-22-07-2020.pdf |
| 21-07-2020 | https://pdf.indianexpress.com/pdfupload/icici/ie-delhi-21-07-2020.pdf | https://pdf.indianexpress.com/pdfupload/icici/ie-mumbai-21-07-2020.pdf | https://pdf.indianexpress.com/pdfupload/icici/ie-pune-21-07-2020.pdf | https://pdf.indianexpress.com/pdfupload/icici/ie-lucknow-21-07-2020.pdf | https://pdf.indianexpress.com/pdfupload/icici/ie-ahmedabad-21-07-2020.pdf | https://pdf.indianexpress.com/pdfupload/icici/ie-kolkata-21-07-2020.pdf | https://pdf.indianexpress.com/pdfupload/icici/ie-jaipur-21-07-2020.pdf | https://pdf.indianexpress.com/pdfupload/icici/ie-chandigarh-21-07-2020.pdf |
| 20-07-2020 | https://pdf.indianexpress.com/pdfupload/icici/ie-delhi-20-07-2020.pdf | https://pdf.indianexpress.com/pdfupload/icici/ie-mumbai-20-07-2020.pdf | https://pdf.indianexpress.com/pdfupload/icici/ie-pune-20-07-2020.pdf | https://pdf.indianexpress.com/pdfupload/icici/ie-lucknow-20-07-2020.pdf | https://pdf.indianexpress.com/pdfupload/icici/ie-ahmedabad-20-07-2020.pdf | https://pdf.indianexpress.com/pdfupload/icici/ie-kolkata-20-07-2020.pdf | https://pdf.indianexpress.com/pdfupload/icici/ie-jaipur-20-07-2020.pdf | https://pdf.indianexpress.com/pdfupload/icici/ie-chandigarh-20-07-2020.pdf |
| 19-07-2020 | https://pdf.indianexpress.com/pdfupload/icici/ie-delhi-19-07-2020.pdf | https://pdf.indianexpress.com/pdfupload/icici/ie-mumbai-19-07-2020.pdf | https://pdf.indianexpress.com/pdfupload/icici/ie-pune-19-07-2020.pdf | https://pdf.indianexpress.com/pdfupload/icici/ie-lucknow-19-07-2020.pdf | https://pdf.indianexpress.com/pdfupload/icici/ie-ahmedabad-19-07-2020.pdf | https://pdf.indianexpress.com/pdfupload/icici/ie-kolkata-19-07-2020.pdf | https://pdf.indianexpress.com/pdfupload/icici/ie-jaipur-19-07-2020.pdf | https://pdf.indianexpress.com/pdfupload/icici/ie-chandigarh-19-07-2020.pdf |
| 18-07-2020 | https://pdf.indianexpress.com/pdfupload/icici/ie-delhi-18-07-2020.pdf | https://pdf.indianexpress.com/pdfupload/icici/ie-mumbai-18-07-2020.pdf | https://pdf.indianexpress.com/pdfupload/icici/ie-pune-18-07-2020.pdf | https://pdf.indianexpress.com/pdfupload/icici/ie-lucknow-18-07-2020.pdf | https://pdf.indianexpress.com/pdfupload/icici/ie-ahmedabad-18-07-2020.pdf | https://pdf.indianexpress.com/pdfupload/icici/ie-kolkata-18-07-2020.pdf | https://pdf.indianexpress.com/pdfupload/icici/ie-jaipur-18-07-2020.pdf | https://pdf.indianexpress.com/pdfupload/icici/ie-chandigarh-18-07-2020.pdf |
| 17-07-2020 | https://pdf.indianexpress.com/pdfupload/icici/ie-delhi-17-07-2020.pdf | https://pdf.indianexpress.com/pdfupload/icici/ie-mumbai-17-07-2020.pdf | https://pdf.indianexpress.com/pdfupload/icici/ie-pune-17-07-2020.pdf | https://pdf.indianexpress.com/pdfupload/icici/ie-lucknow-17-07-2020.pdf | https://pdf.indianexpress.com/pdfupload/icici/ie-ahmedabad-17-07-2020.pdf | https://pdf.indianexpress.com/pdfupload/icici/ie-kolkata-17-07-2020.pdf | https://pdf.indianexpress.com/pdfupload/icici/ie-jaipur-17-07-2020.pdf | https://pdf.indianexpress.com/pdfupload/icici/ie-chandigarh-17-07-2020.pdf |
| 16-07-2020 | https://pdf.indianexpress.com/pdfupload/icici/ie-delhi-16-07-2020.pdf | https://pdf.indianexpress.com/pdfupload/icici/ie-mumbai-16-07-2020.pdf | https://pdf.indianexpress.com/pdfupload/icici/ie-pune-16-07-2020.pdf | https://pdf.indianexpress.com/pdfupload/icici/ie-lucknow-16-07-2020.pdf | https://pdf.indianexpress.com/pdfupload/icici/ie-ahmedabad-16-07-2020.pdf | https://pdf.indianexpress.com/pdfupload/icici/ie-kolkata-16-07-2020.pdf | https://pdf.indianexpress.com/pdfupload/icici/ie-jaipur-16-07-2020.pdf | https://pdf.indianexpress.com/pdfupload/icici/ie-chandigarh-16-07-2020.pdf |
| 15-07-2020 | https://pdf.indianexpress.com/pdfupload/icici/ie-delhi-15-07-2020.pdf | https://pdf.indianexpress.com/pdfupload/icici/ie-mumbai-15-07-2020.pdf | https://pdf.indianexpress.com/pdfupload/icici/ie-pune-15-07-2020.pdf | https://pdf.indianexpress.com/pdfupload/icici/ie-lucknow-15-07-2020.pdf | https://pdf.indianexpress.com/pdfupload/icici/ie-ahmedabad-15-07-2020.pdf | https://pdf.indianexpress.com/pdfupload/icici/ie-kolkata-15-07-2020.pdf | https://pdf.indianexpress.com/pdfupload/icici/ie-jaipur-15-07-2020.pdf | https://pdf.indianexpress.com/pdfupload/icici/ie-chandigarh-15-07-2020.pdf |
| 14-07-2020 | https://pdf.indianexpress.com/pdfupload/icici/ie-delhi-14-07-2020.pdf | https://pdf.indianexpress.com/pdfupload/icici/ie-mumbai-14-07-2020.pdf | https://pdf.indianexpress.com/pdfupload/icici/ie-pune-14-07-2020.pdf | https://pdf.indianexpress.com/pdfupload/icici/ie-lucknow-14-07-2020.pdf | https://pdf.indianexpress.com/pdfupload/icici/ie-ahmedabad-14-07-2020.pdf | https://pdf.indianexpress.com/pdfupload/icici/ie-kolkata-14-07-2020.pdf | https://pdf.indianexpress.com/pdfupload/icici/ie-jaipur-14-07-2020.pdf | https://pdf.indianexpress.com/pdfupload/icici/ie-chandigarh-14-07-2020.pdf |
| 08-07-2020 | https://vk.com/doc562341376_558873164?hash=469608ee683f9cd36a&dl=5b0a61732d693e8d07 | https://vk.com/doc562341376_558873164?hash=469608ee683f9cd36a&dl=5b0a61732d693e8d07 | https://vk.com/doc562341376_558873164?hash=469608ee683f9cd36a&dl=5b0a61732d693e8d07 | https://vk.com/doc562341376_558873164?hash=469608ee683f9cd36a&dl=5b0a61732d693e8d07 | https://vk.com/doc562341376_558873164?hash=469608ee683f9cd36a&dl=5b0a61732d693e8d07 | https://vk.com/doc562341376_558873164?hash=469608ee683f9cd36a&dl=5b0a61732d693e8d07 | https://vk.com/doc562341376_558873164?hash=469608ee683f9cd36a&dl=5b0a61732d693e8d07 | https://vk.com/doc562341376_558873164?hash=469608ee683f9cd36a&dl=5b0a61732d693e8d07 |
| 07-07-2020 | https://vk.com/doc562341376_558728920?hash=b9e7b1bf567af3c8aa&dl=dd957ec95a0078dc6a | https://vk.com/doc562341376_558728920?hash=b9e7b1bf567af3c8aa&dl=dd957ec95a0078dc6a | https://vk.com/doc562341376_558728920?hash=b9e7b1bf567af3c8aa&dl=dd957ec95a0078dc6a | https://vk.com/doc562341376_558728920?hash=b9e7b1bf567af3c8aa&dl=dd957ec95a0078dc6a | https://vk.com/doc562341376_558728920?hash=b9e7b1bf567af3c8aa&dl=dd957ec95a0078dc6a | https://vk.com/doc562341376_558728920?hash=b9e7b1bf567af3c8aa&dl=dd957ec95a0078dc6a | https://vk.com/doc562341376_558728920?hash=b9e7b1bf567af3c8aa&dl=dd957ec95a0078dc6a | https://vk.com/doc562341376_558728920?hash=b9e7b1bf567af3c8aa&dl=dd957ec95a0078dc6a |
| 06-07-2020 | https://pdf.indianexpress.com/pdfupload/icici/ie-delhi-06-07-2020.pdf | https://pdf.indianexpress.com/pdfupload/icici/ie-mumbai-06-07-2020.pdf | https://pdf.indianexpress.com/pdfupload/icici/ie-pune-06-07-2020.pdf | https://pdf.indianexpress.com/pdfupload/icici/ie-lucknow-06-07-2020.pdf | https://pdf.indianexpress.com/pdfupload/icici/ie-ahmedabad-06-07-2020.pdf | https://pdf.indianexpress.com/pdfupload/icici/ie-kolkata-06-07-2020.pdf | https://pdf.indianexpress.com/pdfupload/icici/ie-jaipur-06-07-2020.pdf | https://pdf.indianexpress.com/pdfupload/icici/ie-chandigarh-06-07-2020.pdf |
| 02-07-2020 | https://pdf.indianexpress.com/pdfupload/icici/ie-delhi-02-07-2020.pdf | https://pdf.indianexpress.com/pdfupload/icici/ie-mumbai-02-07-2020.pdf | https://pdf.indianexpress.com/pdfupload/icici/ie-pune-02-07-2020.pdf | https://pdf.indianexpress.com/pdfupload/icici/ie-lucknow-02-07-2020.pdf | https://pdf.indianexpress.com/pdfupload/icici/ie-ahmedabad-02-07-2020.pdf | https://pdf.indianexpress.com/pdfupload/icici/ie-kolkata-02-07-2020.pdf | https://pdf.indianexpress.com/pdfupload/icici/ie-jaipur-02-07-2020.pdf | https://pdf.indianexpress.com/pdfupload/icici/ie-chandigarh-02-07-2020.pdf |
| 01-07-2020 | https://pdf.indianexpress.com/pdfupload/icici/ie-delhi-01-07-2020.pdf | https://pdf.indianexpress.com/pdfupload/icici/ie-mumbai-01-07-2020.pdf | https://pdf.indianexpress.com/pdfupload/icici/ie-pune-01-07-2020.pdf | https://pdf.indianexpress.com/pdfupload/icici/ie-lucknow-01-07-2020.pdf | https://pdf.indianexpress.com/pdfupload/icici/ie-ahmedabad-01-07-2020.pdf | https://pdf.indianexpress.com/pdfupload/icici/ie-kolkata-01-07-2020.pdf | https://pdf.indianexpress.com/pdfupload/icici/ie-jaipur-01-07-2020.pdf | https://pdf.indianexpress.com/pdfupload/icici/ie-chandigarh-01-07-2020.pdf |
| 30-06-2020 | https://pdf.indianexpress.com/pdfupload/icici/ie-delhi-30-06-2020.pdf | https://pdf.indianexpress.com/pdfupload/icici/ie-mumbai-30-06-2020.pdf | https://pdf.indianexpress.com/pdfupload/icici/ie-pune-30-06-2020.pdf | https://pdf.indianexpress.com/pdfupload/icici/ie-lucknow-30-06-2020.pdf | https://pdf.indianexpress.com/pdfupload/icici/ie-ahmedabad-30-06-2020.pdf | https://pdf.indianexpress.com/pdfupload/icici/ie-kolkata-30-06-2020.pdf | https://pdf.indianexpress.com/pdfupload/icici/ie-jaipur-30-06-2020.pdf | https://pdf.indianexpress.com/pdfupload/icici/ie-chandigarh-30-06-2020.pdf |
| 29-06-2020 | https://pdf.indianexpress.com/pdfupload/icici/ie-delhi-29-06-2020.pdf | https://pdf.indianexpress.com/pdfupload/icici/ie-mumbai-29-06-2020.pdf | https://pdf.indianexpress.com/pdfupload/icici/ie-pune-29-06-2020.pdf | https://pdf.indianexpress.com/pdfupload/icici/ie-lucknow-29-06-2020.pdf | https://pdf.indianexpress.com/pdfupload/icici/ie-ahmedabad-29-06-2020.pdf | https://pdf.indianexpress.com/pdfupload/icici/ie-kolkata-29-06-2020.pdf | https://pdf.indianexpress.com/pdfupload/icici/ie-jaipur-29-06-2020.pdf | https://pdf.indianexpress.com/pdfupload/icici/ie-chandigarh-29-06-2020.pdf |
| 27-06-2020 | https://pdf.indianexpress.com/pdfupload/icici/ie-delhi-27-06-2020.pdf | https://pdf.indianexpress.com/pdfupload/icici/ie-mumbai-27-06-2020.pdf | https://pdf.indianexpress.com/pdfupload/icici/ie-pune-27-06-2020.pdf | https://pdf.indianexpress.com/pdfupload/icici/ie-lucknow-27-06-2020.pdf | https://pdf.indianexpress.com/pdfupload/icici/ie-ahmedabad-27-06-2020.pdf | https://pdf.indianexpress.com/pdfupload/icici/ie-kolkata-27-06-2020.pdf | https://pdf.indianexpress.com/pdfupload/icici/ie-jaipur-27-06-2020.pdf | https://pdf.indianexpress.com/pdfupload/icici/ie-chandigarh-27-06-2020.pdf |
| 26-06-2020 | https://pdf.indianexpress.com/pdfupload/icici/ie-delhi-26-06-2020.pdf | https://pdf.indianexpress.com/pdfupload/icici/ie-mumbai-26-06-2020.pdf | https://pdf.indianexpress.com/pdfupload/icici/ie-pune-26-06-2020.pdf | https://pdf.indianexpress.com/pdfupload/icici/ie-lucknow-26-06-2020.pdf | https://pdf.indianexpress.com/pdfupload/icici/ie-ahmedabad-26-06-2020.pdf | https://pdf.indianexpress.com/pdfupload/icici/ie-kolkata-26-06-2020.pdf | https://pdf.indianexpress.com/pdfupload/icici/ie-jaipur-26-06-2020.pdf | https://pdf.indianexpress.com/pdfupload/icici/ie-chandigarh-26-06-2020.pdf |
| 25-06-2020 | https://pdf.indianexpress.com/pdfupload/icici/ie-delhi-25-06-2020.pdf | https://pdf.indianexpress.com/pdfupload/icici/ie-mumbai-25-06-2020.pdf | https://pdf.indianexpress.com/pdfupload/icici/ie-pune-25-06-2020.pdf | https://pdf.indianexpress.com/pdfupload/icici/ie-lucknow-25-06-2020.pdf | https://pdf.indianexpress.com/pdfupload/icici/ie-ahmedabad-25-06-2020.pdf | https://pdf.indianexpress.com/pdfupload/icici/ie-kolkata-25-06-2020.pdf | https://pdf.indianexpress.com/pdfupload/icici/ie-jaipur-25-06-2020.pdf | https://pdf.indianexpress.com/pdfupload/icici/ie-chandigarh-25-06-2020.pdf |
| 24-06-2020 | https://pdf.indianexpress.com/pdfupload/icici/ie-delhi-24-06-2020.pdf | https://pdf.indianexpress.com/pdfupload/icici/ie-mumbai-24-06-2020.pdf | https://pdf.indianexpress.com/pdfupload/icici/ie-pune-24-06-2020.pdf | https://pdf.indianexpress.com/pdfupload/icici/ie-lucknow-24-06-2020.pdf | https://pdf.indianexpress.com/pdfupload/icici/ie-ahmedabad-24-06-2020.pdf | https://pdf.indianexpress.com/pdfupload/icici/ie-kolkata-24-06-2020.pdf | https://pdf.indianexpress.com/pdfupload/icici/ie-jaipur-24-06-2020.pdf | https://pdf.indianexpress.com/pdfupload/icici/ie-chandigarh-24-06-2020.pdf |
| 23-06-2020 | https://pdf.indianexpress.com/pdfupload/icici/ie-delhi-23-06-2020.pdf | https://pdf.indianexpress.com/pdfupload/icici/ie-mumbai-23-06-2020.pdf | https://pdf.indianexpress.com/pdfupload/icici/ie-pune-23-06-2020.pdf | https://pdf.indianexpress.com/pdfupload/icici/ie-lucknow-23-06-2020.pdf | https://pdf.indianexpress.com/pdfupload/icici/ie-ahmedabad-23-06-2020.pdf | https://pdf.indianexpress.com/pdfupload/icici/ie-kolkata-23-06-2020.pdf | https://pdf.indianexpress.com/pdfupload/icici/ie-jaipur-23-06-2020.pdf | https://pdf.indianexpress.com/pdfupload/icici/ie-chandigarh-23-06-2020.pdf |
| 22-06-2020 | https://pdf.indianexpress.com/pdfupload/icici/ie-delhi-22-06-2020.pdf | https://pdf.indianexpress.com/pdfupload/icici/ie-mumbai-22-06-2020.pdf | https://pdf.indianexpress.com/pdfupload/icici/ie-pune-22-06-2020.pdf | https://pdf.indianexpress.com/pdfupload/icici/ie-lucknow-22-06-2020.pdf | https://pdf.indianexpress.com/pdfupload/icici/ie-ahmedabad-22-06-2020.pdf | https://pdf.indianexpress.com/pdfupload/icici/ie-kolkata-22-06-2020.pdf | https://pdf.indianexpress.com/pdfupload/icici/ie-jaipur-22-06-2020.pdf | https://pdf.indianexpress.com/pdfupload/icici/ie-chandigarh-22-06-2020.pdf |
| 21-06-2020 | https://pdf.indianexpress.com/pdfupload/icici/ie-delhi-21-06-2020.pdf | https://pdf.indianexpress.com/pdfupload/icici/ie-mumbai-21-06-2020.pdf | https://pdf.indianexpress.com/pdfupload/icici/ie-pune-21-06-2020.pdf | https://pdf.indianexpress.com/pdfupload/icici/ie-lucknow-21-06-2020.pdf | https://pdf.indianexpress.com/pdfupload/icici/ie-ahmedabad-21-06-2020.pdf | https://pdf.indianexpress.com/pdfupload/icici/ie-kolkata-21-06-2020.pdf | https://pdf.indianexpress.com/pdfupload/icici/ie-jaipur-21-06-2020.pdf | https://pdf.indianexpress.com/pdfupload/icici/ie-chandigarh-21-06-2020.pdf |
| 20-06-2020 | https://pdf.indianexpress.com/pdfupload/icici/ie-delhi-20-06-2020.pdf | https://pdf.indianexpress.com/pdfupload/icici/ie-mumbai-20-06-2020.pdf | https://pdf.indianexpress.com/pdfupload/icici/ie-pune-20-06-2020.pdf | https://pdf.indianexpress.com/pdfupload/icici/ie-lucknow-20-06-2020.pdf | https://pdf.indianexpress.com/pdfupload/icici/ie-ahmedabad-20-06-2020.pdf | https://pdf.indianexpress.com/pdfupload/icici/ie-kolkata-20-06-2020.pdf | https://pdf.indianexpress.com/pdfupload/icici/ie-jaipur-20-06-2020.pdf | https://pdf.indianexpress.com/pdfupload/icici/ie-chandigarh-20-06-2020.pdf |
| 19-06-2020 | https://pdf.indianexpress.com/pdfupload/icici/ie-delhi-19-06-2020.pdf | https://pdf.indianexpress.com/pdfupload/icici/ie-mumbai-19-06-2020.pdf | https://pdf.indianexpress.com/pdfupload/icici/ie-pune-19-06-2020.pdf | https://pdf.indianexpress.com/pdfupload/icici/ie-lucknow-19-06-2020.pdf | https://pdf.indianexpress.com/pdfupload/icici/ie-ahmedabad-19-06-2020.pdf | https://pdf.indianexpress.com/pdfupload/icici/ie-kolkata-19-06-2020.pdf | https://pdf.indianexpress.com/pdfupload/icici/ie-jaipur-19-06-2020.pdf | https://pdf.indianexpress.com/pdfupload/icici/ie-chandigarh-19-06-2020.pdf |
| 18-06-2020 | https://pdf.indianexpress.com/pdfupload/icici/ie-delhi-18-06-2020.pdf | https://pdf.indianexpress.com/pdfupload/icici/ie-mumbai-18-06-2020.pdf | https://pdf.indianexpress.com/pdfupload/icici/ie-pune-18-06-2020.pdf | https://pdf.indianexpress.com/pdfupload/icici/ie-lucknow-18-06-2020.pdf | https://pdf.indianexpress.com/pdfupload/icici/ie-ahmedabad-18-06-2020.pdf | https://pdf.indianexpress.com/pdfupload/icici/ie-kolkata-18-06-2020.pdf | https://pdf.indianexpress.com/pdfupload/icici/ie-jaipur-18-06-2020.pdf | https://pdf.indianexpress.com/pdfupload/icici/ie-chandigarh-18-06-2020.pdf |
| 17-06-2020 | https://pdf.indianexpress.com/pdfupload/icici/ie-delhi-17-06-2020.pdf | https://pdf.indianexpress.com/pdfupload/icici/ie-mumbai-17-06-2020.pdf | https://pdf.indianexpress.com/pdfupload/icici/ie-pune-17-06-2020.pdf | https://pdf.indianexpress.com/pdfupload/icici/ie-lucknow-17-06-2020.pdf | https://pdf.indianexpress.com/pdfupload/icici/ie-ahmedabad-17-06-2020.pdf | https://pdf.indianexpress.com/pdfupload/icici/ie-kolkata-17-06-2020.pdf | https://pdf.indianexpress.com/pdfupload/icici/ie-jaipur-17-06-2020.pdf | https://pdf.indianexpress.com/pdfupload/icici/ie-chandigarh-17-06-2020.pdf |
| 16-06-2020 | https://pdf.indianexpress.com/pdfupload/icici/ie-delhi-16-06-2020.pdf | https://pdf.indianexpress.com/pdfupload/icici/ie-mumbai-16-06-2020.pdf | https://pdf.indianexpress.com/pdfupload/icici/ie-pune-16-06-2020.pdf | https://pdf.indianexpress.com/pdfupload/icici/ie-lucknow-16-06-2020.pdf | https://pdf.indianexpress.com/pdfupload/icici/ie-ahmedabad-16-06-2020.pdf | https://pdf.indianexpress.com/pdfupload/icici/ie-kolkata-16-06-2020.pdf | https://pdf.indianexpress.com/pdfupload/icici/ie-jaipur-16-06-2020.pdf | https://pdf.indianexpress.com/pdfupload/icici/ie-chandigarh-16-06-2020.pdf |
| 15-06-2020 | https://pdf.indianexpress.com/pdfupload/icici/ie-delhi-15-06-2020.pdf | https://pdf.indianexpress.com/pdfupload/icici/ie-mumbai-15-06-2020.pdf | https://pdf.indianexpress.com/pdfupload/icici/ie-pune-15-06-2020.pdf | https://pdf.indianexpress.com/pdfupload/icici/ie-lucknow-15-06-2020.pdf | https://pdf.indianexpress.com/pdfupload/icici/ie-ahmedabad-15-06-2020.pdf | https://pdf.indianexpress.com/pdfupload/icici/ie-kolkata-15-06-2020.pdf | https://pdf.indianexpress.com/pdfupload/icici/ie-jaipur-15-06-2020.pdf | https://pdf.indianexpress.com/pdfupload/icici/ie-chandigarh-15-06-2020.pdf |
| 14-06-2020 | https://pdf.indianexpress.com/pdfupload/icici/ie-delhi-14-06-2020.pdf | https://pdf.indianexpress.com/pdfupload/icici/ie-mumbai-14-06-2020.pdf | https://pdf.indianexpress.com/pdfupload/icici/ie-pune-14-06-2020.pdf | https://pdf.indianexpress.com/pdfupload/icici/ie-lucknow-14-06-2020.pdf | https://pdf.indianexpress.com/pdfupload/icici/ie-ahmedabad-14-06-2020.pdf | https://pdf.indianexpress.com/pdfupload/icici/ie-kolkata-14-06-2020.pdf | https://pdf.indianexpress.com/pdfupload/icici/ie-jaipur-14-06-2020.pdf | https://pdf.indianexpress.com/pdfupload/icici/ie-chandigarh-14-06-2020.pdf |
| 13-06-2020 | https://pdf.indianexpress.com/pdfupload/icici/ie-delhi-13-06-2020.pdf | https://pdf.indianexpress.com/pdfupload/icici/ie-mumbai-13-06-2020.pdf | https://pdf.indianexpress.com/pdfupload/icici/ie-pune-13-06-2020.pdf | https://pdf.indianexpress.com/pdfupload/icici/ie-lucknow-13-06-2020.pdf | https://pdf.indianexpress.com/pdfupload/icici/ie-ahmedabad-13-06-2020.pdf | https://pdf.indianexpress.com/pdfupload/icici/ie-kolkata-13-06-2020.pdf | https://pdf.indianexpress.com/pdfupload/icici/ie-jaipur-13-06-2020.pdf | https://pdf.indianexpress.com/pdfupload/icici/ie-chandigarh-13-06-2020.pdf |
| 12-06-2020 | https://pdf.indianexpress.com/pdfupload/icici/ie-delhi-12-06-2020.pdf | https://pdf.indianexpress.com/pdfupload/icici/ie-mumbai-12-06-2020.pdf | https://pdf.indianexpress.com/pdfupload/icici/ie-pune-12-06-2020.pdf | https://pdf.indianexpress.com/pdfupload/icici/ie-lucknow-12-06-2020.pdf | https://pdf.indianexpress.com/pdfupload/icici/ie-ahmedabad-12-06-2020.pdf | https://pdf.indianexpress.com/pdfupload/icici/ie-kolkata-12-06-2020.pdf | https://pdf.indianexpress.com/pdfupload/icici/ie-jaipur-12-06-2020.pdf | https://pdf.indianexpress.com/pdfupload/icici/ie-chandigarh-12-06-2020.pdf |
| 11-06-2020 | https://pdf.indianexpress.com/pdfupload/icici/ie-delhi-11-06-2020.pdf | https://pdf.indianexpress.com/pdfupload/icici/ie-mumbai-11-06-2020.pdf | https://pdf.indianexpress.com/pdfupload/icici/ie-pune-11-06-2020.pdf | https://pdf.indianexpress.com/pdfupload/icici/ie-lucknow-11-06-2020.pdf | https://pdf.indianexpress.com/pdfupload/icici/ie-ahmedabad-11-06-2020.pdf | https://pdf.indianexpress.com/pdfupload/icici/ie-kolkata-11-06-2020.pdf | https://pdf.indianexpress.com/pdfupload/icici/ie-jaipur-11-06-2020.pdf | https://pdf.indianexpress.com/pdfupload/icici/ie-chandigarh-11-06-2020.pdf |
| 10-06-2020 | https://pdf.indianexpress.com/pdfupload/icici/ie-delhi-10-06-2020.pdf | https://pdf.indianexpress.com/pdfupload/icici/ie-mumbai-10-06-2020.pdf | https://pdf.indianexpress.com/pdfupload/icici/ie-pune-10-06-2020.pdf | https://pdf.indianexpress.com/pdfupload/icici/ie-lucknow-10-06-2020.pdf | https://pdf.indianexpress.com/pdfupload/icici/ie-ahmedabad-10-06-2020.pdf | https://pdf.indianexpress.com/pdfupload/icici/ie-kolkata-10-06-2020.pdf | https://pdf.indianexpress.com/pdfupload/icici/ie-jaipur-10-06-2020.pdf | https://pdf.indianexpress.com/pdfupload/icici/ie-chandigarh-10-06-2020.pdf |
| 09-06-2020 | https://pdf.indianexpress.com/pdfupload/icici/ie-delhi-09-06-2020.pdf | https://pdf.indianexpress.com/pdfupload/icici/ie-mumbai-09-06-2020.pdf | https://pdf.indianexpress.com/pdfupload/icici/ie-pune-09-06-2020.pdf | https://pdf.indianexpress.com/pdfupload/icici/ie-lucknow-09-06-2020.pdf | https://pdf.indianexpress.com/pdfupload/icici/ie-ahmedabad-09-06-2020.pdf | https://pdf.indianexpress.com/pdfupload/icici/ie-kolkata-09-06-2020.pdf | https://pdf.indianexpress.com/pdfupload/icici/ie-jaipur-09-06-2020.pdf | https://pdf.indianexpress.com/pdfupload/icici/ie-chandigarh-09-06-2020.pdf |
| 08-06-2020 | https://pdf.indianexpress.com/pdfupload/icici/ie-delhi-08-06-2020.pdf | https://pdf.indianexpress.com/pdfupload/icici/ie-mumbai-08-06-2020.pdf | https://pdf.indianexpress.com/pdfupload/icici/ie-pune-08-06-2020.pdf | https://pdf.indianexpress.com/pdfupload/icici/ie-lucknow-08-06-2020.pdf | https://pdf.indianexpress.com/pdfupload/icici/ie-ahmedabad-08-06-2020.pdf | https://pdf.indianexpress.com/pdfupload/icici/ie-kolkata-08-06-2020.pdf | https://pdf.indianexpress.com/pdfupload/icici/ie-jaipur-08-06-2020.pdf | https://pdf.indianexpress.com/pdfupload/icici/ie-chandigarh-08-06-2020.pdf |
| 07-06-2020 | https://pdf.indianexpress.com/pdfupload/icici/ie-delhi-07-06-2020.pdf | https://pdf.indianexpress.com/pdfupload/icici/ie-mumbai-07-06-2020.pdf | https://pdf.indianexpress.com/pdfupload/icici/ie-pune-07-06-2020.pdf | https://pdf.indianexpress.com/pdfupload/icici/ie-lucknow-07-06-2020.pdf | https://pdf.indianexpress.com/pdfupload/icici/ie-ahmedabad-07-06-2020.pdf | https://pdf.indianexpress.com/pdfupload/icici/ie-kolkata-07-06-2020.pdf | https://pdf.indianexpress.com/pdfupload/icici/ie-jaipur-07-06-2020.pdf | https://pdf.indianexpress.com/pdfupload/icici/ie-chandigarh-07-06-2020.pdf |
| 06-06-2020 | https://pdf.indianexpress.com/pdfupload/icici/ie-delhi-06-06-2020.pdf | https://pdf.indianexpress.com/pdfupload/icici/ie-mumbai-06-06-2020.pdf | https://pdf.indianexpress.com/pdfupload/icici/ie-pune-06-06-2020.pdf | https://pdf.indianexpress.com/pdfupload/icici/ie-lucknow-06-06-2020.pdf | https://pdf.indianexpress.com/pdfupload/icici/ie-ahmedabad-06-06-2020.pdf | https://pdf.indianexpress.com/pdfupload/icici/ie-kolkata-06-06-2020.pdf | https://pdf.indianexpress.com/pdfupload/icici/ie-jaipur-06-06-2020.pdf | https://pdf.indianexpress.com/pdfupload/icici/ie-chandigarh-06-06-2020.pdf |
| 05-06-2020 | https://pdf.indianexpress.com/pdfupload/icici/ie-delhi-05-06-2020.pdf | https://pdf.indianexpress.com/pdfupload/icici/ie-mumbai-05-06-2020.pdf | https://pdf.indianexpress.com/pdfupload/icici/ie-pune-05-06-2020.pdf | https://pdf.indianexpress.com/pdfupload/icici/ie-lucknow-05-06-2020.pdf | https://pdf.indianexpress.com/pdfupload/icici/ie-ahmedabad-05-06-2020.pdf | https://pdf.indianexpress.com/pdfupload/icici/ie-kolkata-05-06-2020.pdf | https://pdf.indianexpress.com/pdfupload/icici/ie-jaipur-05-06-2020.pdf | https://pdf.indianexpress.com/pdfupload/icici/ie-chandigarh-05-06-2020.pdf |
| 04-06-2020 | https://pdf.indianexpress.com/pdfupload/icici/ie-delhi-04-06-2020.pdf | https://pdf.indianexpress.com/pdfupload/icici/ie-mumbai-04-06-2020.pdf | https://pdf.indianexpress.com/pdfupload/icici/ie-pune-04-06-2020.pdf | https://pdf.indianexpress.com/pdfupload/icici/ie-lucknow-04-06-2020.pdf | https://pdf.indianexpress.com/pdfupload/icici/ie-ahmedabad-04-06-2020.pdf | https://pdf.indianexpress.com/pdfupload/icici/ie-kolkata-04-06-2020.pdf | https://pdf.indianexpress.com/pdfupload/icici/ie-jaipur-04-06-2020.pdf | https://pdf.indianexpress.com/pdfupload/icici/ie-chandigarh-04-06-2020.pdf |
| 03-06-2020 | https://pdf.indianexpress.com/pdfupload/icici/ie-delhi-03-06-2020.pdf | https://pdf.indianexpress.com/pdfupload/icici/ie-mumbai-03-06-2020.pdf | https://pdf.indianexpress.com/pdfupload/icici/ie-pune-03-06-2020.pdf | https://pdf.indianexpress.com/pdfupload/icici/ie-lucknow-03-06-2020.pdf | https://pdf.indianexpress.com/pdfupload/icici/ie-ahmedabad-03-06-2020.pdf | https://pdf.indianexpress.com/pdfupload/icici/ie-kolkata-03-06-2020.pdf | https://pdf.indianexpress.com/pdfupload/icici/ie-jaipur-03-06-2020.pdf | https://pdf.indianexpress.com/pdfupload/icici/ie-chandigarh-03-06-2020.pdf |
| 27-05-2020 | https://pdf.indianexpress.com/pdfupload/icici/ie-delhi-27-05-2020.pdf | https://pdf.indianexpress.com/pdfupload/icici/ie-mumbai-27-05-2020.pdf | https://pdf.indianexpress.com/pdfupload/icici/ie-pune-27-05-2020.pdf | https://pdf.indianexpress.com/pdfupload/icici/ie-lucknow-27-05-2020.pdf | https://pdf.indianexpress.com/pdfupload/icici/ie-ahmedabad-27-05-2020.pdf | https://pdf.indianexpress.com/pdfupload/icici/ie-kolkata-27-05-2020.pdf | https://pdf.indianexpress.com/pdfupload/icici/ie-jaipur-27-05-2020.pdf | https://pdf.indianexpress.com/pdfupload/icici/ie-chandigarh-27-05-2020.pdf |
| 01-06-2020 | https://pdf.indianexpress.com/pdfupload/icici/ie-delhi-01-06-2020.pdf | https://pdf.indianexpress.com/pdfupload/icici/ie-mumbai-01-06-2020.pdf | https://pdf.indianexpress.com/pdfupload/icici/ie-pune-01-06-2020.pdf | https://pdf.indianexpress.com/pdfupload/icici/ie-lucknow-01-06-2020.pdf | https://pdf.indianexpress.com/pdfupload/icici/ie-ahmedabad-01-06-2020.pdf | https://pdf.indianexpress.com/pdfupload/icici/ie-kolkata-01-06-2020.pdf | https://pdf.indianexpress.com/pdfupload/icici/ie-jaipur-01-06-2020.pdf | https://pdf.indianexpress.com/pdfupload/icici/ie-chandigarh-01-06-2020.pdf |
| 31-05-2020 | https://pdf.indianexpress.com/pdfupload/icici/ie-delhi-31-05-2020.pdf | https://pdf.indianexpress.com/pdfupload/icici/ie-mumbai-31-05-2020.pdf | https://pdf.indianexpress.com/pdfupload/icici/ie-pune-31-05-2020.pdf | https://pdf.indianexpress.com/pdfupload/icici/ie-lucknow-31-05-2020.pdf | https://pdf.indianexpress.com/pdfupload/icici/ie-ahmedabad-31-05-2020.pdf | https://pdf.indianexpress.com/pdfupload/icici/ie-kolkata-31-05-2020.pdf | https://pdf.indianexpress.com/pdfupload/icici/ie-jaipur-31-05-2020.pdf | https://pdf.indianexpress.com/pdfupload/icici/ie-chandigarh-31-05-2020.pdf |
| 30-05-2020 | https://pdf.indianexpress.com/pdfupload/icici/ie-delhi-30-05-2020.pdf | https://pdf.indianexpress.com/pdfupload/icici/ie-mumbai-30-05-2020.pdf | https://pdf.indianexpress.com/pdfupload/icici/ie-pune-30-05-2020.pdf | https://pdf.indianexpress.com/pdfupload/icici/ie-lucknow-30-05-2020.pdf | https://pdf.indianexpress.com/pdfupload/icici/ie-ahmedabad-30-05-2020.pdf | https://pdf.indianexpress.com/pdfupload/icici/ie-kolkata-30-05-2020.pdf | https://pdf.indianexpress.com/pdfupload/icici/ie-jaipur-30-05-2020.pdf | https://pdf.indianexpress.com/pdfupload/icici/ie-chandigarh-30-05-2020.pdf |
| 29-05-2020 | https://pdf.indianexpress.com/pdfupload/icici/ie-delhi-29-05-2020.pdf | https://pdf.indianexpress.com/pdfupload/icici/ie-mumbai-29-05-2020.pdf | https://pdf.indianexpress.com/pdfupload/icici/ie-pune-29-05-2020.pdf | https://pdf.indianexpress.com/pdfupload/icici/ie-lucknow-29-05-2020.pdf | https://pdf.indianexpress.com/pdfupload/icici/ie-ahmedabad-29-05-2020.pdf | https://pdf.indianexpress.com/pdfupload/icici/ie-kolkata-29-05-2020.pdf | https://pdf.indianexpress.com/pdfupload/icici/ie-jaipur-29-05-2020.pdf | https://pdf.indianexpress.com/pdfupload/icici/ie-chandigarh-29-05-2020.pdf |
| 28-05-2020 | https://pdf.indianexpress.com/pdfupload/icici/ie-delhi-28-05-2020.pdf | https://pdf.indianexpress.com/pdfupload/icici/ie-mumbai-28-05-2020.pdf | https://pdf.indianexpress.com/pdfupload/icici/ie-pune-28-05-2020.pdf | https://pdf.indianexpress.com/pdfupload/icici/ie-lucknow-28-05-2020.pdf | https://pdf.indianexpress.com/pdfupload/icici/ie-ahmedabad-28-05-2020.pdf | https://pdf.indianexpress.com/pdfupload/icici/ie-kolkata-28-05-2020.pdf | https://pdf.indianexpress.com/pdfupload/icici/ie-jaipur-28-05-2020.pdf | https://pdf.indianexpress.com/pdfupload/icici/ie-chandigarh-28-05-2020.pdf |
| 27-05-2020 | https://pdf.indianexpress.com/pdfupload/icici/ie-delhi-27-05-2020.pdf | https://pdf.indianexpress.com/pdfupload/icici/ie-mumbai-27-05-2020.pdf | https://pdf.indianexpress.com/pdfupload/icici/ie-pune-27-05-2020.pdf | https://pdf.indianexpress.com/pdfupload/icici/ie-lucknow-27-05-2020.pdf | https://pdf.indianexpress.com/pdfupload/icici/ie-ahmedabad-27-05-2020.pdf | https://pdf.indianexpress.com/pdfupload/icici/ie-kolkata-27-05-2020.pdf | https://pdf.indianexpress.com/pdfupload/icici/ie-jaipur-27-05-2020.pdf | https://pdf.indianexpress.com/pdfupload/icici/ie-chandigarh-27-05-2020.pdf |
| 26-05-2020 | https://pdf.indianexpress.com/pdfupload/icici/ie-delhi-26-05-2020.pdf | https://pdf.indianexpress.com/pdfupload/icici/ie-mumbai-26-05-2020.pdf | https://pdf.indianexpress.com/pdfupload/icici/ie-pune-26-05-2020.pdf | https://pdf.indianexpress.com/pdfupload/icici/ie-lucknow-26-05-2020.pdf | https://pdf.indianexpress.com/pdfupload/icici/ie-ahmedabad-26-05-2020.pdf | https://pdf.indianexpress.com/pdfupload/icici/ie-kolkata-26-05-2020.pdf | https://pdf.indianexpress.com/pdfupload/icici/ie-jaipur-26-05-2020.pdf | https://pdf.indianexpress.com/pdfupload/icici/ie-chandigarh-26-05-2020.pdf |
| 25-05-2020 | https://pdf.indianexpress.com/pdfupload/icici/ie-delhi-25-05-2020.pdf | https://pdf.indianexpress.com/pdfupload/icici/ie-mumbai-25-05-2020.pdf | https://pdf.indianexpress.com/pdfupload/icici/ie-pune-25-05-2020.pdf | https://pdf.indianexpress.com/pdfupload/icici/ie-lucknow-25-05-2020.pdf | https://pdf.indianexpress.com/pdfupload/icici/ie-ahmedabad-25-05-2020.pdf | https://pdf.indianexpress.com/pdfupload/icici/ie-kolkata-25-05-2020.pdf | https://pdf.indianexpress.com/pdfupload/icici/ie-jaipur-25-05-2020.pdf | https://pdf.indianexpress.com/pdfupload/icici/ie-chandigarh-25-05-2020.pdf |
| 24-05-2020 | https://pdf.indianexpress.com/pdfupload/icici/ie-delhi-24-05-2020.pdf | https://pdf.indianexpress.com/pdfupload/icici/ie-mumbai-24-05-2020.pdf | https://pdf.indianexpress.com/pdfupload/icici/ie-pune-24-05-2020.pdf | https://pdf.indianexpress.com/pdfupload/icici/ie-lucknow-24-05-2020.pdf | https://pdf.indianexpress.com/pdfupload/icici/ie-ahmedabad-24-05-2020.pdf | https://pdf.indianexpress.com/pdfupload/icici/ie-kolkata-24-05-2020.pdf | https://pdf.indianexpress.com/pdfupload/icici/ie-jaipur-24-05-2020.pdf | https://pdf.indianexpress.com/pdfupload/icici/ie-chandigarh-24-05-2020.pdf |
| 23-05-2020 | https://pdf.indianexpress.com/pdfupload/icici/ie-delhi-23-05-2020.pdf | https://pdf.indianexpress.com/pdfupload/icici/ie-mumbai-23-05-2020.pdf | https://pdf.indianexpress.com/pdfupload/icici/ie-pune-23-05-2020.pdf | https://pdf.indianexpress.com/pdfupload/icici/ie-lucknow-23-05-2020.pdf | https://pdf.indianexpress.com/pdfupload/icici/ie-ahmedabad-23-05-2020.pdf | https://pdf.indianexpress.com/pdfupload/icici/ie-kolkata-23-05-2020.pdf | https://pdf.indianexpress.com/pdfupload/icici/ie-jaipur-23-05-2020.pdf | https://pdf.indianexpress.com/pdfupload/icici/ie-chandigarh-23-05-2020.pdf |
| 22-05-2020 | https://pdf.indianexpress.com/pdfupload/icici/ie-delhi-22-05-2020.pdf | https://pdf.indianexpress.com/pdfupload/icici/ie-mumbai-22-05-2020.pdf | https://pdf.indianexpress.com/pdfupload/icici/ie-pune-22-05-2020.pdf | https://pdf.indianexpress.com/pdfupload/icici/ie-lucknow-22-05-2020.pdf | https://pdf.indianexpress.com/pdfupload/icici/ie-ahmedabad-22-05-2020.pdf | https://pdf.indianexpress.com/pdfupload/icici/ie-kolkata-22-05-2020.pdf | https://pdf.indianexpress.com/pdfupload/icici/ie-jaipur-22-05-2020.pdf | https://pdf.indianexpress.com/pdfupload/icici/ie-chandigarh-22-05-2020.pdf |
| 21-05-2020 | https://pdf.indianexpress.com/pdfupload/icici/ie-delhi-21-05-2020.pdf | https://pdf.indianexpress.com/pdfupload/icici/ie-mumbai-21-05-2020.pdf | https://pdf.indianexpress.com/pdfupload/icici/ie-pune-21-05-2020.pdf | https://pdf.indianexpress.com/pdfupload/icici/ie-lucknow-21-05-2020.pdf | https://pdf.indianexpress.com/pdfupload/icici/ie-ahmedabad-21-05-2020.pdf | https://pdf.indianexpress.com/pdfupload/icici/ie-kolkata-21-05-2020.pdf | https://pdf.indianexpress.com/pdfupload/icici/ie-jaipur-21-05-2020.pdf | https://pdf.indianexpress.com/pdfupload/icici/ie-chandigarh-21-05-2020.pdf |
| 20-05-2020 | https://pdf.indianexpress.com/pdfupload/icici/ie-delhi-20-05-2020.pdf | https://pdf.indianexpress.com/pdfupload/icici/ie-mumbai-20-05-2020.pdf | https://pdf.indianexpress.com/pdfupload/icici/ie-pune-20-05-2020.pdf | https://pdf.indianexpress.com/pdfupload/icici/ie-lucknow-20-05-2020.pdf | https://pdf.indianexpress.com/pdfupload/icici/ie-ahmedabad-20-05-2020.pdf | https://pdf.indianexpress.com/pdfupload/icici/ie-kolkata-20-05-2020.pdf | https://pdf.indianexpress.com/pdfupload/icici/ie-jaipur-20-05-2020.pdf | https://pdf.indianexpress.com/pdfupload/icici/ie-chandigarh-20-05-2020.pdf |
| 19-05-2020 | https://pdf.indianexpress.com/pdfupload/icici/ie-delhi-19-05-2020.pdf | https://pdf.indianexpress.com/pdfupload/icici/ie-mumbai-19-05-2020.pdf | https://pdf.indianexpress.com/pdfupload/icici/ie-pune-19-05-2020.pdf | https://pdf.indianexpress.com/pdfupload/icici/ie-lucknow-19-05-2020.pdf | https://pdf.indianexpress.com/pdfupload/icici/ie-ahmedabad-19-05-2020.pdf | https://pdf.indianexpress.com/pdfupload/icici/ie-kolkata-19-05-2020.pdf | https://pdf.indianexpress.com/pdfupload/icici/ie-jaipur-19-05-2020.pdf | https://pdf.indianexpress.com/pdfupload/icici/ie-chandigarh-19-05-2020.pdf |
| 18-05-2020 | https://pdf.indianexpress.com/pdfupload/icici/ie-delhi-18-05-2020.pdf | https://pdf.indianexpress.com/pdfupload/icici/ie-mumbai-18-05-2020.pdf | https://pdf.indianexpress.com/pdfupload/icici/ie-pune-18-05-2020.pdf | https://pdf.indianexpress.com/pdfupload/icici/ie-lucknow-18-05-2020.pdf | https://pdf.indianexpress.com/pdfupload/icici/ie-ahmedabad-18-05-2020.pdf | https://pdf.indianexpress.com/pdfupload/icici/ie-kolkata-18-05-2020.pdf | https://pdf.indianexpress.com/pdfupload/icici/ie-jaipur-18-05-2020.pdf | https://pdf.indianexpress.com/pdfupload/icici/ie-chandigarh-18-05-2020.pdf |
| 17-05-2020 | https://pdf.indianexpress.com/pdfupload/icici/ie-delhi-17-05-2020.pdf | https://pdf.indianexpress.com/pdfupload/icici/ie-mumbai-17-05-2020.pdf | https://pdf.indianexpress.com/pdfupload/icici/ie-pune-17-05-2020.pdf | https://pdf.indianexpress.com/pdfupload/icici/ie-lucknow-17-05-2020.pdf | https://pdf.indianexpress.com/pdfupload/icici/ie-ahmedabad-17-05-2020.pdf | https://pdf.indianexpress.com/pdfupload/icici/ie-kolkata-17-05-2020.pdf | https://pdf.indianexpress.com/pdfupload/icici/ie-jaipur-17-05-2020.pdf | https://pdf.indianexpress.com/pdfupload/icici/ie-chandigarh-17-05-2020.pdf |
| 16-05-2020 | https://pdf.indianexpress.com/pdfupload/icici/ie-delhi-16-05-2020.pdf | https://pdf.indianexpress.com/pdfupload/icici/ie-mumbai-16-05-2020.pdf | https://pdf.indianexpress.com/pdfupload/icici/ie-pune-16-05-2020.pdf | https://pdf.indianexpress.com/pdfupload/icici/ie-lucknow-16-05-2020.pdf | https://pdf.indianexpress.com/pdfupload/icici/ie-ahmedabad-16-05-2020.pdf | https://pdf.indianexpress.com/pdfupload/icici/ie-kolkata-16-05-2020.pdf | https://pdf.indianexpress.com/pdfupload/icici/ie-jaipur-16-05-2020.pdf | https://pdf.indianexpress.com/pdfupload/icici/ie-chandigarh-16-05-2020.pdf |
| 15-05-2020 | https://pdf.indianexpress.com/pdfupload/icici/ie-delhi-15-05-2020.pdf | https://pdf.indianexpress.com/pdfupload/icici/ie-mumbai-15-05-2020.pdf | https://pdf.indianexpress.com/pdfupload/icici/ie-pune-15-05-2020.pdf | https://pdf.indianexpress.com/pdfupload/icici/ie-lucknow-15-05-2020.pdf | https://pdf.indianexpress.com/pdfupload/icici/ie-ahmedabad-15-05-2020.pdf | https://pdf.indianexpress.com/pdfupload/icici/ie-kolkata-15-05-2020.pdf | https://pdf.indianexpress.com/pdfupload/icici/ie-jaipur-15-05-2020.pdf | https://pdf.indianexpress.com/pdfupload/icici/ie-chandigarh-15-05-2020.pdf |
| 14-05-2020 | https://pdf.indianexpress.com/pdfupload/icici/ie-delhi-14-05-2020.pdf | https://pdf.indianexpress.com/pdfupload/icici/ie-mumbai-14-05-2020.pdf | https://pdf.indianexpress.com/pdfupload/icici/ie-pune-14-05-2020.pdf | https://pdf.indianexpress.com/pdfupload/icici/ie-lucknow-14-05-2020.pdf | https://pdf.indianexpress.com/pdfupload/icici/ie-ahmedabad-14-05-2020.pdf | https://pdf.indianexpress.com/pdfupload/icici/ie-kolkata-14-05-2020.pdf | https://pdf.indianexpress.com/pdfupload/icici/ie-jaipur-14-05-2020.pdf | https://pdf.indianexpress.com/pdfupload/icici/ie-chandigarh-14-05-2020.pdf |
13 May 2020 Download Now
12 May 2020 Download Now
11 May 2020 Download Now
10 May 2020 Download Now
09 May 2020 Download Now
08 May 2020 Download Now
07 May 2020 Download Now
06 May 2020  Download Now
03 May 2020 Download Now
02 May 2020 Download Now
01 May 2020 Download Now
April  2020
30 April 2020 Download Now
29 April 2020 Download Now
28 April 2020 Download Now
27 April 2020 Download Now
26 April 2020 Download Now
25 April 2020 Download Now
24 April 2020 Download Now
23 April 2020 Download Now
22 April 2020 Download Now
21 April 2020 Download Now
20 April 2020 Download Now
19 April 2020 Download Now
18 April 2020 Download Now
17 April 2020 Download Now
16 April 2020 Download Now
15 April 2020 Download Now
14 April 2020 Download Now
13 April 2020 Download Now
12 April 2020 Download Now
11 April 2020 Download Now
10 April 2020 Download Now
09 April 2020 Download Now
08 April 2020 Download Now
07 April 2020 Download Now
06 April 2020 Download Now
05 April 2020 Download Now
04 April 2020 Download Now
03 April 2020 Download Now
02 April 2020 Download Now
01 April 2020 Download Now
March 2020
31 March 2020 Download Now
30 March 2020 Download Now
29 March 2020 Download Now
28 March 2020  Download Now
27 March 2020 Download Now
26 March 2020 Download Now
25 March 2020 Download Now
24 March 2020 Download Now
23 March 2020 Download Now
22 March 2020 Download Now
21 March 2020 Download Now
20 March 2020 Download Now
19 March 2020 Download Now
18 March 2020 Download Now
17 March 2020  Download Now
16 March 2020 Download Now
15 March 2020  Download Now
14 March 2020 Download Now
13 March 2020 Download Now
12 March 2020 Download Now
11 March 2020 Download Now
10 March 2020 Download Now
09 March 2020 Download Now
08 March 2020 Download Now
07 March 2020 Download Now
06 March 2020 Download Now
05 March 2020 Download Now
04 March 2020 Download Now
03 March 2020 Download Now
02 March 2020 Download Now
01 March 2020 Download Now
February 2020
29 February 2020 Download Now
28 February 2020 Download Now
27 February 2020 Download Now
26 February 200 Download Now
25 February 2020 Download Now
24 February 2020 Download Now
23 February 2020 Download Now
22 February 2020 Download Now
21 February 2020 Download Now
20 February 2020 Download Now
19 February 2020 Download Now
18 February 2020 Download Now
17 February 2020 Download Now
16 February 2020 Download Now
15 February 2020 Download Now
14 February 2020 Download Now
13 February 2020 Download Now
12 February 2020 Download Now
11 February 2020 Download Now
10 February 2020 Download Now
09 February 2020 Download Now
08 February 2020 Download Now
07 February 2020 Download Now
06 February 2020 Download Now
05 February 2020 Download Now
04 February 2020  Download Now
03 February 2020 Download Now
02 February 2020 Download Now
01 February 2020 Download Now
31 January 2020 Download Now
30 January 2020 Download Now
29 January 2020 Download Now
27 January 2020 Download Now
26 January 2020 Download Now
25 January 2020 Download Now
24 January 2020  Download Now
23 January 2020 Download Now
22 January 2020 Download Now
21 January 2020 Download Now
20 January 2020 Download Now
18 January 2020 Download Now
17 January 2020 Download Now
16 January 2020 Download Now
15 January 2020 Download Now
14 January 2020 Download Now
13 January 2020 Download Now
12 January 2020 Download Now
11 January 2020 Download Now
10 January 2020  Download Now
09 January 2020 Download Now
08 January 2020 Download Now
07 January 2020 Download Now
06 January 2020 Download Now
05 January 2020 Download Now
04 January 2020 Download Now
03 January 2020 Download Now
02 January 2020 Download Now
01 January 2020 Download Now
 December 2019
31 December 2019 Download Now
30 December 2019 Download Now
29 December 2019 Download Now
28 December 2019 Download Now
27 December 2019 Download Now
26 December 2019 Download Now
25 December 2019 Download Now
24 December 2019 Download Now
23 December 2019 Download Now
22 December 2019 Download Now
21 December 2019 Download Now
20 December 2019 Download Now
[/expander_maker]