Today's The Pioneer Newspaper PDF Download is one of the best English Newspaper in India. In this page readers can find The Pioneer epaper Pdf Download links.
About The Pioneer epaper pdf
The Pioneer is an English language daily newspaper in India. It is published from multiple locations in India, including Delhi. It is the second oldest English language newspaper in India still in circulation after The Times of India. In 2010, The Pioneer launched a Hindi version in Lucknow.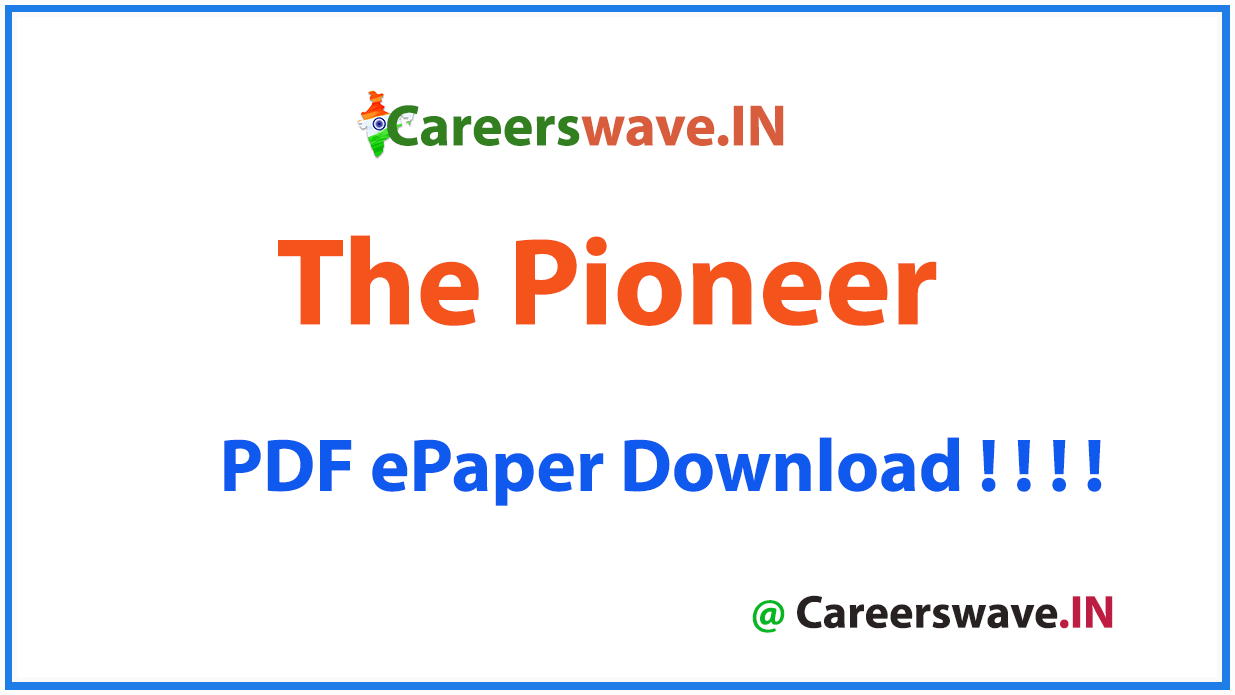 | | |
| --- | --- |
| Type | Daily newspaper |
| Format | Broadsheet |
| Owner(s) | Chandan Mitra |
| Publisher | Chandan Mitra |
| Editor | Chandan Mitra |
| Founded | 1865 (estd 1864) |
| Political alignment | Right |
| Language | English and Hindi |
| Website | DailyPioneer.com |
Editions of the The Pioneer epaper:
The Pioneer Newspaper published 10(ten) editions. Lucknow edition was the main edition of The Pioneer Newspaper. Lucknow edition includes four other editions Varanasi, Kanpur, Allahabad, and Lucknow itself.
Delhi
Lucknow
Bhopal
Bhubaneshwar
Chandigarh
Raipur
Dehradun
Ranchi
Telangana
Meerut
The Pioneer epaper pdf Disclaimer
We are not the owner of the paper The Pioneer, We are just sharing the pdf file of the paper. The Pioneer which is already available on the Internet. We are pleased to inform you that we are providing 3 links to download The Pioneer today's epaper in pdf format
The Pioneer epaper pdf Download Free
Visitors can easily find epaper downloadable link by clicking that visitors can download the pdf file of The Pioneer. Also, You can download The Pioneer newspaper pdf download
Download Today's AdFree e-Papers
Download The Hindu epaper Download.
Adfree Times of India Epaper Download.
Adfree Deccan Chronicle Epaper Free Download.
Adfree Hindustan Times Epaper Download.
Today The Pioneer full Newspaper PDF
Readers click below button to download The Pioneer official epaper
[If do not find file please reload/refresh again/comment]
The Pioneer English ePapers
| Date | delhi | vijayawada | hyderabad | bhopal | bhubaneswar | lucknow | dehradun | chandigarh | ranchi | raipur |
| --- | --- | --- | --- | --- | --- | --- | --- | --- | --- | --- |
| 16-01-2021 | https://www.dailypioneer.com/uploads/2021/epaper/january/delhi-english-edition-2021-01-16.pdf | https://www.dailypioneer.com/uploads/2021/epaper/january/vijayawada-english-edition-2021-01-16.pdf | https://www.dailypioneer.com/uploads/2021/epaper/january/hyderabad-english-edition-2021-01-16.pdf | https://www.dailypioneer.com/uploads/2021/epaper/january/bhopal-english-edition-2021-01-16.pdf | https://www.dailypioneer.com/uploads/2021/epaper/january/bhubaneswar-english-edition-2021-01-16.pdf | https://www.dailypioneer.com/uploads/2021/epaper/january/lucknow-english-edition-2021-01-16.pdf | https://www.dailypioneer.com/uploads/2021/epaper/january/dehradun-english-edition-2021-01-16.pdf | https://www.dailypioneer.com/uploads/2021/epaper/january/chandigarh-english-edition-2021-01-16.pdf | https://www.dailypioneer.com/uploads/2021/epaper/january/ranchi-english-edition-2021-01-16.pdf | https://www.dailypioneer.com/uploads/2021/epaper/january/raipur-english-edition-2021-01-16.pdf |
| 15-01-2021 | https://www.dailypioneer.com/uploads/2021/epaper/january/delhi-english-edition-2021-01-14.pdf | https://www.dailypioneer.com/uploads/2021/epaper/january/vijayawada-english-edition-2021-01-14.pdf | https://www.dailypioneer.com/uploads/2021/epaper/january/hyderabad-english-edition-2021-01-14.pdf | https://www.dailypioneer.com/uploads/2021/epaper/january/bhopal-english-edition-2021-01-14.pdf | https://www.dailypioneer.com/uploads/2021/epaper/january/bhubaneswar-english-edition-2021-01-14.pdf | https://www.dailypioneer.com/uploads/2021/epaper/january/lucknow-english-edition-2021-01-14.pdf | https://www.dailypioneer.com/uploads/2021/epaper/january/dehradun-english-edition-2021-01-14.pdf | https://www.dailypioneer.com/uploads/2021/epaper/january/chandigarh-english-edition-2021-01-14.pdf | https://www.dailypioneer.com/uploads/2021/epaper/january/ranchi-english-edition-2021-01-14.pdf | https://www.dailypioneer.com/uploads/2021/epaper/january/raipur-english-edition-2021-01-14.pdf |
| 14-01-2021 | https://www.dailypioneer.com/uploads/2021/epaper/january/delhi-english-edition-2021-01-14.pdf | https://www.dailypioneer.com/uploads/2021/epaper/january/vijayawada-english-edition-2021-01-14.pdf | https://www.dailypioneer.com/uploads/2021/epaper/january/hyderabad-english-edition-2021-01-14.pdf | https://www.dailypioneer.com/uploads/2021/epaper/january/bhopal-english-edition-2021-01-14.pdf | https://www.dailypioneer.com/uploads/2021/epaper/january/bhubaneswar-english-edition-2021-01-14.pdf | https://www.dailypioneer.com/uploads/2021/epaper/january/lucknow-english-edition-2021-01-14.pdf | https://www.dailypioneer.com/uploads/2021/epaper/january/dehradun-english-edition-2021-01-14.pdf | https://www.dailypioneer.com/uploads/2021/epaper/january/chandigarh-english-edition-2021-01-14.pdf | https://www.dailypioneer.com/uploads/2021/epaper/january/ranchi-english-edition-2021-01-14.pdf | https://www.dailypioneer.com/uploads/2021/epaper/january/raipur-english-edition-2021-01-14.pdf |
| 13-01-2021 | https://www.dailypioneer.com/uploads/2021/epaper/january/delhi-english-edition-2021-01-13.pdf | https://www.dailypioneer.com/uploads/2021/epaper/january/vijayawada-english-edition-2021-01-13.pdf | https://www.dailypioneer.com/uploads/2021/epaper/january/hyderabad-english-edition-2021-01-13.pdf | https://www.dailypioneer.com/uploads/2021/epaper/january/bhopal-english-edition-2021-01-13.pdf | https://www.dailypioneer.com/uploads/2021/epaper/january/bhubaneswar-english-edition-2021-01-13.pdf | https://www.dailypioneer.com/uploads/2021/epaper/january/lucknow-english-edition-2021-01-13.pdf | https://www.dailypioneer.com/uploads/2021/epaper/january/dehradun-english-edition-2021-01-13.pdf | https://www.dailypioneer.com/uploads/2021/epaper/january/chandigarh-english-edition-2021-01-13.pdf | https://www.dailypioneer.com/uploads/2021/epaper/january/ranchi-english-edition-2021-01-13.pdf | https://www.dailypioneer.com/uploads/2021/epaper/january/raipur-english-edition-2021-01-13.pdf |
| 12-01-2021 | https://www.dailypioneer.com/uploads/2021/epaper/january/delhi-english-edition-2021-01-12.pdf | https://www.dailypioneer.com/uploads/2021/epaper/january/vijayawada-english-edition-2021-01-12.pdf | https://www.dailypioneer.com/uploads/2021/epaper/january/hyderabad-english-edition-2021-01-12.pdf | https://www.dailypioneer.com/uploads/2021/epaper/january/bhopal-english-edition-2021-01-12.pdf | https://www.dailypioneer.com/uploads/2021/epaper/january/bhubaneswar-english-edition-2021-01-12.pdf | https://www.dailypioneer.com/uploads/2021/epaper/january/lucknow-english-edition-2021-01-12.pdf | https://www.dailypioneer.com/uploads/2021/epaper/january/dehradun-english-edition-2021-01-12.pdf | https://www.dailypioneer.com/uploads/2021/epaper/january/chandigarh-english-edition-2021-01-12.pdf | https://www.dailypioneer.com/uploads/2021/epaper/january/ranchi-english-edition-2021-01-12.pdf | https://www.dailypioneer.com/uploads/2021/epaper/january/raipur-english-edition-2021-01-12.pdf |
| 11-01-2021 | https://www.dailypioneer.com/uploads/2021/epaper/january/delhi-english-edition-2021-01-11.pdf | https://www.dailypioneer.com/uploads/2021/epaper/january/vijayawada-english-edition-2021-01-11.pdf | https://www.dailypioneer.com/uploads/2021/epaper/january/hyderabad-english-edition-2021-01-11.pdf | https://www.dailypioneer.com/uploads/2021/epaper/january/bhopal-english-edition-2021-01-11.pdf | https://www.dailypioneer.com/uploads/2021/epaper/january/bhubaneswar-english-edition-2021-01-11.pdf | https://www.dailypioneer.com/uploads/2021/epaper/january/lucknow-english-edition-2021-01-11.pdf | https://www.dailypioneer.com/uploads/2021/epaper/january/dehradun-english-edition-2021-01-11.pdf | https://www.dailypioneer.com/uploads/2021/epaper/january/chandigarh-english-edition-2021-01-11.pdf | https://www.dailypioneer.com/uploads/2021/epaper/january/ranchi-english-edition-2021-01-11.pdf | https://www.dailypioneer.com/uploads/2021/epaper/january/raipur-english-edition-2021-01-11.pdf |
| 10-01-2021 | https://www.dailypioneer.com/uploads/2021/epaper/january/delhi-english-edition-2021-01-10.pdf | https://www.dailypioneer.com/uploads/2021/epaper/january/vijayawada-english-edition-2021-01-10.pdf | https://www.dailypioneer.com/uploads/2021/epaper/january/hyderabad-english-edition-2021-01-10.pdf | https://www.dailypioneer.com/uploads/2021/epaper/january/bhopal-english-edition-2021-01-10.pdf | https://www.dailypioneer.com/uploads/2021/epaper/january/bhubaneswar-english-edition-2021-01-10.pdf | https://www.dailypioneer.com/uploads/2021/epaper/january/lucknow-english-edition-2021-01-10.pdf | https://www.dailypioneer.com/uploads/2021/epaper/january/dehradun-english-edition-2021-01-10.pdf | https://www.dailypioneer.com/uploads/2021/epaper/january/chandigarh-english-edition-2021-01-10.pdf | https://www.dailypioneer.com/uploads/2021/epaper/january/ranchi-english-edition-2021-01-10.pdf | https://www.dailypioneer.com/uploads/2021/epaper/january/raipur-english-edition-2021-01-10.pdf |
| 09-01-2021 | https://www.dailypioneer.com/uploads/2021/epaper/january/delhi-english-edition-2021-01-09.pdf | https://www.dailypioneer.com/uploads/2021/epaper/january/vijayawada-english-edition-2021-01-09.pdf | https://www.dailypioneer.com/uploads/2021/epaper/january/hyderabad-english-edition-2021-01-09.pdf | https://www.dailypioneer.com/uploads/2021/epaper/january/bhopal-english-edition-2021-01-09.pdf | https://www.dailypioneer.com/uploads/2021/epaper/january/bhubaneswar-english-edition-2021-01-09.pdf | https://www.dailypioneer.com/uploads/2021/epaper/january/lucknow-english-edition-2021-01-09.pdf | https://www.dailypioneer.com/uploads/2021/epaper/january/dehradun-english-edition-2021-01-09.pdf | https://www.dailypioneer.com/uploads/2021/epaper/january/chandigarh-english-edition-2021-01-09.pdf | https://www.dailypioneer.com/uploads/2021/epaper/january/ranchi-english-edition-2021-01-09.pdf | https://www.dailypioneer.com/uploads/2021/epaper/january/raipur-english-edition-2021-01-09.pdf |
| 08-01-2021 | https://www.dailypioneer.com/uploads/2021/epaper/january/delhi-english-edition-2021-01-08.pdf | https://www.dailypioneer.com/uploads/2021/epaper/january/vijayawada-english-edition-2021-01-08.pdf | https://www.dailypioneer.com/uploads/2021/epaper/january/hyderabad-english-edition-2021-01-08.pdf | https://www.dailypioneer.com/uploads/2021/epaper/january/bhopal-english-edition-2021-01-08.pdf | https://www.dailypioneer.com/uploads/2021/epaper/january/bhubaneswar-english-edition-2021-01-08.pdf | https://www.dailypioneer.com/uploads/2021/epaper/january/lucknow-english-edition-2021-01-08.pdf | https://www.dailypioneer.com/uploads/2021/epaper/january/dehradun-english-edition-2021-01-08.pdf | https://www.dailypioneer.com/uploads/2021/epaper/january/chandigarh-english-edition-2021-01-08.pdf | https://www.dailypioneer.com/uploads/2021/epaper/january/ranchi-english-edition-2021-01-08.pdf | https://www.dailypioneer.com/uploads/2021/epaper/january/raipur-english-edition-2021-01-08.pdf |
| 07-01-2021 | https://www.dailypioneer.com/uploads/2021/epaper/january/delhi-english-edition-2021-01-07.pdf | https://www.dailypioneer.com/uploads/2021/epaper/january/vijayawada-english-edition-2021-01-07.pdf | https://www.dailypioneer.com/uploads/2021/epaper/january/hyderabad-english-edition-2021-01-07.pdf | https://www.dailypioneer.com/uploads/2021/epaper/january/bhopal-english-edition-2021-01-07.pdf | https://www.dailypioneer.com/uploads/2021/epaper/january/bhubaneswar-english-edition-2021-01-07.pdf | https://www.dailypioneer.com/uploads/2021/epaper/january/lucknow-english-edition-2021-01-07.pdf | https://www.dailypioneer.com/uploads/2021/epaper/january/dehradun-english-edition-2021-01-07.pdf | https://www.dailypioneer.com/uploads/2021/epaper/january/chandigarh-english-edition-2021-01-07.pdf | https://www.dailypioneer.com/uploads/2021/epaper/january/ranchi-english-edition-2021-01-07.pdf | https://www.dailypioneer.com/uploads/2021/epaper/january/raipur-english-edition-2021-01-07.pdf |
| 06-01-2021 | https://www.dailypioneer.com/uploads/2021/epaper/january/delhi-english-edition-2021-01-07.pdf | https://www.dailypioneer.com/uploads/2021/epaper/january/vijayawada-english-edition-2021-01-06.pdf | https://www.dailypioneer.com/uploads/2021/epaper/january/hyderabad-english-edition-2021-01-06.pdf | https://www.dailypioneer.com/uploads/2021/epaper/january/bhopal-english-edition-2021-01-06.pdf | https://www.dailypioneer.com/uploads/2021/epaper/january/bhubaneswar-english-edition-2021-01-06.pdf | https://www.dailypioneer.com/uploads/2021/epaper/january/lucknow-english-edition-2021-01-06.pdf | https://www.dailypioneer.com/uploads/2021/epaper/january/dehradun-english-edition-2021-01-06.pdf | https://www.dailypioneer.com/uploads/2021/epaper/january/chandigarh-english-edition-2021-01-06.pdf | https://www.dailypioneer.com/uploads/2021/epaper/january/ranchi-english-edition-2021-01-06.pdf | https://www.dailypioneer.com/uploads/2021/epaper/january/raipur-english-edition-2021-01-06.pdf |
| 05-01-2021 | https://www.dailypioneer.com/uploads/2021/epaper/january/delhi-english-edition-2021-01-05.pdf | https://www.dailypioneer.com/uploads/2021/epaper/january/vijayawada-english-edition-2021-01-05.pdf | https://www.dailypioneer.com/uploads/2021/epaper/january/hyderabad-english-edition-2021-01-05.pdf | https://www.dailypioneer.com/uploads/2021/epaper/january/bhopal-english-edition-2021-01-05.pdf | https://www.dailypioneer.com/uploads/2021/epaper/january/bhubaneswar-english-edition-2021-01-05.pdf | https://www.dailypioneer.com/uploads/2021/epaper/january/lucknow-english-edition-2021-01-05.pdf | https://www.dailypioneer.com/uploads/2021/epaper/january/dehradun-english-edition-2021-01-05.pdf | https://www.dailypioneer.com/uploads/2021/epaper/january/chandigarh-english-edition-2021-01-05.pdf | https://www.dailypioneer.com/uploads/2021/epaper/january/ranchi-english-edition-2021-01-05.pdf | https://www.dailypioneer.com/uploads/2021/epaper/january/raipur-english-edition-2021-01-05.pdf |
| 04-01-2021 | https://www.dailypioneer.com/uploads/2021/epaper/january/delhi-english-edition-2021-01-04.pdf | https://www.dailypioneer.com/uploads/2021/epaper/january/vijayawada-english-edition-2021-01-04.pdf | https://www.dailypioneer.com/uploads/2021/epaper/january/hyderabad-english-edition-2021-01-04.pdf | https://www.dailypioneer.com/uploads/2021/epaper/january/bhopal-english-edition-2021-01-04.pdf | https://www.dailypioneer.com/uploads/2021/epaper/january/bhubaneswar-english-edition-2021-01-04.pdf | https://www.dailypioneer.com/uploads/2021/epaper/january/lucknow-english-edition-2021-01-04.pdf | https://www.dailypioneer.com/uploads/2021/epaper/january/dehradun-english-edition-2021-01-04.pdf | https://www.dailypioneer.com/uploads/2021/epaper/january/chandigarh-english-edition-2021-01-04.pdf | https://www.dailypioneer.com/uploads/2021/epaper/january/ranchi-english-edition-2021-01-04.pdf | https://www.dailypioneer.com/uploads/2021/epaper/january/raipur-english-edition-2021-01-04.pdf |
| 03-01-2021 | https://www.dailypioneer.com/uploads/2021/epaper/january/delhi-english-edition-2021-01-03.pdf | https://www.dailypioneer.com/uploads/2021/epaper/january/vijayawada-english-edition-2021-01-03.pdf | https://www.dailypioneer.com/uploads/2021/epaper/january/hyderabad-english-edition-2021-01-03.pdf | https://www.dailypioneer.com/uploads/2021/epaper/january/bhopal-english-edition-2021-01-03.pdf | https://www.dailypioneer.com/uploads/2021/epaper/january/bhubaneswar-english-edition-2021-01-03.pdf | https://www.dailypioneer.com/uploads/2021/epaper/january/lucknow-english-edition-2021-01-03.pdf | https://www.dailypioneer.com/uploads/2021/epaper/january/dehradun-english-edition-2021-01-03.pdf | https://www.dailypioneer.com/uploads/2021/epaper/january/chandigarh-english-edition-2021-01-03.pdf | https://www.dailypioneer.com/uploads/2021/epaper/january/ranchi-english-edition-2021-01-03.pdf | https://www.dailypioneer.com/uploads/2021/epaper/january/raipur-english-edition-2021-01-03.pdf |
| 02-01-2021 | https://www.dailypioneer.com/uploads/2021/epaper/january/delhi-english-edition-2021-01-02.pdf | https://www.dailypioneer.com/uploads/2021/epaper/january/vijayawada-english-edition-2021-01-02.pdf | https://www.dailypioneer.com/uploads/2021/epaper/january/hyderabad-english-edition-2021-01-02.pdf | https://www.dailypioneer.com/uploads/2021/epaper/january/bhopal-english-edition-2021-01-02.pdf | https://www.dailypioneer.com/uploads/2021/epaper/january/bhubaneswar-english-edition-2021-01-02.pdf | https://www.dailypioneer.com/uploads/2021/epaper/january/lucknow-english-edition-2021-01-02.pdf | https://www.dailypioneer.com/uploads/2021/epaper/january/dehradun-english-edition-2021-01-02.pdf | https://www.dailypioneer.com/uploads/2021/epaper/january/chandigarh-english-edition-2021-01-02.pdf | https://www.dailypioneer.com/uploads/2021/epaper/january/ranchi-english-edition-2021-01-02.pdf | https://www.dailypioneer.com/uploads/2021/epaper/january/raipur-english-edition-2021-01-02.pdf |
| 01-01-2021 | https://www.dailypioneer.com/uploads/2021/epaper/january/delhi-english-edition-2021-01-01.pdf | https://www.dailypioneer.com/uploads/2021/epaper/january/vijayawada-english-edition-2021-01-01.pdf | https://www.dailypioneer.com/uploads/2021/epaper/january/hyderabad-english-edition-2021-01-01.pdf | https://www.dailypioneer.com/uploads/2021/epaper/january/bhopal-english-edition-2021-01-01.pdf | https://www.dailypioneer.com/uploads/2021/epaper/january/bhubaneswar-english-edition-2021-01-01.pdf | https://www.dailypioneer.com/uploads/2021/epaper/january/lucknow-english-edition-2021-01-01.pdf | https://www.dailypioneer.com/uploads/2021/epaper/january/dehradun-english-edition-2021-01-01.pdf | https://www.dailypioneer.com/uploads/2021/epaper/january/chandigarh-english-edition-2021-01-01.pdf | https://www.dailypioneer.com/uploads/2021/epaper/january/ranchi-english-edition-2021-01-01.pdf | https://www.dailypioneer.com/uploads/2021/epaper/january/raipur-english-edition-2021-01-01.pdf |
| 31-12-2020 | https://www.dailypioneer.com/uploads/2020/epaper/december/delhi-english-edition-2020-12-31.pdf | https://www.dailypioneer.com/uploads/2020/epaper/december/vijayawada-english-edition-2020-12-31.pdf | https://www.dailypioneer.com/uploads/2020/epaper/december/hyderabad-english-edition-2020-12-31.pdf | https://www.dailypioneer.com/uploads/2020/epaper/december/bhopal-english-edition-2020-12-31.pdf | https://www.dailypioneer.com/uploads/2020/epaper/december/bhubaneswar-english-edition-2020-12-31.pdf | https://www.dailypioneer.com/uploads/2020/epaper/december/lucknow-english-edition-2020-12-31.pdf | https://www.dailypioneer.com/uploads/2020/epaper/december/dehradun-english-edition-2020-12-31.pdf | https://www.dailypioneer.com/uploads/2020/epaper/december/chandigarh-english-edition-2020-12-31.pdf | https://www.dailypioneer.com/uploads/2020/epaper/december/ranchi-english-edition-2020-12-31.pdf | https://www.dailypioneer.com/uploads/2020/epaper/december/raipur-english-edition-2020-12-31.pdf |
| 30-12-2020 | https://www.dailypioneer.com/uploads/2020/epaper/december/delhi-english-edition-2020-12-30.pdf | https://www.dailypioneer.com/uploads/2020/epaper/december/vijayawada-english-edition-2020-12-30.pdf | https://www.dailypioneer.com/uploads/2020/epaper/december/hyderabad-english-edition-2020-12-30.pdf | https://www.dailypioneer.com/uploads/2020/epaper/december/bhopal-english-edition-2020-12-30.pdf | https://www.dailypioneer.com/uploads/2020/epaper/december/bhubaneswar-english-edition-2020-12-30.pdf | https://www.dailypioneer.com/uploads/2020/epaper/december/lucknow-english-edition-2020-12-30.pdf | https://www.dailypioneer.com/uploads/2020/epaper/december/dehradun-english-edition-2020-12-30.pdf | https://www.dailypioneer.com/uploads/2020/epaper/december/chandigarh-english-edition-2020-12-30.pdf | https://www.dailypioneer.com/uploads/2020/epaper/december/ranchi-english-edition-2020-12-30.pdf | https://www.dailypioneer.com/uploads/2020/epaper/december/raipur-english-edition-2020-12-30.pdf |
| 29-12-2020 | https://www.dailypioneer.com/uploads/2020/epaper/december/delhi-english-edition-2020-12-30.pdf | https://www.dailypioneer.com/uploads/2020/epaper/december/vijayawada-english-edition-2020-12-29.pdf | https://www.dailypioneer.com/uploads/2020/epaper/december/hyderabad-english-edition-2020-12-29.pdf | https://www.dailypioneer.com/uploads/2020/epaper/december/bhopal-english-edition-2020-12-29.pdf | https://www.dailypioneer.com/uploads/2020/epaper/december/bhubaneswar-english-edition-2020-12-29.pdf | https://www.dailypioneer.com/uploads/2020/epaper/december/lucknow-english-edition-2020-12-29.pdf | https://www.dailypioneer.com/uploads/2020/epaper/december/dehradun-english-edition-2020-12-29.pdf | https://www.dailypioneer.com/uploads/2020/epaper/december/chandigarh-english-edition-2020-12-29.pdf | https://www.dailypioneer.com/uploads/2020/epaper/december/ranchi-english-edition-2020-12-29.pdf | https://www.dailypioneer.com/uploads/2020/epaper/december/raipur-english-edition-2020-12-27.pdf |
| 28-12-2020 | https://www.dailypioneer.com/uploads/2020/epaper/december/delhi-english-edition-2020-12-28.pdf | https://www.dailypioneer.com/uploads/2020/epaper/december/vijayawada-english-edition-2020-12-28.pdf | https://www.dailypioneer.com/uploads/2020/epaper/december/hyderabad-english-edition-2020-12-28.pdf | https://www.dailypioneer.com/uploads/2020/epaper/december/bhopal-english-edition-2020-12-28.pdf | https://www.dailypioneer.com/uploads/2020/epaper/december/bhubaneswar-english-edition-2020-12-28.pdf | https://www.dailypioneer.com/uploads/2020/epaper/december/lucknow-english-edition-2020-12-28.pdf | https://www.dailypioneer.com/uploads/2020/epaper/december/dehradun-english-edition-2020-12-28.pdf | https://www.dailypioneer.com/uploads/2020/epaper/december/chandigarh-english-edition-2020-12-28.pdf | https://www.dailypioneer.com/uploads/2020/epaper/december/ranchi-english-edition-2020-12-28.pdf | https://www.dailypioneer.com/uploads/2020/epaper/december/raipur-english-edition-2020-12-27.pdf |
| 27-12-2020 | https://www.dailypioneer.com/uploads/2020/epaper/december/delhi-english-edition-2020-12-27.pdf | https://www.dailypioneer.com/uploads/2020/epaper/december/vijayawada-english-edition-2020-12-27.pdf | https://www.dailypioneer.com/uploads/2020/epaper/december/hyderabad-english-edition-2020-12-27.pdf | https://www.dailypioneer.com/uploads/2020/epaper/december/bhopal-english-edition-2020-12-27.pdf | https://www.dailypioneer.com/uploads/2020/epaper/december/bhubaneswar-english-edition-2020-12-27.pdf | https://www.dailypioneer.com/uploads/2020/epaper/december/lucknow-english-edition-2020-12-27.pdf | https://www.dailypioneer.com/uploads/2020/epaper/december/dehradun-english-edition-2020-12-27.pdf | https://www.dailypioneer.com/uploads/2020/epaper/december/chandigarh-english-edition-2020-12-27.pdf | https://www.dailypioneer.com/uploads/2020/epaper/december/ranchi-english-edition-2020-12-27.pdf | https://www.dailypioneer.com/uploads/2020/epaper/december/raipur-english-edition-2020-12-27.pdf |
| 26-12-2020 | https://www.dailypioneer.com/uploads/2020/epaper/december/delhi-english-edition-2020-12-26.pdf | https://www.dailypioneer.com/uploads/2020/epaper/december/vijayawada-english-edition-2020-12-26.pdf | https://www.dailypioneer.com/uploads/2020/epaper/december/hyderabad-english-edition-2020-12-26.pdf | https://www.dailypioneer.com/uploads/2020/epaper/december/bhopal-english-edition-2020-12-26.pdf | https://www.dailypioneer.com/uploads/2020/epaper/december/bhubaneswar-english-edition-2020-12-26.pdf | https://www.dailypioneer.com/uploads/2020/epaper/december/lucknow-english-edition-2020-12-26.pdf | https://www.dailypioneer.com/uploads/2020/epaper/december/dehradun-english-edition-2020-12-26.pdf | https://www.dailypioneer.com/uploads/2020/epaper/december/chandigarh-english-edition-2020-12-26.pdf | https://www.dailypioneer.com/uploads/2020/epaper/december/ranchi-english-edition-2020-12-26.pdf | https://www.dailypioneer.com/uploads/2020/epaper/december/raipur-english-edition-2020-12-26.pdf |
| 25-12-2020 | https://www.dailypioneer.com/uploads/2020/epaper/december/delhi-english-edition-2020-12-25.pdf | https://www.dailypioneer.com/uploads/2020/epaper/december/vijayawada-english-edition-2020-12-25.pdf | https://www.dailypioneer.com/uploads/2020/epaper/december/hyderabad-english-edition-2020-12-25.pdf | https://www.dailypioneer.com/uploads/2020/epaper/december/bhopal-english-edition-2020-12-25.pdf | https://www.dailypioneer.com/uploads/2020/epaper/december/bhubaneswar-english-edition-2020-12-25.pdf | https://www.dailypioneer.com/uploads/2020/epaper/december/lucknow-english-edition-2020-12-25.pdf | https://www.dailypioneer.com/uploads/2020/epaper/december/dehradun-english-edition-2020-12-25.pdf | https://www.dailypioneer.com/uploads/2020/epaper/december/chandigarh-english-edition-2020-12-25.pdf | https://www.dailypioneer.com/uploads/2020/epaper/december/ranchi-english-edition-2020-12-25.pdf | https://www.dailypioneer.com/uploads/2020/epaper/december/raipur-english-edition-2020-12-25.pdf |
| 24-12-2020 | https://www.dailypioneer.com/uploads/2020/epaper/december/delhi-english-edition-2020-12-24.pdf | https://www.dailypioneer.com/uploads/2020/epaper/december/vijayawada-english-edition-2020-12-24.pdf | https://www.dailypioneer.com/uploads/2020/epaper/december/hyderabad-english-edition-2020-12-24.pdf | https://www.dailypioneer.com/uploads/2020/epaper/december/bhopal-english-edition-2020-12-24.pdf | https://www.dailypioneer.com/uploads/2020/epaper/december/bhubaneswar-english-edition-2020-12-24.pdf | https://www.dailypioneer.com/uploads/2020/epaper/december/lucknow-english-edition-2020-12-24.pdf | https://www.dailypioneer.com/uploads/2020/epaper/december/dehradun-english-edition-2020-12-24.pdf | https://www.dailypioneer.com/uploads/2020/epaper/december/chandigarh-english-edition-2020-12-24.pdf | https://www.dailypioneer.com/uploads/2020/epaper/december/ranchi-english-edition-2020-12-24.pdf | https://www.dailypioneer.com/uploads/2020/epaper/december/raipur-english-edition-2020-12-24.pdf |
| 23-12-2020 | https://www.dailypioneer.com/uploads/2020/epaper/december/delhi-english-edition-2020-12-23.pdf | https://www.dailypioneer.com/uploads/2020/epaper/december/vijayawada-english-edition-2020-12-23.pdf | https://www.dailypioneer.com/uploads/2020/epaper/december/hyderabad-english-edition-2020-12-23.pdf | https://www.dailypioneer.com/uploads/2020/epaper/december/bhopal-english-edition-2020-12-23.pdf | https://www.dailypioneer.com/uploads/2020/epaper/december/bhubaneswar-english-edition-2020-12-23.pdf | https://www.dailypioneer.com/uploads/2020/epaper/december/lucknow-english-edition-2020-12-23.pdf | https://www.dailypioneer.com/uploads/2020/epaper/december/dehradun-english-edition-2020-12-23.pdf | https://www.dailypioneer.com/uploads/2020/epaper/december/chandigarh-english-edition-2020-12-23.pdf | https://www.dailypioneer.com/uploads/2020/epaper/december/ranchi-english-edition-2020-12-23.pdf | https://www.dailypioneer.com/uploads/2020/epaper/december/raipur-english-edition-2020-12-23.pdf |
| 22-12-2020 | https://www.dailypioneer.com/uploads/2020/epaper/december/delhi-english-edition-2020-12-22.pdf | https://www.dailypioneer.com/uploads/2020/epaper/december/vijayawada-english-edition-2020-12-22.pdf | https://www.dailypioneer.com/uploads/2020/epaper/december/hyderabad-english-edition-2020-12-22.pdf | https://www.dailypioneer.com/uploads/2020/epaper/december/bhopal-english-edition-2020-12-22.pdf | https://www.dailypioneer.com/uploads/2020/epaper/december/bhubaneswar-english-edition-2020-12-22.pdf | https://www.dailypioneer.com/uploads/2020/epaper/december/lucknow-english-edition-2020-12-22.pdf | https://www.dailypioneer.com/uploads/2020/epaper/december/dehradun-english-edition-2020-12-22.pdf | https://www.dailypioneer.com/uploads/2020/epaper/december/chandigarh-english-edition-2020-12-22.pdf | https://www.dailypioneer.com/uploads/2020/epaper/december/ranchi-english-edition-2020-12-22.pdf | https://www.dailypioneer.com/uploads/2020/epaper/december/raipur-english-edition-2020-12-22.pdf |
| 21-12-2020 | https://www.dailypioneer.com/uploads/2020/epaper/december/delhi-english-edition-2020-12-21.pdf | https://www.dailypioneer.com/uploads/2020/epaper/december/vijayawada-english-edition-2020-12-21.pdf | https://www.dailypioneer.com/uploads/2020/epaper/december/hyderabad-english-edition-2020-12-21.pdf | https://www.dailypioneer.com/uploads/2020/epaper/december/bhopal-english-edition-2020-12-21.pdf | https://www.dailypioneer.com/uploads/2020/epaper/december/bhubaneswar-english-edition-2020-12-21.pdf | https://www.dailypioneer.com/uploads/2020/epaper/december/lucknow-english-edition-2020-12-21.pdf | https://www.dailypioneer.com/uploads/2020/epaper/december/dehradun-english-edition-2020-12-21.pdf | https://www.dailypioneer.com/uploads/2020/epaper/december/chandigarh-english-edition-2020-12-21.pdf | https://www.dailypioneer.com/uploads/2020/epaper/december/ranchi-english-edition-2020-12-21.pdf | https://www.dailypioneer.com/uploads/2020/epaper/december/raipur-english-edition-2020-12-21.pdf |
| 20-12-2020 | https://www.dailypioneer.com/uploads/2020/epaper/december/delhi-english-edition-2020-12-20.pdf | https://www.dailypioneer.com/uploads/2020/epaper/december/vijayawada-english-edition-2020-12-20.pdf | https://www.dailypioneer.com/uploads/2020/epaper/december/hyderabad-english-edition-2020-12-20.pdf | https://www.dailypioneer.com/uploads/2020/epaper/december/bhopal-english-edition-2020-12-20.pdf | https://www.dailypioneer.com/uploads/2020/epaper/december/bhubaneswar-english-edition-2020-12-20.pdf | https://www.dailypioneer.com/uploads/2020/epaper/december/lucknow-english-edition-2020-12-20.pdf | https://www.dailypioneer.com/uploads/2020/epaper/december/dehradun-english-edition-2020-12-20.pdf | https://www.dailypioneer.com/uploads/2020/epaper/december/chandigarh-english-edition-2020-12-20.pdf | https://www.dailypioneer.com/uploads/2020/epaper/december/ranchi-english-edition-2020-12-20.pdf | https://www.dailypioneer.com/uploads/2020/epaper/december/raipur-english-edition-2020-12-20.pdf |
| 19-12-2020 | https://www.dailypioneer.com/uploads/2020/epaper/december/delhi-english-edition-2020-12-19.pdf | https://www.dailypioneer.com/uploads/2020/epaper/december/vijayawada-english-edition-2020-12-19.pdf | https://www.dailypioneer.com/uploads/2020/epaper/december/hyderabad-english-edition-2020-12-19.pdf | https://www.dailypioneer.com/uploads/2020/epaper/december/bhopal-english-edition-2020-12-19.pdf | https://www.dailypioneer.com/uploads/2020/epaper/december/bhubaneswar-english-edition-2020-12-19.pdf | https://www.dailypioneer.com/uploads/2020/epaper/december/lucknow-english-edition-2020-12-19.pdf | https://www.dailypioneer.com/uploads/2020/epaper/december/dehradun-english-edition-2020-12-19.pdf | https://www.dailypioneer.com/uploads/2020/epaper/december/chandigarh-english-edition-2020-12-19.pdf | https://www.dailypioneer.com/uploads/2020/epaper/december/ranchi-english-edition-2020-12-19.pdf | https://www.dailypioneer.com/uploads/2020/epaper/december/raipur-english-edition-2020-12-19.pdf |
| 18-12-2020 | https://www.dailypioneer.com/uploads/2020/epaper/december/delhi-english-edition-2020-12-18.pdf | https://www.dailypioneer.com/uploads/2020/epaper/december/vijayawada-english-edition-2020-12-18.pdf | https://www.dailypioneer.com/uploads/2020/epaper/december/hyderabad-english-edition-2020-12-18.pdf | https://www.dailypioneer.com/uploads/2020/epaper/december/bhopal-english-edition-2020-12-18.pdf | https://www.dailypioneer.com/uploads/2020/epaper/december/bhubaneswar-english-edition-2020-12-18.pdf | https://www.dailypioneer.com/uploads/2020/epaper/december/lucknow-english-edition-2020-12-18.pdf | https://www.dailypioneer.com/uploads/2020/epaper/december/dehradun-english-edition-2020-12-18.pdf | https://www.dailypioneer.com/uploads/2020/epaper/december/chandigarh-english-edition-2020-12-18.pdf | https://www.dailypioneer.com/uploads/2020/epaper/december/ranchi-english-edition-2020-12-18.pdf | https://www.dailypioneer.com/uploads/2020/epaper/december/raipur-english-edition-2020-12-18.pdf |
| 17-12-2020 | https://www.dailypioneer.com/uploads/2020/epaper/december/delhi-english-edition-2020-12-17.pdf | https://www.dailypioneer.com/uploads/2020/epaper/december/vijayawada-english-edition-2020-12-17.pdf | https://www.dailypioneer.com/uploads/2020/epaper/december/hyderabad-english-edition-2020-12-17.pdf | https://www.dailypioneer.com/uploads/2020/epaper/december/bhopal-english-edition-2020-12-17.pdf | https://www.dailypioneer.com/uploads/2020/epaper/december/bhubaneswar-english-edition-2020-12-17.pdf | https://www.dailypioneer.com/uploads/2020/epaper/december/lucknow-english-edition-2020-12-17.pdf | https://www.dailypioneer.com/uploads/2020/epaper/december/dehradun-english-edition-2020-12-17.pdf | https://www.dailypioneer.com/uploads/2020/epaper/december/chandigarh-english-edition-2020-12-17.pdf | https://www.dailypioneer.com/uploads/2020/epaper/december/ranchi-english-edition-2020-12-17.pdf | https://www.dailypioneer.com/uploads/2020/epaper/december/raipur-english-edition-2020-12-17.pdf |
| 16-12-2020 | https://www.dailypioneer.com/uploads/2020/epaper/december/delhi-english-edition-2020-12-16.pdf | https://www.dailypioneer.com/uploads/2020/epaper/december/vijayawada-english-edition-2020-12-16.pdf | https://www.dailypioneer.com/uploads/2020/epaper/december/hyderabad-english-edition-2020-12-16.pdf | https://www.dailypioneer.com/uploads/2020/epaper/december/bhopal-english-edition-2020-12-16.pdf | https://www.dailypioneer.com/uploads/2020/epaper/december/bhubaneswar-english-edition-2020-12-16.pdf | https://www.dailypioneer.com/uploads/2020/epaper/december/lucknow-english-edition-2020-12-16.pdf | https://www.dailypioneer.com/uploads/2020/epaper/december/dehradun-english-edition-2020-12-16.pdf | https://www.dailypioneer.com/uploads/2020/epaper/december/chandigarh-english-edition-2020-12-16.pdf | https://www.dailypioneer.com/uploads/2020/epaper/december/ranchi-english-edition-2020-12-16.pdf | https://www.dailypioneer.com/uploads/2020/epaper/december/raipur-english-edition-2020-12-16.pdf |
| 15-12-2020 | https://www.dailypioneer.com/uploads/2020/epaper/december/delhi-english-edition-2020-12-15.pdf | https://www.dailypioneer.com/uploads/2020/epaper/december/vijayawada-english-edition-2020-12-15.pdf | https://www.dailypioneer.com/uploads/2020/epaper/december/hyderabad-english-edition-2020-12-15.pdf | https://www.dailypioneer.com/uploads/2020/epaper/december/bhopal-english-edition-2020-12-15.pdf | https://www.dailypioneer.com/uploads/2020/epaper/december/bhubaneswar-english-edition-2020-12-15.pdf | https://www.dailypioneer.com/uploads/2020/epaper/december/lucknow-english-edition-2020-12-15.pdf | https://www.dailypioneer.com/uploads/2020/epaper/december/dehradun-english-edition-2020-12-15.pdf | https://www.dailypioneer.com/uploads/2020/epaper/december/chandigarh-english-edition-2020-12-15.pdf | https://www.dailypioneer.com/uploads/2020/epaper/december/ranchi-english-edition-2020-12-15.pdf | https://www.dailypioneer.com/uploads/2020/epaper/december/raipur-english-edition-2020-12-15.pdf |
| 14-12-2020 | https://www.dailypioneer.com/uploads/2020/epaper/december/delhi-english-edition-2020-12-14.pdf | https://www.dailypioneer.com/uploads/2020/epaper/december/vijayawada-english-edition-2020-12-14.pdf | https://www.dailypioneer.com/uploads/2020/epaper/december/hyderabad-english-edition-2020-12-14.pdf | https://www.dailypioneer.com/uploads/2020/epaper/december/bhopal-english-edition-2020-12-14.pdf | https://www.dailypioneer.com/uploads/2020/epaper/december/bhubaneswar-english-edition-2020-12-14.pdf | https://www.dailypioneer.com/uploads/2020/epaper/december/lucknow-english-edition-2020-12-14.pdf | https://www.dailypioneer.com/uploads/2020/epaper/december/dehradun-english-edition-2020-12-14.pdf | https://www.dailypioneer.com/uploads/2020/epaper/december/chandigarh-english-edition-2020-12-14.pdf | https://www.dailypioneer.com/uploads/2020/epaper/december/ranchi-english-edition-2020-12-14.pdf | https://www.dailypioneer.com/uploads/2020/epaper/december/raipur-english-edition-2020-12-14.pdf |
| 13-12-2020 | https://www.dailypioneer.com/uploads/2020/epaper/december/delhi-english-edition-2020-12-13.pdf | https://www.dailypioneer.com/uploads/2020/epaper/december/vijayawada-english-edition-2020-12-13.pdf | https://www.dailypioneer.com/uploads/2020/epaper/december/hyderabad-english-edition-2020-12-13.pdf | https://www.dailypioneer.com/uploads/2020/epaper/december/bhopal-english-edition-2020-12-13.pdf | https://www.dailypioneer.com/uploads/2020/epaper/december/bhubaneswar-english-edition-2020-12-13.pdf | https://www.dailypioneer.com/uploads/2020/epaper/december/lucknow-english-edition-2020-12-13.pdf | https://www.dailypioneer.com/uploads/2020/epaper/december/dehradun-english-edition-2020-12-13.pdf | https://www.dailypioneer.com/uploads/2020/epaper/december/chandigarh-english-edition-2020-12-13.pdf | https://www.dailypioneer.com/uploads/2020/epaper/december/ranchi-english-edition-2020-12-13.pdf | https://www.dailypioneer.com/uploads/2020/epaper/december/raipur-english-edition-2020-12-13.pdf |
| 12-12-2020 | https://www.dailypioneer.com/uploads/2020/epaper/december/delhi-english-edition-2020-12-12.pdf | https://www.dailypioneer.com/uploads/2020/epaper/december/vijayawada-english-edition-2020-12-12.pdf | https://www.dailypioneer.com/uploads/2020/epaper/december/hyderabad-english-edition-2020-12-12.pdf | https://www.dailypioneer.com/uploads/2020/epaper/december/bhopal-english-edition-2020-12-12.pdf | https://www.dailypioneer.com/uploads/2020/epaper/december/bhubaneswar-english-edition-2020-12-12.pdf | https://www.dailypioneer.com/uploads/2020/epaper/december/lucknow-english-edition-2020-12-12.pdf | https://www.dailypioneer.com/uploads/2020/epaper/december/dehradun-english-edition-2020-12-12.pdf | https://www.dailypioneer.com/uploads/2020/epaper/december/chandigarh-english-edition-2020-12-12.pdf | https://www.dailypioneer.com/uploads/2020/epaper/december/ranchi-english-edition-2020-12-12.pdf | https://www.dailypioneer.com/uploads/2020/epaper/december/raipur-english-edition-2020-12-12.pdf |
| 11-12-2020 | https://www.dailypioneer.com/uploads/2020/epaper/december/delhi-english-edition-2020-12-11.pdf | https://www.dailypioneer.com/uploads/2020/epaper/december/vijayawada-english-edition-2020-12-11.pdf | https://www.dailypioneer.com/uploads/2020/epaper/december/hyderabad-english-edition-2020-12-11.pdf | https://www.dailypioneer.com/uploads/2020/epaper/december/bhopal-english-edition-2020-12-11.pdf | https://www.dailypioneer.com/uploads/2020/epaper/december/bhubaneswar-english-edition-2020-12-11.pdf | https://www.dailypioneer.com/uploads/2020/epaper/december/lucknow-english-edition-2020-12-11.pdf | https://www.dailypioneer.com/uploads/2020/epaper/december/dehradun-english-edition-2020-12-11.pdf | https://www.dailypioneer.com/uploads/2020/epaper/december/chandigarh-english-edition-2020-12-11.pdf | https://www.dailypioneer.com/uploads/2020/epaper/december/ranchi-english-edition-2020-12-11.pdf | https://www.dailypioneer.com/uploads/2020/epaper/december/raipur-english-edition-2020-12-11.pdf |
| 10-12-2020 | https://www.dailypioneer.com/uploads/2020/epaper/december/delhi-english-edition-2020-12-10.pdf | https://www.dailypioneer.com/uploads/2020/epaper/december/vijayawada-english-edition-2020-12-10.pdf | https://www.dailypioneer.com/uploads/2020/epaper/december/hyderabad-english-edition-2020-12-10.pdf | https://www.dailypioneer.com/uploads/2020/epaper/december/bhopal-english-edition-2020-12-10.pdf | https://www.dailypioneer.com/uploads/2020/epaper/december/bhubaneswar-english-edition-2020-12-10.pdf | https://www.dailypioneer.com/uploads/2020/epaper/december/lucknow-english-edition-2020-12-10.pdf | https://www.dailypioneer.com/uploads/2020/epaper/december/dehradun-english-edition-2020-12-10.pdf | https://www.dailypioneer.com/uploads/2020/epaper/december/chandigarh-english-edition-2020-12-10.pdf | https://www.dailypioneer.com/uploads/2020/epaper/december/ranchi-english-edition-2020-12-10.pdf | https://www.dailypioneer.com/uploads/2020/epaper/december/raipur-english-edition-2020-12-10.pdf |
| 09-12-2020 | https://www.dailypioneer.com/uploads/2020/epaper/december/delhi-english-edition-2020-12-09.pdf | https://www.dailypioneer.com/uploads/2020/epaper/december/vijayawada-english-edition-2020-12-09.pdf | https://www.dailypioneer.com/uploads/2020/epaper/december/hyderabad-english-edition-2020-12-09.pdf | https://www.dailypioneer.com/uploads/2020/epaper/december/bhopal-english-edition-2020-12-09.pdf | https://www.dailypioneer.com/uploads/2020/epaper/december/bhubaneswar-english-edition-2020-12-09.pdf | https://www.dailypioneer.com/uploads/2020/epaper/december/lucknow-english-edition-2020-12-09.pdf | https://www.dailypioneer.com/uploads/2020/epaper/december/dehradun-english-edition-2020-12-09.pdf | https://www.dailypioneer.com/uploads/2020/epaper/december/chandigarh-english-edition-2020-12-09.pdf | https://www.dailypioneer.com/uploads/2020/epaper/december/ranchi-english-edition-2020-12-09.pdf | https://www.dailypioneer.com/uploads/2020/epaper/december/raipur-english-edition-2020-12-09.pdf |
| 08-12-2020 | https://www.dailypioneer.com/uploads/2020/epaper/december/delhi-english-edition-2020-12-08.pdf | https://www.dailypioneer.com/uploads/2020/epaper/december/vijayawada-english-edition-2020-12-08.pdf | https://www.dailypioneer.com/uploads/2020/epaper/december/hyderabad-english-edition-2020-12-08.pdf | https://www.dailypioneer.com/uploads/2020/epaper/december/bhopal-english-edition-2020-12-08.pdf | https://www.dailypioneer.com/uploads/2020/epaper/december/bhubaneswar-english-edition-2020-12-08.pdf | https://www.dailypioneer.com/uploads/2020/epaper/december/lucknow-english-edition-2020-12-08.pdf | https://www.dailypioneer.com/uploads/2020/epaper/december/dehradun-english-edition-2020-12-08.pdf | https://www.dailypioneer.com/uploads/2020/epaper/december/chandigarh-english-edition-2020-12-08.pdf | https://www.dailypioneer.com/uploads/2020/epaper/december/ranchi-english-edition-2020-12-08.pdf | https://www.dailypioneer.com/uploads/2020/epaper/december/raipur-english-edition-2020-12-08.pdf |
| 07-12-2020 | https://www.dailypioneer.com/uploads/2020/epaper/december/delhi-english-edition-2020-12-07.pdf | https://www.dailypioneer.com/uploads/2020/epaper/december/vijayawada-english-edition-2020-12-07.pdf | https://www.dailypioneer.com/uploads/2020/epaper/december/hyderabad-english-edition-2020-12-07.pdf | https://www.dailypioneer.com/uploads/2020/epaper/december/bhopal-english-edition-2020-12-07.pdf | https://www.dailypioneer.com/uploads/2020/epaper/december/bhubaneswar-english-edition-2020-12-07.pdf | https://www.dailypioneer.com/uploads/2020/epaper/december/lucknow-english-edition-2020-12-07.pdf | https://www.dailypioneer.com/uploads/2020/epaper/december/dehradun-english-edition-2020-12-07.pdf | https://www.dailypioneer.com/uploads/2020/epaper/december/chandigarh-english-edition-2020-12-07.pdf | https://www.dailypioneer.com/uploads/2020/epaper/december/ranchi-english-edition-2020-12-07.pdf | https://www.dailypioneer.com/uploads/2020/epaper/december/raipur-english-edition-2020-12-07.pdf |
| 06-12-2020 | https://www.dailypioneer.com/uploads/2020/epaper/december/delhi-english-edition-2020-12-06.pdf | https://www.dailypioneer.com/uploads/2020/epaper/december/vijayawada-english-edition-2020-12-06.pdf | https://www.dailypioneer.com/uploads/2020/epaper/december/hyderabad-english-edition-2020-12-06.pdf | https://www.dailypioneer.com/uploads/2020/epaper/december/bhopal-english-edition-2020-12-06.pdf | https://www.dailypioneer.com/uploads/2020/epaper/december/bhubaneswar-english-edition-2020-12-06.pdf | https://www.dailypioneer.com/uploads/2020/epaper/december/lucknow-english-edition-2020-12-06.pdf | https://www.dailypioneer.com/uploads/2020/epaper/december/dehradun-english-edition-2020-12-06.pdf | https://www.dailypioneer.com/uploads/2020/epaper/december/chandigarh-english-edition-2020-12-06.pdf | https://www.dailypioneer.com/uploads/2020/epaper/december/ranchi-english-edition-2020-12-06.pdf | https://www.dailypioneer.com/uploads/2020/epaper/december/raipur-english-edition-2020-12-06.pdf |
| 05-12-2020 | https://www.dailypioneer.com/uploads/2020/epaper/december/delhi-english-edition-2020-12-05.pdf | https://www.dailypioneer.com/uploads/2020/epaper/december/vijayawada-english-edition-2020-12-05.pdf | https://www.dailypioneer.com/uploads/2020/epaper/december/hyderabad-english-edition-2020-12-05.pdf | https://www.dailypioneer.com/uploads/2020/epaper/december/bhopal-english-edition-2020-12-05.pdf | https://www.dailypioneer.com/uploads/2020/epaper/december/bhubaneswar-english-edition-2020-12-05.pdf | https://www.dailypioneer.com/uploads/2020/epaper/december/lucknow-english-edition-2020-12-05.pdf | https://www.dailypioneer.com/uploads/2020/epaper/december/dehradun-english-edition-2020-12-05.pdf | https://www.dailypioneer.com/uploads/2020/epaper/december/chandigarh-english-edition-2020-12-05.pdf | https://www.dailypioneer.com/uploads/2020/epaper/december/ranchi-english-edition-2020-12-05.pdf | https://www.dailypioneer.com/uploads/2020/epaper/december/raipur-english-edition-2020-12-05.pdf |
| 04-12-2020 | https://www.dailypioneer.com/uploads/2020/epaper/december/delhi-english-edition-2020-12-04.pdf | https://www.dailypioneer.com/uploads/2020/epaper/december/vijayawada-english-edition-2020-12-04.pdf | https://www.dailypioneer.com/uploads/2020/epaper/december/hyderabad-english-edition-2020-12-04.pdf | https://www.dailypioneer.com/uploads/2020/epaper/december/bhopal-english-edition-2020-12-04.pdf | https://www.dailypioneer.com/uploads/2020/epaper/december/bhubaneswar-english-edition-2020-12-04.pdf | https://www.dailypioneer.com/uploads/2020/epaper/december/lucknow-english-edition-2020-12-04.pdf | https://www.dailypioneer.com/uploads/2020/epaper/december/dehradun-english-edition-2020-12-04.pdf | https://www.dailypioneer.com/uploads/2020/epaper/december/chandigarh-english-edition-2020-12-04.pdf | https://www.dailypioneer.com/uploads/2020/epaper/december/ranchi-english-edition-2020-12-04.pdf | https://www.dailypioneer.com/uploads/2020/epaper/december/raipur-english-edition-2020-12-04.pdf |
| 03-12-2020 | https://www.dailypioneer.com/uploads/2020/epaper/december/delhi-english-edition-2020-12-03.pdf | | | | | | | | | |
| 02-12-2020 | https://www.dailypioneer.com/uploads/2020/epaper/december/delhi-english-edition-2020-12-02.pdf | | | | | | | | | |
| 01-12-2020 | https://www.dailypioneer.com/uploads/2020/epaper/december/delhi-english-edition-2020-12-01.pdf | | | | | | | | | |
| 30-11-2020 | https://www.dailypioneer.com/uploads/2020/epaper/november/delhi-english-edition-2020-11-30.pdf | | | | | | | | | |
| 29-11-2020 | https://www.dailypioneer.com/uploads/2020/epaper/november/delhi-english-edition-2020-11-29.pdf | | | | | | | | | |
| 28-11-2020 | https://www.dailypioneer.com/uploads/2020/epaper/november/delhi-english-edition-2020-11-28.pdf | | | | | | | | | |
| 27-11-2020 | https://www.dailypioneer.com/uploads/2020/epaper/november/delhi-english-edition-2020-11-27.pdf | | | | | | | | | |
| 26-11-2020 | https://www.dailypioneer.com/uploads/2020/epaper/november/delhi-english-edition-2020-11-26.pdf | | | | | | | | | |
| 25-11-2020 | https://www.dailypioneer.com/uploads/2020/epaper/november/delhi-english-edition-2020-11-25.pdf | | | | | | | | | |
| 24-11-2020 | https://www.dailypioneer.com/uploads/2020/epaper/november/delhi-english-edition-2020-11-24.pdf | | | | | | | | | |
| 23-11-2020 | https://www.dailypioneer.com/uploads/2020/epaper/november/delhi-english-edition-2020-11-23.pdf | | | | | | | | | |
| 22-11-2020 | https://www.dailypioneer.com/uploads/2020/epaper/november/delhi-english-edition-2020-11-22.pdf | | | | | | | | | |
| 21-11-2020 | https://www.dailypioneer.com/uploads/2020/epaper/november/delhi-english-edition-2020-11-21.pdf | | | | | | | | | |
| 20-11-2020 | https://www.dailypioneer.com/uploads/2020/epaper/november/delhi-english-edition-2020-11-20.pdf | | | | | | | | | |
| 19-11-2020 | https://www.dailypioneer.com/uploads/2020/epaper/november/delhi-english-edition-2020-11-19.pdf | | | | | | | | | |
| 18-11-2020 | https://www.dailypioneer.com/uploads/2020/epaper/november/delhi-english-edition-2020-11-18.pdf | | | | | | | | | |
| 17-11-2020 | https://www.dailypioneer.com/uploads/2020/epaper/november/delhi-english-edition-2020-11-17.pdf | | | | | | | | | |
| 16-11-2020 | https://www.dailypioneer.com/uploads/2020/epaper/november/delhi-english-edition-2020-11-16.pdf | | | | | | | | | |
| 15-11-2020 | https://www.dailypioneer.com/uploads/2020/epaper/november/delhi-english-edition-2020-11-15.pdf | | | | | | | | | |
| 14-11-2020 | https://www.dailypioneer.com/uploads/2020/epaper/november/delhi-english-edition-2020-11-14.pdf | | | | | | | | | |
| 13-11-2020 | https://www.dailypioneer.com/uploads/2020/epaper/november/delhi-english-edition-2020-11-13.pdf | | | | | | | | | |
| 12-11-2020 | https://www.dailypioneer.com/uploads/2020/epaper/november/delhi-english-edition-2020-11-12.pdf | | | | | | | | | |
| 11-11-2020 | https://www.dailypioneer.com/uploads/2020/epaper/november/delhi-english-edition-2020-11-11.pdf | | | | | | | | | |
| 10-11-2020 | https://www.dailypioneer.com/uploads/2020/epaper/november/delhi-english-edition-2020-11-10.pdf | | | | | | | | | |
| 09-11-2020 | https://www.dailypioneer.com/uploads/2020/epaper/november/delhi-english-edition-2020-11-09.pdf | | | | | | | | | |
| 08-11-2020 | https://www.dailypioneer.com/uploads/2020/epaper/november/delhi-english-edition-2020-11-08.pdf | | | | | | | | | |
| 07-11-2020 | https://www.dailypioneer.com/uploads/2020/epaper/november/delhi-english-edition-2020-11-07.pdf | | | | | | | | | |
| 06-11-2020 | https://www.dailypioneer.com/uploads/2020/epaper/november/delhi-english-edition-2020-11-06.pdf | | | | | | | | | |
| 05-11-2020 | https://www.dailypioneer.com/uploads/2020/epaper/november/delhi-english-edition-2020-11-05.pdf | | | | | | | | | |
| 04-11-2020 | https://www.dailypioneer.com/uploads/2020/epaper/november/delhi-english-edition-2020-11-04.pdf | | | | | | | | | |
| 03-11-2020 | https://www.dailypioneer.com/uploads/2020/epaper/november/delhi-english-edition-2020-11-03.pdf | | | | | | | | | |
| 02-11-2020 | https://www.dailypioneer.com/uploads/2020/epaper/november/delhi-english-edition-2020-11-02.pdf | | | | | | | | | |
| 01-11-2020 | https://www.dailypioneer.com/uploads/2020/epaper/november/delhi-english-edition-2020-11-01.pdf | | | | | | | | | |
| 31-10-2020 | https://www.dailypioneer.com/uploads/2020/epaper/octomber/delhi-english-edition-2020-10-31.pdf | | | | | | | | | |
| 30-10-2020 | https://www.dailypioneer.com/uploads/2020/epaper/octomber/delhi-english-edition-2020-10-30.pdf | | | | | | | | | |
| 29-10-2020 | https://www.dailypioneer.com/uploads/2020/epaper/octomber/delhi-english-edition-2020-10-29.pdf | | | | | | | | | |
| 28-10-2020 | https://www.dailypioneer.com/uploads/2020/epaper/octomber/delhi-english-edition-2020-10-28.pdf | | | | | | | | | |
| 27-10-2020 | https://www.dailypioneer.com/uploads/2020/epaper/octomber/delhi-english-edition-2020-10-27.pdf | | | | | | | | | |
| 26-10-2020 | https://www.dailypioneer.com/uploads/2020/epaper/octomber/delhi-english-edition-2020-10-26.pdf | | | | | | | | | |
| 25-10-2020 | https://www.dailypioneer.com/uploads/2020/epaper/octomber/delhi-english-edition-2020-10-25.pdf | | | | | | | | | |
| 24-10-2020 | https://www.dailypioneer.com/uploads/2020/epaper/octomber/delhi-english-edition-2020-10-24.pdf | | | | | | | | | |
| 23-10-2020 | https://www.dailypioneer.com/uploads/2020/epaper/octomber/delhi-english-edition-2020-10-23.pdf | | | | | | | | | |
| 22-10-2020 | https://www.dailypioneer.com/uploads/2020/epaper/octomber/delhi-english-edition-2020-10-22.pdf | | | | | | | | | |
| 21-10-2020 | https://www.dailypioneer.com/uploads/2020/epaper/octomber/delhi-english-edition-2020-10-21.pdf | | | | | | | | | |
| 20-10-2020 | https://www.dailypioneer.com/uploads/2020/epaper/octomber/delhi-english-edition-2020-10-20.pdf | | | | | | | | | |
| 19-10-2020 | https://www.dailypioneer.com/uploads/2020/epaper/octomber/delhi-english-edition-2020-10-19.pdf | | | | | | | | | |
| 18-10-2020 | https://www.dailypioneer.com/uploads/2020/epaper/octomber/delhi-english-edition-2020-10-18.pdf | | | | | | | | | |
| 17-10-2020 | https://www.dailypioneer.com/uploads/2020/epaper/octomber/delhi-english-edition-2020-10-17.pdf | | | | | | | | | |
| 16-10-2020 | https://www.dailypioneer.com/uploads/2020/epaper/octomber/delhi-english-edition-2020-10-16.pdf | | | | | | | | | |
| 15-10-2020 | https://www.dailypioneer.com/uploads/2020/epaper/octomber/delhi-english-edition-2020-10-15.pdf | | | | | | | | | |
| 14-10-2020 | https://www.dailypioneer.com/uploads/2020/epaper/octomber/delhi-english-edition-2020-10-14.pdf | | | | | | | | | |
| 13-10-2020 | https://www.dailypioneer.com/uploads/2020/epaper/octomber/delhi-english-edition-2020-10-13.pdf | | | | | | | | | |
| 12-10-2020 | https://www.dailypioneer.com/uploads/2020/epaper/octomber/delhi-english-edition-2020-10-12.pdf | | | | | | | | | |
| 11-10-2020 | https://www.dailypioneer.com/uploads/2020/epaper/octomber/delhi-english-edition-2020-10-11.pdf | | | | | | | | | |
| 10-10-2020 | https://www.dailypioneer.com/uploads/2020/epaper/octomber/delhi-english-edition-2020-10-10.pdf | | | | | | | | | |
| 09-10-2020 | https://www.dailypioneer.com/uploads/2020/epaper/octomber/delhi-english-edition-2020-10-09.pdf | | | | | | | | | |
| 08-10-2020 | https://www.dailypioneer.com/uploads/2020/epaper/octomber/delhi-english-edition-2020-10-08.pdf | | | | | | | | | |
| 07-10-2020 | https://www.dailypioneer.com/uploads/2020/epaper/octomber/delhi-english-edition-2020-10-07.pdf | | | | | | | | | |
| 06-10-2020 | https://www.dailypioneer.com/uploads/2020/epaper/octomber/delhi-english-edition-2020-10-06.pdf | | | | | | | | | |
| 05-10-2020 | https://www.dailypioneer.com/uploads/2020/epaper/octomber/delhi-english-edition-2020-10-05.pdf | | | | | | | | | |
| 04-10-2020 | https://www.dailypioneer.com/uploads/2020/epaper/octomber/delhi-english-edition-2020-10-04.pdf | | | | | | | | | |
| 03-10-2020 | https://www.dailypioneer.com/uploads/2020/epaper/octomber/delhi-english-edition-2020-10-03.pdf | | | | | | | | | |
| 02-10-2020 | https://www.dailypioneer.com/uploads/2020/epaper/octomber/delhi-english-edition-2020-10-02.pdf | | | | | | | | | |
| 01-10-2020 | https://www.dailypioneer.com/uploads/2020/epaper/octomber/delhi-english-edition-2020-10-01.pdf | | | | | | | | | |
| 30-09-2020 | https://www.dailypioneer.com/uploads/2020/epaper/september/delhi-english-edition-2020-09-30.pdf | | | | | | | | | |
| 29-09-2020 | https://www.dailypioneer.com/uploads/2020/epaper/september/delhi-english-edition-2020-09-29.pdf | | | | | | | | | |
| 28-09-2020 | https://www.dailypioneer.com/uploads/2020/epaper/september/delhi-english-edition-2020-09-28.pdf | | | | | | | | | |
| 27-09-2020 | https://www.dailypioneer.com/uploads/2020/epaper/september/delhi-english-edition-2020-09-27.pdf | | | | | | | | | |
| 26-09-2020 | https://www.dailypioneer.com/uploads/2020/epaper/september/delhi-english-edition-2020-09-26.pdf | | | | | | | | | |
| 25-09-2020 | https://www.dailypioneer.com/uploads/2020/epaper/september/delhi-english-edition-2020-09-25.pdf | | | | | | | | | |
| 24-09-2020 | https://www.dailypioneer.com/uploads/2020/epaper/september/delhi-english-edition-2020-09-24.pdf | | | | | | | | | |
| 23-09-2020 | https://www.dailypioneer.com/uploads/2020/epaper/september/delhi-english-edition-2020-09-23.pdf | | | | | | | | | |
| 22-09-2020 | https://www.dailypioneer.com/uploads/2020/epaper/september/delhi-english-edition-2020-09-22.pdf | | | | | | | | | |
| 21-09-2020 | https://www.dailypioneer.com/uploads/2020/epaper/september/delhi-english-edition-2020-09-21.pdf | | | | | | | | | |
| 20-09-2020 | https://www.dailypioneer.com/uploads/2020/epaper/september/delhi-english-edition-2020-09-20.pdf | | | | | | | | | |
| 19-09-2020 | https://www.dailypioneer.com/uploads/2020/epaper/september/delhi-english-edition-2020-09-19.pdf | | | | | | | | | |
| 18-09-2020 | https://www.dailypioneer.com/uploads/2020/epaper/september/delhi-english-edition-2020-09-18.pdf | | | | | | | | | |
| 17-09-2020 | https://www.dailypioneer.com/uploads/2020/epaper/september/delhi-english-edition-2020-09-17.pdf | | | | | | | | | |
| 16-09-2020 | https://www.dailypioneer.com/uploads/2020/epaper/september/delhi-english-edition-2020-09-16.pdf | | | | | | | | | |
| 15-09-2020 | https://www.dailypioneer.com/uploads/2020/epaper/september/delhi-english-edition-2020-09-15.pdf | | | | | | | | | |
| 14-09-2020 | https://www.dailypioneer.com/uploads/2020/epaper/september/delhi-english-edition-2020-09-14.pdf | | | | | | | | | |
| 13-09-2020 | https://www.dailypioneer.com/uploads/2020/epaper/september/delhi-english-edition-2020-09-13.pdf | | | | | | | | | |
| 12-09-2020 | https://www.dailypioneer.com/uploads/2020/epaper/september/delhi-english-edition-2020-09-12.pdf | | | | | | | | | |
| 11-09-2020 | https://www.dailypioneer.com/uploads/2020/epaper/september/delhi-english-edition-2020-09-11.pdf | | | | | | | | | |
| 10-09-2020 | https://www.dailypioneer.com/uploads/2020/epaper/september/delhi-english-edition-2020-09-10.pdf | | | | | | | | | |
| 09-09-2020 | https://www.dailypioneer.com/uploads/2020/epaper/september/delhi-english-edition-2020-09-09.pdf | | | | | | | | | |
| 08-09-2020 | https://www.dailypioneer.com/uploads/2020/epaper/september/delhi-english-edition-2020-09-08.pdf | | | | | | | | | |
| 07-09-2020 | https://www.dailypioneer.com/uploads/2020/epaper/september/delhi-english-edition-2020-09-07.pdf | | | | | | | | | |
| 06-09-2020 | https://www.dailypioneer.com/uploads/2020/epaper/september/delhi-english-edition-2020-09-06.pdf | | | | | | | | | |
| 05-09-2020 | https://www.dailypioneer.com/uploads/2020/epaper/september/delhi-english-edition-2020-09-05.pdf | | | | | | | | | |
| 04-09-2020 | https://www.dailypioneer.com/uploads/2020/epaper/september/delhi-english-edition-2020-09-04.pdf | | | | | | | | | |
| 03-09-2020 | https://www.dailypioneer.com/uploads/2020/epaper/september/delhi-english-edition-2020-09-03.pdf | | | | | | | | | |
| 02-09-2020 | https://www.dailypioneer.com/uploads/2020/epaper/september/delhi-english-edition-2020-09-02.pdf | | | | | | | | | |
| 01-09-2020 | https://www.dailypioneer.com/uploads/2020/epaper/september/delhi-english-edition-2020-09-01.pdf | | | | | | | | | |
| 31-08-2020 | https://www.dailypioneer.com/uploads/2020/epaper/august/delhi-english-edition-2020-08-31.pdf | | | | | | | | | |
| 30-08-2020 | https://www.dailypioneer.com/uploads/2020/epaper/august/delhi-english-edition-2020-08-30.pdf | | | | | | | | | |
| 29-08-2020 | https://www.dailypioneer.com/uploads/2020/epaper/august/delhi-english-edition-2020-08-29.pdf | | | | | | | | | |
| 28-08-2020 | https://www.dailypioneer.com/uploads/2020/epaper/august/delhi-english-edition-2020-08-28.pdf | | | | | | | | | |
| 27-08-2020 | https://www.dailypioneer.com/uploads/2020/epaper/august/delhi-english-edition-2020-08-27.pdf | | | | | | | | | |
| 26-08-2020 | https://www.dailypioneer.com/uploads/2020/epaper/august/delhi-english-edition-2020-08-26.pdf | | | | | | | | | |
| 25-08-2020 | https://www.dailypioneer.com/uploads/2020/epaper/august/delhi-english-edition-2020-08-25.pdf | | | | | | | | | |
| 24-08-2020 | https://www.dailypioneer.com/uploads/2020/epaper/august/delhi-english-edition-2020-08-24.pdf | | | | | | | | | |
| 23-08-2020 | https://www.dailypioneer.com/uploads/2020/epaper/august/delhi-english-edition-2020-08-23.pdf | | | | | | | | | |
| 22-08-2020 | https://www.dailypioneer.com/uploads/2020/epaper/august/delhi-english-edition-2020-08-22.pdf | | | | | | | | | |
| 21-08-2020 | https://www.dailypioneer.com/uploads/2020/epaper/august/delhi-english-edition-2020-08-21.pdf | | | | | | | | | |
| 20-08-2020 | https://www.dailypioneer.com/uploads/2020/epaper/august/delhi-english-edition-2020-08-20.pdf | | | | | | | | | |
| 19-08-2020 | https://www.dailypioneer.com/uploads/2020/epaper/august/delhi-english-edition-2020-08-19.pdf | | | | | | | | | |
| 18-08-2020 | https://www.dailypioneer.com/uploads/2020/epaper/august/delhi-english-edition-2020-08-18.pdf | | | | | | | | | |
| 17-08-2020 | https://www.dailypioneer.com/uploads/2020/epaper/august/delhi-english-edition-2020-08-17.pdf | | | | | | | | | |
| 16-08-2020 | https://www.dailypioneer.com/uploads/2020/epaper/august/delhi-english-edition-2020-08-16.pdf | | | | | | | | | |
| 15-08-2020 | https://www.dailypioneer.com/uploads/2020/epaper/august/delhi-english-edition-2020-08-15.pdf | | | | | | | | | |
| 14-08-2020 | https://www.dailypioneer.com/uploads/2020/epaper/august/delhi-english-edition-2020-08-14.pdf | | | | | | | | | |
| 13-08-2020 | https://www.dailypioneer.com/uploads/2020/epaper/august/delhi-english-edition-2020-08-13.pdf | | | | | | | | | |
| 12-08-2020 | https://www.dailypioneer.com/uploads/2020/epaper/august/delhi-english-edition-2020-08-12.pdf | | | | | | | | | |
| 11-08-2020 | https://www.dailypioneer.com/uploads/2020/epaper/august/delhi-english-edition-2020-08-11.pdf | | | | | | | | | |
| 10-08-2020 | https://www.dailypioneer.com/uploads/2020/epaper/august/delhi-english-edition-2020-08-10.pdf | | | | | | | | | |
| 09-08-2020 | https://www.dailypioneer.com/uploads/2020/epaper/august/delhi-english-edition-2020-08-09.pdf | | | | | | | | | |
| 08-08-2020 | https://www.dailypioneer.com/uploads/2020/epaper/august/delhi-english-edition-2020-08-08.pdf | | | | | | | | | |
| 07-08-2020 | https://www.dailypioneer.com/uploads/2020/epaper/august/delhi-english-edition-2020-08-07.pdf | | | | | | | | | |
| 06-08-2020 | https://www.dailypioneer.com/uploads/2020/epaper/august/delhi-english-edition-2020-08-06.pdf | | | | | | | | | |
| 05-08-2020 | https://www.dailypioneer.com/uploads/2020/epaper/august/delhi-english-edition-2020-08-05.pdf | | | | | | | | | |
| 04-08-2020 | https://www.dailypioneer.com/uploads/2020/epaper/august/delhi-english-edition-2020-08-04.pdf | | | | | | | | | |
| 03-08-2020 | https://www.dailypioneer.com/uploads/2020/epaper/august/delhi-english-edition-2020-08-03.pdf | | | | | | | | | |
| 02-08-2020 | https://www.dailypioneer.com/uploads/2020/epaper/august/delhi-english-edition-2020-08-02.pdf | | | | | | | | | |
| 01-08-2020 | https://www.dailypioneer.com/uploads/2020/epaper/august/delhi-english-edition-2020-08-01.pdf | | | | | | | | | |
| 31-07-2020 | https://www.dailypioneer.com/uploads/2020/epaper/july/delhi-english-edition-2020-07-31.pdf | | | | | | | | | |
| 30-07-2020 | https://www.dailypioneer.com/uploads/2020/epaper/july/delhi-english-edition-2020-07-30.pdf | | | | | | | | | |
| 29-07-2020 | https://www.dailypioneer.com/uploads/2020/epaper/july/delhi-english-edition-2020-07-29.pdf | | | | | | | | | |
| 28-07-2020 | https://www.dailypioneer.com/uploads/2020/epaper/july/delhi-english-edition-2020-07-28.pdf | | | | | | | | | |
| 27-07-2020 | https://www.dailypioneer.com/uploads/2020/epaper/july/delhi-english-edition-2020-07-27.pdf | | | | | | | | | |
| 26-07-2020 | https://www.dailypioneer.com/uploads/2020/epaper/july/delhi-english-edition-2020-07-26.pdf | | | | | | | | | |
| 25-07-2020 | https://www.dailypioneer.com/uploads/2020/epaper/july/delhi-english-edition-2020-07-25.pdf | | | | | | | | | |
| 24-07-2020 | https://www.dailypioneer.com/uploads/2020/epaper/july/delhi-english-edition-2020-07-24.pdf | | | | | | | | | |
| 23-07-2020 | https://www.dailypioneer.com/uploads/2020/epaper/july/delhi-english-edition-2020-07-23.pdf | | | | | | | | | |
| 22-07-2020 | https://www.dailypioneer.com/uploads/2020/epaper/july/delhi-english-edition-2020-07-22.pdf | | | | | | | | | |
| 21-07-2020 | https://www.dailypioneer.com/uploads/2020/epaper/july/delhi-english-edition-2020-07-21.pdf | | | | | | | | | |
| 20-07-2020 | https://www.dailypioneer.com/uploads/2020/epaper/july/delhi-english-edition-2020-07-20.pdf | | | | | | | | | |
| 19-07-2020 | https://www.dailypioneer.com/uploads/2020/epaper/july/delhi-english-edition-2020-07-19.pdf | | | | | | | | | |
| 18-07-2020 | https://www.dailypioneer.com/uploads/2020/epaper/july/delhi-english-edition-2020-07-18.pdf | | | | | | | | | |
| 17-07-2020 | https://www.dailypioneer.com/uploads/2020/epaper/july/delhi-english-edition-2020-07-17.pdf | | | | | | | | | |
| 16-07-2020 | https://www.dailypioneer.com/uploads/2020/epaper/july/delhi-english-edition-2020-07-16.pdf | | | | | | | | | |
| 15-07-2020 | https://www.dailypioneer.com/uploads/2020/epaper/july/delhi-english-edition-2020-07-15.pdf | | | | | | | | | |
| 14-07-2020 | https://www.dailypioneer.com/uploads/2020/epaper/july/delhi-english-edition-2020-07-14.pdf | | | | | | | | | |
| 07-07-2020 | https://www.dailypioneer.com/uploads/2020/epaper/july/delhi-english-edition-2020-07-07.pdf | | | | | | | | | |
| 06-07-2020 | https://www.dailypioneer.com/uploads/2020/epaper/july/delhi-english-edition-2020-07-06.pdf | | | | | | | | | |
| 02-07-2020 | https://www.dailypioneer.com/uploads/2020/epaper/july/delhi-english-edition-2020-07-02.pdf | | | | | | | | | |
| 01-07-2020 | https://www.dailypioneer.com/uploads/2020/epaper/july/delhi-english-edition-2020-07-01.pdf | | | | | | | | | |
| 30-06-2020 | https://www.dailypioneer.com/uploads/2020/epaper/june/delhi-english-edition-2020-06-30.pdf | | | | | | | | | |
| 29-06-2020 | https://www.dailypioneer.com/uploads/2020/epaper/june/delhi-english-edition-2020-06-29.pdf | | | | | | | | | |
| 28-06-2020 | https://www.dailypioneer.com/uploads/2020/epaper/june/delhi-english-edition-2020-06-28.pdf | | | | | | | | | |
| 27-06-2020 | https://www.dailypioneer.com/uploads/2020/epaper/june/delhi-english-edition-2020-06-27.pdf | | | | | | | | | |
| 26-06-2020 | https://www.dailypioneer.com/uploads/2020/epaper/june/delhi-english-edition-2020-06-26.pdf | | | | | | | | | |
| 25-06-2020 | https://www.dailypioneer.com/uploads/2020/epaper/june/delhi-english-edition-2020-06-25.pdf | | | | | | | | | |
| 24-06-2020 | https://www.dailypioneer.com/uploads/2020/epaper/june/delhi-english-edition-2020-06-24.pdf | | | | | | | | | |
| 23-06-2020 | https://www.dailypioneer.com/uploads/2020/epaper/june/delhi-english-edition-2020-06-23.pdf | | | | | | | | | |
| 22-06-2020 | https://www.dailypioneer.com/uploads/2020/epaper/june/delhi-english-edition-2020-06-22.pdf | | | | | | | | | |
| 21-06-2020 | https://www.dailypioneer.com/uploads/2020/epaper/june/delhi-english-edition-2020-06-21.pdf | | | | | | | | | |
| 20-06-2020 | https://www.dailypioneer.com/uploads/2020/epaper/june/delhi-english-edition-2020-06-20.pdf | | | | | | | | | |
| 19-06-2020 | https://www.dailypioneer.com/uploads/2020/epaper/june/delhi-english-edition-2020-06-19.pdf | | | | | | | | | |
| 18-06-2020 | https://www.dailypioneer.com/uploads/2020/epaper/june/delhi-english-edition-2020-06-18.pdf | | | | | | | | | |
| 17-06-2020 | https://www.dailypioneer.com/uploads/2020/epaper/june/delhi-english-edition-2020-06-17.pdf | | | | | | | | | |
| 16-06-2020 | https://www.dailypioneer.com/uploads/2020/epaper/june/delhi-english-edition-2020-06-16.pdf | | | | | | | | | |
| 15-06-2020 | https://www.dailypioneer.com/uploads/2020/epaper/june/delhi-english-edition-2020-06-15.pdf | | | | | | | | | |
| 14-06-2020 | https://www.dailypioneer.com/uploads/2020/epaper/june/delhi-english-edition-2020-06-14.pdf | | | | | | | | | |
| 13-06-2020 | https://www.dailypioneer.com/uploads/2020/epaper/june/delhi-english-edition-2020-06-13.pdf | | | | | | | | | |
| 12-06-2020 | https://www.dailypioneer.com/uploads/2020/epaper/june/delhi-english-edition-2020-06-12.pdf | | | | | | | | | |
| 11-06-2020 | https://www.dailypioneer.com/uploads/2020/epaper/june/delhi-english-edition-2020-06-11.pdf | | | | | | | | | |
| 10-06-2020 | https://www.dailypioneer.com/uploads/2020/epaper/june/delhi-english-edition-2020-06-10.pdf | | | | | | | | | |
| 09-06-2020 | https://www.dailypioneer.com/uploads/2020/epaper/june/delhi-english-edition-2020-06-09.pdf | | | | | | | | | |
| 08-06-2020 | https://www.dailypioneer.com/uploads/2020/epaper/june/delhi-english-edition-2020-06-08.pdf | | | | | | | | | |
| 07-06-2020 | https://www.dailypioneer.com/uploads/2020/epaper/june/delhi-english-edition-2020-06-07.pdf | | | | | | | | | |
| 06-06-2020 | https://www.dailypioneer.com/uploads/2020/epaper/june/delhi-english-edition-2020-06-06.pdf | | | | | | | | | |
| 05-06-2020 | https://www.dailypioneer.com/uploads/2020/epaper/june/delhi-english-edition-2020-06-05.pdf | | | | | | | | | |
| 04-06-2020 | https://www.dailypioneer.com/uploads/2020/epaper/june/delhi-english-edition-2020-06-04.pdf | | | | | | | | | |
| 03-06-2020 | https://www.dailypioneer.com/uploads/2020/epaper/june/delhi-english-edition-2020-06-03.pdf | | | | | | | | | |
| 02-06-2020 | https://www.dailypioneer.com/uploads/2020/epaper/june/delhi-english-edition-2020-06-02.pdf | | | | | | | | | |
| 01-06-2020 | https://www.dailypioneer.com/uploads/2020/epaper/june/delhi-english-edition-2020-06-01.pdf | | | | | | | | | |
The Pioneer Hindi ePapers
| Date | delhi | faridabad | lucknow | raipur |
| --- | --- | --- | --- | --- |
| 16-01-2021 | https://www.dailypioneer.com/uploads/2021/epaper/january/delhi-hindi-edition-2021-01-15.pdf | https://www.dailypioneer.com/uploads/2021/epaper/january/faridabad-hindi-edition-2021-01-15.pdf | https://www.dailypioneer.com/uploads/2021/epaper/january/lucknow-hindi-edition-2021-01-15.pdf | https://www.dailypioneer.com/uploads/2021/epaper/january/raipur-hindi-edition-2021-01-15.pdf |
| 15-01-2021 | https://www.dailypioneer.com/uploads/2021/epaper/january/delhi-hindi-edition-2021-01-15.pdf | https://www.dailypioneer.com/uploads/2021/epaper/january/faridabad-hindi-edition-2021-01-15.pdf | https://www.dailypioneer.com/uploads/2021/epaper/january/lucknow-hindi-edition-2021-01-15.pdf | https://www.dailypioneer.com/uploads/2021/epaper/january/raipur-hindi-edition-2021-01-15.pdf |
| 14-01-2021 | https://www.dailypioneer.com/uploads/2021/epaper/january/delhi-hindi-edition-2021-01-16.pdf | https://www.dailypioneer.com/uploads/2021/epaper/january/faridabad-hindi-edition-2021-01-16.pdf | https://www.dailypioneer.com/uploads/2021/epaper/january/lucknow-hindi-edition-2021-01-16.pdf | https://www.dailypioneer.com/uploads/2021/epaper/january/raipur-hindi-edition-2021-01-16.pdf |
| 13-01-2021 | https://www.dailypioneer.com/uploads/2021/epaper/january/delhi-hindi-edition-2021-01-13.pdf | https://www.dailypioneer.com/uploads/2021/epaper/january/faridabad-hindi-edition-2021-01-13.pdf | https://www.dailypioneer.com/uploads/2021/epaper/january/lucknow-hindi-edition-2021-01-13.pdf | https://www.dailypioneer.com/uploads/2021/epaper/january/raipur-hindi-edition-2021-01-13.pdf |
| 12-01-2021 | https://www.dailypioneer.com/uploads/2021/epaper/january/delhi-hindi-edition-2021-01-12.pdf | https://www.dailypioneer.com/uploads/2021/epaper/january/faridabad-hindi-edition-2021-01-12.pdf | https://www.dailypioneer.com/uploads/2021/epaper/january/lucknow-hindi-edition-2021-01-12.pdf | https://www.dailypioneer.com/uploads/2021/epaper/january/raipur-hindi-edition-2021-01-12.pdf |
| 11-01-2021 | https://www.dailypioneer.com/uploads/2021/epaper/january/delhi-hindi-edition-2021-01-11.pdf | https://www.dailypioneer.com/uploads/2021/epaper/january/faridabad-hindi-edition-2021-01-11.pdf | https://www.dailypioneer.com/uploads/2021/epaper/january/lucknow-hindi-edition-2021-01-11.pdf | https://www.dailypioneer.com/uploads/2021/epaper/january/raipur-hindi-edition-2021-01-11.pdf |
| 10-01-2021 | https://www.dailypioneer.com/uploads/2021/epaper/january/delhi-hindi-edition-2021-01-11.pdf | https://www.dailypioneer.com/uploads/2021/epaper/january/faridabad-hindi-edition-2021-01-10.pdf | https://www.dailypioneer.com/uploads/2021/epaper/january/lucknow-hindi-edition-2021-01-10.pdf | https://www.dailypioneer.com/uploads/2021/epaper/january/raipur-hindi-edition-2021-01-10.pdf |
| 09-01-2021 | https://www.dailypioneer.com/uploads/2021/epaper/january/delhi-hindi-edition-2021-01-09.pdf | https://www.dailypioneer.com/uploads/2021/epaper/january/faridabad-hindi-edition-2021-01-09.pdf | https://www.dailypioneer.com/uploads/2021/epaper/january/lucknow-hindi-edition-2021-01-09.pdf | https://www.dailypioneer.com/uploads/2021/epaper/january/raipur-hindi-edition-2021-01-09.pdf |
| 08-01-2021 | https://www.dailypioneer.com/uploads/2021/epaper/january/delhi-hindi-edition-2021-01-08.pdf | https://www.dailypioneer.com/uploads/2021/epaper/january/faridabad-hindi-edition-2021-01-08.pdf | https://www.dailypioneer.com/uploads/2021/epaper/january/lucknow-hindi-edition-2021-01-08.pdf | https://www.dailypioneer.com/uploads/2021/epaper/january/raipur-hindi-edition-2021-01-08.pdf |
| 07-01-2021 | https://www.dailypioneer.com/uploads/2021/epaper/january/delhi-hindi-edition-2021-01-07.pdf | https://www.dailypioneer.com/uploads/2021/epaper/january/faridabad-hindi-edition-2021-01-07.pdf | https://www.dailypioneer.com/uploads/2021/epaper/january/lucknow-hindi-edition-2021-01-07.pdf | https://www.dailypioneer.com/uploads/2021/epaper/january/raipur-hindi-edition-2021-01-07.pdf |
| 06-01-2021 | https://www.dailypioneer.com/uploads/2021/epaper/january/delhi-hindi-edition-2021-01-06.pdf | https://www.dailypioneer.com/uploads/2021/epaper/january/faridabad-hindi-edition-2021-01-06.pdf | https://www.dailypioneer.com/uploads/2021/epaper/january/lucknow-hindi-edition-2021-01-06.pdf | https://www.dailypioneer.com/uploads/2021/epaper/january/raipur-hindi-edition-2021-01-06.pdf |
| 05-01-2021 | https://www.dailypioneer.com/uploads/2021/epaper/january/delhi-hindi-edition-2021-01-05.pdf | https://www.dailypioneer.com/uploads/2021/epaper/january/faridabad-hindi-edition-2021-01-05.pdf | https://www.dailypioneer.com/uploads/2021/epaper/january/lucknow-hindi-edition-2021-01-05.pdf | https://www.dailypioneer.com/uploads/2021/epaper/january/raipur-hindi-edition-2021-01-05.pdf |
| 04-01-2021 | https://www.dailypioneer.com/uploads/2021/epaper/january/delhi-hindi-edition-2021-01-04.pdf | https://www.dailypioneer.com/uploads/2021/epaper/january/faridabad-hindi-edition-2021-01-04.pdf | https://www.dailypioneer.com/uploads/2021/epaper/january/lucknow-hindi-edition-2021-01-04.pdf | https://www.dailypioneer.com/uploads/2021/epaper/january/raipur-hindi-edition-2021-01-04.pdf |
| 03-01-2021 | https://www.dailypioneer.com/uploads/2021/epaper/january/delhi-hindi-edition-2021-01-03.pdf | https://www.dailypioneer.com/uploads/2021/epaper/january/faridabad-hindi-edition-2021-01-03.pdf | https://www.dailypioneer.com/uploads/2021/epaper/january/lucknow-hindi-edition-2021-01-03.pdf | https://www.dailypioneer.com/uploads/2021/epaper/january/raipur-hindi-edition-2021-01-03.pdf |
| 02-01-2021 | https://www.dailypioneer.com/uploads/2021/epaper/january/delhi-hindi-edition-2021-01-02.pdf | https://www.dailypioneer.com/uploads/2021/epaper/january/faridabad-hindi-edition-2021-01-02.pdf | https://www.dailypioneer.com/uploads/2021/epaper/january/lucknow-hindi-edition-2021-01-02.pdf | https://www.dailypioneer.com/uploads/2021/epaper/january/raipur-hindi-edition-2021-01-02.pdf |
| 01-01-2021 | https://www.dailypioneer.com/uploads/2021/epaper/january/delhi-hindi-edition-2021-01-01.pdf | https://www.dailypioneer.com/uploads/2021/epaper/january/faridabad-hindi-edition-2021-01-01.pdf | https://www.dailypioneer.com/uploads/2021/epaper/january/lucknow-hindi-edition-2021-01-01.pdf | https://www.dailypioneer.com/uploads/2021/epaper/january/raipur-hindi-edition-2021-01-01.pdf |
| 31-12-2020 | https://www.dailypioneer.com/uploads/2020/epaper/december/delhi-hindi-edition-2020-12-31.pdf | https://www.dailypioneer.com/uploads/2020/epaper/december/faridabad-hindi-edition-2020-12-31.pdf | https://www.dailypioneer.com/uploads/2020/epaper/december/lucknow-hindi-edition-2020-12-31.pdf | https://www.dailypioneer.com/uploads/2020/epaper/december/raipur-hindi-edition-2020-12-31.pdf |
| 30-12-2020 | https://www.dailypioneer.com/uploads/2020/epaper/december/delhi-hindi-edition-2020-12-30.pdf | https://www.dailypioneer.com/uploads/2020/epaper/december/faridabad-hindi-edition-2020-12-30.pdf | https://www.dailypioneer.com/uploads/2020/epaper/december/lucknow-hindi-edition-2020-12-30.pdf | https://www.dailypioneer.com/uploads/2020/epaper/december/raipur-hindi-edition-2020-12-30.pdf |
| 29-12-2020 | https://www.dailypioneer.com/uploads/2020/epaper/december/delhi-hindi-edition-2020-12-29.pdf | https://www.dailypioneer.com/uploads/2020/epaper/december/faridabad-hindi-edition-2020-12-29.pdf | https://www.dailypioneer.com/uploads/2020/epaper/december/lucknow-hindi-edition-2020-12-29.pdf | https://www.dailypioneer.com/uploads/2020/epaper/december/raipur-hindi-edition-2020-12-29.pdf |
| 28-12-2020 | https://www.dailypioneer.com/uploads/2020/epaper/december/delhi-hindi-edition-2020-12-28.pdf | https://www.dailypioneer.com/uploads/2020/epaper/december/faridabad-hindi-edition-2020-12-28.pdf | https://www.dailypioneer.com/uploads/2020/epaper/december/lucknow-hindi-edition-2020-12-28.pdf | https://www.dailypioneer.com/uploads/2020/epaper/december/raipur-hindi-edition-2020-12-25.pdf |
| 27-12-2020 | https://www.dailypioneer.com/uploads/2020/epaper/december/delhi-hindi-edition-2020-12-28.pdf | https://www.dailypioneer.com/uploads/2020/epaper/december/faridabad-hindi-edition-2020-12-27.pdf | https://www.dailypioneer.com/uploads/2020/epaper/december/lucknow-hindi-edition-2020-12-27.pdf | https://www.dailypioneer.com/uploads/2020/epaper/december/raipur-hindi-edition-2020-12-25.pdf |
| 26-12-2020 | https://www.dailypioneer.com/uploads/2020/epaper/december/delhi-hindi-edition-2020-12-26.pdf | https://www.dailypioneer.com/uploads/2020/epaper/december/faridabad-hindi-edition-2020-12-26.pdf | https://www.dailypioneer.com/uploads/2020/epaper/december/lucknow-hindi-edition-2020-12-26.pdf | https://www.dailypioneer.com/uploads/2020/epaper/december/raipur-hindi-edition-2020-12-25.pdf |
| 25-12-2020 | https://www.dailypioneer.com/uploads/2020/epaper/december/delhi-hindi-edition-2020-12-25.pdf | https://www.dailypioneer.com/uploads/2020/epaper/december/faridabad-hindi-edition-2020-12-25.pdf | https://www.dailypioneer.com/uploads/2020/epaper/december/lucknow-hindi-edition-2020-12-25.pdf | https://www.dailypioneer.com/uploads/2020/epaper/december/raipur-hindi-edition-2020-12-25.pdf |
| 24-12-2020 | https://www.dailypioneer.com/uploads/2020/epaper/december/delhi-hindi-edition-2020-12-24.pdf | https://www.dailypioneer.com/uploads/2020/epaper/december/faridabad-hindi-edition-2020-12-24.pdf | https://www.dailypioneer.com/uploads/2020/epaper/december/lucknow-hindi-edition-2020-12-24.pdf | https://www.dailypioneer.com/uploads/2020/epaper/december/raipur-hindi-edition-2020-12-24.pdf |
| 23-12-2020 | https://www.dailypioneer.com/uploads/2020/epaper/december/delhi-hindi-edition-2020-12-23.pdf | https://www.dailypioneer.com/uploads/2020/epaper/december/faridabad-hindi-edition-2020-12-23.pdf | https://www.dailypioneer.com/uploads/2020/epaper/december/lucknow-hindi-edition-2020-12-23.pdf | https://www.dailypioneer.com/uploads/2020/epaper/december/raipur-hindi-edition-2020-12-23.pdf |
| 22-12-2020 | https://www.dailypioneer.com/uploads/2020/epaper/december/delhi-hindi-edition-2020-12-22.pdf | https://www.dailypioneer.com/uploads/2020/epaper/december/faridabad-hindi-edition-2020-12-22.pdf | https://www.dailypioneer.com/uploads/2020/epaper/december/lucknow-hindi-edition-2020-12-22.pdf | https://www.dailypioneer.com/uploads/2020/epaper/december/raipur-hindi-edition-2020-12-22.pdf |
| 21-12-2020 | https://www.dailypioneer.com/uploads/2020/epaper/december/delhi-hindi-edition-2020-12-21.pdf | https://www.dailypioneer.com/uploads/2020/epaper/december/faridabad-hindi-edition-2020-12-21.pdf | https://www.dailypioneer.com/uploads/2020/epaper/december/lucknow-hindi-edition-2020-12-21.pdf | https://www.dailypioneer.com/uploads/2020/epaper/december/raipur-hindi-edition-2020-12-21.pdf |
| 20-12-2020 | https://www.dailypioneer.com/uploads/2020/epaper/december/delhi-hindi-edition-2020-12-20.pdf | https://www.dailypioneer.com/uploads/2020/epaper/december/faridabad-hindi-edition-2020-12-20.pdf | https://www.dailypioneer.com/uploads/2020/epaper/december/lucknow-hindi-edition-2020-12-20.pdf | https://www.dailypioneer.com/uploads/2020/epaper/december/raipur-hindi-edition-2020-12-20.pdf |
| 19-12-2020 | https://www.dailypioneer.com/uploads/2020/epaper/december/delhi-hindi-edition-2020-12-19.pdf | https://www.dailypioneer.com/uploads/2020/epaper/december/faridabad-hindi-edition-2020-12-19.pdf | https://www.dailypioneer.com/uploads/2020/epaper/december/lucknow-hindi-edition-2020-12-19.pdf | https://www.dailypioneer.com/uploads/2020/epaper/december/raipur-hindi-edition-2020-12-19.pdf |
| 18-12-2020 | https://www.dailypioneer.com/uploads/2020/epaper/december/delhi-hindi-edition-2020-12-18.pdf | https://www.dailypioneer.com/uploads/2020/epaper/december/faridabad-hindi-edition-2020-12-18.pdf | https://www.dailypioneer.com/uploads/2020/epaper/december/lucknow-hindi-edition-2020-12-18.pdf | https://www.dailypioneer.com/uploads/2020/epaper/december/raipur-hindi-edition-2020-12-18.pdf |
| 17-12-2020 | https://www.dailypioneer.com/uploads/2020/epaper/december/delhi-hindi-edition-2020-12-17.pdf | https://www.dailypioneer.com/uploads/2020/epaper/december/faridabad-hindi-edition-2020-12-17.pdf | https://www.dailypioneer.com/uploads/2020/epaper/december/lucknow-hindi-edition-2020-12-17.pdf | https://www.dailypioneer.com/uploads/2020/epaper/december/raipur-hindi-edition-2020-12-17.pdf |
| 16-12-2020 | https://www.dailypioneer.com/uploads/2020/epaper/december/delhi-hindi-edition-2020-12-16.pdf | https://www.dailypioneer.com/uploads/2020/epaper/december/faridabad-hindi-edition-2020-12-16.pdf | https://www.dailypioneer.com/uploads/2020/epaper/december/lucknow-hindi-edition-2020-12-16.pdf | https://www.dailypioneer.com/uploads/2020/epaper/december/raipur-hindi-edition-2020-12-16.pdf |
| 15-12-2020 | https://www.dailypioneer.com/uploads/2020/epaper/december/delhi-hindi-edition-2020-12-15.pdf | https://www.dailypioneer.com/uploads/2020/epaper/december/faridabad-hindi-edition-2020-12-15.pdf | https://www.dailypioneer.com/uploads/2020/epaper/december/lucknow-hindi-edition-2020-12-15.pdf | https://www.dailypioneer.com/uploads/2020/epaper/december/raipur-hindi-edition-2020-12-15.pdf |
| 14-12-2020 | https://www.dailypioneer.com/uploads/2020/epaper/december/delhi-hindi-edition-2020-12-14.pdf | https://www.dailypioneer.com/uploads/2020/epaper/december/faridabad-hindi-edition-2020-12-14.pdf | https://www.dailypioneer.com/uploads/2020/epaper/december/lucknow-hindi-edition-2020-12-14.pdf | https://www.dailypioneer.com/uploads/2020/epaper/december/raipur-hindi-edition-2020-12-14.pdf |
| 13-12-2020 | https://www.dailypioneer.com/uploads/2020/epaper/december/delhi-hindi-edition-2020-12-13.pdf | https://www.dailypioneer.com/uploads/2020/epaper/december/faridabad-hindi-edition-2020-12-13.pdf | https://www.dailypioneer.com/uploads/2020/epaper/december/lucknow-hindi-edition-2020-12-13.pdf | https://www.dailypioneer.com/uploads/2020/epaper/december/raipur-hindi-edition-2020-12-13.pdf |
| 12-12-2020 | https://www.dailypioneer.com/uploads/2020/epaper/december/delhi-hindi-edition-2020-12-12.pdf | https://www.dailypioneer.com/uploads/2020/epaper/december/faridabad-hindi-edition-2020-12-12.pdf | https://www.dailypioneer.com/uploads/2020/epaper/december/lucknow-hindi-edition-2020-12-12.pdf | https://www.dailypioneer.com/uploads/2020/epaper/december/raipur-hindi-edition-2020-12-12.pdf |
| 11-12-2020 | https://www.dailypioneer.com/uploads/2020/epaper/december/delhi-hindi-edition-2020-12-11.pdf | https://www.dailypioneer.com/uploads/2020/epaper/december/faridabad-hindi-edition-2020-12-11.pdf | https://www.dailypioneer.com/uploads/2020/epaper/december/lucknow-hindi-edition-2020-12-11.pdf | https://www.dailypioneer.com/uploads/2020/epaper/december/raipur-hindi-edition-2020-12-11.pdf |
| 10-12-2020 | https://www.dailypioneer.com/uploads/2020/epaper/december/delhi-hindi-edition-2020-12-10.pdf | https://www.dailypioneer.com/uploads/2020/epaper/december/faridabad-hindi-edition-2020-12-10.pdf | https://www.dailypioneer.com/uploads/2020/epaper/december/lucknow-hindi-edition-2020-12-10.pdf | https://www.dailypioneer.com/uploads/2020/epaper/december/raipur-hindi-edition-2020-12-10.pdf |
| 09-12-2020 | https://www.dailypioneer.com/uploads/2020/epaper/december/delhi-hindi-edition-2020-12-09.pdf | https://www.dailypioneer.com/uploads/2020/epaper/december/faridabad-hindi-edition-2020-12-09.pdf | https://www.dailypioneer.com/uploads/2020/epaper/december/lucknow-hindi-edition-2020-12-09.pdf | https://www.dailypioneer.com/uploads/2020/epaper/december/raipur-hindi-edition-2020-12-09.pdf |
| 08-12-2020 | https://www.dailypioneer.com/uploads/2020/epaper/december/delhi-hindi-edition-2020-12-09.pdf | https://www.dailypioneer.com/uploads/2020/epaper/december/faridabad-hindi-edition-2020-12-09.pdf | https://www.dailypioneer.com/uploads/2020/epaper/december/lucknow-hindi-edition-2020-12-09.pdf | https://www.dailypioneer.com/uploads/2020/epaper/december/raipur-hindi-edition-2020-12-09.pdf |
| 07-12-2020 | https://www.dailypioneer.com/uploads/2020/epaper/december/delhi-hindi-edition-2020-12-07.pdf | https://www.dailypioneer.com/uploads/2020/epaper/december/faridabad-hindi-edition-2020-12-07.pdf | https://www.dailypioneer.com/uploads/2020/epaper/december/lucknow-hindi-edition-2020-12-07.pdf | https://www.dailypioneer.com/uploads/2020/epaper/december/raipur-hindi-edition-2020-12-07.pdf |
| 06-12-2020 | https://www.dailypioneer.com/uploads/2020/epaper/december/delhi-hindi-edition-2020-12-06.pdf | https://www.dailypioneer.com/uploads/2020/epaper/december/faridabad-hindi-edition-2020-12-06.pdf | https://www.dailypioneer.com/uploads/2020/epaper/december/lucknow-hindi-edition-2020-12-06.pdf | https://www.dailypioneer.com/uploads/2020/epaper/december/raipur-hindi-edition-2020-12-06.pdf |
| 05-12-2020 | https://www.dailypioneer.com/uploads/2020/epaper/december/delhi-hindi-edition-2020-12-05.pdf | https://www.dailypioneer.com/uploads/2020/epaper/december/faridabad-hindi-edition-2020-12-05.pdf | https://www.dailypioneer.com/uploads/2020/epaper/december/lucknow-hindi-edition-2020-12-05.pdf | https://www.dailypioneer.com/uploads/2020/epaper/december/raipur-hindi-edition-2020-12-05.pdf |
| 04-12-2020 | https://www.dailypioneer.com/uploads/2020/epaper/december/delhi-hindi-edition-2020-12-04.pdf | https://www.dailypioneer.com/uploads/2020/epaper/december/faridabad-hindi-edition-2020-12-04.pdf | https://www.dailypioneer.com/uploads/2020/epaper/december/lucknow-hindi-edition-2020-12-04.pdf | https://www.dailypioneer.com/uploads/2020/epaper/december/raipur-hindi-edition-2020-12-04.pdf |
| 03-12-2020 | https://www.dailypioneer.com/uploads/2020/epaper/december/delhi-hindi-edition-2020-12-03.pdf | | | |
| 02-12-2020 | https://www.dailypioneer.com/uploads/2020/epaper/december/delhi-hindi-edition-2020-12-02.pdf | | | |
| 01-12-2020 | https://www.dailypioneer.com/uploads/2020/epaper/december/delhi-hindi-edition-2020-12-01.pdf | | | |
| 30-11-2020 | https://www.dailypioneer.com/uploads/2020/epaper/november/delhi-hindi-edition-2020-11-30.pdf | | | |
| 29-11-2020 | https://www.dailypioneer.com/uploads/2020/epaper/november/delhi-hindi-edition-2020-11-29.pdf | | | |
| 28-11-2020 | https://www.dailypioneer.com/uploads/2020/epaper/november/delhi-hindi-edition-2020-11-28.pdf | | | |
| 27-11-2020 | https://www.dailypioneer.com/uploads/2020/epaper/november/delhi-hindi-edition-2020-11-27.pdf | | | |
| 26-11-2020 | https://www.dailypioneer.com/uploads/2020/epaper/november/delhi-hindi-edition-2020-11-26.pdf | | | |
| 25-11-2020 | https://www.dailypioneer.com/uploads/2020/epaper/november/delhi-hindi-edition-2020-11-25.pdf | | | |
| 24-11-2020 | https://www.dailypioneer.com/uploads/2020/epaper/november/delhi-hindi-edition-2020-11-24.pdf | | | |
| 23-11-2020 | https://www.dailypioneer.com/uploads/2020/epaper/november/delhi-hindi-edition-2020-11-23.pdf | | | |
| 22-11-2020 | https://www.dailypioneer.com/uploads/2020/epaper/november/delhi-hindi-edition-2020-11-22.pdf | | | |
| 21-11-2020 | https://www.dailypioneer.com/uploads/2020/epaper/november/delhi-hindi-edition-2020-11-21.pdf | | | |
| 20-11-2020 | https://www.dailypioneer.com/uploads/2020/epaper/november/delhi-hindi-edition-2020-11-20.pdf | | | |
| 19-11-2020 | https://www.dailypioneer.com/uploads/2020/epaper/november/delhi-hindi-edition-2020-11-19.pdf | | | |
| 18-11-2020 | https://www.dailypioneer.com/uploads/2020/epaper/november/delhi-hindi-edition-2020-11-18.pdf | | | |
| 17-11-2020 | https://www.dailypioneer.com/uploads/2020/epaper/november/delhi-hindi-edition-2020-11-17.pdf | | | |
| 16-11-2020 | https://www.dailypioneer.com/uploads/2020/epaper/november/delhi-hindi-edition-2020-11-16.pdf | | | |
| 15-11-2020 | https://www.dailypioneer.com/uploads/2020/epaper/november/delhi-hindi-edition-2020-11-15.pdf | | | |
| 14-11-2020 | https://www.dailypioneer.com/uploads/2020/epaper/november/delhi-hindi-edition-2020-11-14.pdf | | | |
| 13-11-2020 | https://www.dailypioneer.com/uploads/2020/epaper/november/delhi-hindi-edition-2020-11-13.pdf | | | |
| 12-11-2020 | https://www.dailypioneer.com/uploads/2020/epaper/november/delhi-hindi-edition-2020-11-12.pdf | | | |
| 11-11-2020 | https://www.dailypioneer.com/uploads/2020/epaper/november/delhi-hindi-edition-2020-11-11.pdf | | | |
| 10-11-2020 | https://www.dailypioneer.com/uploads/2020/epaper/november/delhi-hindi-edition-2020-11-10.pdf | | | |
| 09-11-2020 | https://www.dailypioneer.com/uploads/2020/epaper/november/delhi-hindi-edition-2020-11-09.pdf | | | |
| 08-11-2020 | https://www.dailypioneer.com/uploads/2020/epaper/november/delhi-hindi-edition-2020-11-08.pdf | | | |
| 07-11-2020 | https://www.dailypioneer.com/uploads/2020/epaper/november/delhi-hindi-edition-2020-11-07.pdf | | | |
| 06-11-2020 | https://www.dailypioneer.com/uploads/2020/epaper/november/delhi-hindi-edition-2020-11-06.pdf | | | |
| 05-11-2020 | https://www.dailypioneer.com/uploads/2020/epaper/november/delhi-hindi-edition-2020-11-05.pdf | | | |
| 04-11-2020 | https://www.dailypioneer.com/uploads/2020/epaper/november/delhi-hindi-edition-2020-11-04.pdf | | | |
| 03-11-2020 | https://www.dailypioneer.com/uploads/2020/epaper/november/delhi-hindi-edition-2020-11-03.pdf | | | |
| 02-11-2020 | https://www.dailypioneer.com/uploads/2020/epaper/november/delhi-hindi-edition-2020-11-02.pdf | | | |
| 01-11-2020 | https://www.dailypioneer.com/uploads/2020/epaper/november/delhi-hindi-edition-2020-11-01.pdf | | | |
| 31-10-2020 | https://www.dailypioneer.com/uploads/2020/epaper/october/delhi-hindi-edition-2020-10-31.pdf | | | |
| 30-10-2020 | https://www.dailypioneer.com/uploads/2020/epaper/october/delhi-hindi-edition-2020-10-30.pdf | | | |
| 29-10-2020 | https://www.dailypioneer.com/uploads/2020/epaper/october/delhi-hindi-edition-2020-10-29.pdf | | | |
| 28-10-2020 | https://www.dailypioneer.com/uploads/2020/epaper/october/delhi-hindi-edition-2020-10-28.pdf | | | |
| 27-10-2020 | https://www.dailypioneer.com/uploads/2020/epaper/october/delhi-hindi-edition-2020-10-27.pdf | | | |
| 26-10-2020 | https://www.dailypioneer.com/uploads/2020/epaper/october/delhi-hindi-edition-2020-10-26.pdf | | | |
| 25-10-2020 | https://www.dailypioneer.com/uploads/2020/epaper/october/delhi-hindi-edition-2020-10-25.pdf | | | |
| 24-10-2020 | https://www.dailypioneer.com/uploads/2020/epaper/october/delhi-hindi-edition-2020-10-24.pdf | | | |
| 23-10-2020 | https://www.dailypioneer.com/uploads/2020/epaper/october/delhi-hindi-edition-2020-10-23.pdf | | | |
| 22-10-2020 | https://www.dailypioneer.com/uploads/2020/epaper/october/delhi-hindi-edition-2020-10-22.pdf | | | |
| 21-10-2020 | https://www.dailypioneer.com/uploads/2020/epaper/october/delhi-hindi-edition-2020-10-21.pdf | | | |
| 20-10-2020 | https://www.dailypioneer.com/uploads/2020/epaper/october/delhi-hindi-edition-2020-10-20.pdf | | | |
| 19-10-2020 | https://www.dailypioneer.com/uploads/2020/epaper/october/delhi-hindi-edition-2020-10-19.pdf | | | |
| 18-10-2020 | https://www.dailypioneer.com/uploads/2020/epaper/october/delhi-hindi-edition-2020-10-18.pdf | | | |
| 17-10-2020 | https://www.dailypioneer.com/uploads/2020/epaper/october/delhi-hindi-edition-2020-10-17.pdf | | | |
| 16-10-2020 | https://www.dailypioneer.com/uploads/2020/epaper/october/delhi-hindi-edition-2020-10-16.pdf | | | |
| 15-10-2020 | https://www.dailypioneer.com/uploads/2020/epaper/october/delhi-hindi-edition-2020-10-15.pdf | | | |
| 14-10-2020 | https://www.dailypioneer.com/uploads/2020/epaper/october/delhi-hindi-edition-2020-10-14.pdf | | | |
| 13-10-2020 | https://www.dailypioneer.com/uploads/2020/epaper/october/delhi-hindi-edition-2020-10-13.pdf | | | |
| 12-10-2020 | https://www.dailypioneer.com/uploads/2020/epaper/october/delhi-hindi-edition-2020-10-12.pdf | | | |
| 11-10-2020 | https://www.dailypioneer.com/uploads/2020/epaper/october/delhi-hindi-edition-2020-10-11.pdf | | | |
| 10-10-2020 | https://www.dailypioneer.com/uploads/2020/epaper/october/delhi-hindi-edition-2020-10-10.pdf | | | |
| 09-10-2020 | https://www.dailypioneer.com/uploads/2020/epaper/october/delhi-hindi-edition-2020-10-09.pdf | | | |
| 08-10-2020 | https://www.dailypioneer.com/uploads/2020/epaper/october/delhi-hindi-edition-2020-10-08.pdf | | | |
| 07-10-2020 | https://www.dailypioneer.com/uploads/2020/epaper/october/delhi-hindi-edition-2020-10-07.pdf | | | |
| 06-10-2020 | https://www.dailypioneer.com/uploads/2020/epaper/october/delhi-hindi-edition-2020-10-06.pdf | | | |
| 05-10-2020 | https://www.dailypioneer.com/uploads/2020/epaper/october/delhi-hindi-edition-2020-10-05.pdf | | | |
| 04-10-2020 | https://www.dailypioneer.com/uploads/2020/epaper/october/delhi-hindi-edition-2020-10-04.pdf | | | |
| 03-10-2020 | https://www.dailypioneer.com/uploads/2020/epaper/october/delhi-hindi-edition-2020-10-03.pdf | | | |
| 02-10-2020 | https://www.dailypioneer.com/uploads/2020/epaper/october/delhi-hindi-edition-2020-10-02.pdf | | | |
| 01-10-2020 | https://www.dailypioneer.com/uploads/2020/epaper/october/delhi-hindi-edition-2020-10-01.pdf | | | |
| 30-09-2020 | https://www.dailypioneer.com/uploads/2020/epaper/september/delhi-hindi-edition-2020-09-30.pdf | | | |
| 29-09-2020 | https://www.dailypioneer.com/uploads/2020/epaper/september/delhi-hindi-edition-2020-09-29.pdf | | | |
| 28-09-2020 | https://www.dailypioneer.com/uploads/2020/epaper/september/delhi-hindi-edition-2020-09-28.pdf | | | |
| 27-09-2020 | https://www.dailypioneer.com/uploads/2020/epaper/september/delhi-hindi-edition-2020-09-27.pdf | | | |
| 26-09-2020 | https://www.dailypioneer.com/uploads/2020/epaper/september/delhi-hindi-edition-2020-09-26.pdf | | | |
| 25-09-2020 | https://www.dailypioneer.com/uploads/2020/epaper/september/delhi-hindi-edition-2020-09-25.pdf | | | |
| 24-09-2020 | https://www.dailypioneer.com/uploads/2020/epaper/september/delhi-hindi-edition-2020-09-24.pdf | | | |
| 23-09-2020 | https://www.dailypioneer.com/uploads/2020/epaper/september/delhi-hindi-edition-2020-09-23.pdf | | | |
| 22-09-2020 | https://www.dailypioneer.com/uploads/2020/epaper/september/delhi-hindi-edition-2020-09-22.pdf | | | |
| 21-09-2020 | https://www.dailypioneer.com/uploads/2020/epaper/september/delhi-hindi-edition-2020-09-21.pdf | | | |
| 20-09-2020 | https://www.dailypioneer.com/uploads/2020/epaper/september/delhi-hindi-edition-2020-09-20.pdf | | | |
| 19-09-2020 | https://www.dailypioneer.com/uploads/2020/epaper/september/delhi-hindi-edition-2020-09-19.pdf | | | |
| 18-09-2020 | https://www.dailypioneer.com/uploads/2020/epaper/september/delhi-hindi-edition-2020-09-18.pdf | | | |
| 17-09-2020 | https://www.dailypioneer.com/uploads/2020/epaper/september/delhi-hindi-edition-2020-09-17.pdf | | | |
| 16-09-2020 | https://www.dailypioneer.com/uploads/2020/epaper/september/delhi-hindi-edition-2020-09-16.pdf | | | |
| 15-09-2020 | https://www.dailypioneer.com/uploads/2020/epaper/september/delhi-hindi-edition-2020-09-15.pdf | | | |
| 14-09-2020 | https://www.dailypioneer.com/uploads/2020/epaper/september/delhi-hindi-edition-2020-09-14.pdf | | | |
| 13-09-2020 | https://www.dailypioneer.com/uploads/2020/epaper/september/delhi-hindi-edition-2020-09-13.pdf | | | |
| 12-09-2020 | https://www.dailypioneer.com/uploads/2020/epaper/september/delhi-hindi-edition-2020-09-12.pdf | | | |
| 11-09-2020 | https://www.dailypioneer.com/uploads/2020/epaper/september/delhi-hindi-edition-2020-09-11.pdf | | | |
| 10-09-2020 | https://www.dailypioneer.com/uploads/2020/epaper/september/delhi-hindi-edition-2020-09-10.pdf | | | |
| 09-09-2020 | https://www.dailypioneer.com/uploads/2020/epaper/september/delhi-hindi-edition-2020-09-09.pdf | | | |
| 08-09-2020 | https://www.dailypioneer.com/uploads/2020/epaper/september/delhi-hindi-edition-2020-09-08.pdf | | | |
| 07-09-2020 | https://www.dailypioneer.com/uploads/2020/epaper/september/delhi-hindi-edition-2020-09-07.pdf | | | |
| 06-09-2020 | https://www.dailypioneer.com/uploads/2020/epaper/september/delhi-hindi-edition-2020-09-06.pdf | | | |
| 05-09-2020 | https://www.dailypioneer.com/uploads/2020/epaper/september/delhi-hindi-edition-2020-09-05.pdf | | | |
| 04-09-2020 | https://www.dailypioneer.com/uploads/2020/epaper/september/delhi-hindi-edition-2020-09-04.pdf | | | |
| 03-09-2020 | https://www.dailypioneer.com/uploads/2020/epaper/september/delhi-hindi-edition-2020-09-03.pdf | | | |
| 02-09-2020 | https://www.dailypioneer.com/uploads/2020/epaper/september/delhi-hindi-edition-2020-09-02.pdf | | | |
| 01-09-2020 | https://www.dailypioneer.com/uploads/2020/epaper/september/delhi-hindi-edition-2020-09-01.pdf | | | |
| 31-08-2020 | https://www.dailypioneer.com/uploads/2020/epaper/august/delhi-hindi-edition-2020-08-31.pdf | | | |
| 30-08-2020 | https://www.dailypioneer.com/uploads/2020/epaper/august/delhi-hindi-edition-2020-08-30.pdf | | | |
| 29-08-2020 | https://www.dailypioneer.com/uploads/2020/epaper/august/delhi-hindi-edition-2020-08-29.pdf | | | |
| 28-08-2020 | https://www.dailypioneer.com/uploads/2020/epaper/august/delhi-hindi-edition-2020-08-28.pdf | | | |
| 27-08-2020 | https://www.dailypioneer.com/uploads/2020/epaper/august/delhi-hindi-edition-2020-08-27.pdf | | | |
| 26-08-2020 | https://www.dailypioneer.com/uploads/2020/epaper/august/delhi-hindi-edition-2020-08-26.pdf | | | |
| 25-08-2020 | https://www.dailypioneer.com/uploads/2020/epaper/august/delhi-hindi-edition-2020-08-25.pdf | | | |
| 24-08-2020 | https://www.dailypioneer.com/uploads/2020/epaper/august/delhi-hindi-edition-2020-08-24.pdf | | | |
| 23-08-2020 | https://www.dailypioneer.com/uploads/2020/epaper/august/delhi-hindi-edition-2020-08-23.pdf | | | |
| 22-08-2020 | https://www.dailypioneer.com/uploads/2020/epaper/august/delhi-hindi-edition-2020-08-22.pdf | | | |
| 21-08-2020 | https://www.dailypioneer.com/uploads/2020/epaper/august/delhi-hindi-edition-2020-08-21.pdf | | | |
| 20-08-2020 | https://www.dailypioneer.com/uploads/2020/epaper/august/delhi-hindi-edition-2020-08-20.pdf | | | |
| 19-08-2020 | https://www.dailypioneer.com/uploads/2020/epaper/august/delhi-hindi-edition-2020-08-19.pdf | | | |
| 18-08-2020 | https://www.dailypioneer.com/uploads/2020/epaper/august/delhi-hindi-edition-2020-08-18.pdf | | | |
| 17-08-2020 | https://www.dailypioneer.com/uploads/2020/epaper/august/delhi-hindi-edition-2020-08-17.pdf | | | |
| 16-08-2020 | https://www.dailypioneer.com/uploads/2020/epaper/august/delhi-hindi-edition-2020-08-16.pdf | | | |
| 15-08-2020 | https://www.dailypioneer.com/uploads/2020/epaper/august/delhi-hindi-edition-2020-08-15.pdf | | | |
| 14-08-2020 | https://www.dailypioneer.com/uploads/2020/epaper/august/delhi-hindi-edition-2020-08-14.pdf | | | |
| 13-08-2020 | https://www.dailypioneer.com/uploads/2020/epaper/august/delhi-hindi-edition-2020-08-13.pdf | | | |
| 12-08-2020 | https://www.dailypioneer.com/uploads/2020/epaper/august/delhi-hindi-edition-2020-08-12.pdf | | | |
| 11-08-2020 | https://www.dailypioneer.com/uploads/2020/epaper/august/delhi-hindi-edition-2020-08-11.pdf | | | |
| 10-08-2020 | https://www.dailypioneer.com/uploads/2020/epaper/august/delhi-hindi-edition-2020-08-10.pdf | | | |
| 09-08-2020 | https://www.dailypioneer.com/uploads/2020/epaper/august/delhi-hindi-edition-2020-08-09.pdf | | | |
| 08-08-2020 | https://www.dailypioneer.com/uploads/2020/epaper/august/delhi-hindi-edition-2020-08-08.pdf | | | |
| 07-08-2020 | https://www.dailypioneer.com/uploads/2020/epaper/august/delhi-hindi-edition-2020-08-07.pdf | | | |
| 06-08-2020 | https://www.dailypioneer.com/uploads/2020/epaper/august/delhi-hindi-edition-2020-08-06.pdf | | | |
| 05-08-2020 | https://www.dailypioneer.com/uploads/2020/epaper/august/delhi-hindi-edition-2020-08-05.pdf | | | |
| 04-08-2020 | https://www.dailypioneer.com/uploads/2020/epaper/august/delhi-hindi-edition-2020-08-04.pdf | | | |
| 03-08-2020 | https://www.dailypioneer.com/uploads/2020/epaper/august/delhi-hindi-edition-2020-08-03.pdf | | | |
| 02-08-2020 | https://www.dailypioneer.com/uploads/2020/epaper/august/delhi-hindi-edition-2020-08-02.pdf | | | |
| 01-08-2020 | https://www.dailypioneer.com/uploads/2020/epaper/august/delhi-hindi-edition-2020-08-01.pdf | | | |
| 31-07-2020 | https://www.dailypioneer.com/uploads/2020/epaper/july/delhi-hindi-edition-2020-07-31.pdf | | | |
| 30-07-2020 | https://www.dailypioneer.com/uploads/2020/epaper/july/delhi-hindi-edition-2020-07-30.pdf | | | |
| 29-07-2020 | https://www.dailypioneer.com/uploads/2020/epaper/july/delhi-hindi-edition-2020-07-29.pdf | | | |
| 28-07-2020 | https://www.dailypioneer.com/uploads/2020/epaper/july/delhi-hindi-edition-2020-07-28.pdf | | | |
| 27-07-2020 | https://www.dailypioneer.com/uploads/2020/epaper/july/delhi-hindi-edition-2020-07-27.pdf | | | |
| 26-07-2020 | https://www.dailypioneer.com/uploads/2020/epaper/july/delhi-hindi-edition-2020-07-26.pdf | | | |
| 25-07-2020 | https://www.dailypioneer.com/uploads/2020/epaper/july/delhi-hindi-edition-2020-07-25.pdf | | | |
| 24-07-2020 | https://www.dailypioneer.com/uploads/2020/epaper/july/delhi-hindi-edition-2020-07-24.pdf | | | |
| 23-07-2020 | https://www.dailypioneer.com/uploads/2020/epaper/july/delhi-hindi-edition-2020-07-23.pdf | | | |
| 22-07-2020 | https://www.dailypioneer.com/uploads/2020/epaper/july/delhi-hindi-edition-2020-07-22.pdf | | | |
| 21-07-2020 | https://www.dailypioneer.com/uploads/2020/epaper/july/delhi-hindi-edition-2020-07-21.pdf | | | |
| 20-07-2020 | https://www.dailypioneer.com/uploads/2020/epaper/july/delhi-hindi-edition-2020-07-20.pdf | | | |
| 19-07-2020 | https://www.dailypioneer.com/uploads/2020/epaper/july/delhi-hindi-edition-2020-07-19.pdf | | | |
| 18-07-2020 | https://www.dailypioneer.com/uploads/2020/epaper/july/delhi-hindi-edition-2020-07-18.pdf | | | |
| 17-07-2020 | https://www.dailypioneer.com/uploads/2020/epaper/july/delhi-hindi-edition-2020-07-17.pdf | | | |
| 16-07-2020 | https://www.dailypioneer.com/uploads/2020/epaper/july/delhi-hindi-edition-2020-07-16.pdf | | | |
| 15-07-2020 | https://www.dailypioneer.com/uploads/2020/epaper/july/delhi-hindi-edition-2020-07-15.pdf | | | |
| 14-07-2020 | https://www.dailypioneer.com/uploads/2020/epaper/july/delhi-hindi-edition-2020-07-14.pdf | | | |
| 07-07-2020 | https://www.dailypioneer.com/uploads/2020/epaper/july/delhi-hindi-edition-2020-07-07.pdf | | | |
| 06-07-2020 | https://www.dailypioneer.com/uploads/2020/epaper/july/delhi-hindi-edition-2020-07-06.pdf | | | |
| 02-07-2020 | https://www.dailypioneer.com/uploads/2020/epaper/july/delhi-hindi-edition-2020-07-02.pdf | | | |
| 01-07-2020 | https://www.dailypioneer.com/uploads/2020/epaper/july/delhi-hindi-edition-2020-07-01.pdf | | | |
| 30-06-2020 | https://www.dailypioneer.com/uploads/2020/epaper/june/delhi-hindi-edition-2020-06-30.pdf | | | |
| 29-06-2020 | https://www.dailypioneer.com/uploads/2020/epaper/june/delhi-hindi-edition-2020-06-29.pdf | | | |
| 28-06-2020 | https://www.dailypioneer.com/uploads/2020/epaper/june/delhi-hindi-edition-2020-06-28.pdf | | | |
| 27-06-2020 | https://www.dailypioneer.com/uploads/2020/epaper/june/delhi-hindi-edition-2020-06-27.pdf | | | |
| 26-06-2020 | https://www.dailypioneer.com/uploads/2020/epaper/june/delhi-hindi-edition-2020-06-26.pdf | | | |
| 25-06-2020 | https://www.dailypioneer.com/uploads/2020/epaper/june/delhi-hindi-edition-2020-06-25.pdf | | | |
| 24-06-2020 | https://www.dailypioneer.com/uploads/2020/epaper/june/delhi-hindi-edition-2020-06-24.pdf | | | |
| 23-06-2020 | https://www.dailypioneer.com/uploads/2020/epaper/june/delhi-hindi-edition-2020-06-23.pdf | | | |
| 22-06-2020 | https://www.dailypioneer.com/uploads/2020/epaper/june/delhi-hindi-edition-2020-06-22.pdf | | | |
| 21-06-2020 | https://www.dailypioneer.com/uploads/2020/epaper/june/delhi-hindi-edition-2020-06-21.pdf | | | |
| 20-06-2020 | https://www.dailypioneer.com/uploads/2020/epaper/june/delhi-hindi-edition-2020-06-20.pdf | | | |
| 19-06-2020 | https://www.dailypioneer.com/uploads/2020/epaper/june/delhi-hindi-edition-2020-06-19.pdf | | | |
| 18-06-2020 | https://www.dailypioneer.com/uploads/2020/epaper/june/delhi-hindi-edition-2020-06-18.pdf | | | |
| 17-06-2020 | https://www.dailypioneer.com/uploads/2020/epaper/june/delhi-hindi-edition-2020-06-17.pdf | | | |
| 16-06-2020 | https://www.dailypioneer.com/uploads/2020/epaper/june/delhi-hindi-edition-2020-06-16.pdf | | | |
| 15-06-2020 | https://www.dailypioneer.com/uploads/2020/epaper/june/delhi-hindi-edition-2020-06-15.pdf | | | |
| 14-06-2020 | https://www.dailypioneer.com/uploads/2020/epaper/june/delhi-hindi-edition-2020-06-14.pdf | | | |
| 13-06-2020 | https://www.dailypioneer.com/uploads/2020/epaper/june/delhi-hindi-edition-2020-06-13.pdf | | | |
| 12-06-2020 | https://www.dailypioneer.com/uploads/2020/epaper/june/delhi-hindi-edition-2020-06-12.pdf | | | |
| 11-06-2020 | https://www.dailypioneer.com/uploads/2020/epaper/june/delhi-hindi-edition-2020-06-11.pdf | | | |
| 10-06-2020 | https://www.dailypioneer.com/uploads/2020/epaper/june/delhi-hindi-edition-2020-06-10.pdf | | | |
| 09-06-2020 | https://www.dailypioneer.com/uploads/2020/epaper/june/delhi-hindi-edition-2020-06-09.pdf | | | |
| 08-06-2020 | https://www.dailypioneer.com/uploads/2020/epaper/june/delhi-hindi-edition-2020-06-08.pdf | | | |
| 07-06-2020 | https://www.dailypioneer.com/uploads/2020/epaper/june/delhi-hindi-edition-2020-06-07.pdf | | | |
| 06-06-2020 | https://www.dailypioneer.com/uploads/2020/epaper/june/delhi-hindi-edition-2020-06-06.pdf | | | |
| 05-06-2020 | https://www.dailypioneer.com/uploads/2020/epaper/june/delhi-hindi-edition-2020-06-05.pdf | | | |
| 04-06-2020 | https://www.dailypioneer.com/uploads/2020/epaper/june/delhi-hindi-edition-2020-06-04.pdf | | | |
| 03-06-2020 | https://www.dailypioneer.com/uploads/2020/epaper/june/delhi-hindi-edition-2020-06-03.pdf | | | |
| 02-06-2020 | https://www.dailypioneer.com/uploads/2020/epaper/june/delhi-hindi-edition-2020-06-02.pdf | | | |
| 01-06-2020 | https://www.dailypioneer.com/uploads/2020/epaper/june/delhi-hindi-edition-2020-06-01.pdf | | | |
May 2020
10 May 2020: Download Now
09 May 2020: Download Now
08 May 2020: Download Now
07 May 2020: Download Now
06 May 2020: Download Now
05 May 2020: Download Now
04 May 2020: Download Now
03 May 2020: Download Now
02 May 2020: Download Now
01 May 2020: Download Now
April 2020
30 April 2020: Download Now
29 April 2020: Download Now
28 April 2020: Download Now
27 April 2020: Download Now
26 April 2020: Download Now
25 April 2020: Download Now
24 April 2020: Download Now
23 April 2020: Download Now
22 April 2020: Download Now
21 April 2020: Download Now
20 April 2020: Download Now
19 April 2020: Download Now
18 April 2020: Download Now
17 April 2020: Download Now
16 April 2020: Download Now
15 April 2020: Download Now
14 April 2020: Download Now
13 April 2020: Download Now
12 April 2020: Download Now
11 April 2020: Download Now
10 April 2020: Download Now
09 April 2020: Download Now
08 April 2020: Download Now
07 April 2020: Download Now
06 April 2020: Download Now
05 April 2020: Download Now
04 April 2020: Download Now
03 April 2020: Download Now
02 April 2020: Download Now
01 April 2020: Download Now
March 2020
31 March 2020: Download Now
30 March 2020: Download Now
29 March 2020: Download Now
28 March 2020: Download Now
27 March 2020: Download Now
26 March 2020: Download Now
25 March 2020: Download Now
24 March 2020: Download Now
23 March 2020: Download Now
22 March 2020: Download Now
21 March 2020: Download Now
20 March 2020: Download Now
19 March 2020: Download Now
18 March 2020: Download Now
17 March 2020: Download Now
16 March 2020: Download Now
15 March 2020: Download Now
14 March 2020: Download Now
13 March 2020: Download Now
12 March 2020: Download Now
11 March 2020: off – Happy Holi
10 March 2020: off – Happy Holi
09 March 2020: Download Now
08 March 2020: Download Now
07 March 2020: Download Now
06 March 2020: Download Now
05 March 2020: Download Now
04 March 2020: Download Now
03 March 2020: Download Now
02 March 2020: Download Now
01 March 2020: Download Now
February 2020
29 February 2020: Download Now
28 February 2020: Download Now
27 February 2020: Download Now
26 February 2020: Download Now
25 February 2020: Download Now
24 February 2020: Download Now
23 February 2020: Download Now
22 February 2020: Download Now
21 February 2020: Download Now
20 February 2020: Download Now
19 February 2020: Download Now
18 February 2020: Download Now
17 February 2020: Download Now
16 February 2020: Download Now
15 February 2020: Download Now
14 February 2020: Download Now
13 February 2020: Download Now
12 February 2020: Download Now
11 February 2020: Download Now
10 February 2020: Download Now
09 February 2020: Download Now
08 February 2020: Download Now
07 February 2020: Download Now
06 February 2020: Download Now
05 February 2020: Download Now
04 February 2020: Download Now
03 February 2020: Download Now
02 February 2020: Download Now
01 February 2020: Download Now
January 2020
31 January 2020: Download Now
30 January 2020: Download Now
29 January 2020: Download Now
28 January 2020: Download Now
27 January 2020: Download Now
26 January 2020: Download Now
25 January 2020: Download Now
24 January 2020: Download Now
23 January 2020: Download Now
22 January 2020: Download Now
21 January 2020: Download Now
20 January 2020: Download Now
19 January 2020: Download Now
18 January 2020: Download Now
17 January 2020: Download Now
16 January 2020: Download Now
15 January 2020: Download Now
14 January 2020: Download Now
13 January 2020: Download Now
12 January 2020: Download Now
11 January 2020: Download Now
10 January 2020: Download Now
09 January 2020: Download Now
08 January 2020: Download Now
07 January 2020: Download Now
06 January 2020: Download Now
05 January 2020: Download Now
04 January 2020: Download Now
03 January 2020: Download Now
02 January 2020: Download Now
[/expander_maker]